Bangalore
Chutneypudi (dry chutney powder – spice powder) is integral to those from
Bangalore. The spice powder orcondimentwhich is so versatile that can be mixed with either rice or had with Chapathi /
idli / dosa / akki rotti (rice cakes).. For me and my sister, the version made
by grandmom was heaven indeed, which passed down to me through mom and publishedhere.
And then I didn't think too much of it, till I stumbled upon this wonderfully
aromatic and proteiniciousGodhi
Chutneypudimade out of wholewheat (Godhi in
Kannada is Wholewheat).
S and me loved it a
lot (the former still getting accustomed to Kannada food on his plate and
palate), although it was a lil spicy for my elder daughter, and she decided she
was not going to taste it after all. The younger daughter, still a toddler was
amused by all the excitement at the dining table and wondered what the
commotion was all aboutJ..
We would surely make this often, and even use as a side dish withIdlisandDosas.
For all those spice lovers, this is surely
going to be a hit. Mix with hot, steaming rice and ghee / sesame oil. And Slurp
! This is a wonderfulcondimentto add to your spice mix repertoire. Sending to BM # 32 under Alphabet "G"

Prep
time: 15 mins | Dry roasting time : 10
mins | Makes : approx 400 gm of Dry
Spice powder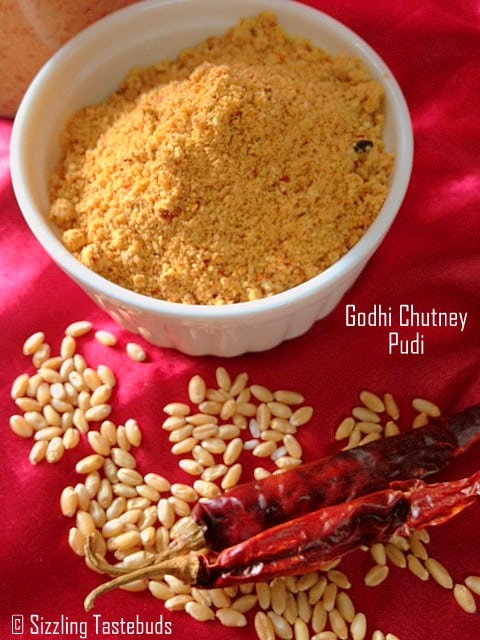 Pin
Aromatic
powder made from wholewheat & spices

Ingredients:
Wholewheat – 1.5 cups
Whole Red chillies –
7 ( I used 5 normal red chillies and 2 Kashmiri variety)
Curry leaves – 2
sprigs
Jaggery powder – 2
TBSP
Fenugreek seeds – ½
tsp (optional – but I used)
Dry Coconut grated
(Copra) – 1 cup ( I used approx ¾ cup)
Salt – to taste
Oil – 1 tsp
Asafoetida – ½ tsp
Tamarind powder – 1
tsp (else use 1 very small roundel of tamarind)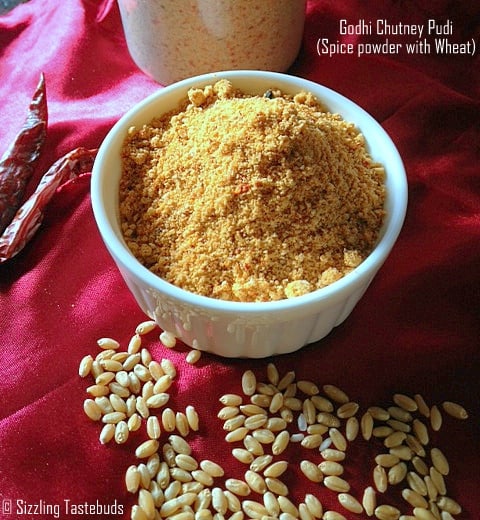 Pin

Method:
In a medium hot pan,
dry roast the whole wheat in batches on a medium heat till a lovely nutty aroma
wafts out (approx 8-10 mins) . You may also microwave it for 6 mins (stopping
every 1 min). Transfer to a plate.
Roast the dry coconut
for just 1 min till it turns warm (Warning – dry coconut burns very fast, so
please pay attention!). Cool
Add ½ tsp of oil.
Roast the chillies, fenugreek seeds, tamarind on a low flame till the tamarind
is slightly roasted and gets crusty and the chillies coat with oil. Transfer to
a plate.
Now add the remaining
oil and slightly fry the curry leaves springs till they get crispy. Transfer.
Let all the
ingredients come to room temperature.
Grind the wheatgrains
first to a smooth powder (I like it slightly coarse). Transfer to a large bowl
or dry plate – powder 1
Then grind the rest
of the ingredients including salt, but except dry coconut to a powder. Mix this
powder into the wholewheat meal – powder 2
Now at the end just
grind the roasted dry coconut (this is ground separately as dry coconut leaves
oil when ground too fine) for just 10-20 secs. You should end with a coarse
powder – powder 3
Mix all three
powders. Check for salt and spices.
Store in an airtight
container, and use as required.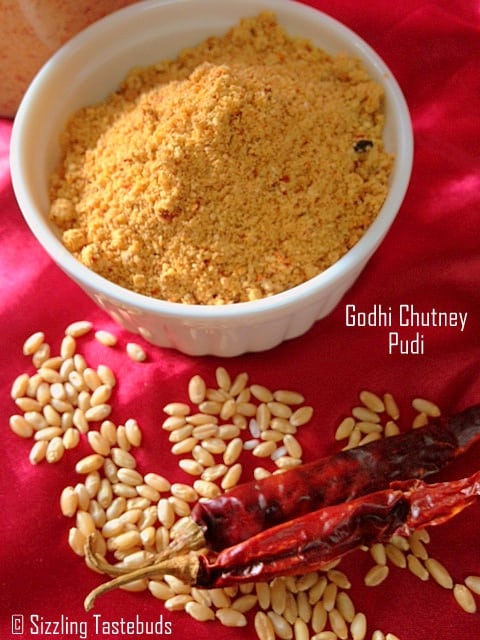 Pin
Pin
Logo courtesy : Preeti
Check out the Blogging Marathon page for the other Blogging Marathoners doing BM# 32