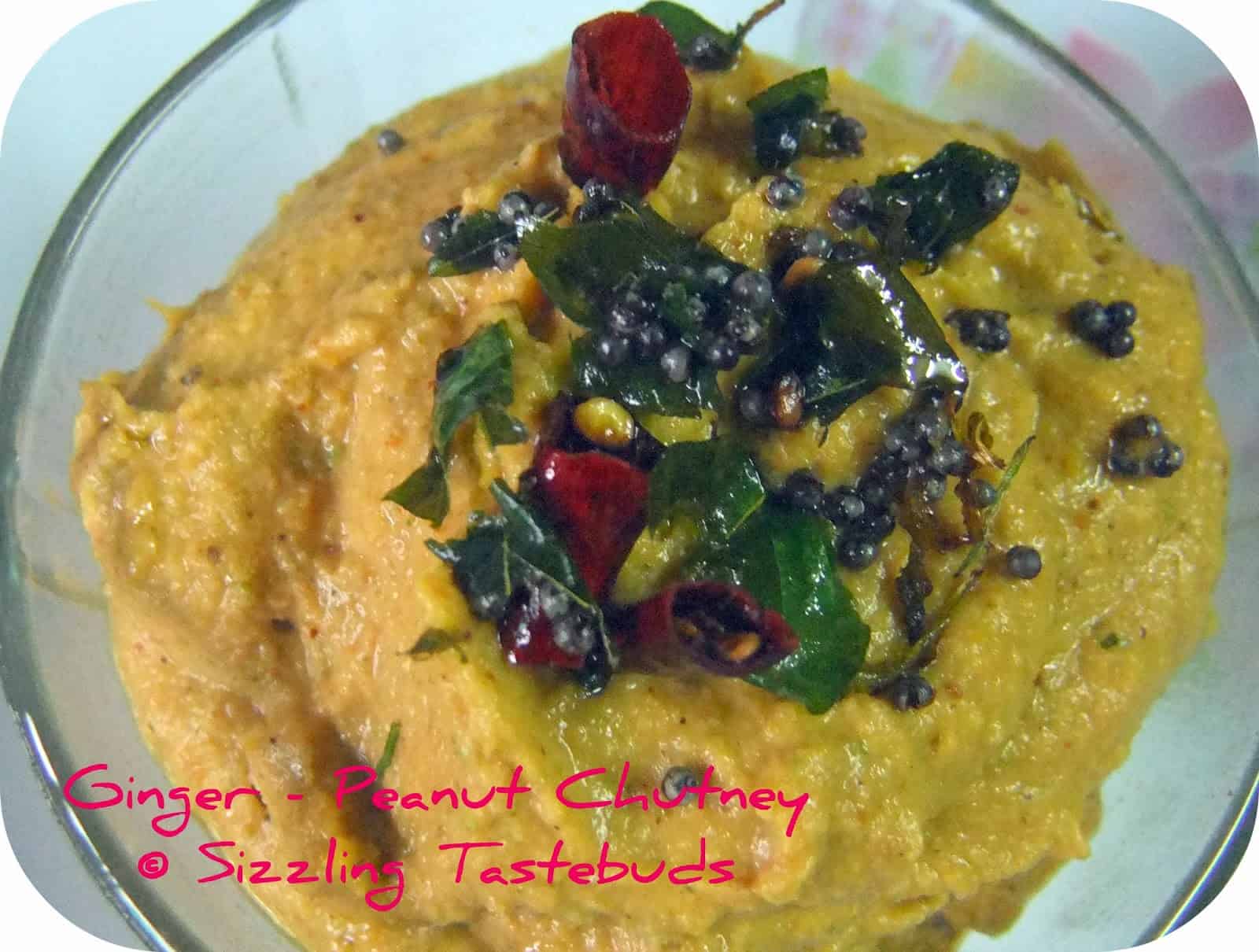 PinPin

Two of my favourite ingredients coming together for an awesome chutney – now, it couldnt get better than this right ? And the best part is, no coconut too ! It went very well with Poha Idli (recipe coming soon!) and thus I added a new chutney to my menu too 🙂 Let's get quickly to this post – Ginger Peanut Chutney. Sending this to Valli'sCondiment Melaas well as BM Day 4 under "Cooking with 5 ingredients or less" theme along with Nayna's event – South Indian flavours.

See what my friends from BM are dishing outhere.

Update : Sending this to Priya Mahadevan's The Big Chutney Chowdown

This goes with any typical South Indian breakfast – Idli / Set Dosa / Kanjivaram Idli /Rava Idli /Oats Dosa

Other Chutneys you might like ..

Quick to make, it requires just 3 -4 ingredients, apart from the tempering of course. Let's make it then..

Ingredients:
Ginger – 1 inch
Green chilly – 1 no / Red chillies – 2
Peanuts – 1/4 cup
Fried gram / Pouttu kadalai – 2 tbsp (opt.)
Salt to taste

PinPin
Tempering : Oil (1 tsp) + mustard seeds + curry leaves
Method :
1) In a pan, heat 1 tsp of oil and roast the peanuts well. Add the grated ginger and the chillies and fry once more. If using fried gram, turn off the stove and warm it a bit. Toss and cool.
2) First dry grind the mixture without any water. Add salt and 3 -5 TBSP of water and grind again to a smooth chutney.
3) Prepare the tempering with oil + mustard seeds + curry leaves and pour on the chutney.
4) Serve with any South Indian breakfast options listed above..