Gatti Pakoda (Gatti – means dense or hard) comes from Bombat Bhojana cookbook
series. He had described Pan Pakoda in that which was very interesting.. and I
adapted the same with onions…Although we make these Onion pakoras (or Vengaya Pakodas) once in a while, the Gatti Pakodas were
lot more dense, crunchy and had the sweet aroma of fennel and ginger coming
thru. Traditionally these Pakodas are made just with gramflour / besan.
Addition of onions is optional although it adds to the flavour
This goes to the final day of BM for
March, where the theme was Besan in three different forms from three different
cookbooks. Last 2 days saw me dishing out Besan Ladoo & Methi Kadhi. Hope you enjoyed reading the posts as much as
I enjoyed cooking them and posting them for you. Do give a shot at today's
pakoras. And your tea time would never be the same again 🙂
Prep time : 10 mins | Cook / Fry time
: 15 mins | Serves : 2
Spice level : Low-medium
Serving suggestions : Coconut Chutney
or Ketchup along with a cup of tea 🙂
Difficulty level : Easy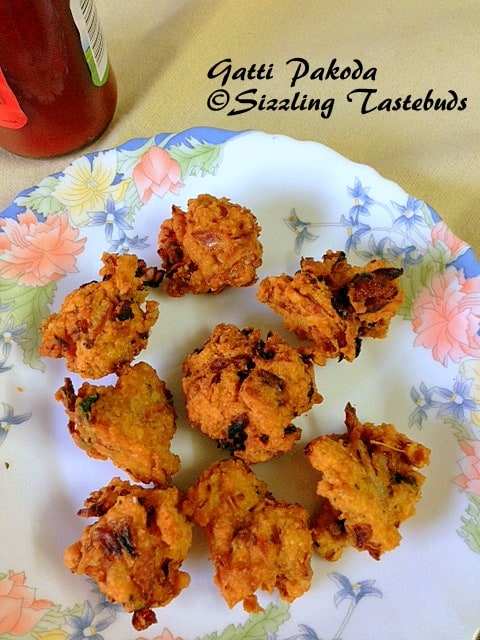 Pin
Ingredients:
Besan / Gramflour – 1 cup
Rice Flour – 3 TBSP
Soda – a pinch
Onions – 1 large- finely minced
Green chillies- 1/2 tsp
Grated ginger – 1/2 tsp
Red Chilli powder – 1 tsp
Turmeric- 1/2 tsp
Asafoetida / Hing – a pinch
Salt – to taste
Fennel seeds / saunf – 1/2 TBSP
Coriander seeds – 1/2 TBSP
Jeera powder – 1/2 tsp
Oil – to deep fry
Method:
Sieve besan, rice flour, soda, salt,
turmeric, jeera powder well.
Roast and coarsely powder saunf and
coriander seeds- add to the above dry mixture and mix well
Keep oil for frying. Once moderately
hot, add 1 big ladle of hot oil to the dry mixture. leave for 2 mins and with a
spoon mix well.
Addition of hot oil is mandatory to
get crisp pakoras.
Now add the onions, chillies, chilli
powder, hing and ginger and mix well once the oil is cooled. Do not add any
additional water.
The onions and salt will give it the
required moisture. If only absolutely necessary, add 1-2 tsp of water. Leave
the mixture for 5 mins.
Check for salt and spice. The batter should
be very dense almost
Pinch out some dough and drop in the
oil to see if it sizzles to the top – then the oil is ready to fry.
Make small pakoras and deep fry in
medium-hot oil till they are golden brown.
Drain on absorbent paper
Enjoy hot with a cup of tea 🙂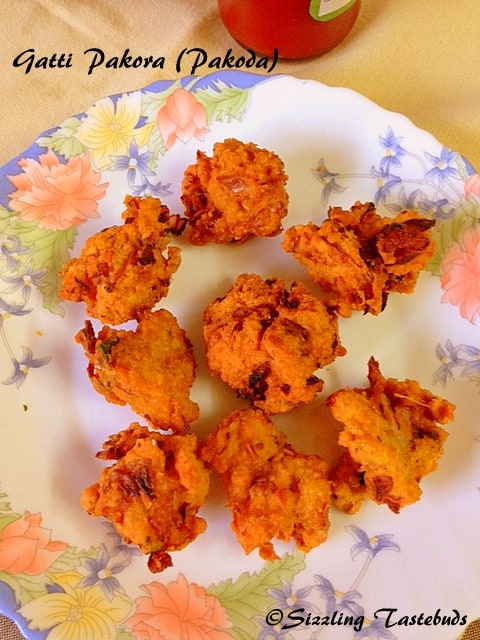 Pin