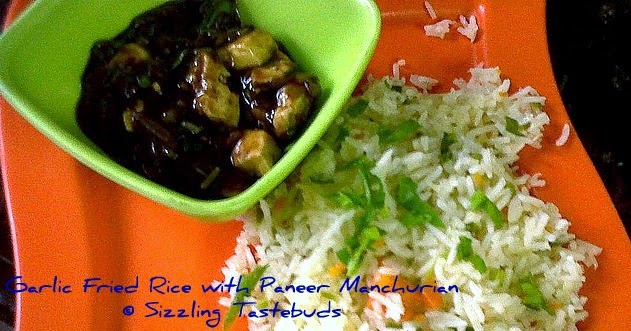 Pin

Sunday lunch is usually an unhurried and elaborate affair, often a 3 course meal. However, with S out this Sunday too, me n kiddo had this yummy Garlic fried Rice and Paneer Manchurian – a combo that never fails to deliver the punch and excitements for kids and adults alike. With the entire combo made in just 2 tsp of olive oil and no MSG and with carrots and paneer added, this is an extremely healthy meal to regular junk food dished out at restaurants / food courts at malls .

As I was making this for the kiddo, I have avoided using green chillies & ginger altogether. But go ahead and use it as per your preference. My daughter however likes fried garlic, which is why I added quite a bit of that for this dish. Kiddo has this unwritten rule that Sundays be reserved for Paneer dishes, and there it was, in an Indo- Chinese avatar.

Update: sending this to Vardhini's event on Garlic, started by PJ

Check out my friends running the marathon here

Prep time : 10 mins. Cooking time : 20 mins. Serves : 2

Ingredients:

Fried Rice:
Long grained / basmati rice – 1/2 cup

Veggies – diced fine (carrots / cabbage/ spring onion)- 1/2 cup

Onions – 1 small (diced fine)

Olive Oil – 1 TBSP

Garlic – 1 pod (large)

Salt – to taste

White pepper powder – a pinch (opt)
Paneer Manchurian:
Paneer – 1/4 cup (diced to nibble sized chunks)

Olive Oil – 1 tsp

Garlic – 1 small pod

Onions – 1/2 (diced fine)

soya sauce – 1/2 tsp

Tomato Sauce – 1/2 tsp

Spring onions – 1 TBSP

Salt – to taste

Cornflour – 1/2 tsp
Method:
Fried Rice :
1) Wash and soak basmati rice for 20 minutes. Drain.
2) Heat olive oil. fry diced garlic, onion well. When the garlic turns brown, add the rice and fry for a minute.
3) Now add minced carrots, cabbage, spring onions and fry again.
4) Add salt and twice the water and cook rice till done. Cool and fluff the rice when done to separate the grains.
5) Serve garlic fried rice with Paneer Manchurian (recipe below)
Paneer Manchurian:
1) In a wok, heat oil. Fry garlic and panner chunks till the paneer is fried.
2) Now add onions and fry a little more.
3) Dissolve cornflour in a little water to a slurry – like consistency.
4) Add soya sauce, tomato sauce to the work and stir lightly. Now add salt (as required) and the cornflour mixture.
5) Switch the stove to simmer for 3 -4 mins.
6) Mix well. Garnish with spring onions and serve hot with Fried rice above / Stir fried Noodles too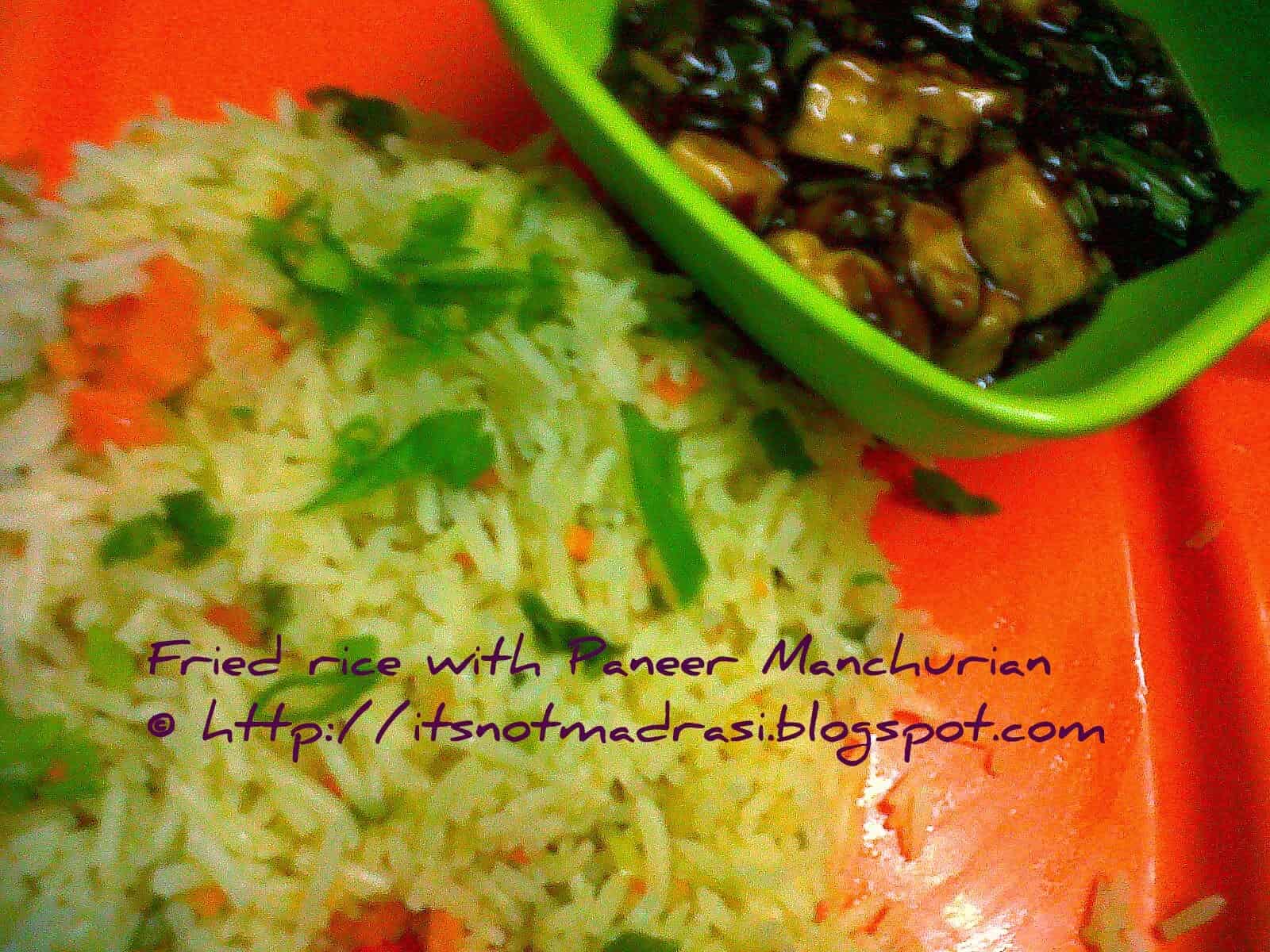 Pin