Well, as I sit down to write this post, so many changes have happened in my personal life in the past fortnight ; most of them are great, and I am anxious for some. But given that time is the greatest healer and God is overlooking every one of us , I am thankful for the bounty that He showers upon us. 
Nothing can soothe me like food – if its a well made Indian food Thali (I am very very partial to Indian Cuisine – much to the chagrin of my kids), its a treat. Considering we don't eat out very frequently, I take Sundays as an opportunity to present different thaalis (all home-cooked and healthy) at home, and all (well, most) of them are appreciated with gusto. Although am yet to adventure into the North Eastern cuisine for my thaalis, over the next three days, we shall see different thaalis from 3 states of India.
I love the diversity and balance that comes with Indian Thalis – something that will hopefully inspire researchers in the West to come and tell us how healthy we Indians eat (barring that odd indulgence of deep fried fats and sweet, which incidentally celebrity nutritionist Rujuta Diwekarholds a no-views barred of);  but having a well made Thali is something me and my family relish.  The balance of carbs, fats, proteins and sweet along with the sweet-sour-spicy-astringent properties of food is something most Thalis across India vouch for with their simple-to-elaborate spreads.
Ahh ! I digress. Writing, like eating good food – is cathartic to me 😀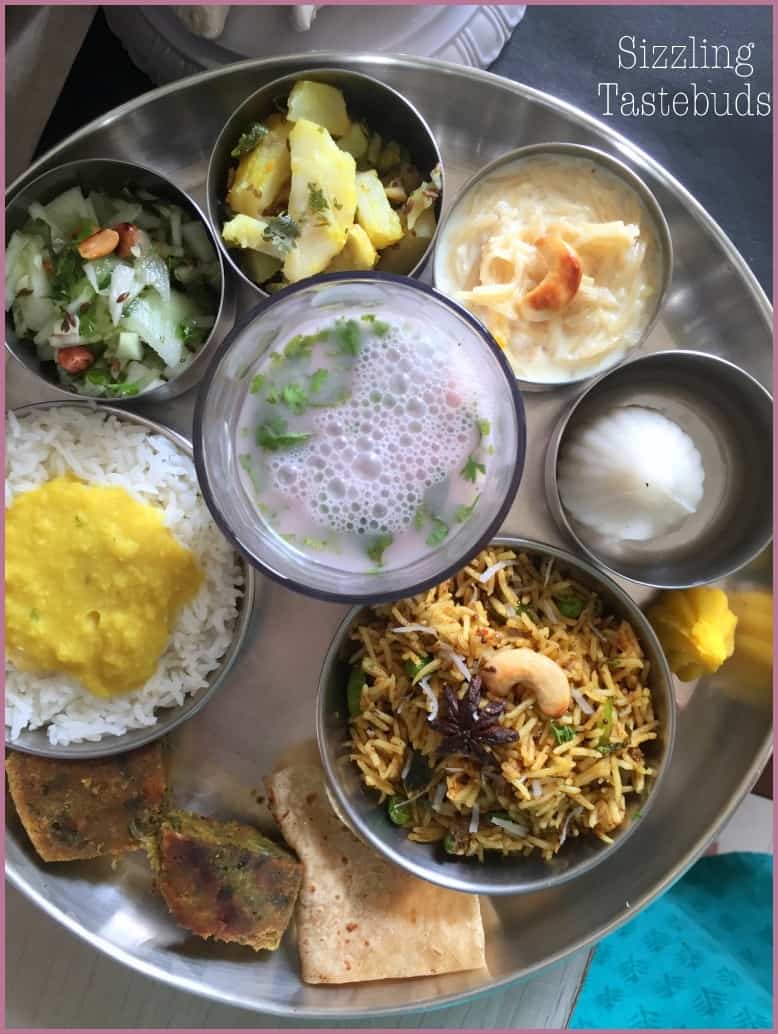 Pin

Today is a festival Thali made for the Ganpati festival with ample inputs from my blogger friend Pradnya (over whatsapp). I was keen to present a simple yet festive Maharashtrian Thali and everyone loved it a lot.  Thanks Pradnya for the same 🙂

Do check out the Thali to see what was made.

Starting at the 6 'o' clock position and going clockwise, we have :

Roti (flat wheatbased chapati)

Kothmir Vadi (coriander based pan fried lentil snack)

Varan + Bhaath (cooked lentils with salt and turmeric + Steamed rice)

Khamang Kakdi – aka Kakdi chi Koshmbir (cucumber and peanut salad)

Puneri Aloo Jeera (Pune style Potato stir fried & tempered with cumin)

Shevyacchi Kheer (Vermicelli Milk based kheer or payasam)

Sol Kadi (Kokum flavoured digestive drink)

Ukdiche Modak (steamed stuffed rice flour dumpling)

Mawa Modak – evaporated milk sweet made with sugar and saffron

Masale Bhaath – spiced rice with gherkins

Highlights of the Thaali:

1) With 30-45 min preps, the entire meal for 3 was ready in under an hour

2) Entire Thali is ginger – garlic – onion free (aka satvic) – just the way we prefer as Naivedyam or offering to the Gods on festivals

3) The Sol Kadi can be prepared ahead of time – even upto 2 hours prior (it tastes better when it stands for a while)

4) Modaks were store bought, although they can be easily made at home

5) To make the entire thali vegan, one can skip use of dairy products.

We enjoyed this series, and hope that you, my readers will too ! Do tell me what kind of Indian food thalis you enjoy making at home.

Recipes of Varan, Khamang Kakdi and Puneri Aloo are shared below. Rest shall be posted shortly. Masala bhaath& Shevayacchi Kheerrecipes have already been shared here.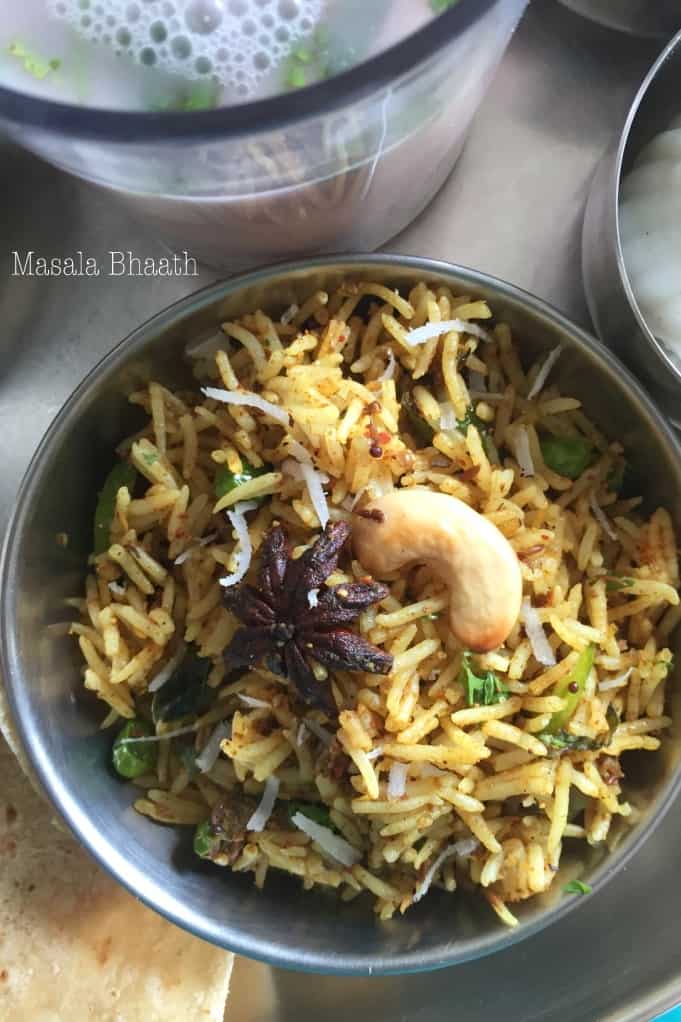 Pin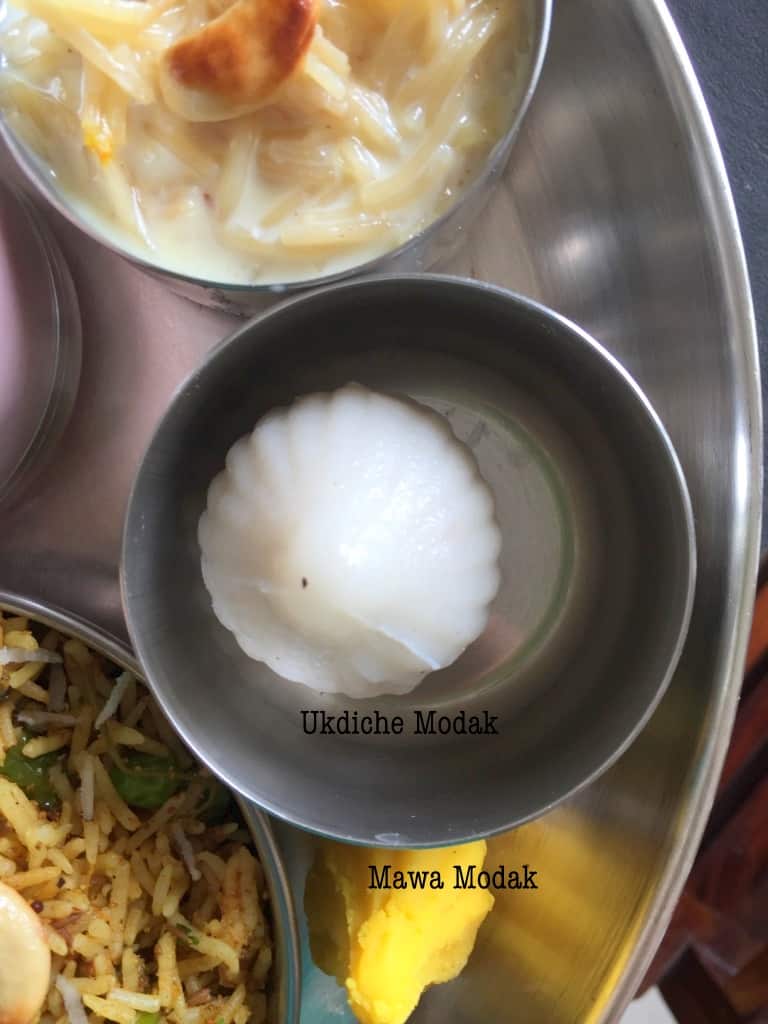 Pin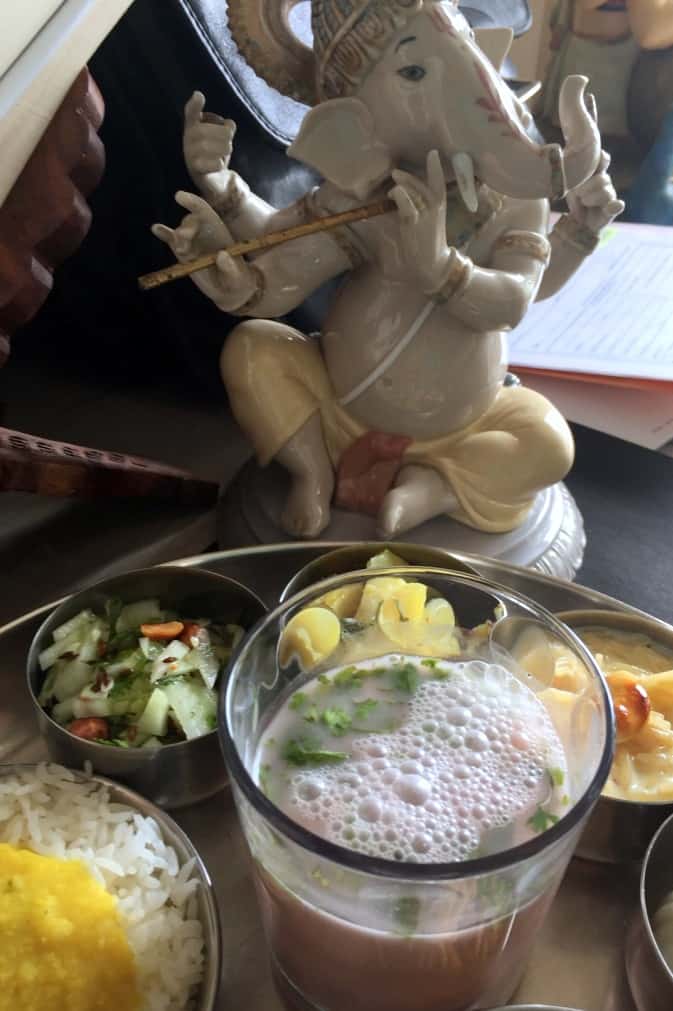 Pin
Khamang Kakdi or Kakdi Chi Koshimbir
(Salad with cucumber and peanuts)
Cuisine : Maharashtrian, course : Salad / snack ; vegan and GF. 
Peel and chop the cucumbers into tiny bits. Add roasted and skinned peanuts, fresh coconut – mix well. Now make a tempering with 1/2 tsp oil, mustard seeds, green chillies. Add to the salad. Mix well and add salt just before serving chilled.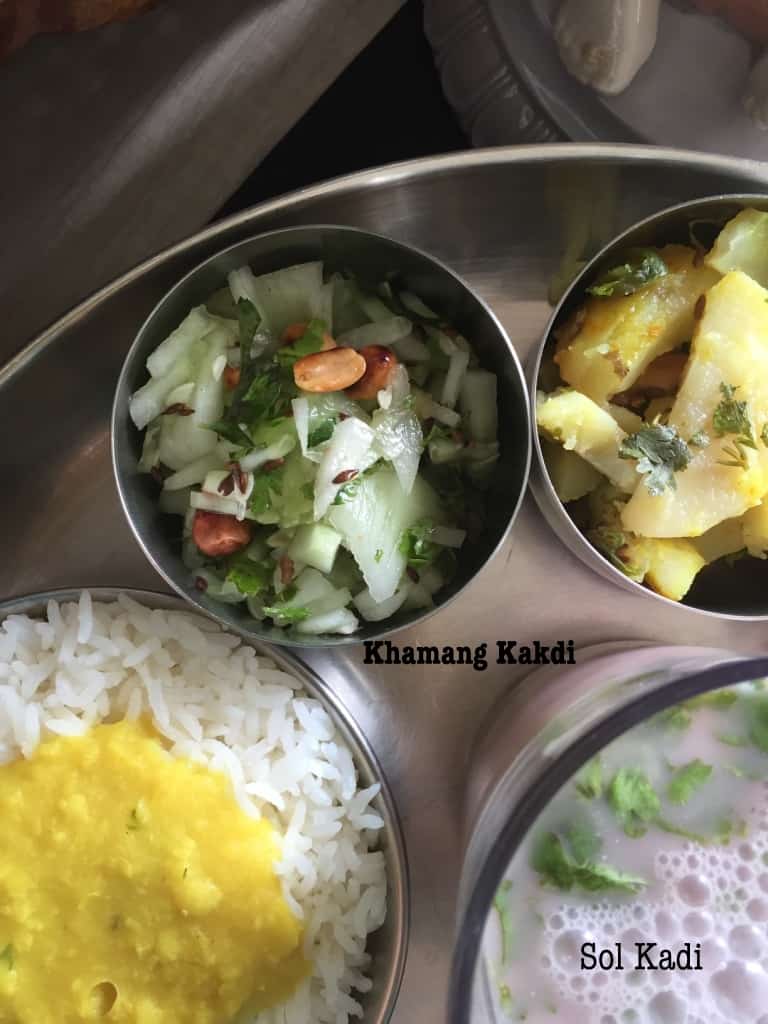 Pin
Puneri Aloo
Potatoes stir fry with cumin and red chillies
Course : Sides. 
Vegan and GF dish. 
Dice 4 peeled potatoes. Par boil them with a pinch of salt and turmeric. Drain and keep aside.
In a pan, add 1 TBSP Oil, crackle cumin seeds and 2 broken dry red chillies. When the cumin seeds pop, add the par boiled potatoes. Sprinkle a little more water and salt and cook covered till done but not mushy. Serve hot with rotis or rice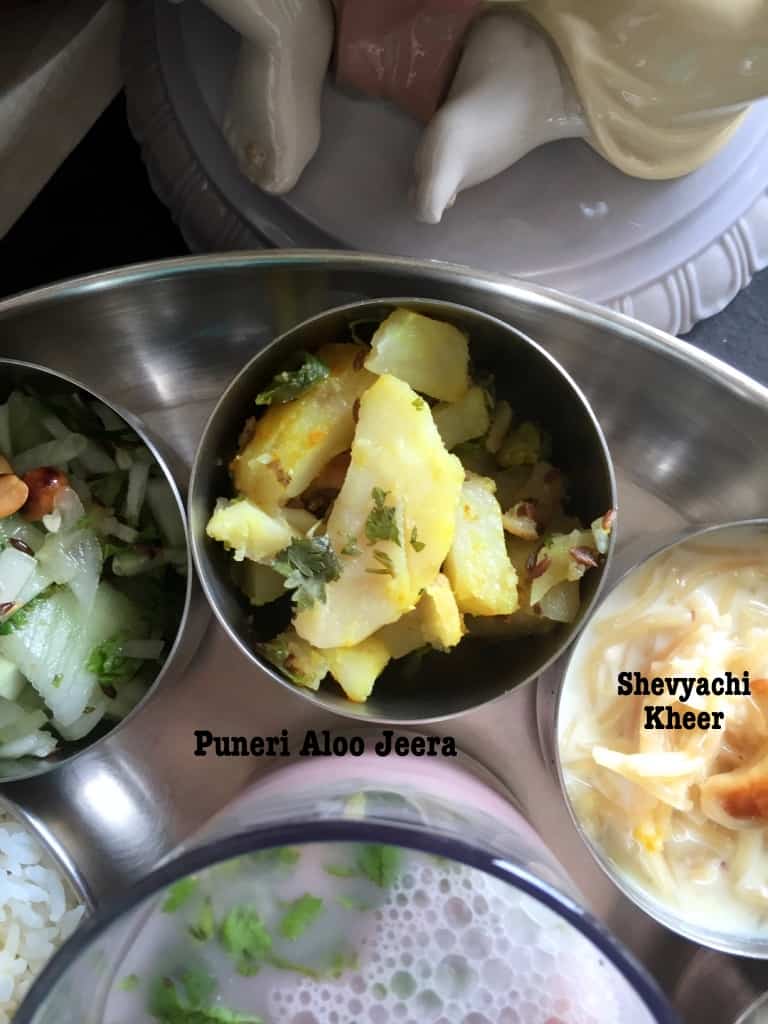 Pin
Varan:
Soak and pressure cook 1/2 cup Toor dal (split pigeon pea) with some turmeric. Once done, mash up finely. Add salt and a pinch of hing (asafoetida). Top with Ghee and serve with hot rice.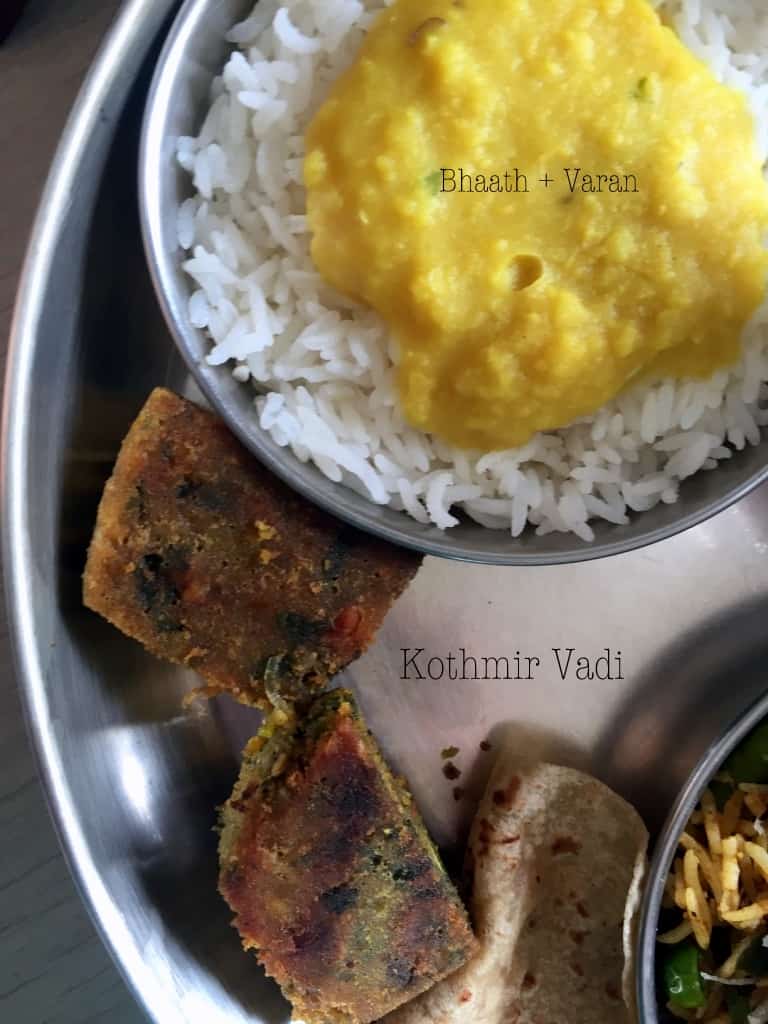 Pin
Stay tuned for two more thalis this week 🙂