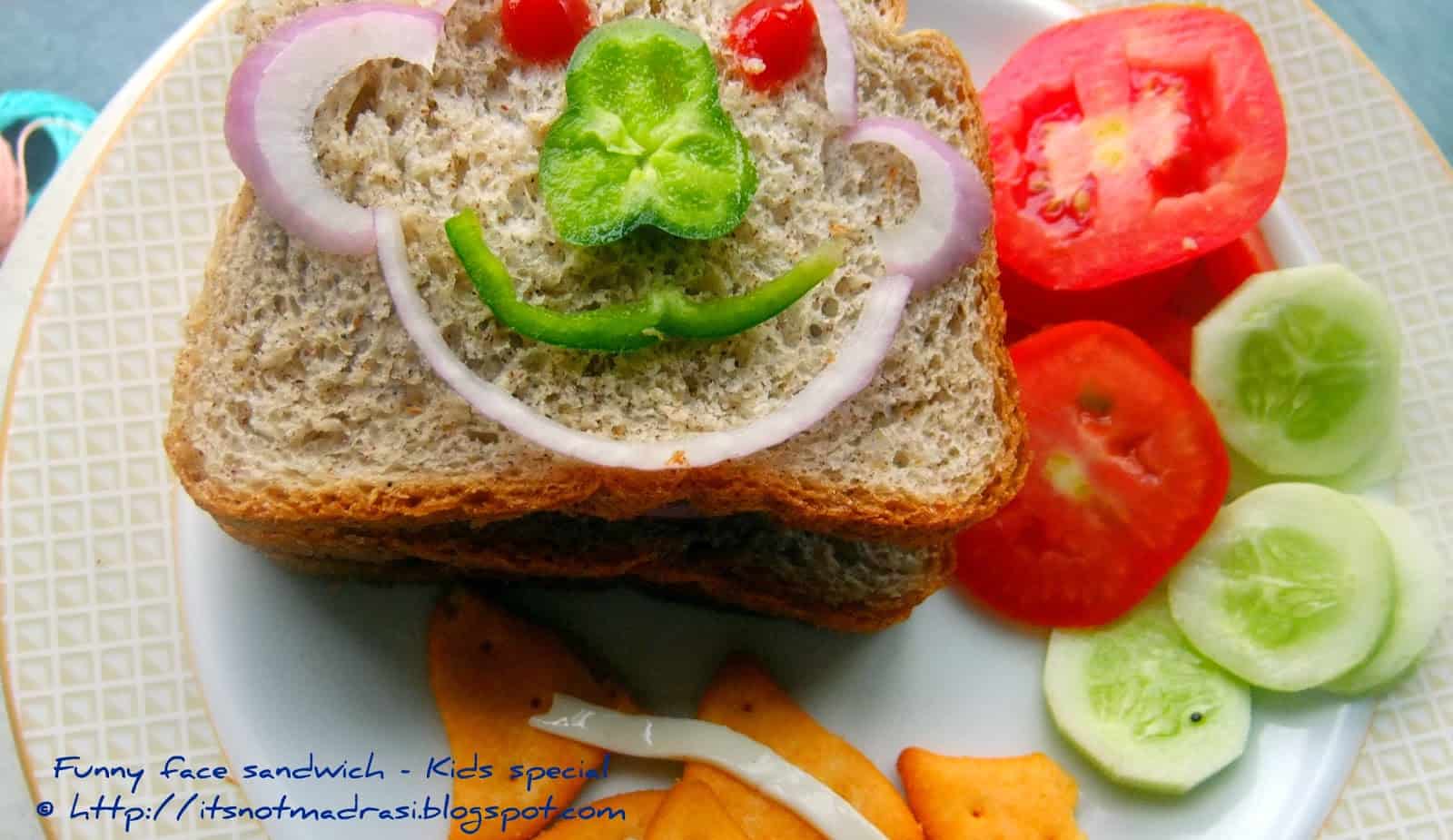 Pin

Okie – first the disclaimer. The title, design and name of this post was decided not by yours truly but by kiddo – after all, its her dish : Yup, she made this, and clicked the picture too 🙂 (Like I said in the beginning of thisBlogging Marathon , I would work with kiddo to make no fuss no cook dishes with her – and that's exactly what we did last afternoon after school). She decided she would make it – I negotiated that it couldnt come with butter (cheese was ok) and no extra sauce to go with it .She being the master negotiator at home (aren't all kids!?) said that was ok as long as she made it fully and even clicked it (so, if you feel that the pics have a little less focus, you know why).

 Bottomline, we enjoyed working together, and that's the best part of the collaboration. She even named it the Funny Face Sandwich. So, here's the recipe for no butter healthy sandwich. I again made it this morning for myself (of course, sans all the frills) and it was a wonderful and filling breakfast too , wholewheat bread at that. So sending this to Day 3 of Blogging Marathon under 'No Fire cooking' series (you can check my other friendshere) and also to Radhika'sScrumptious breakfasts and Kamalika's event 

Let's get on to the recipe…

Prep time : 20 mins. Makes: One Triple Decker Sandwich

Ingredients, to go:
Wholewheat bread – 3 slices
Cheese slice – 1 no.
Tomato – 1 large
Cucumber – 1 small
Capsicum / bell pepper – 1/2
Onion – 1/2
Salt – a pinch
White pepper powder – 1/2 tsp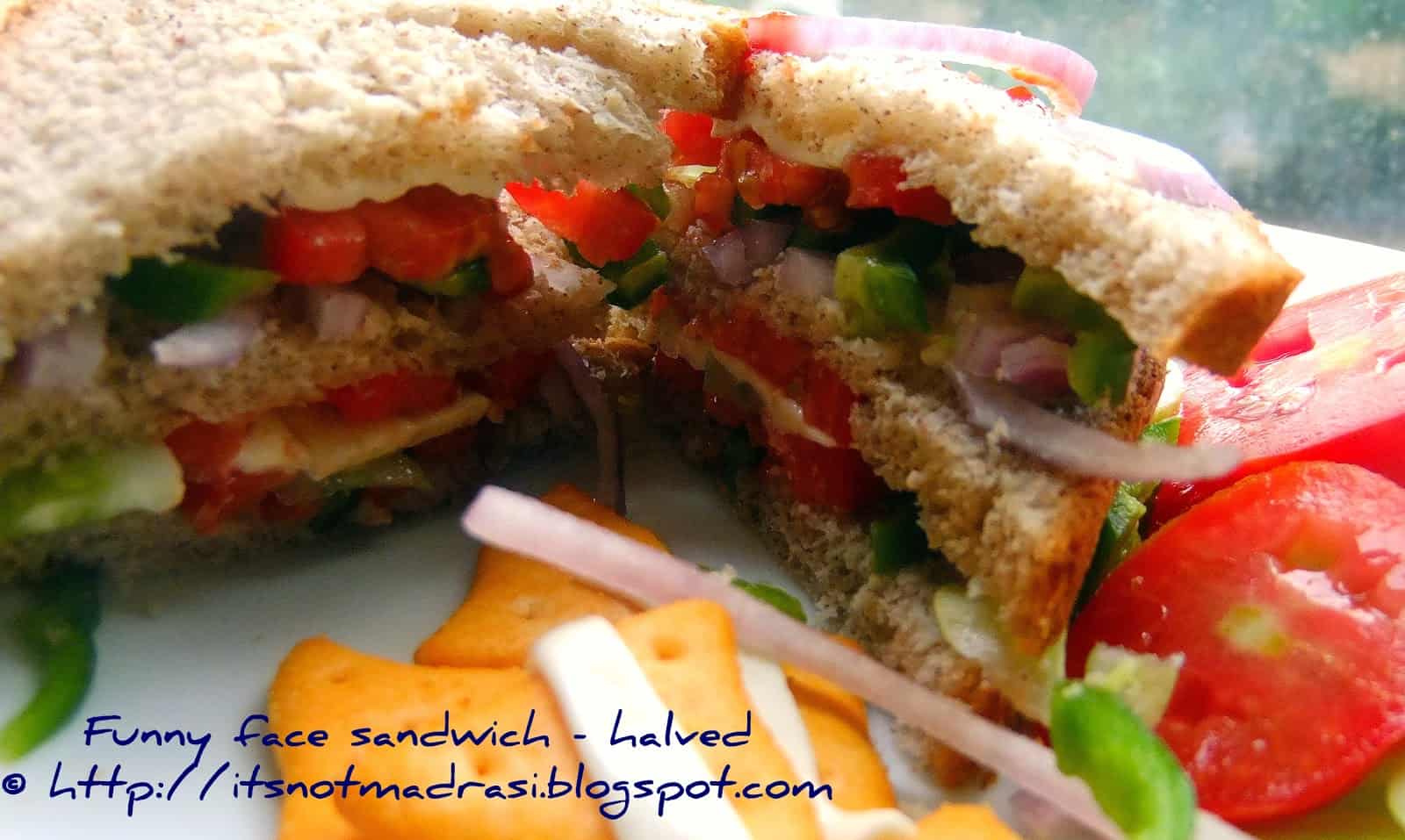 PinPin
Method:
1) Cut the veggies into thin roundels / strips. Deseed tomatoes, else the sandwiches get soggy.
2) On a bread slice, arrange some of the veggies, layer half a slice of cheese, sprinkle some salt and pepper.
3) Cover with another bread and repeat the process till you get a triple layered sandwich.
4) Press it down lightly so its easy to cut and bite into.
5) Decorate with remaining veggies into any funny face you want (in fact let your kid do it – its truly enjoyable). Serve it with any salad or wafers to up the kid's delight quotient:-)
Notes:
1) I have not used butter / ghee / sauce / green chutney to make this in a breeze. Do feel free to add it in.
2) As the cheese slices already contain salt, we coudl reduce / omit the salt topping., In fact, when eaten with a little ketchup / sauce on top, even that salt can be excluded !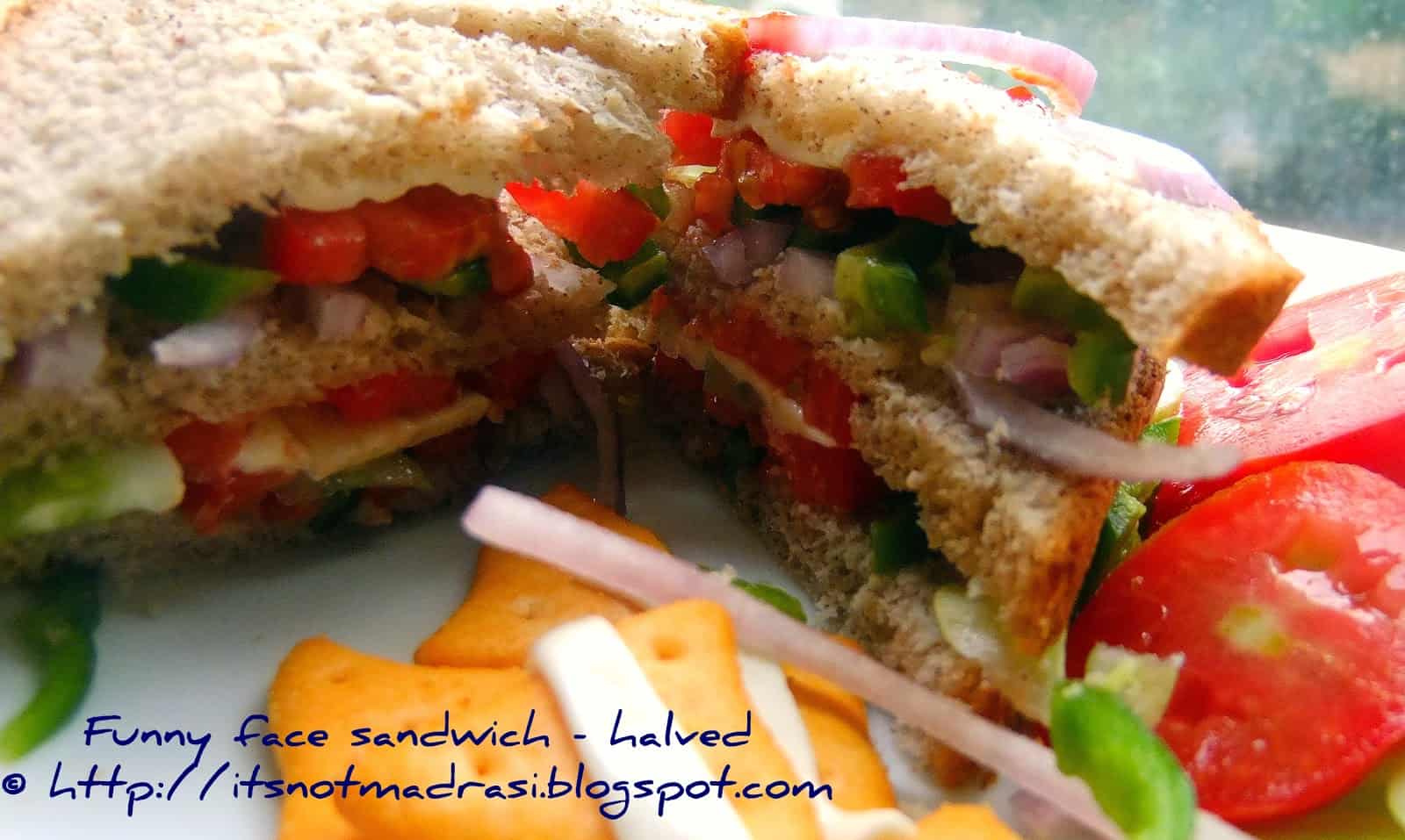 PinPin