Anything Cheesy is bound to be a kids favourite. But if its healthy, moms are happy too. This is one often repeated recipe as an after school snack. I have made it so many times but forgot to click as we got busy eating them eah time:)
Now the lil one also imitates her elder sister and wanted a bite too, and then loved it. The fillings for this snack is so versatile you can go with almost anything – bell peppers, drained black beans, cooked lentils / peas, boiled corn. Its also a great way to use leftover dry curries :p
As much as presentation is key to any kid's dish, its also important to keep it fuss free. So its a great make-ahead for kids parties too – do let me know how you liked it.. am sure you would make this soon !
Sending this over to Day 2 of Kids healthy snack box theme at BM#43 and also to Beluah's who's hosting Bake Fest#34, Harini who's hosting Valli's Kids Delight.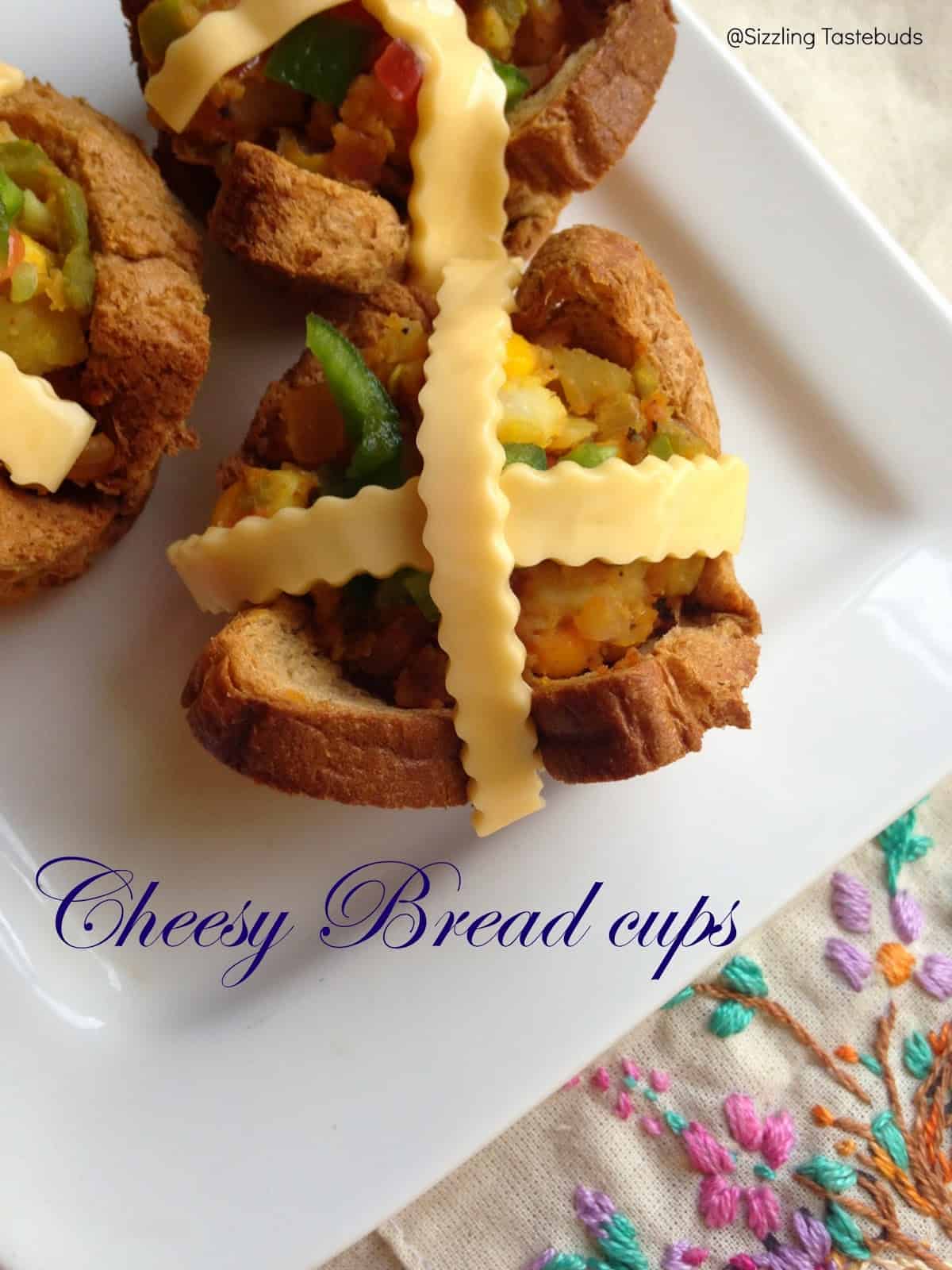 Pin
Cheesy Bread Cups – an anytime Snack
Cuisine : Fusion
Difficulty level : Easy
Prep time : 15 mins | Baking time : 8-9 mins | Makes : 6
Ingredients:
Brown Bread – 6 slices (you can use any fresh bread)
Sweet Corn – 1/3 cup – boiled
Boiled potato – 1 medium
Oil – 1 tsp
Bell peppers minced – 1/4 cup (i used a combo of red, green)
Onions – 1 medium – minced fine
Ginger garlic paste – 1/2 tsp (optional)
Red chilli powder – 1/2 tsp
Garam Masala – 1/2 tsp
Turmeric powder – 1/4 tsp (optional)
Butter – to grease the baking tray (about 5 gms) – you may use olive oil too
Salt – to taste
Tomato Ketchup / Sauce – 2 TBSP
Cheesy slices – 2 nos (you can also use Parmesan or Cheddar)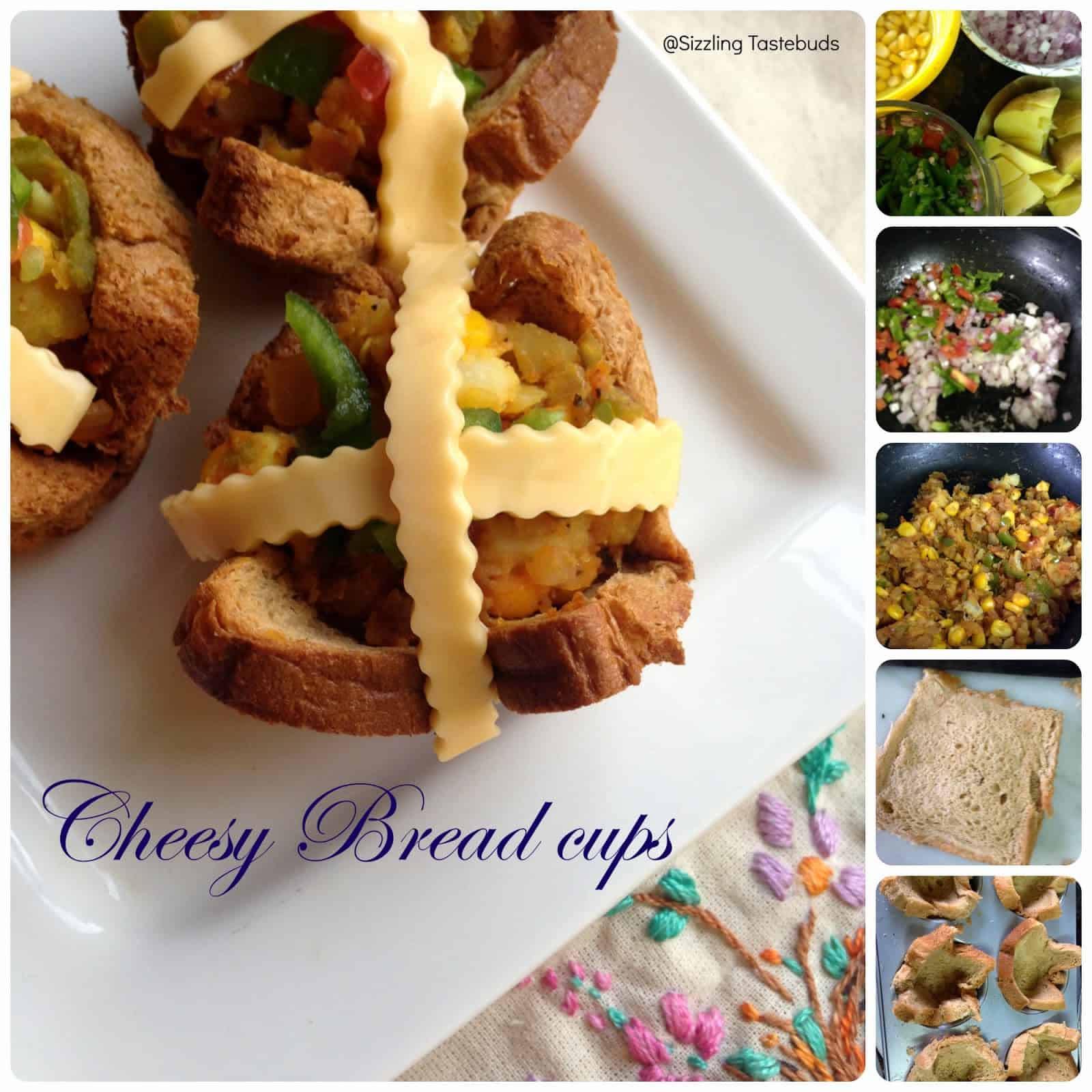 Step by step process


Method:
Pre-heat oven to 160 Deg C. Grease the muffin pans with butter or oil or cooking spray
Filling:
In a pan, heat oil. Saute onions and bell peppers till crunchy (about 4 mins).
Add ginger garlic paste, turmeric and saute again
Now add boiled corn, mashed n boiled potato and stir gently.
Add tomato ketchup, salt, garam masala powder, red chilli powder and mix again.
Let this mixture cool completely.
To make the bread cups :
Trim the bread cups lightly (I used them as it is). Flatten them gently with a rolling pin and gently press in the centre on to the greased muffin pans (one in each dimple)
Spray a little more oil on the top of the bread slices and gently spoon in 2-3 tsp of the filling.
Place cheese slices on top (I just cut them into strips for an elegant look)
Bake for 8-10 mins till cheese slightly melts.
Demould carefully and serve immediately.
Pin