Craving for a quick mini meal post work or too lazy to make breakfast or dinner? Then, this instant healthy Cornmeal Dosa is for you 🙂 Actually, necessity is the mother of invention, dont you think so? Mom kept referring to the packet of Cornmeal that I bought earlier this month while on a food-store spree 🙂 her inventory skills are sooo much better than mine, she keeps mentioning I could start a mini grocery store anytime soon with all the mindless (sometimes) purchases I make 🙂
I knew I could make Muffins using these (which I dutifully did), use as topping for patties / cutlets (which I also did). And finally made these yummy fluffy Cornmeal Dosas, to which the base was Oats. And how healthier can it get ? Although kiddo wasnt temped to have any (coz it wasnt crispy enough for her), we all liked it and its definitely going to be a regualr on the breakfast table.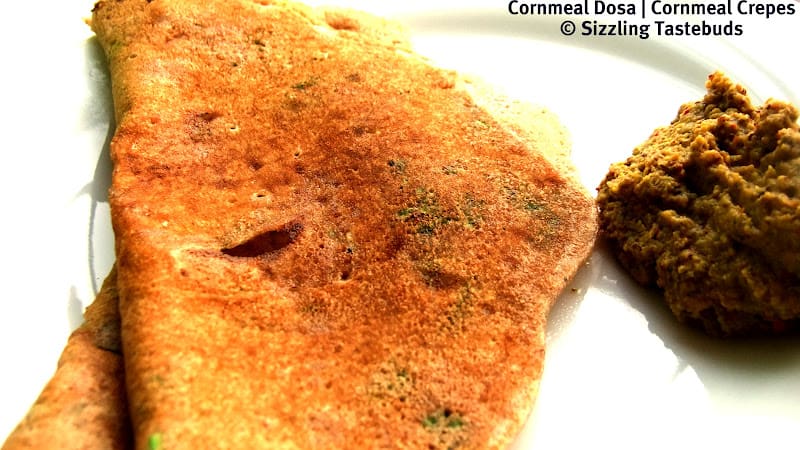 PinPin

Sending this to BM # 14 under Dosa Varieties. Check out the other marathoners here.

Prep time – 15 mins.

Cooking time – 15 mins

Makes – 6 – 8 dosas (crepes)

Ingredients:
Cornmeal – 1 cup
Oats (Dry roasted) – 1/4 cup
Rice flour – 1/2 cup
Rava – a handful ( I did not add)
Sour buttermilk – 3/4 cup (add 1/2 cup first and gradually increase quantity)
Salt – to taste
Onions chopped – a handful (optional)
Green chillies – 1 or 2 (minced fine)
Grated ginger – 1/2 tsp
Cilantro & curry leaves – few
Oil – to fry the dosas
Method:
1) Mix the dry ingredients first : Cornmeal, salt, Oats & Rice flour. Add buttermilk to this little by little and make the batter to a flowing consistency. If required, add a little water.
2) Now add chopped onions, rava (if using), chillies, ginger, curry leaves and cilantro. Mix well. Check for salt and spice once more
3) Heat a tava / skillet to high. Spinkle water to check if the water sizzles. Take a ladleful of batter and spread thick or thin in concentric circles. Turn heat to medium. Drizzle oil around the edges and cook for 1-2 mins.
4) Flip over and cook again for 30 seconds.
5) Serve hot with any chutney or sambhar.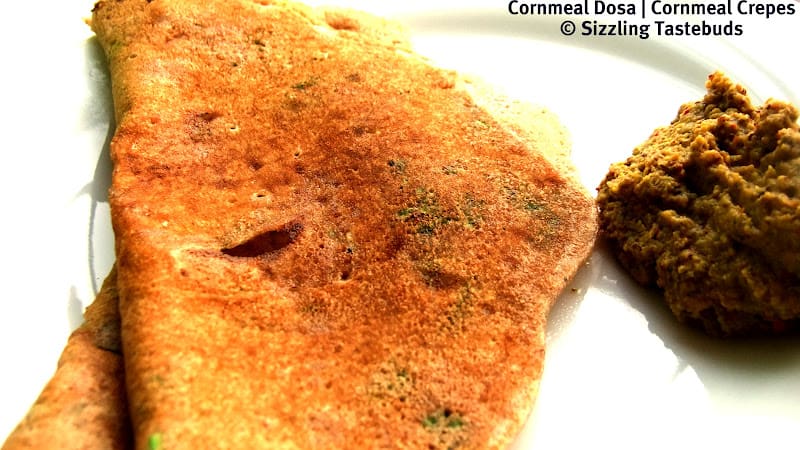 PinPin