Faraa is an interesting yet simple dish of Chattisgarh. As this state was carved out of Madhya Pradesh (MP) only as recently as 2000, the culinary influences of this state are limited to what was seen in MP or has
influences from Orissa on the east and Maharashtra to the South west and Andhra on the South..
So one could possibly guage that the cuisine is an amalgamation of these, the primary one being from MP. Being the 10th largest state of India, mining is an important economic activity in this state.
Today's dish Faraa is like a steamed dumpling, only that there are very few online resources from where the authentic recipes of Chattisgarh are
sought. In fact after I made this version, I watched on a TV FOOD channel something called Bundelkhand ka Farra (from Bundelkhand, which is in Northern MP), and the hostess and the guest were mentioning that this version itself is borrowed from UP (Uttar Pradesh). But this dish on television was totally different from
the one below, although both of them originated perhaps from the same state.
With some creative license, we can only assume that certain
dishes are from that state based on the few authentic recipe sources we have…
This snack is pretty easy to make, although the dough is a tad delicate to handle. I made a very small quantity adequate for clicks, and as we
liked it shall be making it again very soon !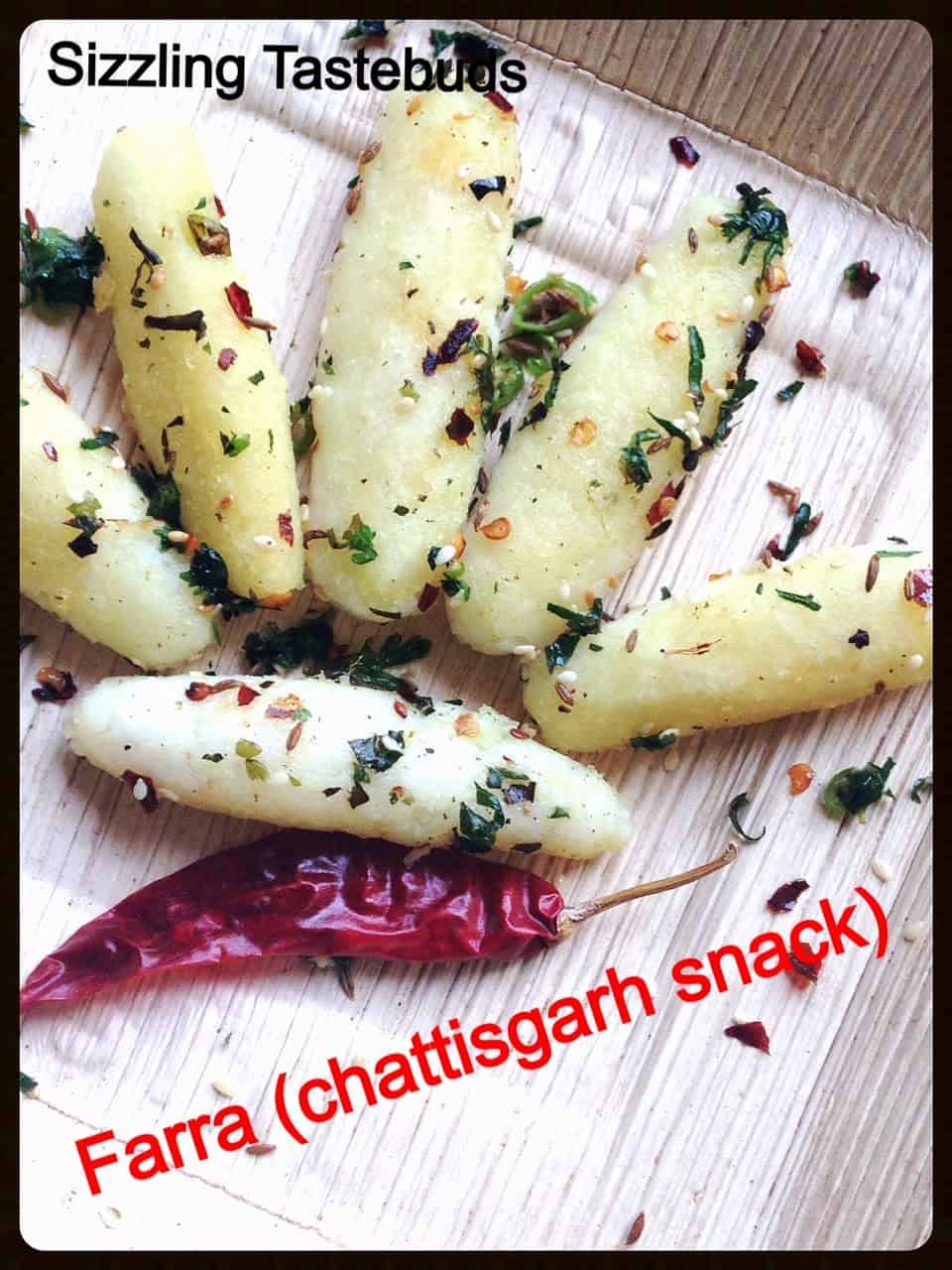 ———————————————————————————
BM : 39 ~ Indian State : Chattisgarh
Recipe : Faraa or Farra
Dish type : Steamed snack
Spice Level : Medium
Accompaniment : Green Chutney
Prep Time :15-20 mins, Cooking time
: NIl ; Serves : 2
Source : Here
Ingredients:
Rice flour – ½ cup
Cooked rice – 1/3 cup
Warm water – 3 to 4 TBSP (or as required)
Til / white sesame seeds – 1 tsp
Oil – 2 tsp
Salt – to taste
Garlic – 2 pods (or to taste – I didn't add)
Red chili flakes – 1 tsp (and / or diced green chilli)
Ginger – optional – 1 tsp
Coriander leaves – 2 tsp
Method:
Mash the cooked rice well. In a large bowl, add rice flour and warm water little by
little or as required to make a soft but firm dough. Rest for 5 – 10 mins
Grease your palms a bit and make thickish cylinders and cut them into 4 inch pieces.
Heat oil in a non stick pan. Splutter sesame seeds, garlic and green chillies. Saute
well.
Add
the dough cylinder pieces and sauté well for 3 -4 mins carefully.
Sprinkle
little water and cook covered for 8-10 mins till the faraa is cooked and raw
smell disappears.
Garnish
with coriander and serve hot as it is or with green chutney or tomato ketchup.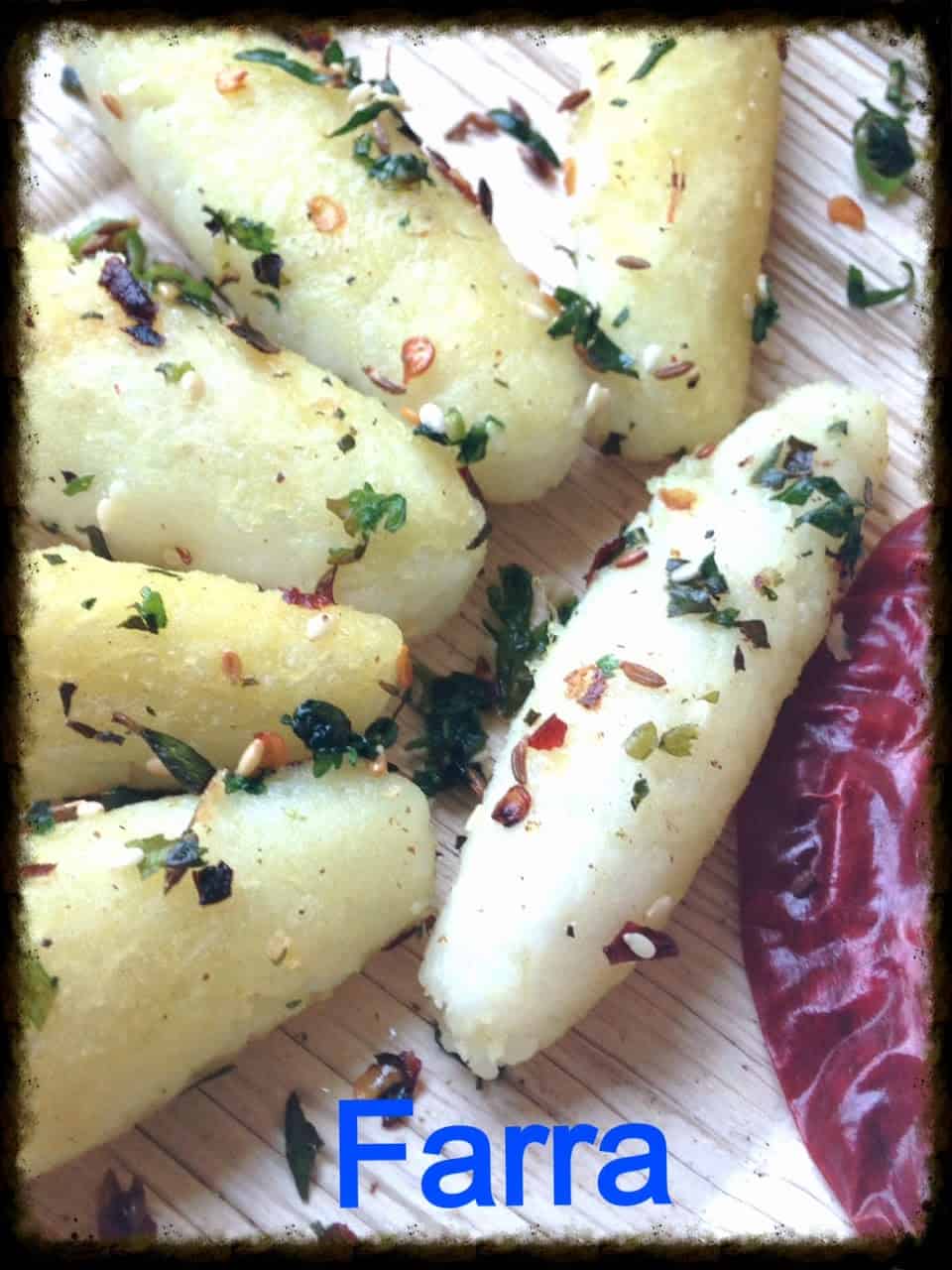 Notes:
I used store bought rice flour. Homemade flour might be coarser and requires
higher standing time
I added both green chillies and red chill flakes.
Strictly going by the recipe source, I felt that adding ¼ cup of water (as mentioned in
the recipe) would make it soggy. So sprinkled only a little and let it brown and crisp a
bit as I was using non stick.