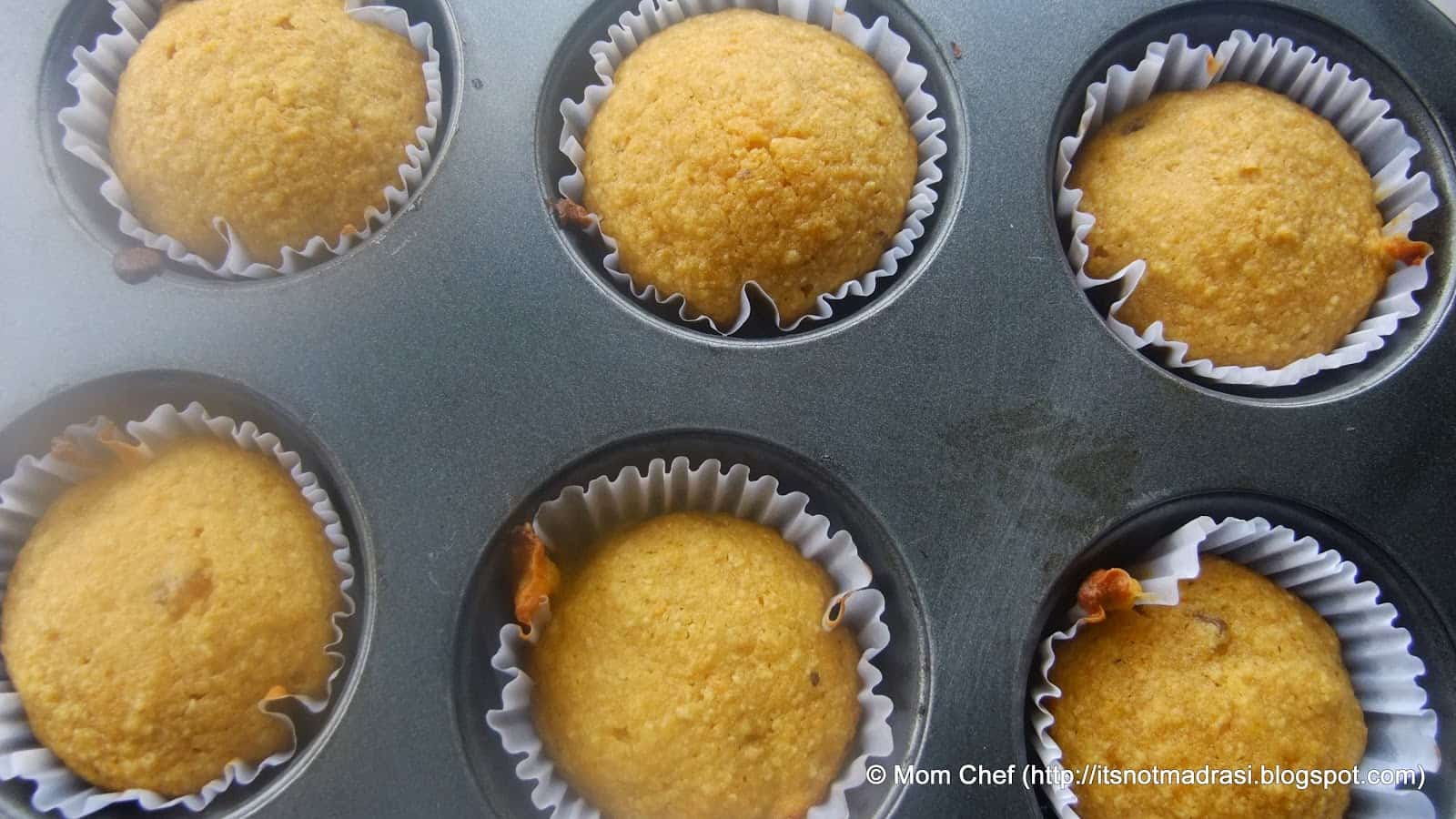 Pin

Well, my first milestone is here – my 100th post 🙂 Thanks to all my friends and co-bloggers who have encouraged me ..Your support is invaluable and do continue to drop in at this space often ! I heartily appreciate your comments/suggestions and participation. 

Many thanks to Valli and the Blogging Marathon for I am sure this success is partly due to me posting regularly on account of the event and in the process, made wonderful friends too 🙂

.. Am celebrating this event with a Carrot and Oats-n-Raisin Muffin (eggless) !I seem to have a weakness for muffins – My very first post on this space was an Eggless Banana-Oats Muffin made of wholewheat and this one is another veggie based muffin. To my palate, I prefer muffins – something which doesn't need any frosting – and at the same time satisfy a sweet tooth too !!

Mom and kiddo happily lapped this up last evening and S was just blown away with the subtle sweetness of carrots and the crunchy Oats peeping through with the raisins 🙂 I made only 6 muffins and with the remaining batter, baked a flat cake with added choco chips – both tasted delicious.

Sending this to Day 3 of the Blogging Marathon under Mini Bites Category and the Kids Delight – Mini Biteshosted by Champa and also to Priya's bookmarked recipes along with Radhika's Let's cook series of Break time Snacks.

Preparation time : 15 minutes. Baking time : 15 mins. Makes : 6 muffins + 100 gm cake (or 12 muffins)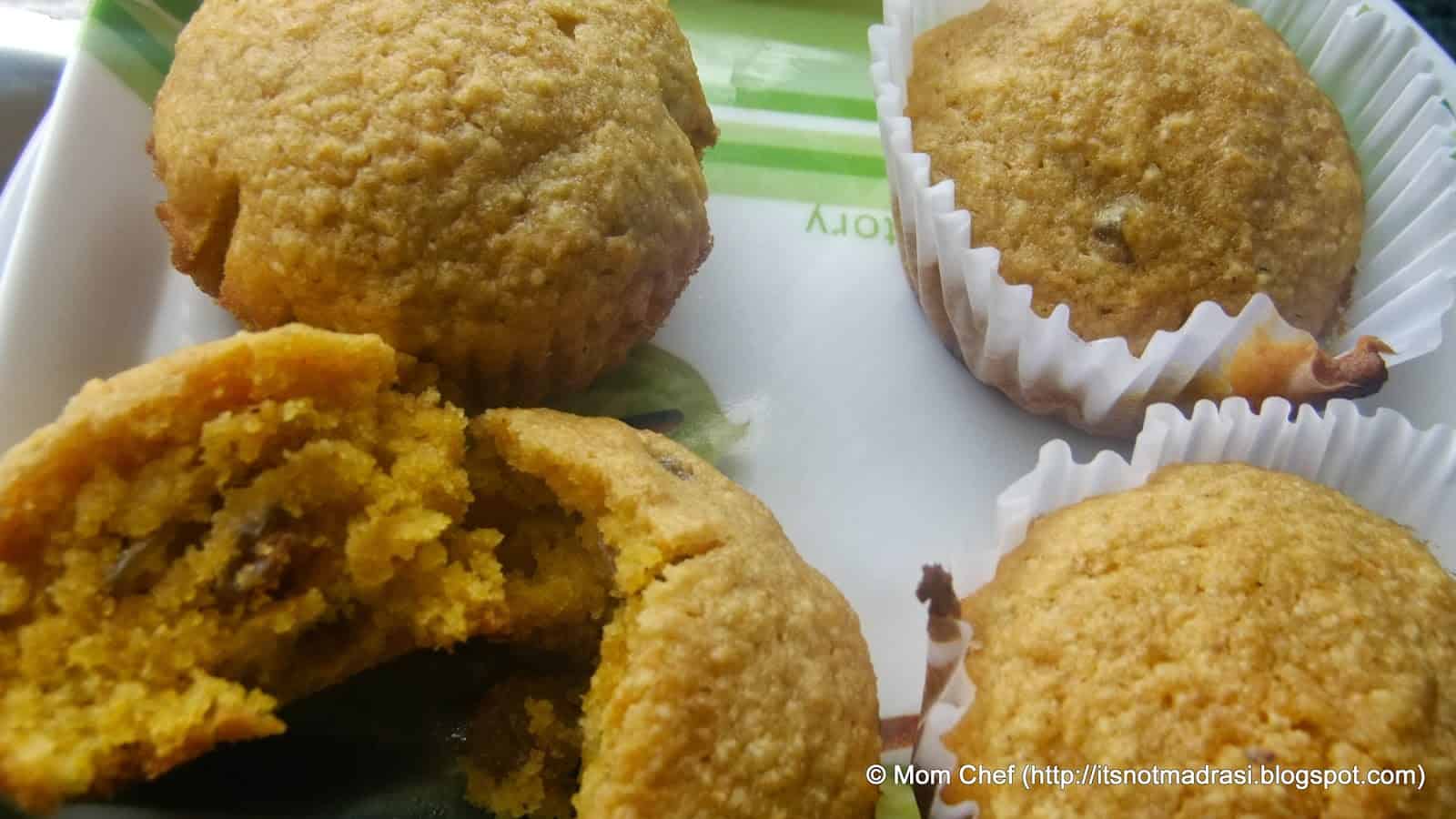 Pin
Ingredients (all Standard baking measurements):
APF / Maida – 3/4 cup
Oats – 3/4 cup ( I used Quaker quick rolled)
Raisins – a handful
Sugar – 1/2 cup
Carrots grated – 3/4 cup
Milk – 3/4 cup
Cinnamon – 1/2 inch stick
Butter – 1/4 cup
Oil – 1/4 cup
Soda – 1/2 tsp
Salt – 1/2 tsp
Cornflour – 1/2 tsp
Method:
1) Powder sugar and cinammon in a blender.
2) Mix together melted butter, oil and sugar powder (step 1) till creamy. Set aside
3) Preheat oven to 185 deg C
4) In a large bowl, sift APF, salt, soda, cornflour twice over.
5) Powder Oats and add into the above flour mixture (Step 4). Mix well.
6) Puree grated carrots without any water till it reduces to less than 1/2 cup.
7) Add milk to the creamed sugar (step 2) and mix well.
8) Make a well in the Oats – flour mixture (Step 5) and pour the wet ingredients (sugar -milk-butter mixture) into it and mix with a spatula in one direction.
9) Now, add carrots and raisins and mix again. If the mixture is too dry, add 1 or 2 tbsp of milk. If its too runny, add a handful of powdered Oats. mix well but do not beat.
10) Grease the muffin moulds and line with muffin paper. Spoon in 1 – 2 table spoon of the above batter till the mould is half full.
11) Bake at 185 Deg C for 12 minutes and 155 deg C for last 3 minutes. Rest for 10 minutes, cool and serve !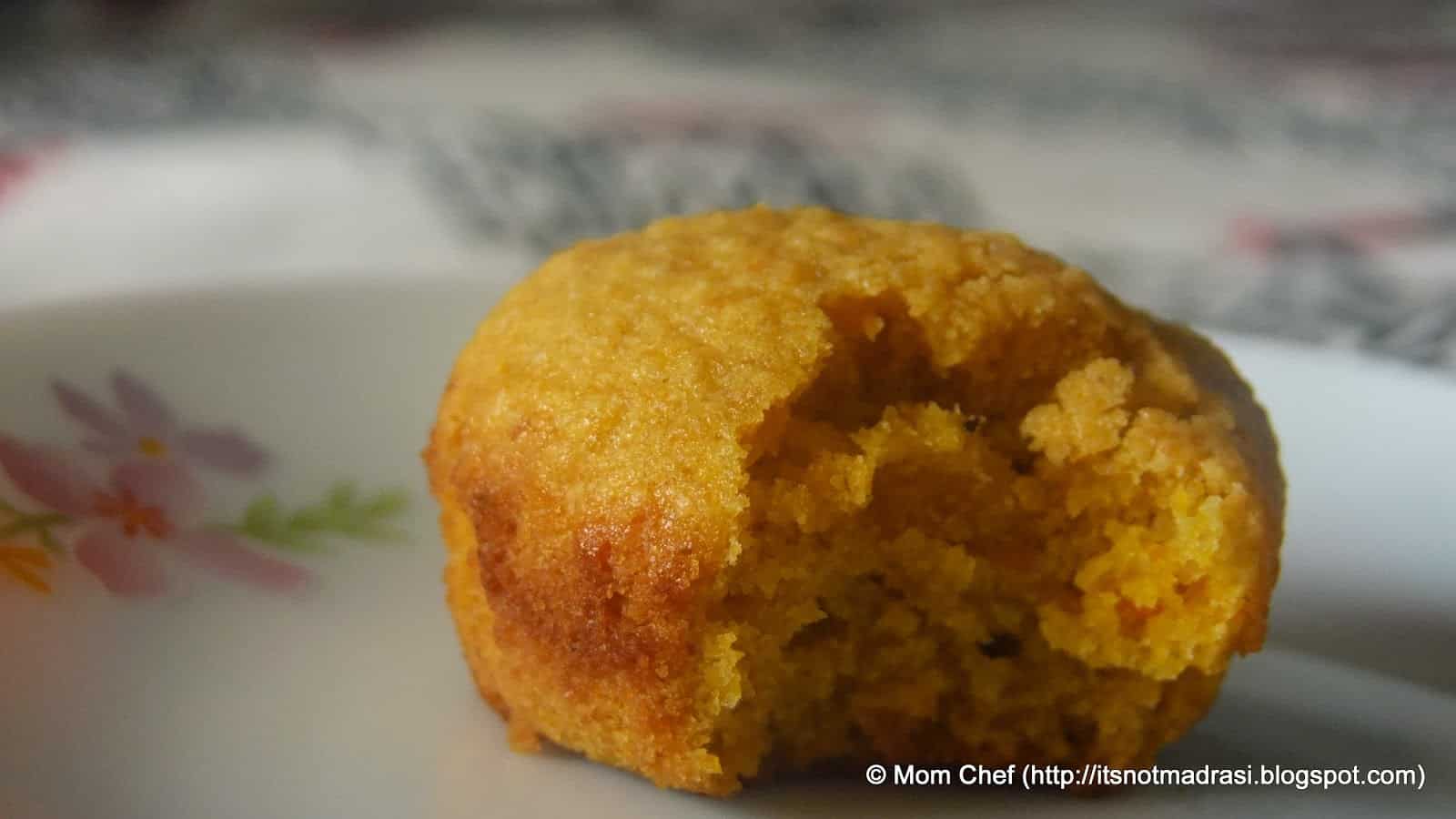 Pin
Tips:
As I mentioned, I made only 6 muffins and made a small cake with the rest of the batter. You may bake the entire batter in a cake tin too !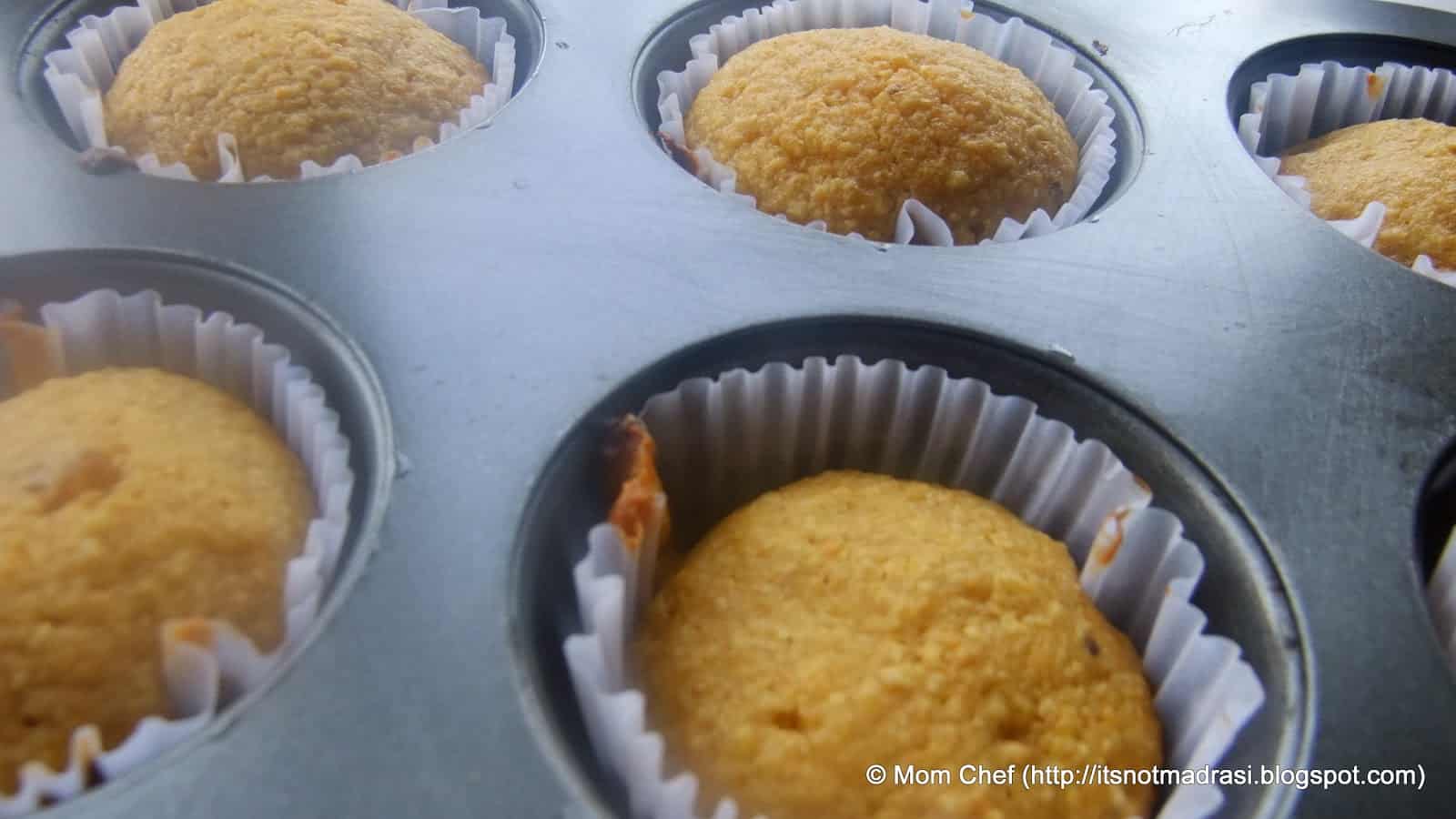 Pin