Pizza – kids and adults favourite. My kids order in from a pizzeria once in a while, but prefer homemade pizza any day. I love that 'coz I know exactly what goes into baking it, and I can control that and the portion size too. I usually have a batch of wholwheat pizza dough freezing, but this time I used my trusted @KingArthurFlour Bread flour (which has an amazing 12% protein content, and no this is NOT a sponsored post from @KAF but a tribute to flour that never fails me!! ). 
If one doesn't have access to Bread Flour, you can add 1 tsp Vital Wheat Gluten to every cup of flour. Of course, baking for me over the years has been more trial and error, more errors than trials … but the joy of baking is something so therapeutic that it can mask all your worries as you knead, fold, bake 🙂
PIN FOR LATER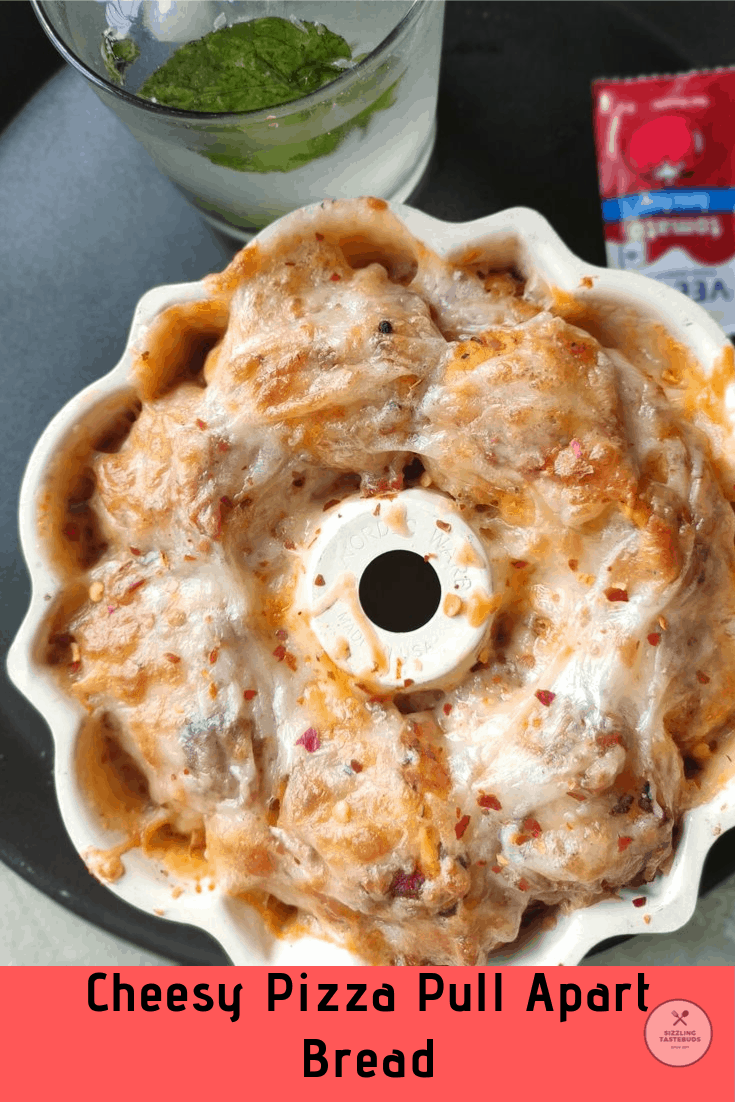 Pin

Preeti – our host for the week has asked us to go on a #pizzaMania trip this week at FoodieMonday. I already have the following pizza varieties on the blog, so wanted to do a take on Pizzas, and this Pull Apart bread was gone in minutes when the kids came back from school. I cut back on cheese consumption quite a bit at home too, so the kids were really excited that the bread had, in my little one's words "Amma, so much Cheese!!!". the glee was totally worth it ! 

This would be a hit at any kid's birthday party as its fun to "pull-apart" the bread one by one. I had make a similar Garlicky Monkey Pull apart bread and that was delicious too. Let's get baking. If you or ur kid is crazy about Pizzas, here are some varieties you can make right at home ! 

Wholewheat Thin Crust Pizza from Scratch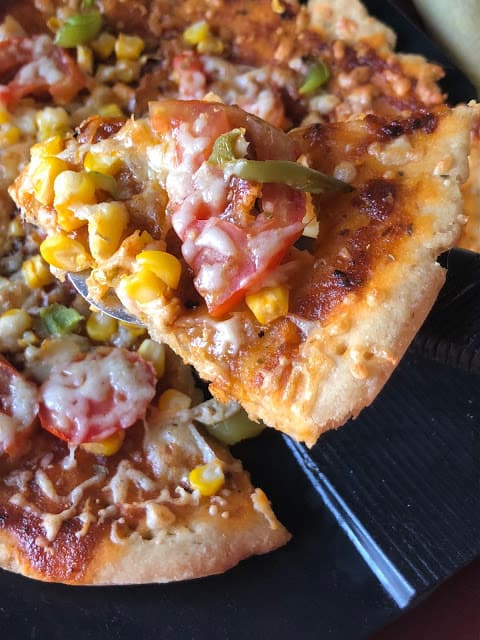 Pin

Grilled Methi Bhakri Pizza Bites | No yeast Fusion Pizza with Bajra (Black Millet)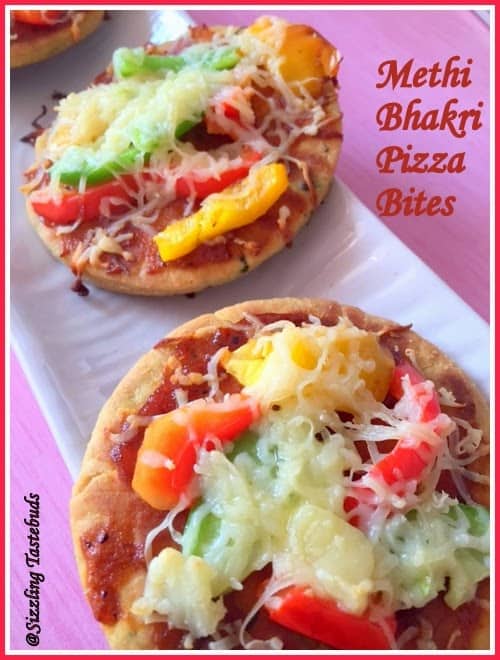 Pin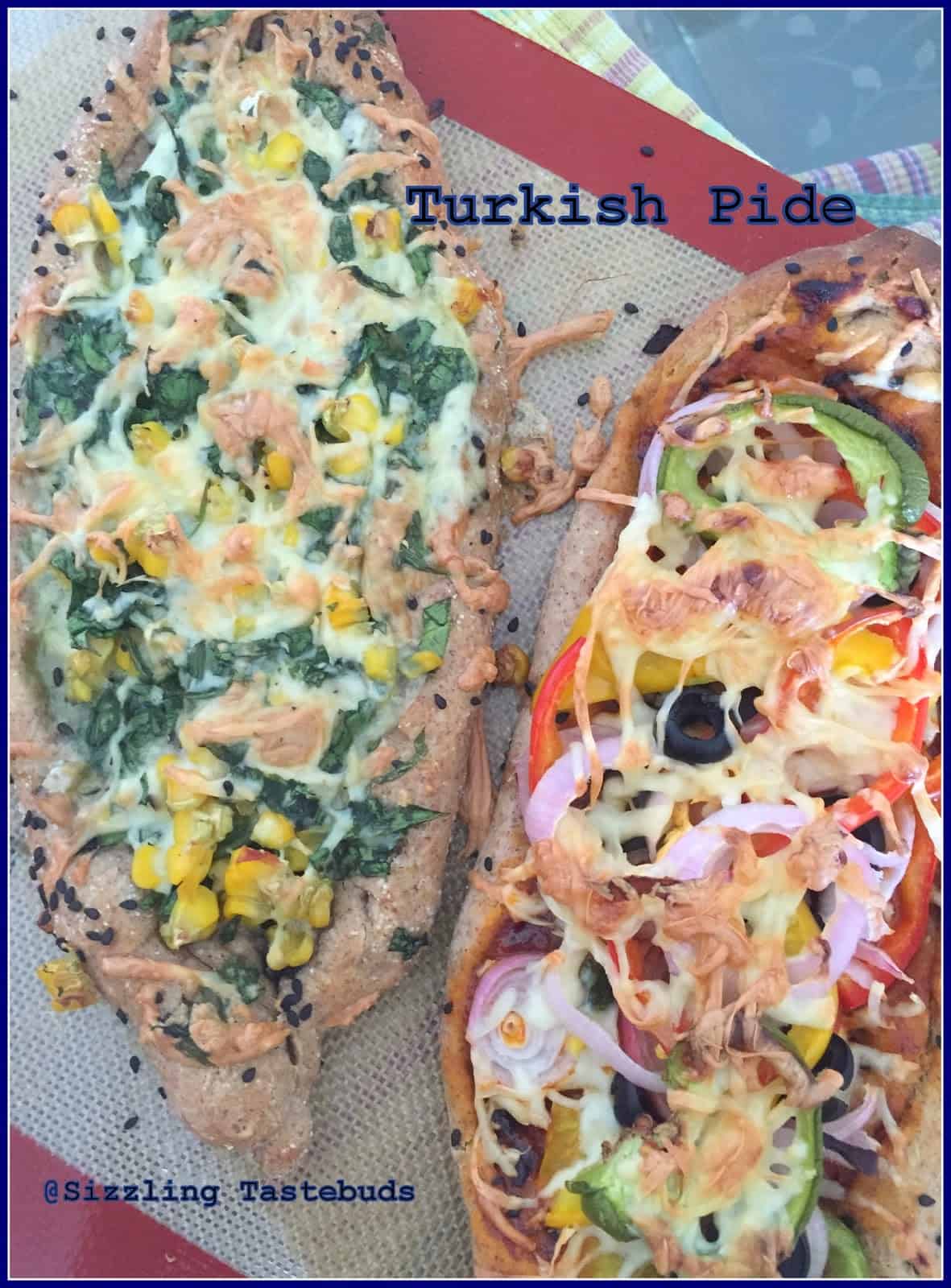 Pin
Dominos-style Garlic Pizza sticks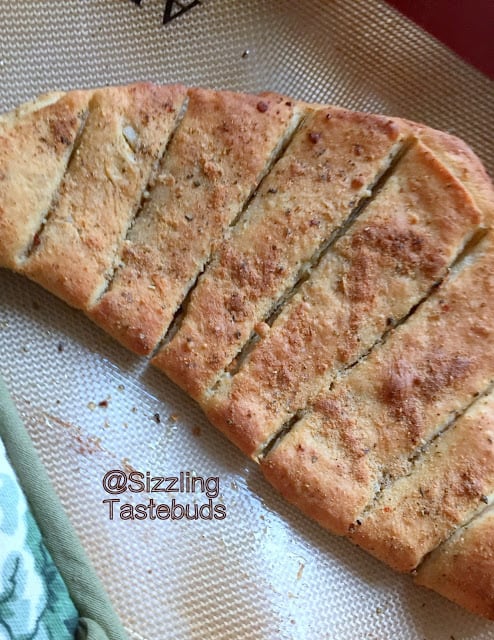 Pin
The following Step by step collage should also help baking amateurs. 
Prep time – 15 mins, Fermentation time – 2 hours + overnight , makes – 2 loaves
What you need:
King Arthur Bread Flour – 3.5 cups
Warm water – 1 cup + 3 tbsp (can vary with the flour quality)
Yeast – 1 packet (7 g)
Salt – to taste
Sugar – 1 TBSP
Italian herbs – 1 tsp ( I used dried thyme and oregano)
Olive Oil – 3 TBSP + 1 TBSP for greasing
Topping:
Red chilli flakes – 1 tsp (for topping)
Shredded Pizza Cheese – I used Brittania Mozzarella Cheese – 2/3 cup
How to :
In a bowl, Mix the sugar with the warm water well. Add yeast and let it proof (takes 10 mins). Mix the flour, salt, herbs well, Add the proofed yeast and half of the oil and knead well to a smooth, elastic dough (takes 20 mins by hand). Grease a ceramic bowl, Cover with cling wrap as shown in the following picture.
Pin
Once the dough doubles (takes about 60-90 mins on a humid day), punch it down a bit and  cover it again and place in the refrigerator overnight (for the no-knead option, one can just mix the shaggy dough with hand till it forms a gooey kind of mixture, cover and refrigerate prior to first rise for at least 18-24 hours)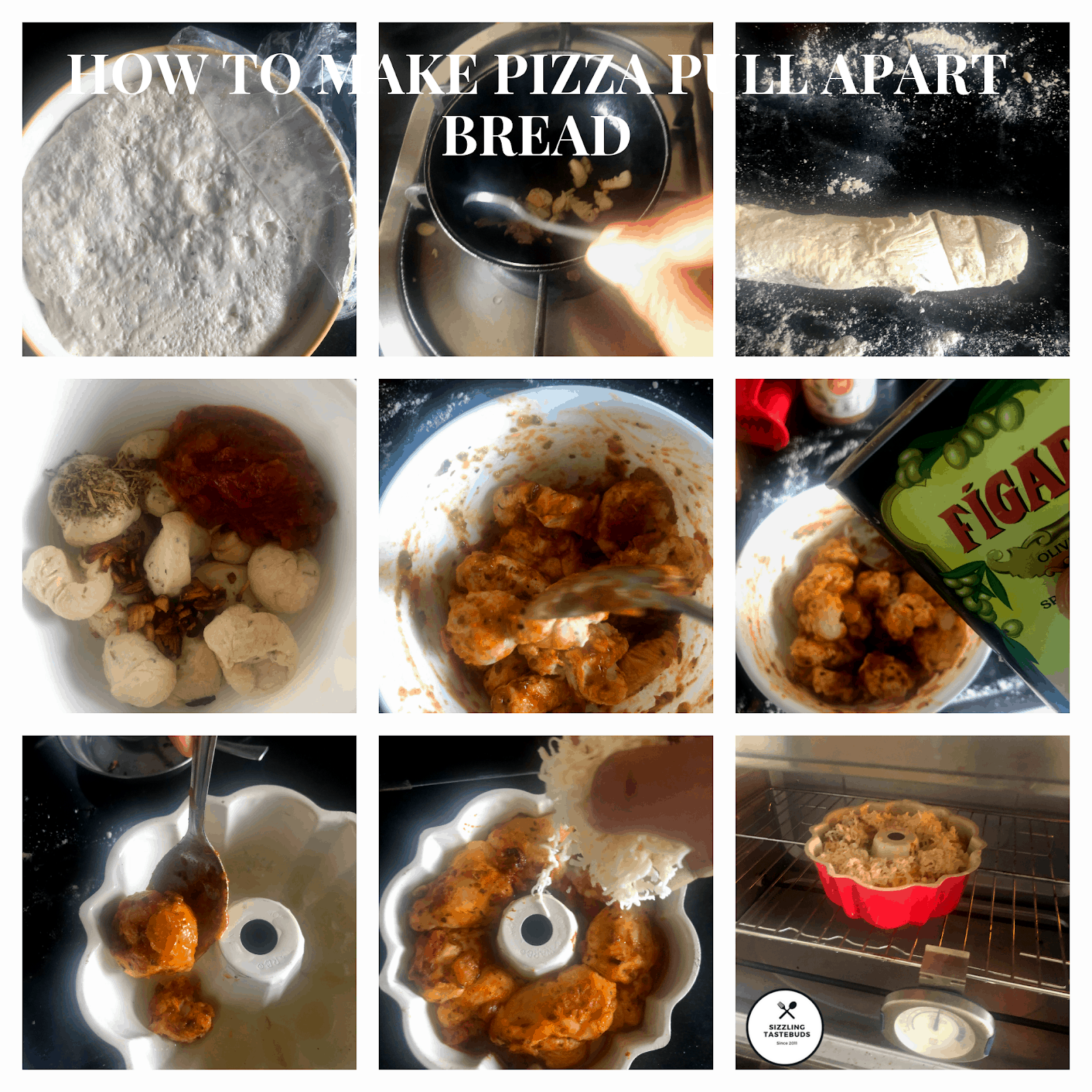 Pin
Baking Day:
1. Bring the dough to room temperature 2 hours before you wish to bake. 
2. Divide the dough based on the side of your pan, Take one portion, Knead the dough well for 2-4 mins. Divide the portion into equal sized roundels. roast garlic and add to the roundels, add homemade pizza sauce ( I used my thickened Pasta sauce), herbs, 2 tsp of olive oil and mix well. At this stage, you can add half of the cheese too, but I prefer to add it only for topping.  
3. Grease the baking , I used a Large bundt pan, but you could use any dish you need. 
4. Place the sauce-coated bread in the greased pan in a circular fashion / one over the other in a monkey-bread kind of pattern. Cover for 20-30 mins while it proves again. 
5. Meanwhile heat the oven to 190C. 
6. Sprinkle grated cheese generously and the chilli flakes over the 2nd proofed bread and bake at 190 for 15 mins till cheese is melted and bubbly.
7. Rest for 4-5 mins and then dig in !!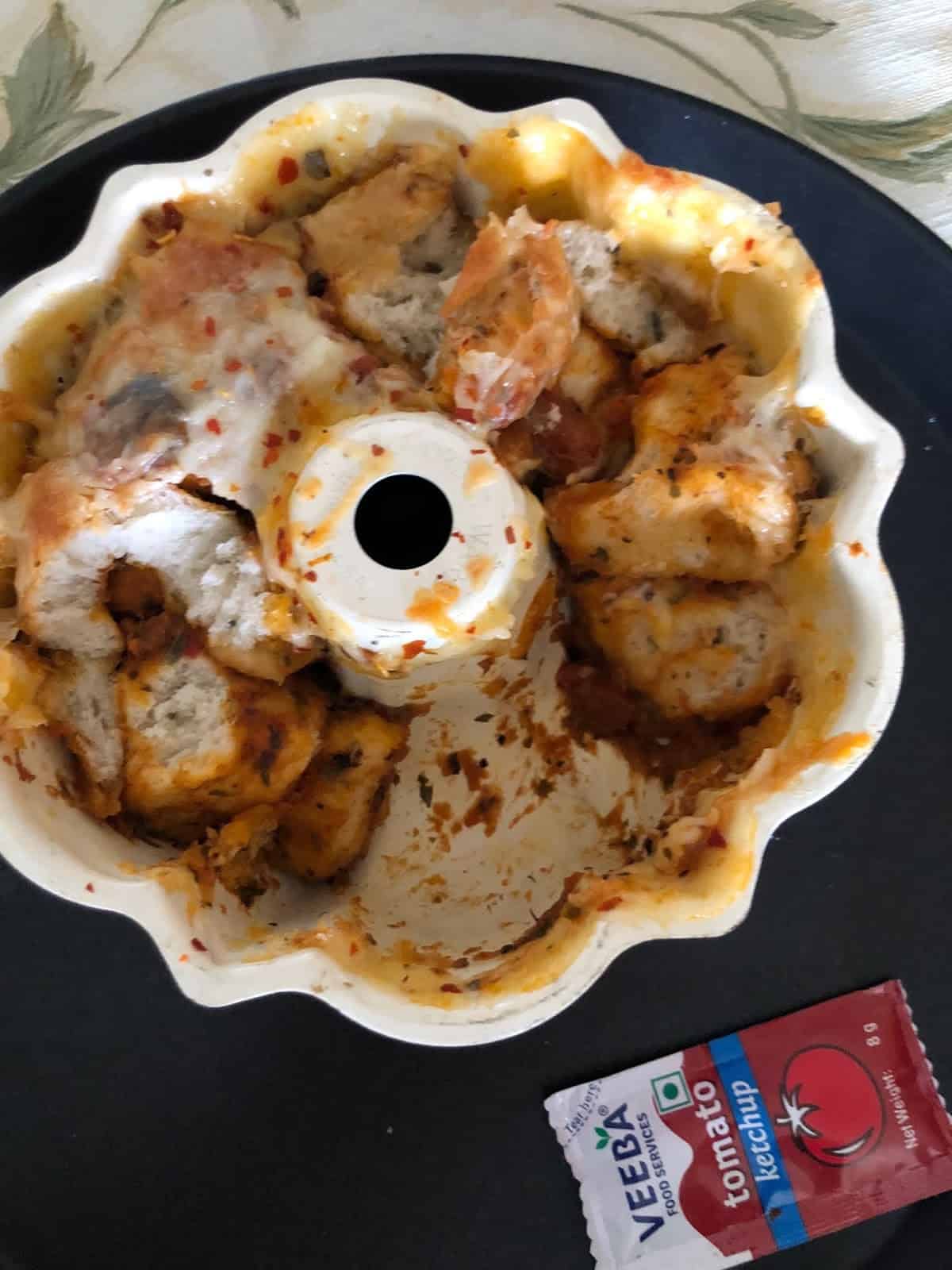 Pin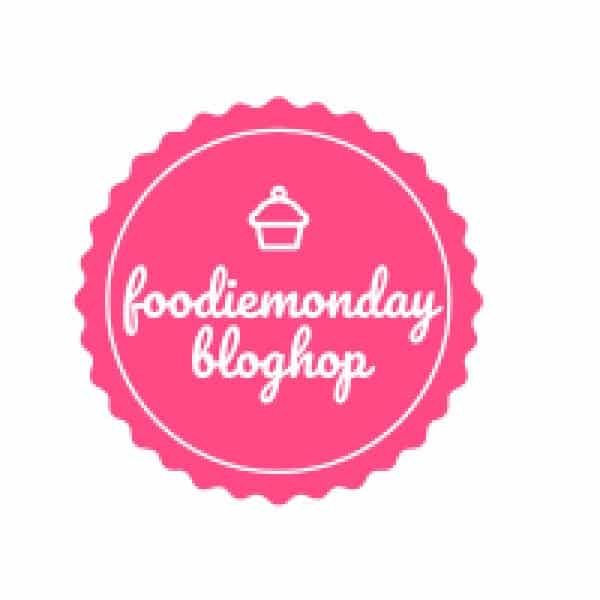 Pin