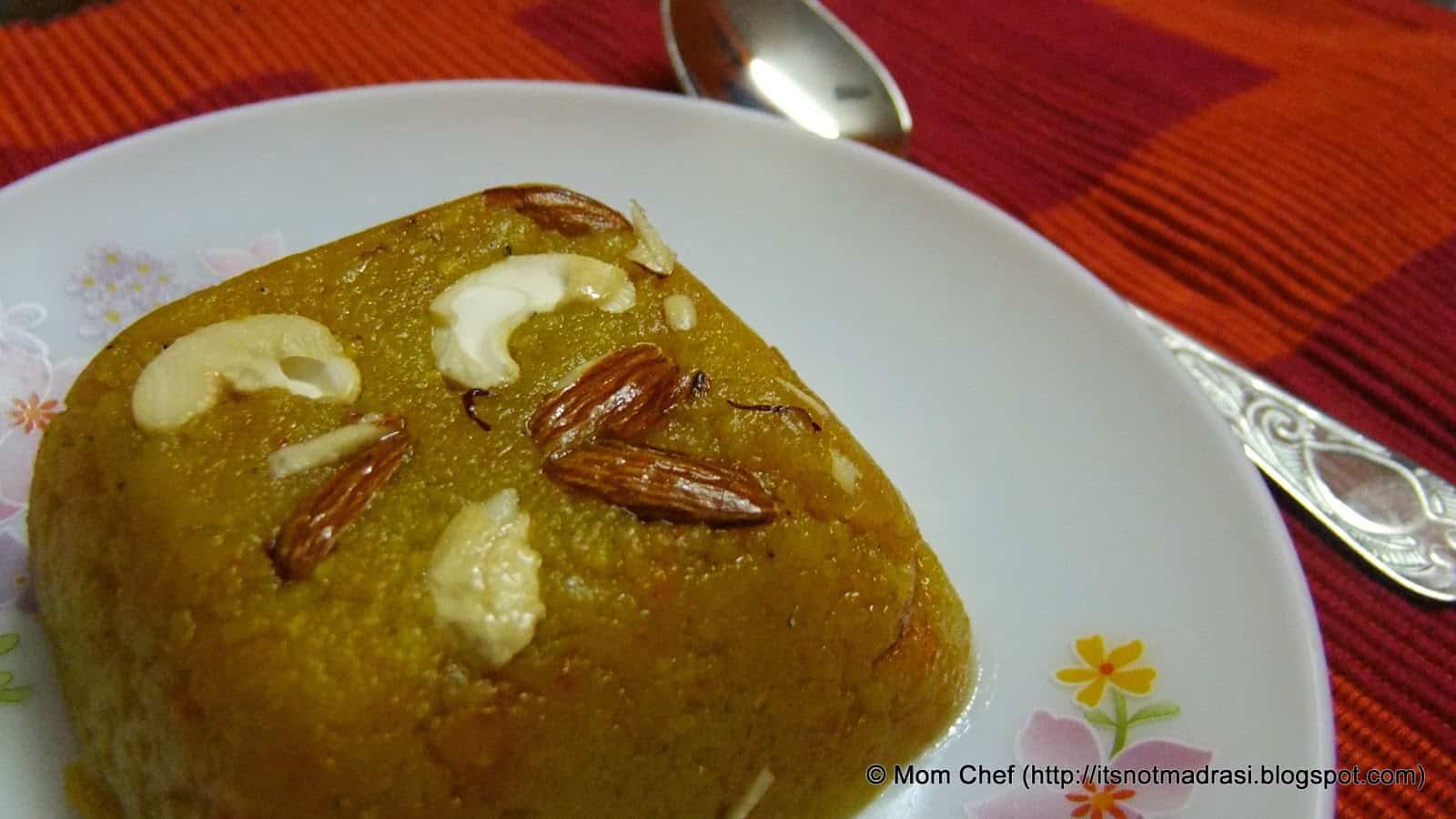 Pin
I was quite enthusiastic about the upcoming Blogging Marathon (BM) edition # 6 mainly because the themes are very challenging, which is what cooking is all about. I often wonder the tenacity my mom and grandmom had – they used to dish out delicacies with the minimum available ingredients without a whimper even in the dead of the night , for unexpected visitors and relatives who made our grandmom's home their base camp often 🙂
For the first round of BM between 16th and 22nd June 2011, I have chosen the theme " 7 ways to use an ingredient" and the chosen ingredient is Moong Dal (Green Gram lentil) which I shall use in both the whole (green) and split (yellow) forms. For many years I didnt know the Tamil equivalent of this dal / lentil and used to call it Kosambari paruppu (the dal / lentil used in Kosambari / Indian Dal Salad).
Wikipedia tells me –

"The Mung bean, also known as green bean, choroko (in Swahili), mung, mongo, moong, moog (whole) or moog dal (split) (in Bengali , Marathi), mash bean, munggo or monggo, green gram,[1] golden gram,[1] and green soy, is the seed of Vigna radiata,[2]. In tamil it is known asபச்சைப்பயறுwhen dehusked it is known asபாசிபருப்பு. The split bean is known as pesara [పెసర] (Telugu), which is green with the husk, and yellow when dehusked. The beans are small, ovoid in shape, and green in color. The English word "mung" derives from the Hindi:मूँगmung.Dal is a ready source of proteins for a balanced diet containing little or no meat"
On the 1st day of BM# 6, I present to you a delicious Moong Dal Sheera (or Halwa if you please).. Only I checked myself on the amount of ghee (clarified butter) used usually for Halwas to get that glistening shine on the surface . Most types of halwa are relatively dense confections that are sweetened with sugar or honey. Their textures, however, vary. For example, semolina-based halwa is gelatinous and translucent, while sesame-based halwa is drier and more crumbly. . I have used 1/3 cup as base measurement for 1 cup (i.e 1 cup = 1/3 cup).
Also Sending this to Susan's MLLA # 36 guesthosted by Serving with Love
Preparation time:15 mins (excluding Soaking time). Cooking time: 15 minutes.
Ingredients:
Moong Dal / Split yellow gram – 1 cup
Ghee / Clarified butter – 3/4 cup (split use)
Milk – 1/3 cup
Sugar – 1 cup
Strands of saffron – few
Elaichi / Cardamom – 2 nos (small)
Almonds , Cashew – few
Method:
1) Soak the Moong Dal for at least 4 hours.
2) Drain the moong thoroughly for 10 minutes and grind semi fine without adding any additional water
3) Soak the saffron in 1 tbsp of milk.
4) Grind the sugar with the whole cardamom till you get fine powder. Sieve to remove any impurities.
5) Heat half the quantity of ghee in a non stick pan, Add the ground dal paste and cook on a very low flame and keep stirring to remove any lumps and also to avoid any sticking
6) Add the powdered Sugar and the remaining ghee and cook the dal past till it lets out the fine aroma and the sugar has dissolved. Now add the saffron strands soaked in the milk.
7) Now add the milk and stir rigorously and half of the chopped nuts
8) Mix well and let it cook till the Ghee starts to separate.
9) Serve warm.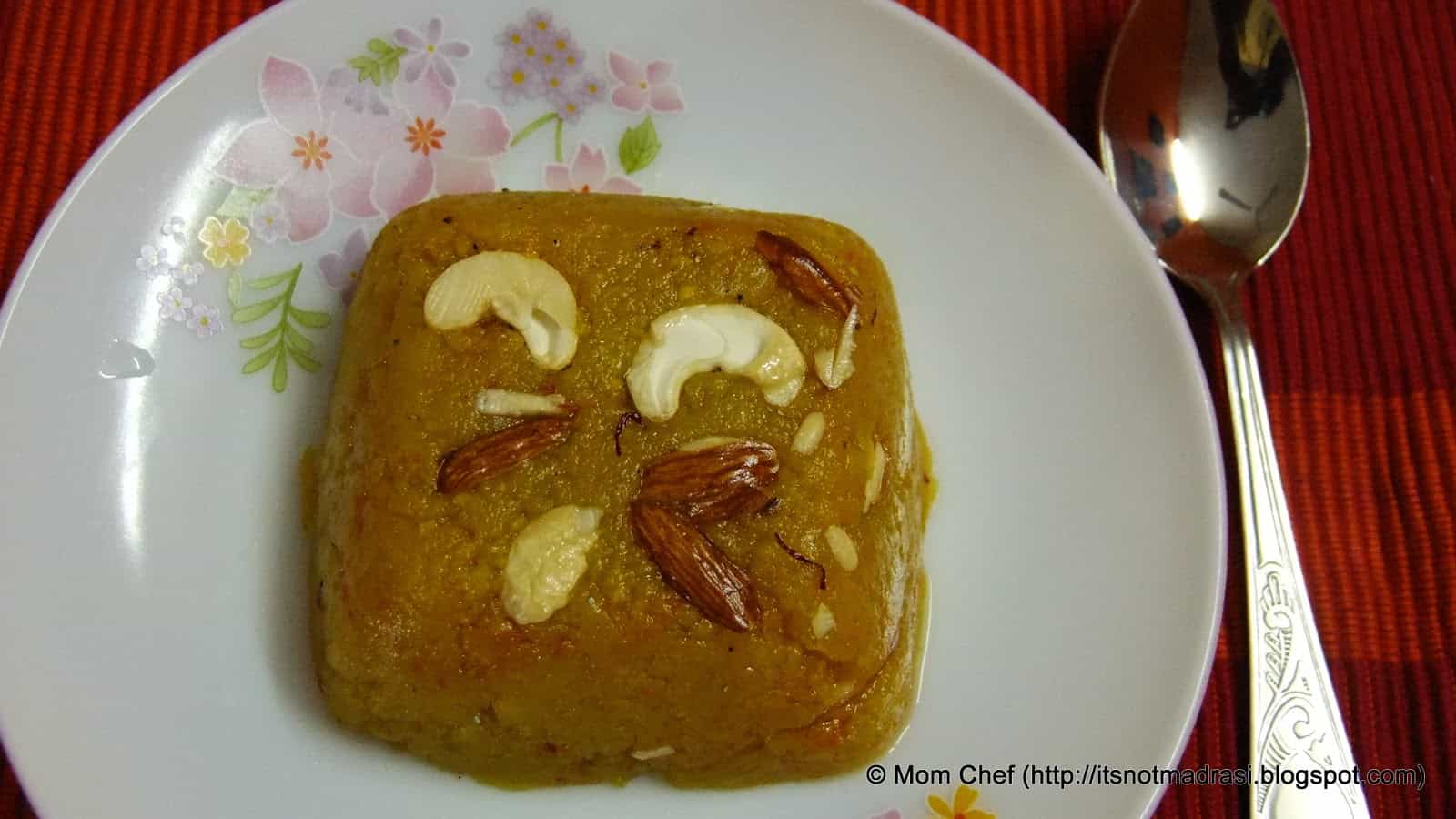 Pin
Check out the other BM participants here