Chutney pudi must be definitely the top of the condiments that grandmom used to dish out. For years, its recipe was a closely guarded secret, not even mom was allowed to peek in the kitchen when literally bucket loads of this aromatic spice powder was being made in the kitchen. Of course, mom was a very keen learner and thanks to her I have this wonderful heirloom recipe with me now.
If you are from Bangalore or even from South Karnataka, you would know what the fuss is all about, on this powder. If you aren't but have heard about this powder, you wouldnt want to miss out reading the rest of the post. For as long as I remember (and even now), spice powders (are) were never store bought but always made at home – be it Paruppu pudi,Idli Molagapudi or even Rasam powder/ Sambhar / Vangibhath powder (that reminds me to post the last 2 recipes soon !). So, although I may not have reached the perfection levels of grandmom's recipe, I was quite satisfied with the results, all thanks to mom who passed on this recipe 🙂
This spice powder tastes amazingly good with hot steamed rice, a dollop of ghee,although Bangaloreans (me included) are also known to use this as an accompaniment to Akki rotti (rice flatbread) or Ragi rotti (finger millet flatbread) too. Now over to the recipe…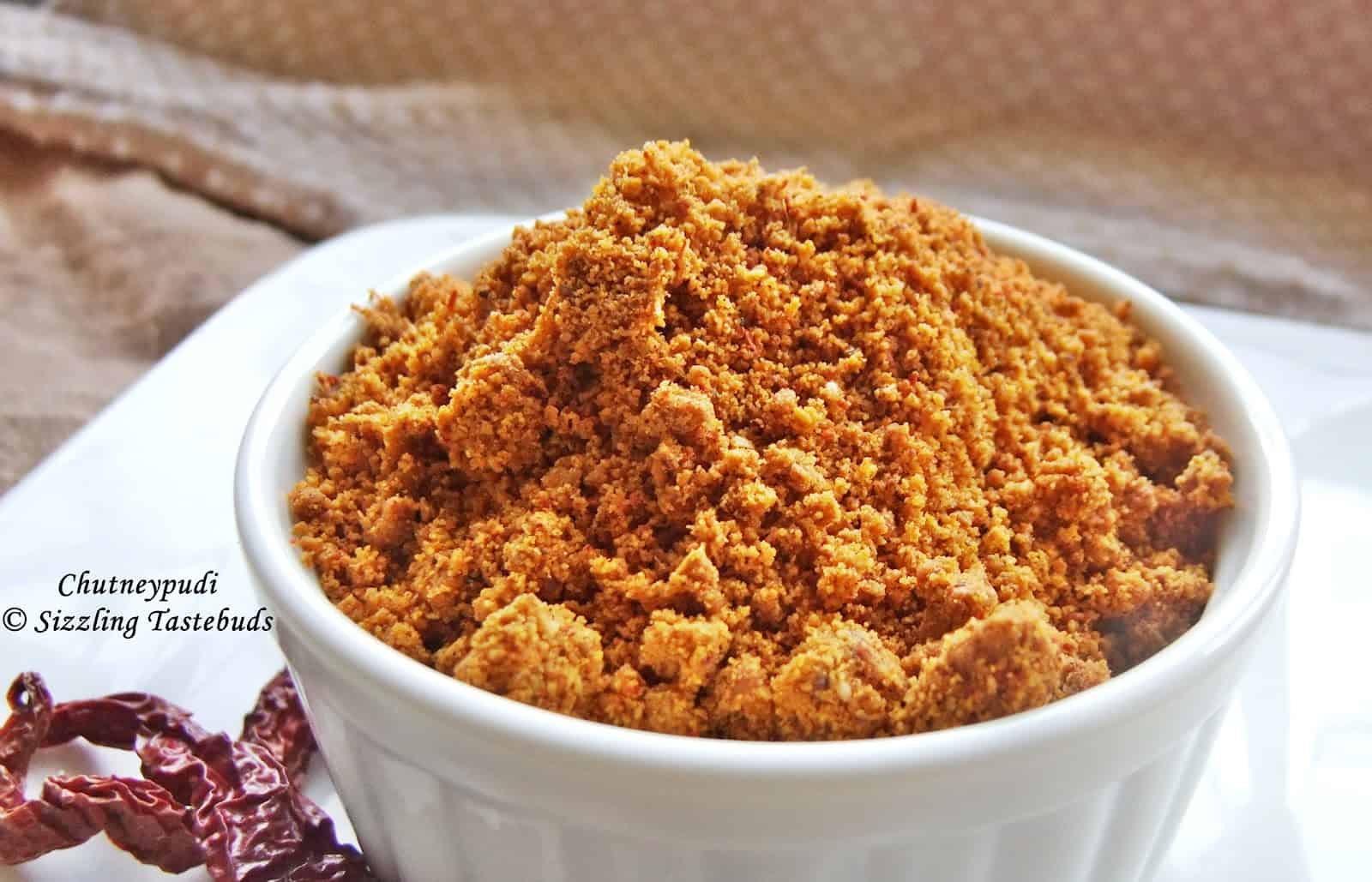 Pin
Prep time – 20 mins
Cook time – 20 mins
Makes – Approx 200 gms of Chutney pudi (keeps well without refrigeration for 4 – 6 weeks)
Difficulty level – Medium
Ingredients:
Channa dal – 1 cup
Urad Dal – 3/4 cup
Methi (dry fenugreek seeds) – 1/2 tsp
Tamarind – a small lemon sized roundel
Copra Grated – 1 cup (Only dry variety here, fresh coconut or coconut powder cannot be used)
Jaggery grated – 1/4 cup
Red Chillies – Spicy variety – 10 to 12 (adjust spice)
Red chillies – Kashmiri Variety – 10
Asafoetida powder – 1 TBSP
Coriander leaves (dry,cleaned and sorted) – 1 cup (packed tight)
Oil – 6 to 8 TBSP
Salt – to taste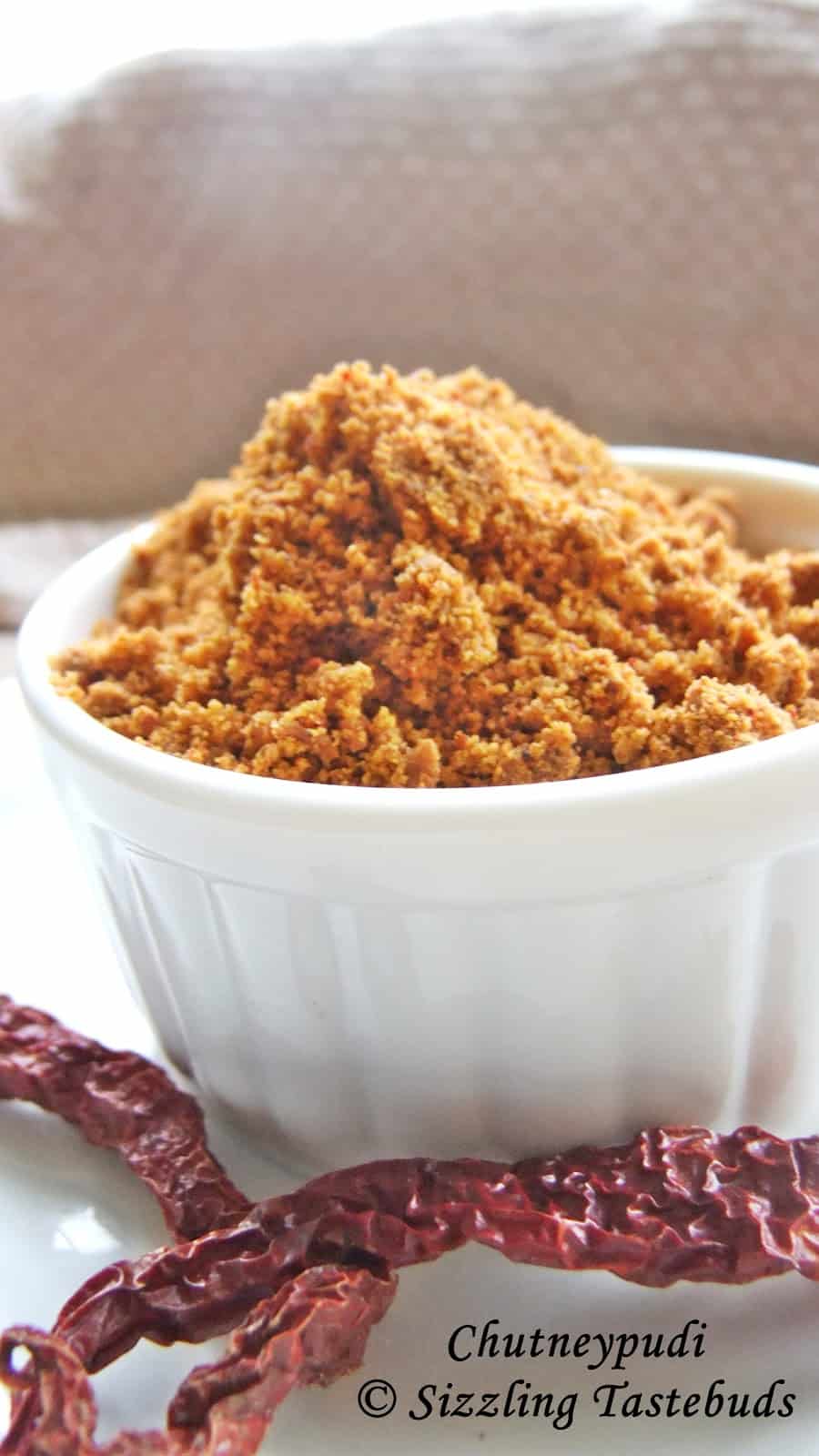 Pin
Method:
1) Dry Roast the copra till it slightly becomes warm to the touch. Remove to a plate
2) Add 1 – 2 TBSP oil in the same pan, Roast chillies (both varieties) separately for 2-3 mins till fried. Remove to a flat plate.
3) Add 2 TBSP more oil and fry the dals separately. Remove to a plate and cool.
4) Now add remaining oil and fry coriander leaves on low-medium flame till crisp (takes about 4 – 5 mins), stirring constantly. Drain to a plate.
5) In the remaining oil, fry fenugreek (methi seeds) and tamarind together. You may even switch off the flame and just fry them in the remaining hot oil. Remove to a plate
6) Let all the ingredients be on separate plates and cool to room temperature.
7) Now first grind the dals to a very coarse powder. Remove to a flat dry plate.
8) Then grind together the methi seeds, red chillies, asafoetida, jaggery and fried coriander leaves separately. Transfer to another plate.
9) Now pulse the roasted copra for just 2 – 3 seconds till slightly ground. Do not overgrind as the oil from the copra would seep out
9) Using clean dry hands or a flat spatula, mix copra with these two spice powders to get a homegeneous mixture. If you like, you can grind the dals to a smooth texture, but traditionally Chutneypudi is a coarse spice powder.
10) Once the two spice powders come together as a condiment, add requisite salt. Transfer immediately to a dry glass or stainless steel airtight container. Storing this in plastic containers reduces the shelf life quite a bit
11) Use a dry spoon to retrieve a small quantity as per use every time.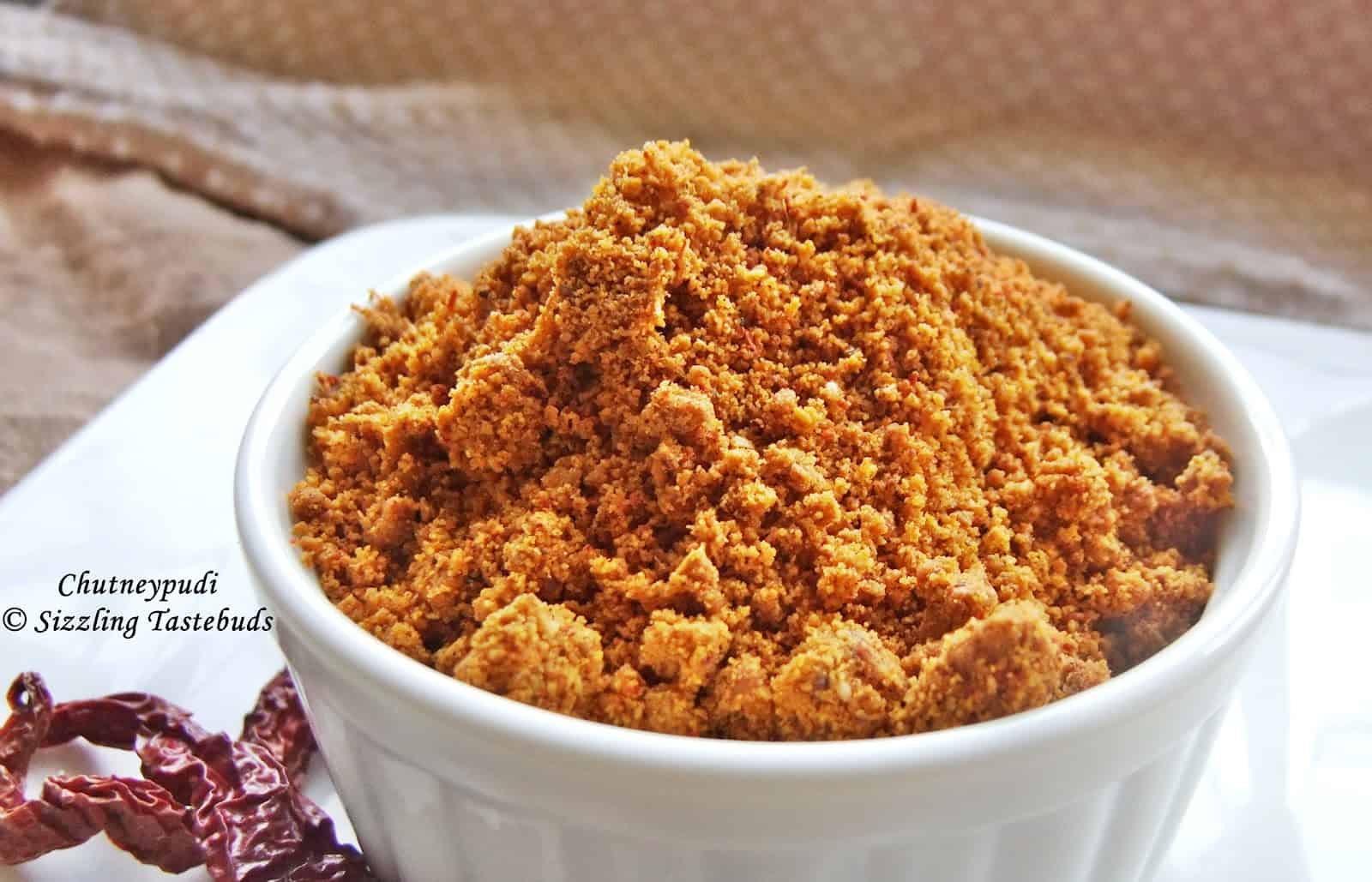 Pin
Linking to:
Gayatri's WTML, hosted by Smitha
Soumya's Taste of Tropics – Coconut, event by Mirielle