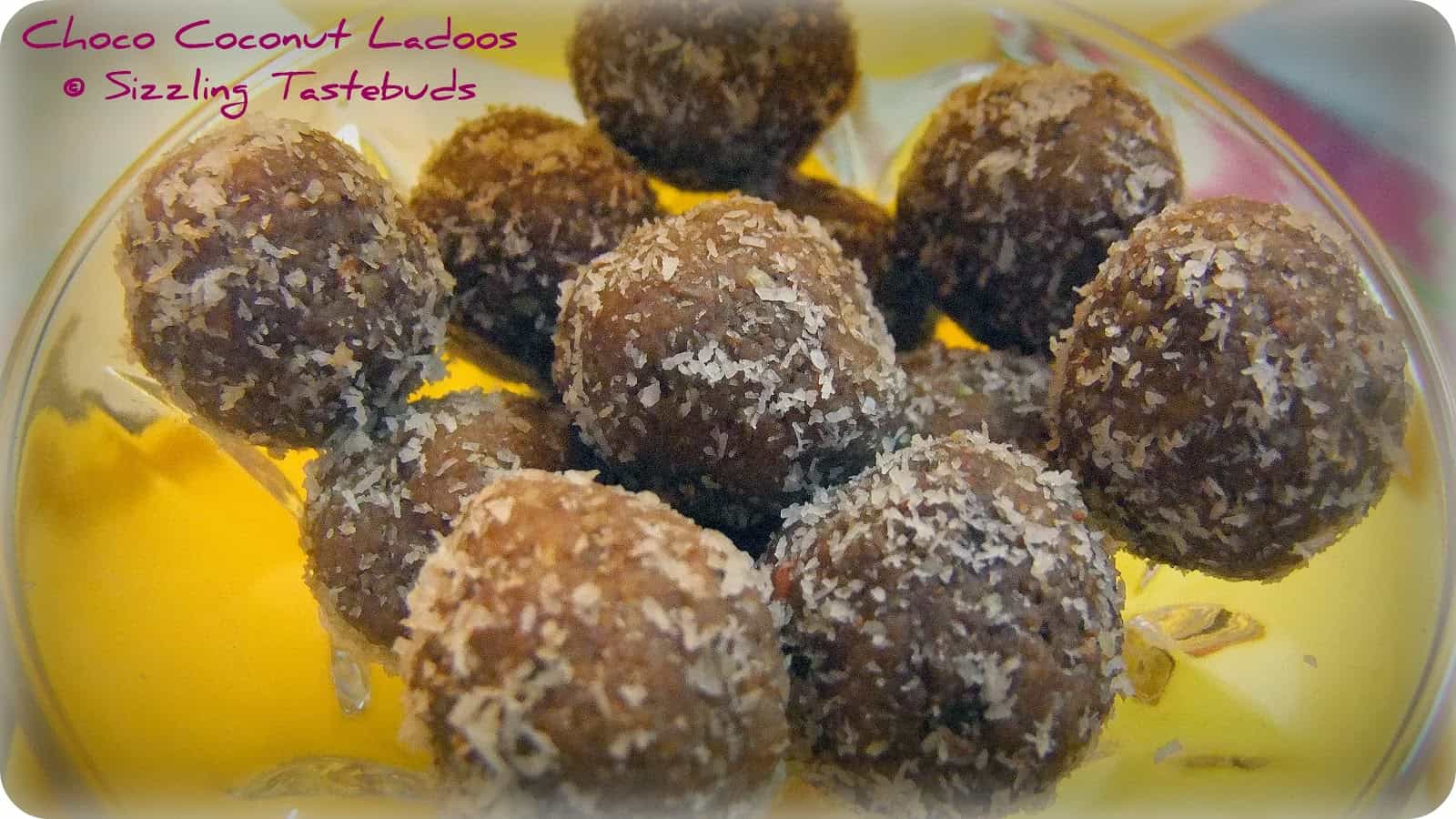 Pin

When I first saw Priya'sChoco coconut ladoos, I wasnt sure I would make it immediately, and so bookmarked it. But some recipes stay in your mind forever, and this is one of them. For Gokulashtami (Janmashtami), I wanted to post this recipe, and although I made it, couldnt get around to do so. So, am posting it now. This is truly one of the quick desserts that you can put together for unexpected guests, kids' birthday parties. potluck parties or even for festivals. I slightly tweaked the recipe by adding powdered nuts, a little cocoa powder and some grated chocolate, and that gave a wonderful twist to the dessert. This is almost cook free, and apart from 2- 3 mins in the microwave, there is just no cooking too. 

Sending this to Healing foods – Coconuts @ Saffronstreaks, event by Siri

Other ladoos you might like: Ragi Besan Ladoo, Til Ka Ladoo

Prep time: 10 mins. Cooking time : Under 2 mins.

Making time for ladoos : 10 – 15  mins

Ingredients:
Dessicated coconut – 1 cup
Choco chips – 1/4 cup
Grated dark chocolate – little less than 1/8 cup (I used gratted Dairy Milk Fruit n nut variety- 80 gm pack)
Condensed milk – 1/4 cup
Walnuts – 1/4 cup
Almonds – 1/4 cup
Salt – a teeny weeny pinch
Method:
1) Microwave the nuts separately for 1 min till crisp. Pulse them in a spice grinder till crumbly and coarse. Microwave the grated chocolate in a bowl for 60 – 90 secs, or better still, use a double boiler to melt the chocolate.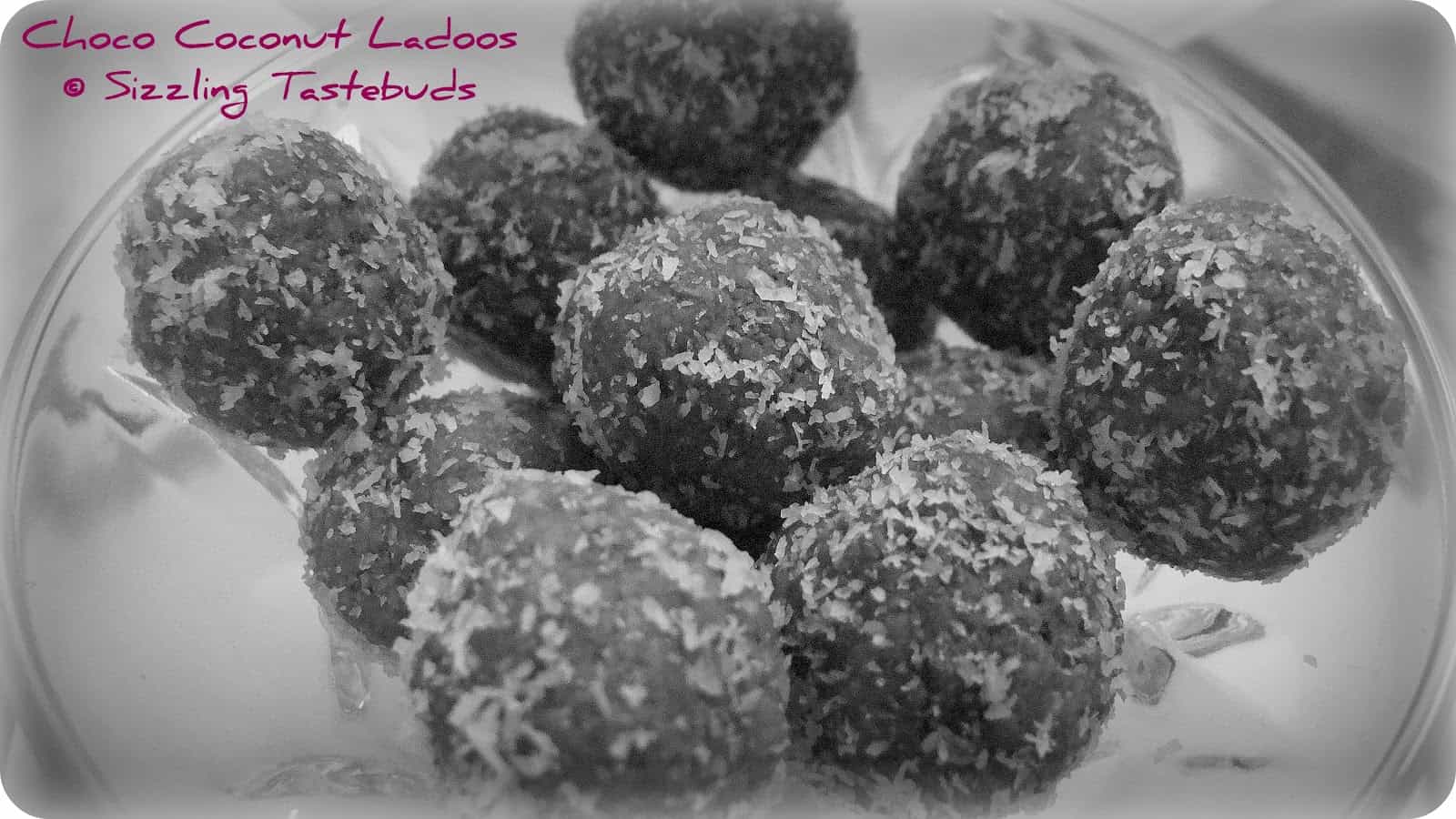 PinPin

2) In a large bowl, add all of the dessicated coconut (reserving 2 TBSP aside) , the powdered nuts, cocoa powder and the choco chips, microwaved / melted chocolate , salt and mix well with your fingers till the mixture turns brownish.

3) Now add condensed milk little by little till you can slightly feel the wetness in the dough and check if you can shape them into roundels. If you can, stop adding the condensed milk. Else add 1 or 2 tsp more to be able to shape them

4) Now slightly grease your palms with oil / melted butter and start shaping the mixture into ladoos.

5) Roll each ladoo in the reserved dessicated coconut and yummy ladoos are ready !

Tip : To preserve it a little longer, line a shallow airtight container with foil and store in a refrigerator overnight before serving.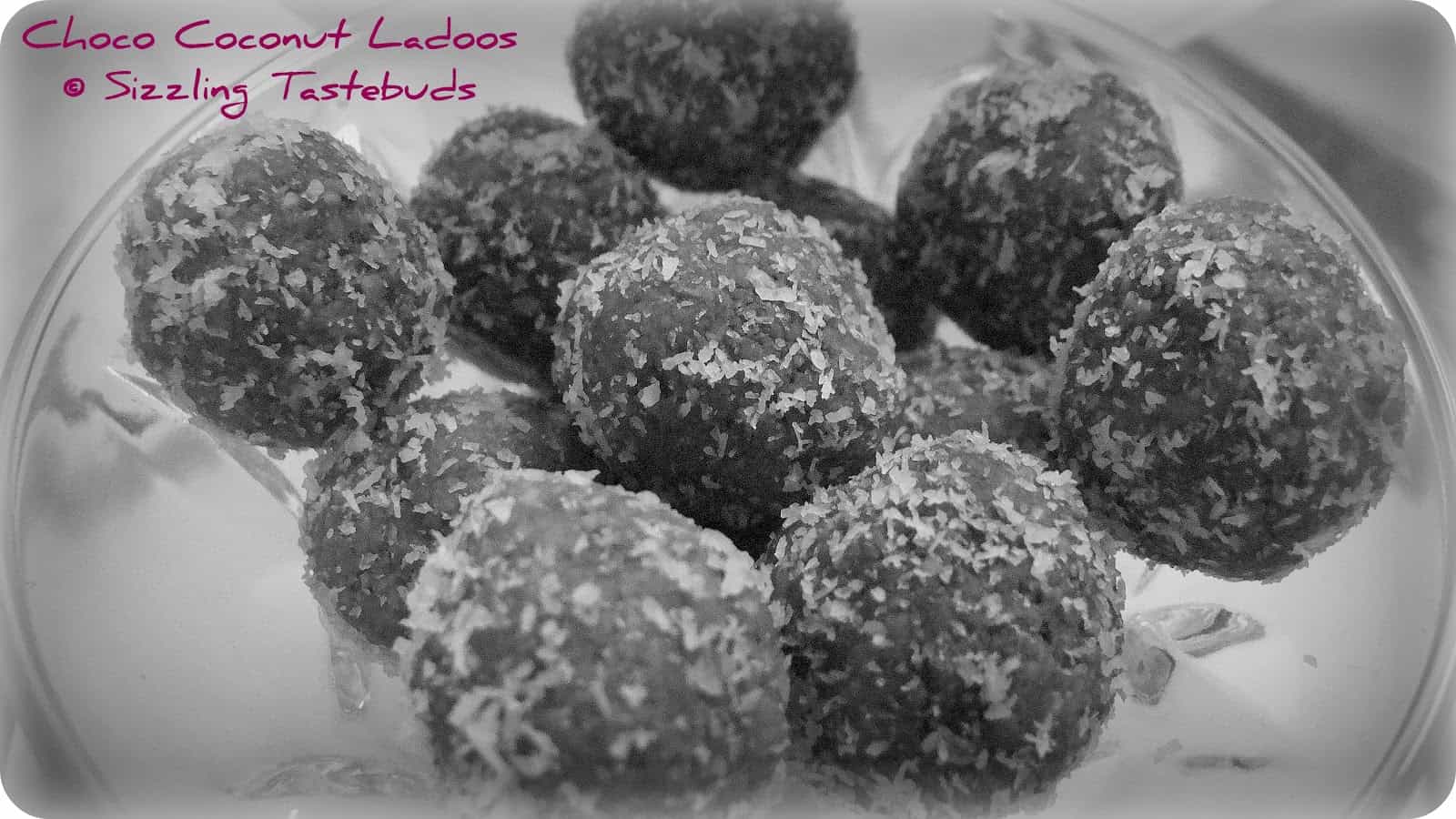 PinPin