Andhra Pradesh is one of the first
states outside my hometown where I tasted the most yummilicious veg food ever.
Bowled over by the delicate yet fiery Gonghura Chutney, the Pachadis and podis (spice
powders), the Pappus (lentils), Koora (dry
sautes), the Dosas, Pesarattu, it seemed for a while I
couldnt get over the hearty fare that my colleague dished out for me.. Thanks
to umpteen visits to that state, I am hooked and hugrily crave for more 🙂
And starting today, we kick off a 30 day Blogging Marathon of Indian States
where we showcase one dish from each state. 25 odd bloggers, 30 states – you do
the math ! Check out the Blogging Marathon page for the other Blogging Marathoners
doing BM# 39
The cuisine of Andhra is based mostly on regional variation,
 its rich cultural heritage and the influence of the Royal recipes from
the Nawabs. The cuisine of Andhra Pradesh is mixed between the eating habits of
the Hindus and Muslims style of eating.  Being the largest producer of rice in India, Andhra cuisine is mostly rice
based which can be eaten with vegetarian or non-vegetarian. Andhra is also the
hub of red chillies which makes most of the dishes very spicy or fiery. The
traditional delicacies of Andhra are absolutely mouthwatering having a liberal
use of spices. 
Location Map of Andhra Pradesh
The cuisines of Andhra Pradesh can be categorically classified based by its
regions like Andhra, Telangana, Rayalaseema, Kosta (Coastal) Andhra and
Hyderabadi cuisine. Hyderabadi
cuisine which is a predominant part of the Andhra Pradesh food is influenced by
the legacy of the Nizams of Hyderabad. The hallmark of Hyderabad cuisine is the
slow cooking method.  The most popular authentic dish of Hyderabad is the
Biryani which is a rich-meat dish accompanied by mirch ka salan or Baghare
baigan is also known as the jewels of Hyderabadi cooking. The Hyderabadi
cuisine is the amalgamation of Muslim techniques and meats cooked with the
vibrant spices and ingredients. Hyderabadi cuisine is the ultimate in fine
dining. Its tastes ranges from sour to the sweet, the hot and the salty and is
ornamented with lots of dry fruits and nuts.
(source : www.vahrevah.com & Mapsofindia.com) 

Pulihora (Telugu) or Puliyogare (Kannada/Tamil) is one Rice Dish thats
quintessential to any Andhra meal. But the Andhrites beat me at their own game
– they have sooooo many varieties of Pulihora its impossible to fathom.
Pulihora essentially means puli = tamarind / tarty taste and hora / ogare =
rice which is tempered. 
Raw Tamarind – source – wikipedia.org
When I visited Hyderabad last year, I managed to get
hold of these young little raw tamarind just outside the apartment complex
we were staying at. Once I got the authentic Andhra recipe with these leaves
from my host, I couldnt resist making this for Sankranti festival early this
Jan and it was a sellout success. If Pulihoras are made for Naivedyam (or
offering to god, its usually made sans garlic and onion)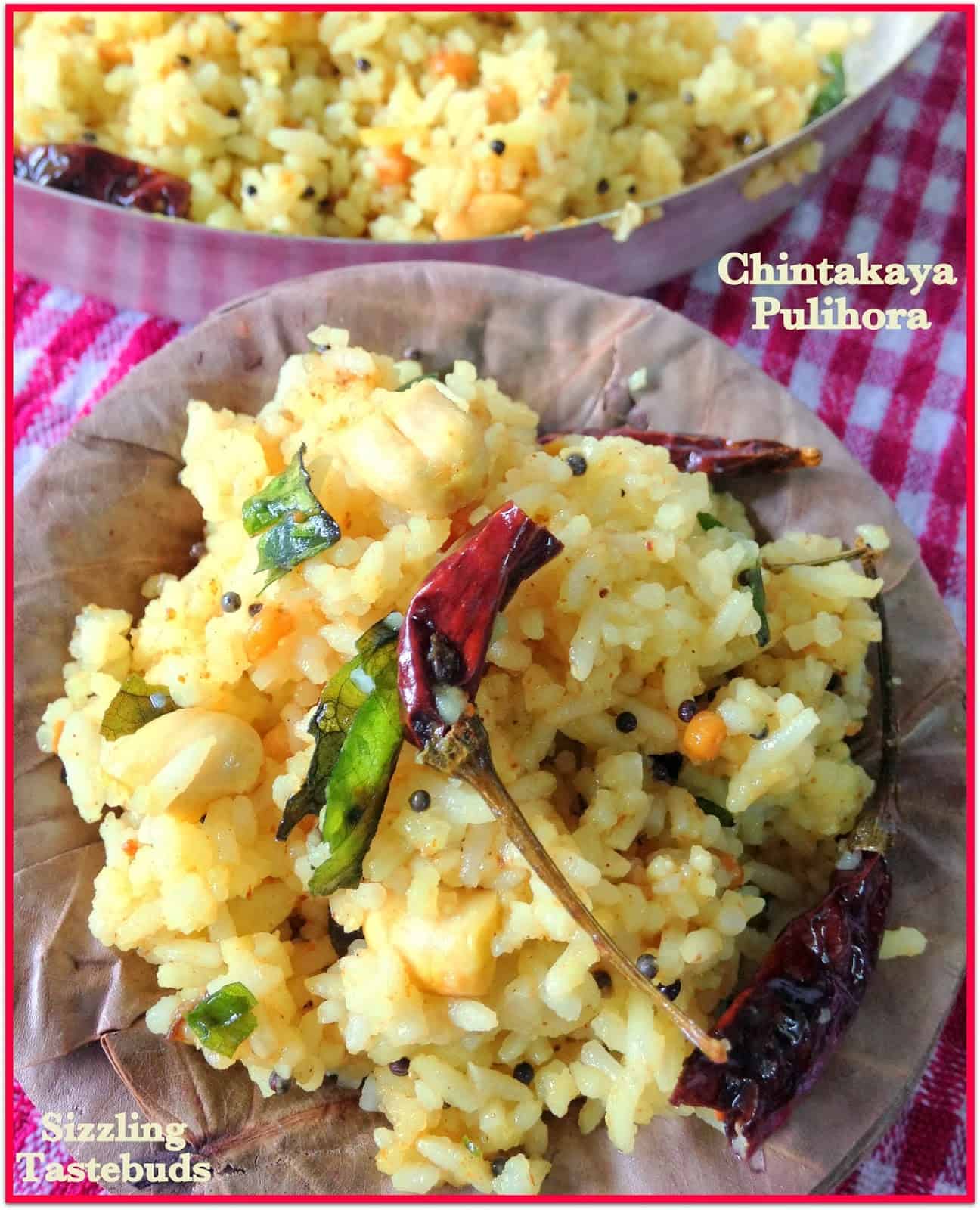 Pin
So, lets check out Chintakaya Pulihora or flavoured rice with
Raw Tamarind Paste
—————————————————————————————–
BM : 39 ~ Indian State : Andhra Pradesh ~Recipe
: Chintakaya Pulihora
Dish type : Main Course
Spice Level : Medium to mildly hot
Accompaniment : Yoghurt / fried fryums or Papad
—————————————————————————————–
Prep time : 30 mins | Cooking time : 20 mins | Serves
: 4
Ingredients:
Cooked Rice – 3 cups
Raw Tamarind – 200 gms 
Oil – 150 gms
Ghee / Clarified butter – 1 TBSP
(optional)
Grate jaggery – 3 tsp (optional)
Channa Dal – 4 TBSP
Green Chillies – 3 to 4 (adjust
spice)
Dry red chillies – 8 (adjust
spice)
Turmeric – 1/2 TBSP
Salt – to taste
For tempering and garnish:
oil – 2 TBSP
Curry leaves – few
Mustard seeds – 2 TBSP
Asafoetida – a generous pinch
Cashew nuts – 2 TBSP – chopped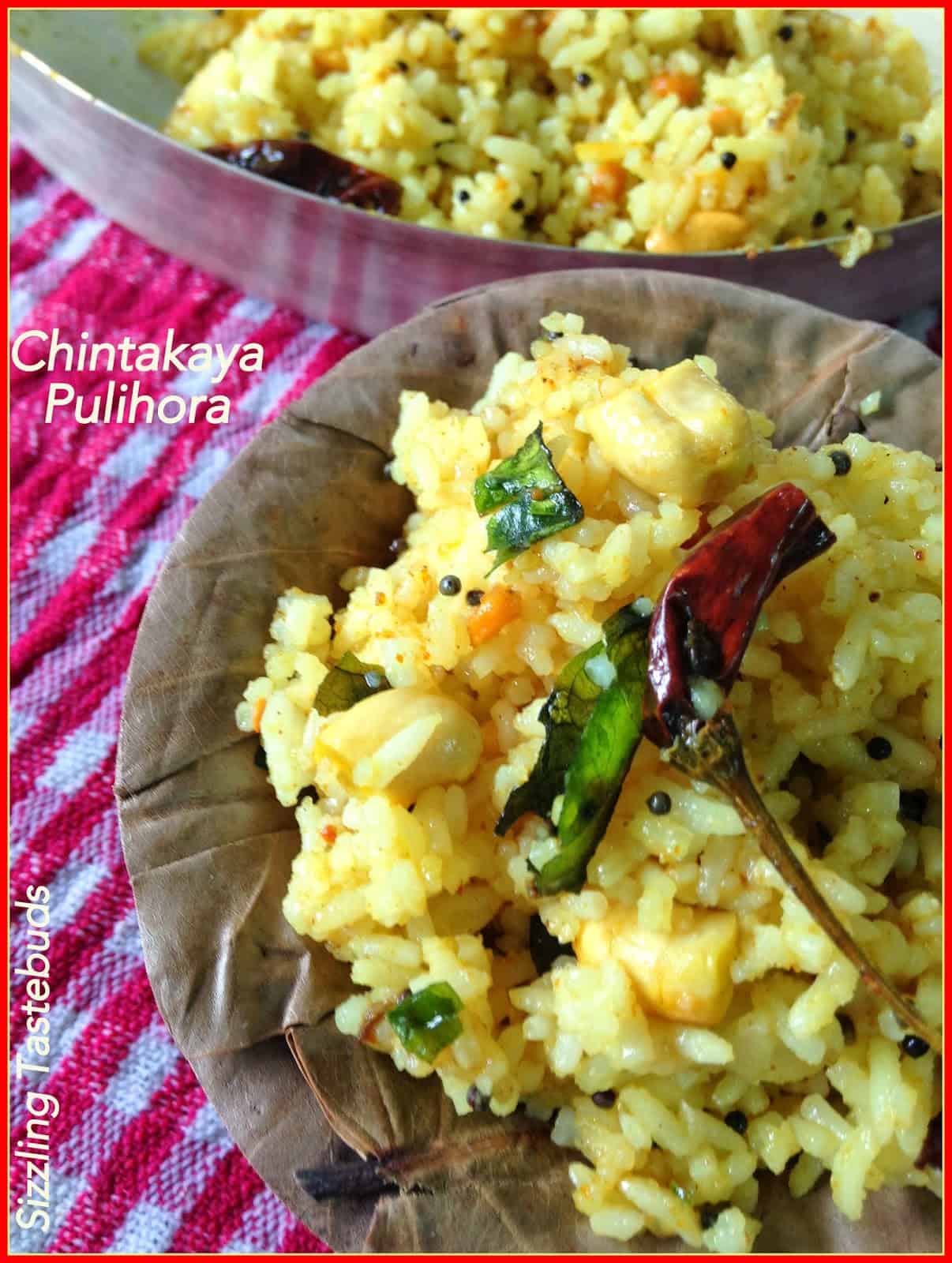 Pin
Method:
Wash the raw tamarind and wipe off
excess sap if present. 
Bring 2 cups of water to a rolling
boil. Drop the raw tamarind and boil till soft (with the skin on), about
10 mins. Drain but reserve the water.
Meanwhile cool the cooked rice in
a large, wide plate. Fluff them up into separate grains with a fork. Add 2
TBSP oil and mix gently taking care not to break the grains (if using raw
rice instead of cooked rice, make sure to cook till the grains separate,
not turn mushy)
Peel the skin of the boiled
tamarind, and deseed. Mash the remaining pulp in the hot water reserved
and filter.
In a large pan, heat the oil. Add
the channa dal, when it browns a bit, add the mustard seeds, cashewnuts,
green and red chillies, curry leaves, turmeric, asafoetida and stir
briskly. 
Now add the tamarind pulp, jaggery
if using and salt into the tempered oil. Stir slowly on medium-high heat
for 10-12 mins till the pulp turns thick and oil begins to leave the sides.
(Be careful as the oily mixture spurts out hot lava, so cover it partially
if you wish)
Cool this thick tamarind mixture
to room temperature.
Ladle out required amount of above
tamarind pulp onto the cooled rice, mix well with some ghee and
serve. 
Approximate division of Cuisines across Andhra
Notes :
1) The above quantity of
tamarind spice mix is more than sufficient to season 4-5 cups of cooked
rice. However, as we are using only 3 cups, some quantity will be left over.
2) You may add peanuts in
addition to or instead of cashewnuts. 
3) Store the remaining
tamarind spice mix in a glass jar – keeps for a week under refrigeration.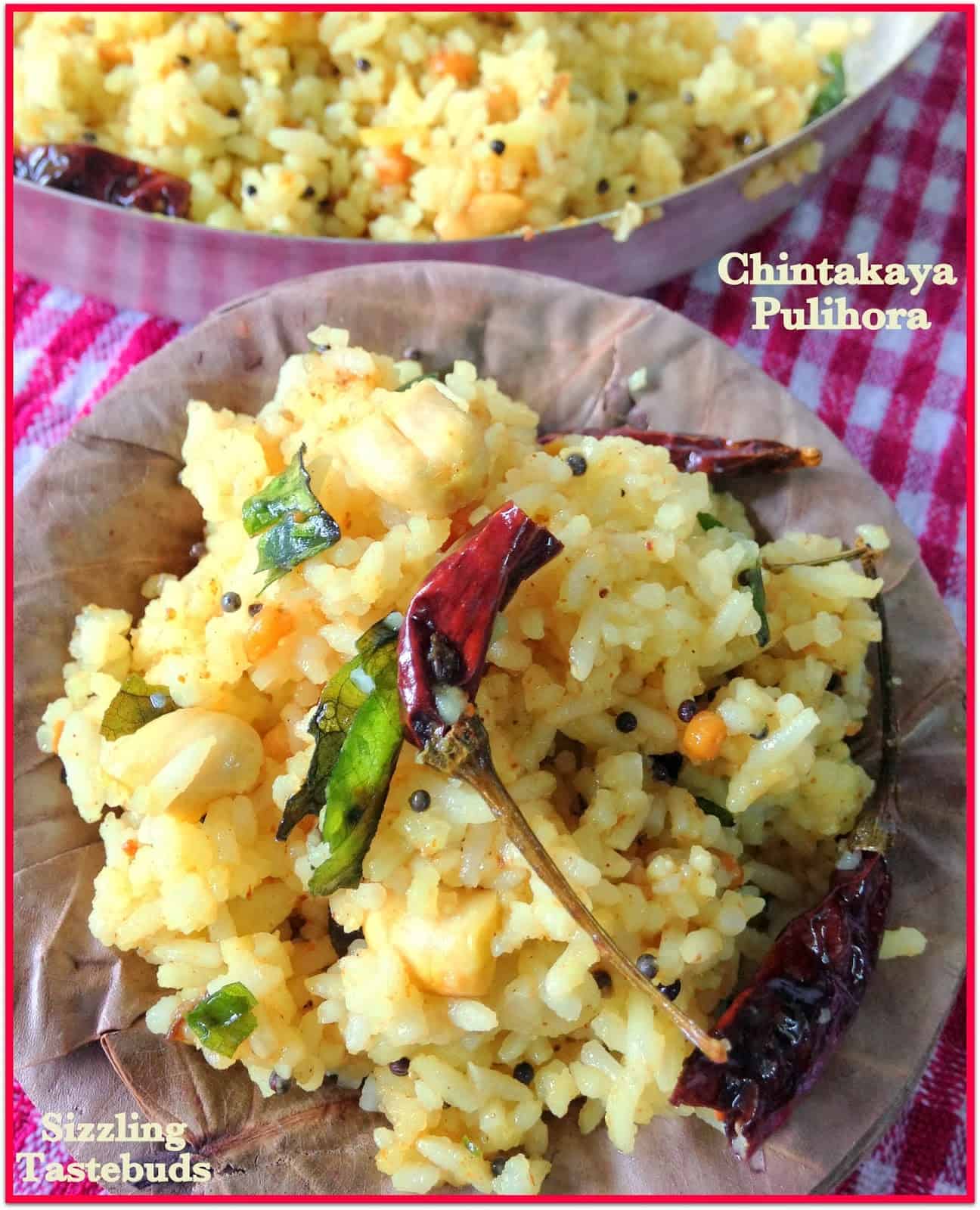 Pin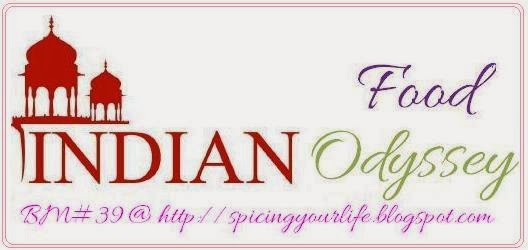 Pin