Today's post – Butter Gulkand Chilli
Sandwich – is the last in Kids Delight Series for BM # 29 – and its a
delightful yummy sandwich with Gulkand (Rose Petal Preserve) and chillies (Bell
pepper minced). It came about more as a last minute stuff when I had run out of
most essentials when we came back from vacation last month and all of us were
hungry to the core. Thankfully we had picked Brown Bread on our way back home,
so this was a quick to make and filling sandwich. I have used minced and
deseeded chillies for me and S, and diced bell pepper for the kiddo. 
The earthy sweetness of the Gulkand
(one of my favourite preserves – there is a story to this, next time for sure)
and the heat of the chillies were totally married to each other, and S, who
generally doesnt like bread or sandwiches for breakfast actually complemented
me on the combo (little did he know I made this for a lark, hoping it would be
accepted).. Its also a great variation from the usual Sandwiches at any Kid's
party, and a break from the usual Jam and Cucumber Sandwiches is always
welcome, isnt it ?
Sending this across to :Kids Delight – Party Ideas,another event at my blog –Healthy Me, Healthy Us, & Nupur's Whats with my Cuppa 2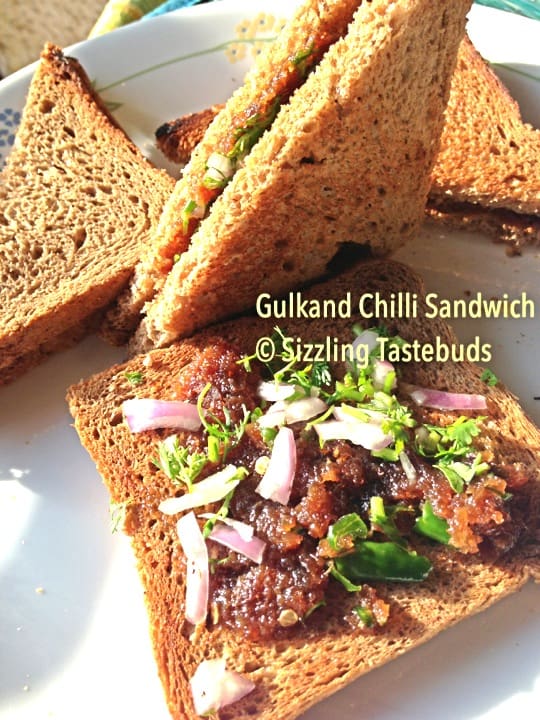 Pin

In case you have missed any previous
posts under this theme (Kid's Delight) or "Cooking with Colours",
posted last week, here is a quick snapshot

Cooking with Colours :

Masoor Dal
Sundal | Whole Red Lentil Salad

Menthya Kattina
Saaru | A rustic fenugreek-lentil broth from Karnataka

Kids Delight:

Cheesy Peppery Toast | Quick Kids Snacks

Quick Onion Vadas | Kids Snacks Ideas | How to make Onion
Vada

Now, lets go to today's post.

Prep time : 10 mins | Grill Time : 10
mins | Serves : 3

Ingredients: 
Brown Bread Slices – 8
Butter Gulkand – 1/2 cup 
(Slightly warm 2 TBSP butter and in the
same pan, add Gulkand. Switch off the flame and mix the two together – it must
be of a spreadable consistency)
Onions minced – 1 TBSP (optional)
Butter / Ghee – to apply on the bread
(optional – I didnt add)
Salt – to taste ( we used actually just a pinch for each set of sandwich)
White Pepper Powder – 1/2 tsp
Minced and Deseeded Chillies – 1 or 2
TBSP
Minced Green Bell Pepper – 3 tsp (for
kids)
Method:
Slightly trim the bread.
Divide the Butter Gulkand into 2/3 and
1/3 portions : To the 2/3 portion, add the green chillies, and to the other,
add diced bell pepper
If using additional butter, apply them
on one side of each bread. On the other side, spread 1 tsp or more of the Butter
Gulkand till it spreads well. Leave a margin around the edges. Sprinkle
requisite salt and pepper powder.
Heat a tava. Bring the two
slices together sandwiching the Gulkand and slightly toast the buttered side on
both the slices for 1-2 mins.
Cut and serve immediately.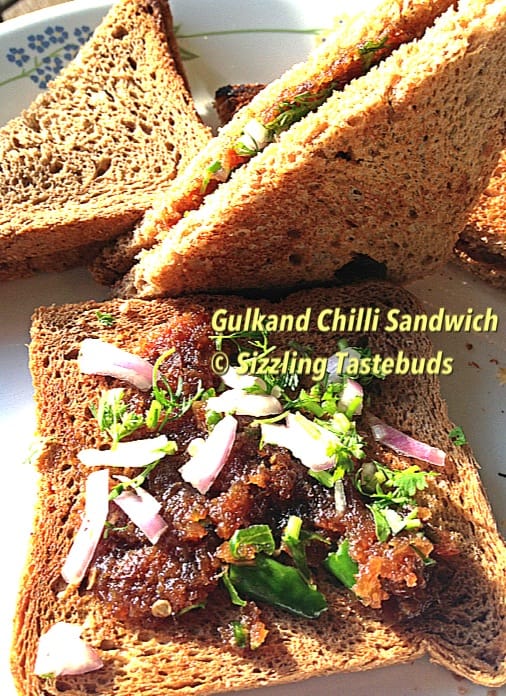 Pin