Its wonderful to push oneself into challenges  – esp in the food blogger's world, where each foodie wants to be heard, present and do the in-thing these days : Social Networking ! Great to be part of the new event : Blog Hop Wednesdays created by my dear friend Radhika, whom most of us know runs this amazing blog – Tickling Palates.
Paired with a new blogger every round, we pick and choose a recipe that we replicate from that blog and showcase it every alternate wednesday . Paired with Monica this round, I have Bharwa Bhindifrom her blog that I tweaked lightly. This is a great combo with Rotis, so this goes to Radhika's other event – Subjis for Rotis. We had this dish with steaming rotis and hingwali Mili Jhuli dalfor a super light and refreshing meal. This dish works best with very tender and fresh lady's finger.
Savour the wonderful dishes served by my friends from Bloghop Wednesdays here
Before we proceed,do also check out a new event at my blog  all this August – Healthy Lunchbox Ideas – Theme : Carrot. Would love to have your dishes over to this event 🙂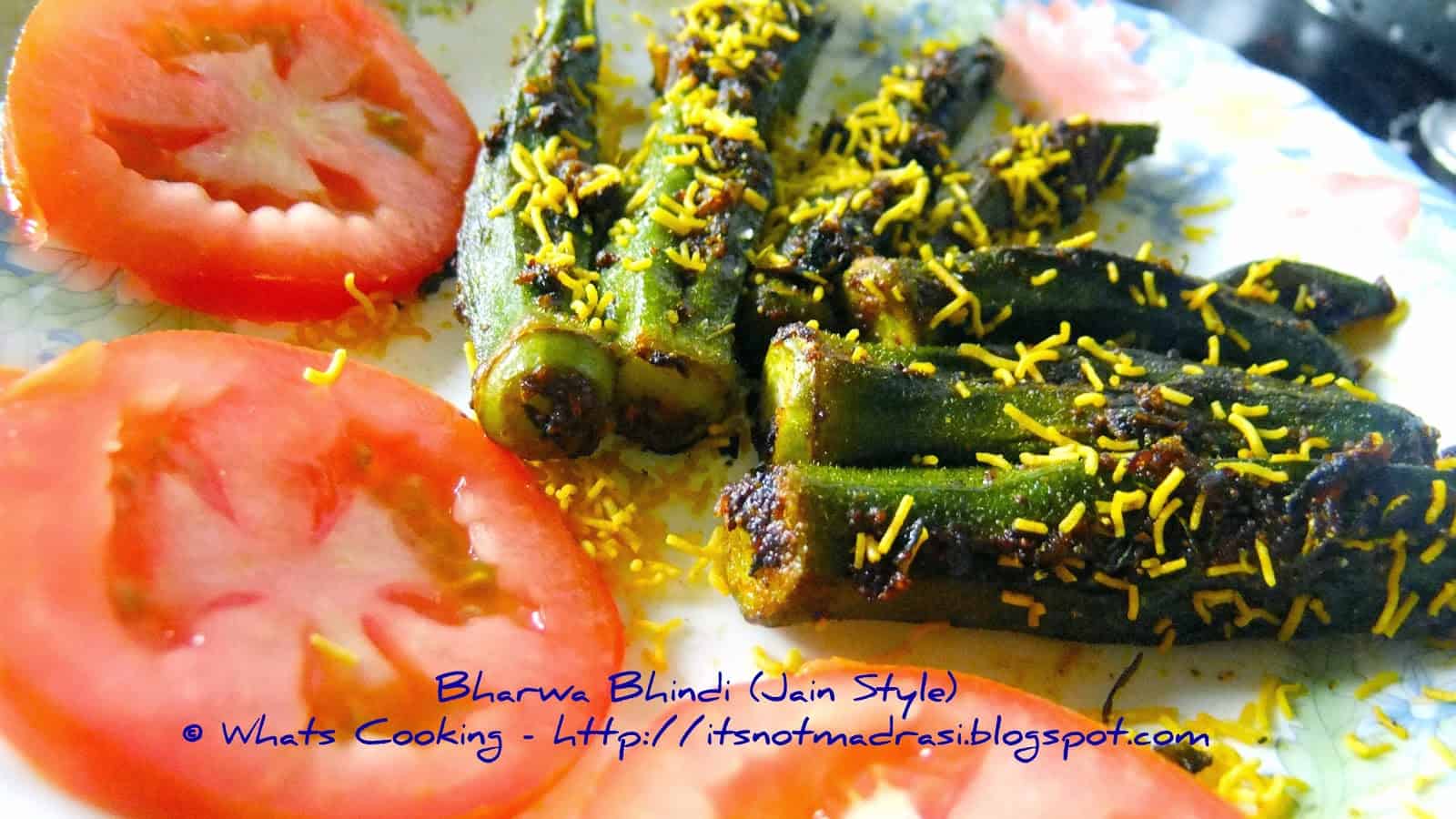 Pin

Prep time : 20 mins. Cooking time : 10 mins. Serves : 3

Ingredients:
Bhindi / Lady's finger – 150 gms
Onions – 1 medium(optional)- I have excluded it as this is a Jain style Sabji.
Oil – 5 – 6 tsp
Salt to taste
Jaggery / Sugar – 1/2 tsp (optional)
Kasuri Methi – crushed – 1 TBSP
Tempering : cumin seeds, curry leaves, mustard seeds
Garnish – green Coriander , grated coconut + nylon sev (opt)
Dry masala powders (each about 2 TBSP, except turmeric & chilli powder):
Cumin Powder
Coriander Powder
Amchur / Dry Mango Powder
Turmeric – 1/2 TBSP
Chilli powder – 1 TBSP
Note: 2 TBSP might look a lot at first, but trust me, its required because you use this to stuff the veggies. In fact, you may also need more based on how much of filling you use.
Method:
1) Wash and pat dry the lady's finger. Trim the top (caps) of the bhindi and make a long slit (not cutting through the whole) along the lady's finger.
2) Mix salt along with the dry masala powders. Add 2 TBSP of Oil + 1 tsp of water to this masala mixture, and mix well to a slurry like mixture. Stuff this wet-dry mixture into each slit lady's finger and leave for 5 mins. Add kasuri methi at this stage or later. Ensure the spice mixture is not runny (refer pictures)
Prepare the stuffing and slit the bhindi vertically halfway
3) In a non stick pan / kadai, heat oil and splutter the tempering – cumin, mustard seeds and curry leaves. Add sliced onion (if using) and fry till the onions are slightly brown.
(Tip : you may use 1/4 tsp of sugar to lightly caramelise them). If you are left with any leftover masala (from the stuffing mixture), add into the onions now and mix well.
4) Add the stuffed bhindis and lightly toss them . Cook them uncovered on medium-low flame for 10 mins (keep tossing them from time to time to cook on all sides).
5) Once the bhindis look slightly seared and brown, add jaggery, kasuri methi and coriander leaves and toss them again, taking care not to break them as they would be tender.
6) Garnish with grated coconut and nylon sev and serve hot with Rotis and Dal ! yumm !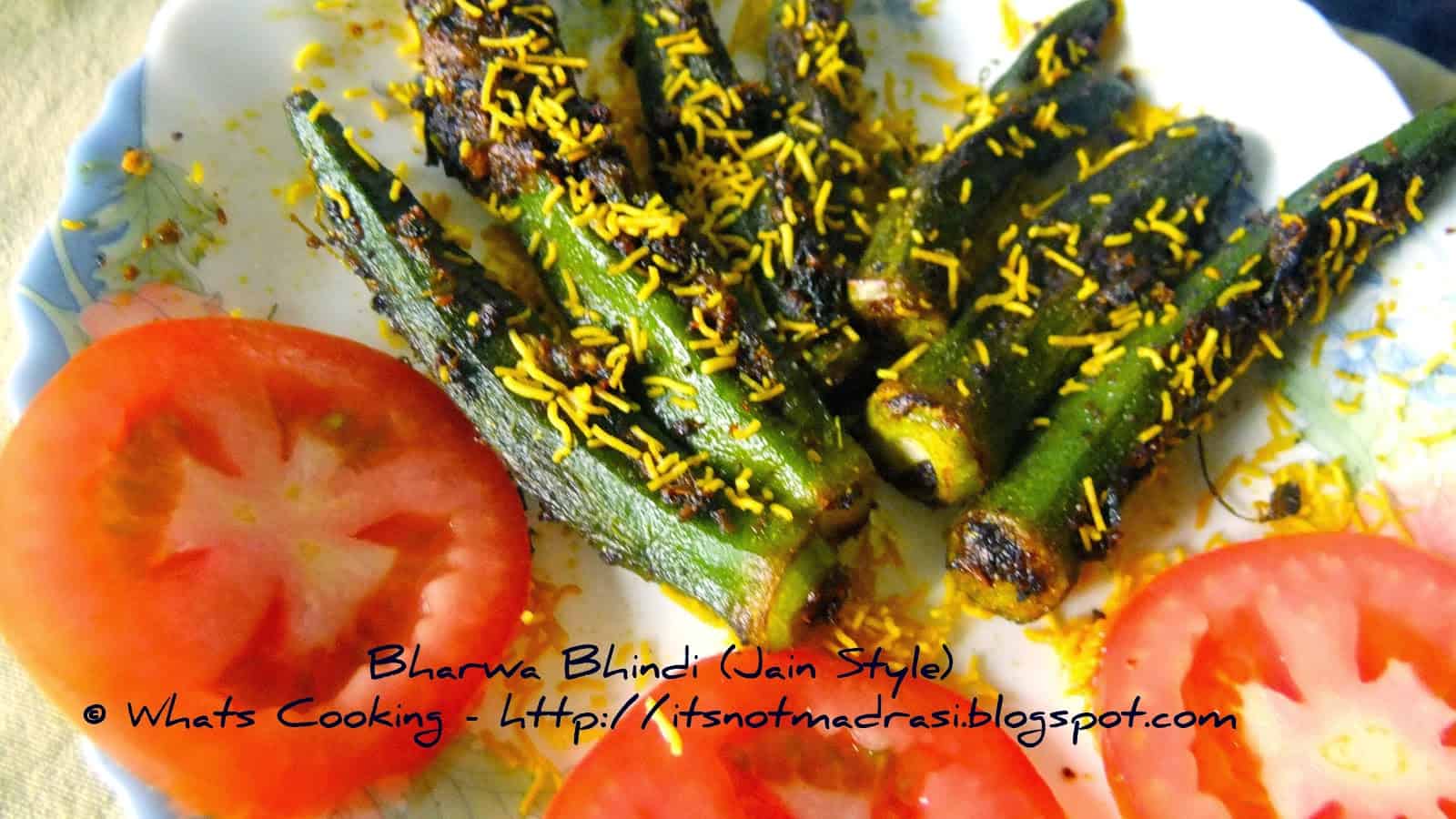 Pin