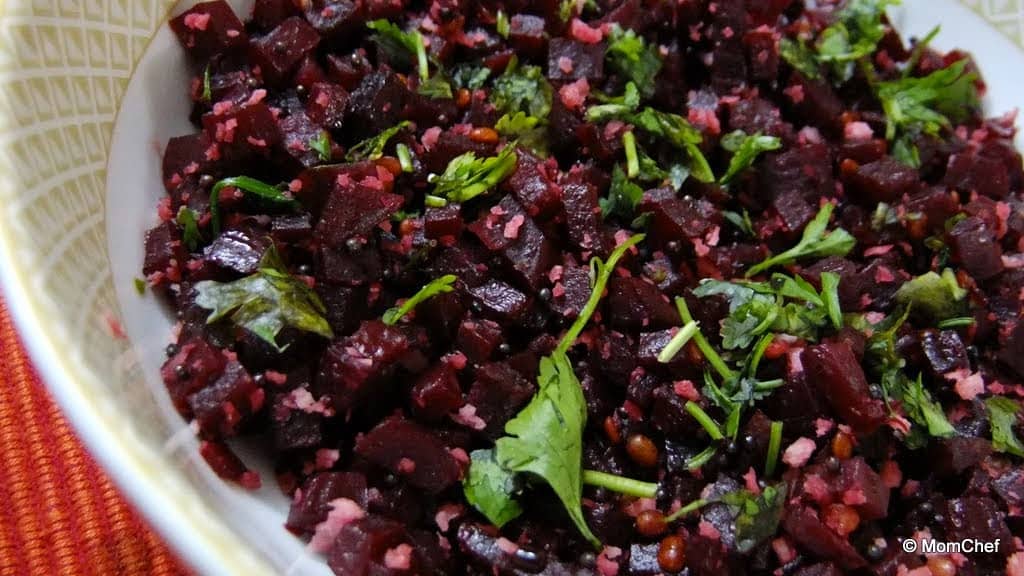 Pin

Poriyal (Tamil / Malayalam) or Palya (Kannada) refers to a side dish for rice prepared from one or more vegetables with little oil stirred, with daal half boiled and coconut / mustard seeds. It is also called Karumadhu colloquially in Tamil. While traditionally palya is served along with the main meal, it is usually steamed or tossed or sometimes cooked in oil. Badanekaayi ennegai (or brinjal curry) is one such dish which is cooked in oil, with very little water. The palyas served / made in Karnataka and Tamilnadu cuisine are kind of similar, but the vegetables used are generally different. While Tamilnadu relies heavily on tubers/ kazhangu (yam / colocasia/taro root etc), English vegetables like Carrot, French beans, cabbage are more prominent in Karnataka cuisine, probably because of availability- this is just my theory and experience of last 3 decades of eating / cooking and serving food J – that my dad used to and S (both from Tamilnadu background) still prefers potato / colocasia to a beans / carrot is quite distinctive. Some of the palyas come with cooked / steamed / semi cooked dal added to them, and are called usuli-the most famous of them being kothavuranga / beans paruppu usuli.

The basic ingredients for tempering though for South Indian Palya or poriyal would remain the same (mustard , urad dahl, curry leaves, hing) but of course having due corrections in each household based on practice / convenience/ health or a combination of all of these. Most of the vegetables (except brinjal / capsicum etc) can be steamed, and are healthy options. In my experience, not more than 1 – 2 tsp of oil is even required to temper most poriyals if the vegetables are steamed wholly / partially.

 
Pin I present here Beetroot palya / poriyal . Beetroots are a rich source of potent antioxidants and nutrients, including magnesium, sodium, potassium and vitamin C, and betaine, which is important for cardiovascular health. Beetroot juice has been shown to lower blood pressure and thus help prevent cardiovascular problems. 
Nutritional value per 100g is as follows : Energy : 180 kJ (43 kcal) ; Carbohydrates :  9.96 g ; Sugars – 7.96 g ; Dietary fiber – 2.0 g ;  Fat – 0.18 g ; Protein – 1.68 g.
Ingredients (serves 3)
Beetroot – washed, peeled and diced into small pieces – 2 cups
Salt – to taste
Fresh coconut grated – ½ tbsp (optional)
Curry leaves and coriander  – finely chopped for garnish
For tempering:
Oil – 1 tsp
Mustard seeds
Urad dal – 1 tsp
Channa dal – ½ tsp  (optional)
Slit green chillies – 1 or 2  (optional)
Curry leaves and coriander
Method:
1)      Steam the beetroot in a separate vessel with ample water till tender. Drain the coloured water. If required, pour extra water (3 – 4 tbsp) to the cooked vegetable and drain off the liquid. This is important. (Most households do not cook beetroot because of the pinkish stain it leaves on the plate)
2)      In a skillet, add the oil. Once hot, add mustard seeds, urad dal and channa dal and chillies. Once the mustard splutters and the dals are golden brown, add the cooked beetroot. Add salt to taste. Stir. Add curry leaves, coriander and coconut. Stir once more.
3)      Transfer to serving bowl. Serve with rice + rasam / sambhar.
Tips:
a)      To save time in the morning for lunch box preparation etc , boil whole, washed & unpeeled beetroot overnight in the cooker. Store in the refrigerator. In the morning, simply peel them off, chop and add the tempering. Saves major time !!
b)      I have seen Mumbai Sandwichwallahs adding a thick slice of steamed & peeled beetroot in the staple vegetable sandwich (that's almost the lifeline of the city) along with cucumber, onions, tomatoes. Makes an interesting combo J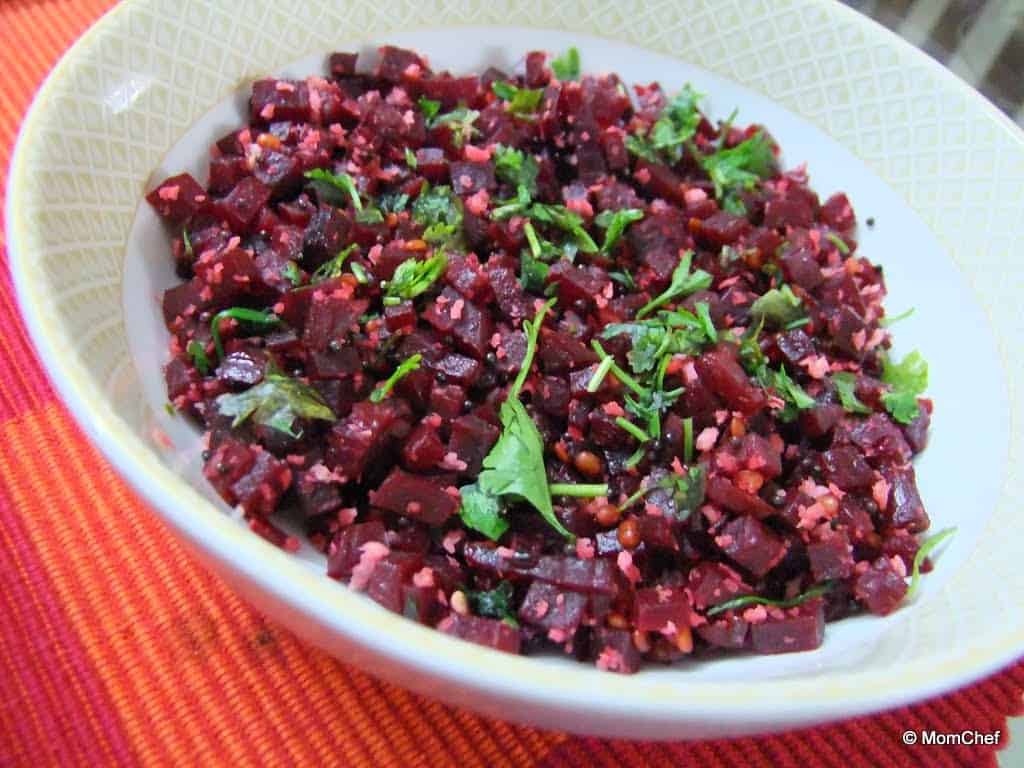 Pin