WelcomeMinglersto another challenge. And a thunderous applause
to all those who braved last month's challenge ofPistachio and Tea…
wonderful yummy entries. And to tingle your tastebuds  once again and up the culinary
challenge, this month the combo is Watermelon and Rice..
Not to forget, all the entries have to
be vegetarian and eggless. They can be across cuisine or course from whichever
part of the world… Watermelon can be used in whole / juice / pureed / canned
form. Any form of rice is allowed – White / wild / brown / unpolished/ Boiled /
Basmati… or whatever variety you can lay your hands on. Please note both
ingredients are to be used as main ingredients and not as garnish.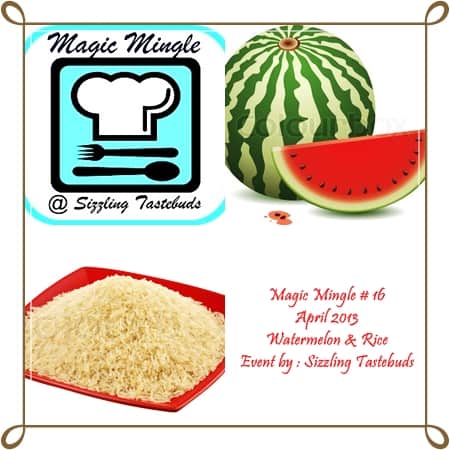 Pin

So get on your thinking hats and serve
up those dishes in style – link them to the linky tool provided below… Please note this event is open to Magic Mingle members only. If you are a blogger and keen to join us in an exciting journey every month, drop me a line with your blog name to [email protected]

Look forward to your entries, dear Minglers 😉

Cheers

Kalyani