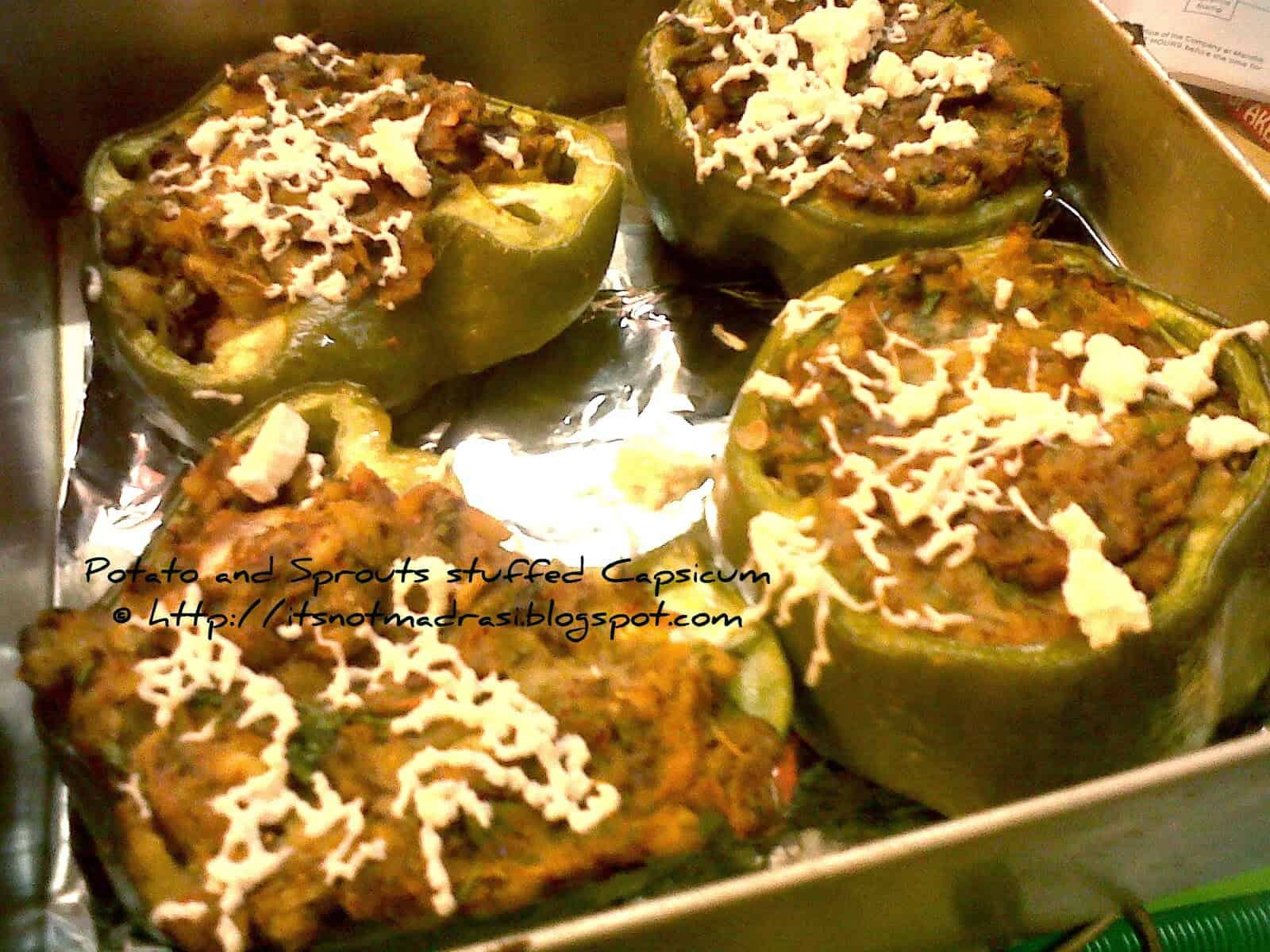 Pin
I LOVE capsicum / bell pepper in any form – tossed, fried, stir fried, curries, gravy, bajjis/ pakoras 🙂 S often remarks that my grocery shopping is incomplete without buying bell peppers, and I am happy to have passed on the infectious enthusiasm to kiddo too 🙂 Last eve saw two bell peppers looking at me to be used up, and frankly I was in a mood to experiment, but on a low cal format. So, made this dish that I have been wanting to make for a longgggg time – Baked Stuffed Bell Pepper or in aam-aadmi language, Bharwa Shimla Mirch.
I distinctly remember having been introduced to this dish along with Stuffed Tomato by my dad at a restaurant called Samrat in Bangalore's Race Course Road, many many decades ago, when eating out was considered a luxury. Instead of using a lot of potato, i substituted some of them with sproutsed moong, and it definitely turned out healthy and light too – I made these with halved bell peppers as they were big, but would be great if you can use whole mini bell peppers. We had these withYellow Dal and Phulkas, but am sure it would be a superb combo with naans / khulchas. The fact that it was baked added to the taste and it was refreshingly comforting.
Sending this to : Vatsala's LGSS event, blogging marathon Day 6 , Radhika'sSubzis for Rotisas well as Harini'sOnly baked started byPari
See what my friends from Marathon here.
Prep time : 20 mins. Baking time : 20 mins. Serves : 3-4
Ingredients:
Bell pepper / Capsicum / Shimla Mirch – 2 large or 4 to 8 mini ones
Boiled Potato – 2 large
Onions – 1 large – minced (opt)
Moong Sprouts / Green gram sprouts – 1 cup
Salt to taste
Olive Oil / any low fat oil – 2 tbsp
Coriander and curry leaves
Cumin seeds – 1/2 tsp
Shahjeera / Caraway seeds – a pinch
Green chillies – chopped fine – 2
Black pepper powder – 1/4 tsp (opt)
Turmeric – 1/4 tsp
Dry masala powders – each 3/4 tsp : Cumin powder, Garam Masala, Kitchen King Masala, Dhaniya Powder (Coriander powder)
Panner grated – 3 TBSP (opt)
Method:
1) Boil, peel and grate potato . Boil moong dal for 10 minutes simultaneously.. Mix both these and add the dry masala powders, coriander, green chillies, shahjeera, black pepper powder, turmeric, salt. Mix and keep aside.
2) In a pan, add 1 TBSP oil and fry onions till brown . Add to the above mixture and mix again.
3) Meanwhile preheat oven to 210 C and scoop out and de-seed the bell peppers.
4) Lightly grease the insides and outer skin of bell pepper with oiled fingers – this is optional but helps the masala stick to the insides well, without running.
5) Stuff about 1 – 2 TBSP of the masala inside the scooped out bell peppers.
6) Line a square baking tray with foil. Bake at 210 C for 18- 20 minutes till the outer skin slightly shrivels (time depends on the size and quantity of bell peppers).
7) Remove from oven once done. Sprinkle grated paneer (or cheese) while its still hot, and serve with Rotis / Phulkas and Yellow Dal /Hingwali Dal for a complete meal.