Flourless Bakes and why? One of the challenges as a baker is to do flourless baking (mainly bakes without all purpose or wholewheat flours or even those who may be allergic to yeast). We had reasonable success with Cajun Spiced Cheesy Aubergine Pizza, Baked Falafels, Cheesy Hasselback Potatoes, Veg Au Gratin, Baked Herbed Potato Wedges, Grilled Kabab Platter, Baked Cornflakes Chivda,  etc. 

I had my eye on this Tandoori Gobhi Musallam which was completely baked and could be  the  centrepiece of your party – Thanksgiving or New year or otherwise. The nice thing about this is that it can be had as an appetiser (in dry form) as was with the original recipe), or go with your flatbreads – Naan / Tandoori Roti / Kulcha in a wet gravy. The first time I made this, it was heavenly with plain Phulkas and some salad for a very satisfying meal. The original recipe had stuffed this with spiced paneer and served it dry, but I didn't stuff and also wanted to make it vegan. So do check out what catches your fancy.  
Whatever your preference, do check out this recipe. The winter around us has such lovely cauliflowers in the market, I am tempted to make this again even as I type this recipe.  Use fresh, clean, firm cauliflowers (small to medium sized) to control your baking process as you would be baking this as a whole unit.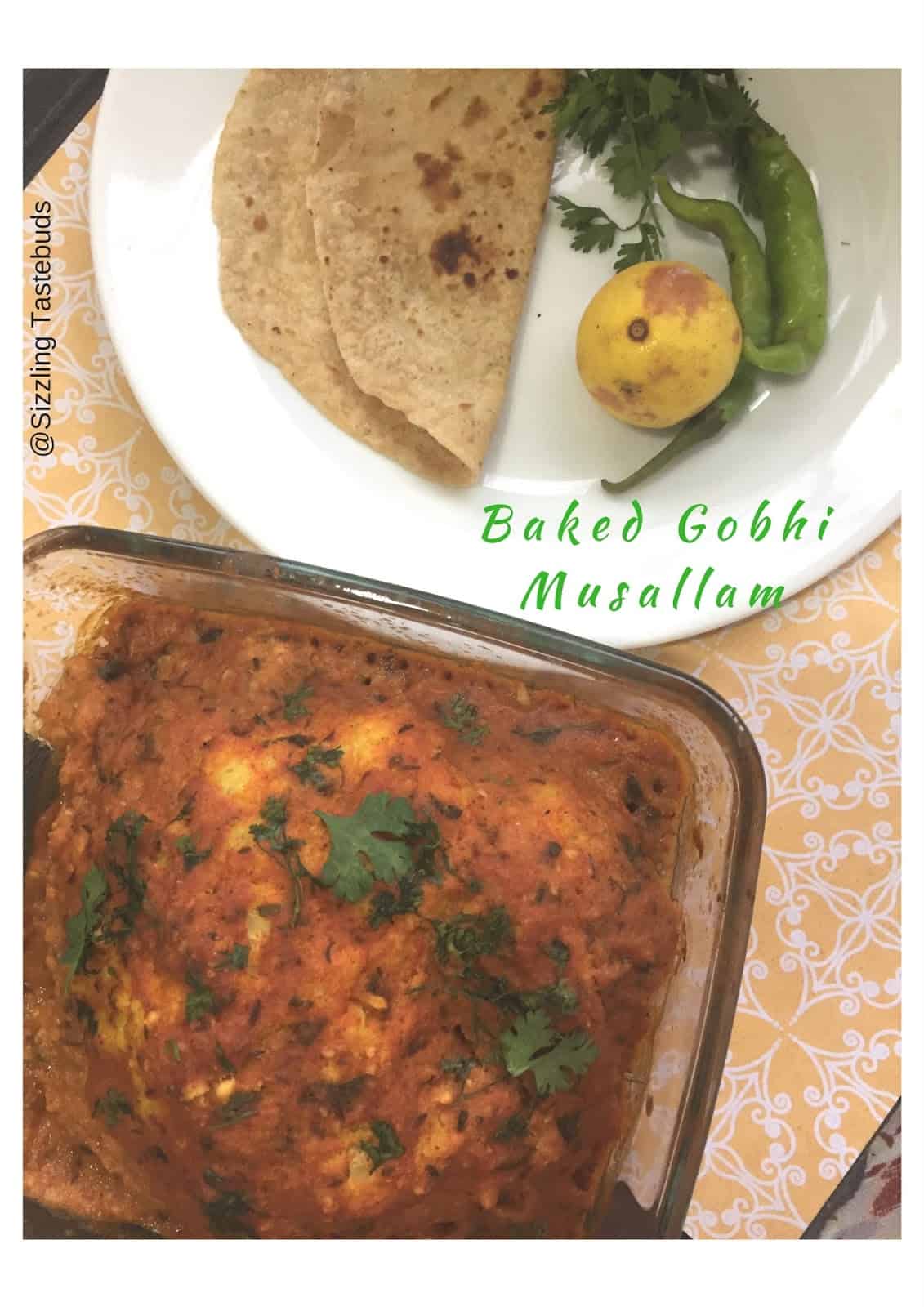 More such Mughlai dishes you might like (Although I am a huge fan of Mughlai cuisine, am yet to do justice to the cuisine on the blog) :
Nargisi Kofta Curry (Side dish for Rotis)
Prep time : 45 mins ; Cooking time : 10 mins; Baking time : 20-25 mins (depending on the size of the cauliflower) ; Serves : 3 – 4 
Reference : Anuradha's video
Baked Gobi Musallam – GF and Vegan Appetiser / Side Dish ;
Cuisine : Indian (Mughlai)
Ingredients:
Medium Sized Cauliflower – 1 no.
Oil – 2 TBSP
Clove, bay leaf, cardamom – 2 nos
Salt – to taste
Coriander leaves – 1 tsp (fine chopped)
Chaat Masala – 1/2 tsp
Turmeric – 1/2 tsp (divided use)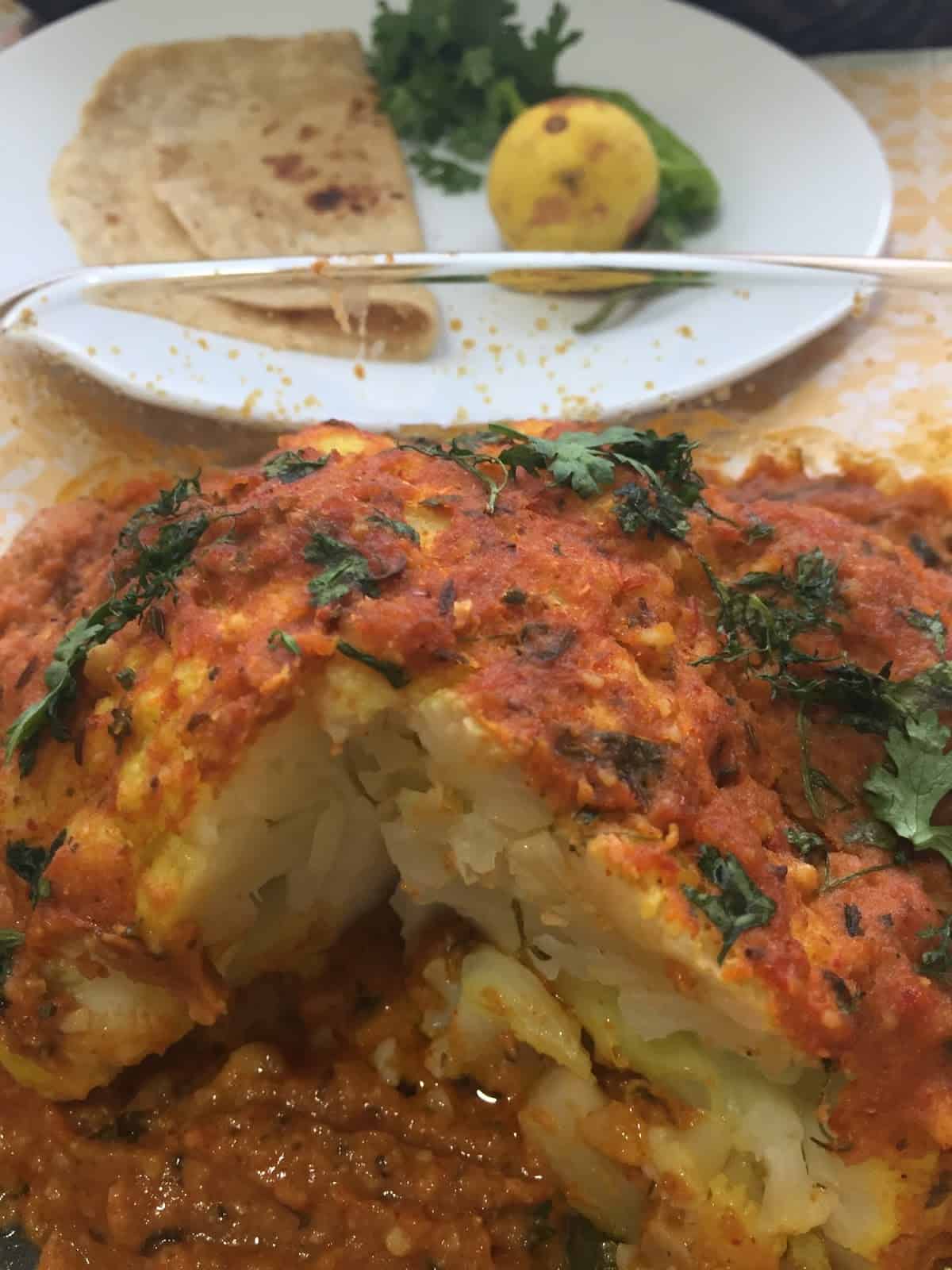 Gravy:
Oil – 1 TBSP
Cumin seeds – 1 tsp
Onions – 1/2 cup
Tomato puree – 2/3 cup
Cashew nuts – 2 tsp (soaked in warm water)
Garam Masala – 1 tsp
Red chilli powder – 1 tsp (or to taste)
Crushed Kasuri Methi -1 TBSP
Salt to taste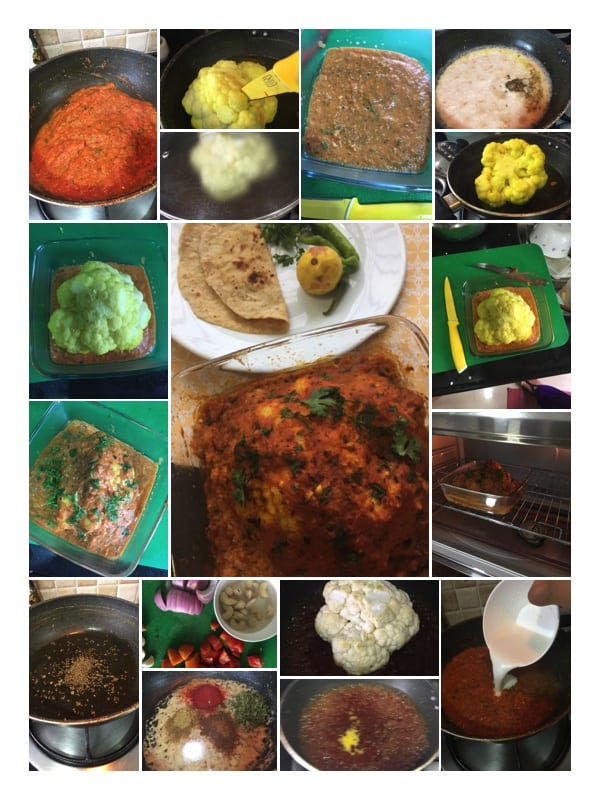 Method:
In a large pot of water, get 3-4 cups of water to come to a rolling boil with some cloves, bay leaf, cardamom (till the aroma seeps in). Now add a pinch of turmeric and salt. Trim the hard stalk of the cauliflower and secure a firm base and place in boiling water. Cook and cover for 8-9 mins or till slightly tender, but not mushy. Drain the water (apparently the filtered aromatic water can be used to knead a flavourful dough for the parathas). 
Now preheat oven to 180 C. Grease a baking dish big and deep enough to fit the whole cauliflower. 
In a pan, add 1 TBSP oil. Saute the onions till translucent. Add the turmeric, tomato puree, spice powders, and let it slowly simmer till oil separates. Make a paste of the soaked cashew nuts and add to the puree – simmer for an additional 1 min till the raw smell of the gravy vanishes.  Add the crushed kasuri methi and mix well. 

Pour this gravy into the greased deep baking dish. Place the drained cauliflower and sprinkle chaat masala and few coriander leaves and bake for 14-15 mins till nicely baked and golden. (towards the end of the bake, I added some leftover gravy over the cauliflower too and that gave a nice tinge and tang to the bake). You may need to tent the baking dish mid way if you feel that the gravy is drying / burning up too fast. 

Top with a little lemon juice and more garam masala if you wish.

Serve warm as an appetiser or as a side dish.