Tikkis are a welcome treat to kiddo anytime. She loves them in most forms (ketchup is a must with them), and its  also easy for me to sneak in any veggies that would otherwise be discarded in the lunchbox or at the dinner table. As she doesnt prefer Potato in her tikkis, I often use Sweet potato as the base, turning them into Sweet Potato Croquettes or as a filling for baked samosa. This week on, I had a cup of cooked chickpeas, and turned that into the base, and we all liked it a lot, especially kiddo.. Also, as opposed to shallow frying these, I baked them , which lent itself to a different delicious texture..
I am sure this experiment was successful as the snackbox was emptied that day at school, and that by itself is a huge relief for most moms, including me 🙂 Without much rambling, lets get to the recipe quickly. I am sure canned / frozen chickpeas also work for this dish, but somehow I prefer fresh cooked chickpeas for any dish..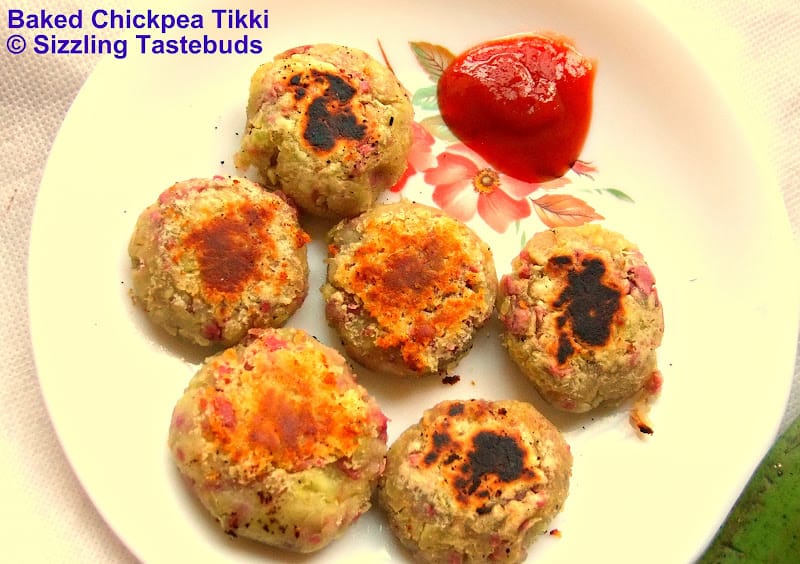 Pin

Sending this to : BM # 14, Vardhini's Bake Fest # 5 hosted at my blog, Kids Delight by Rujutha, I am the star – event by Rasya. Check out the fellow marathoner's here

Prep time– 10 mins

Baking time – 20 mins (depends on oven settings)

Makes  – 6 to 8 medium sized patties 

Ingredients:
Cooked chickpeas – 1 cup
Brown bread slices – 2
Dry masala (each 1/2 tsp) : Garam Masala, Jeera Powder, Dhaniya powder
Red Chilli powder – 1/2 tsp (adjust spice)
Green chillies – 1 (deseeded & finely miced)
Ginger – 1/2 tsp (grated) – I omitted this for the kiddos patties.
Turmeric – a dash
Salt – to taste
Olive Oil – to grease the baking dish & for spraying
Coriander leaves – a little
Lemon juice – 1/2 tsp
Method:
1) Mash up the cooked chickpeas slightly. Trim and soak the bread slices in water for about 1/2 minute. Squeeze and mix into the chickpea mixture.
2) Add salt, turmeric, dry masala powder,red chilli powder, green chillies, ginger.
3) Meanwhile preheat oven to 160C and line a baking tray. Grease the foil / liner paper slightly
4) Work up the Tikki mixture with the rest of the ingredients and bring it together to a soft pliable dough like consistency. Make equal sized portions and slightly flatten them out. If you have time to spare, refrigerate the patties for 15 – 20 mins.
5) Place the tikkis on the line and greased tray. Bake them for 8- 10 mins. Flip over and spray a little oil and bake again for 3- 4 mins till you get a nice golden crust (You may also shallow fry them if you wish – in case you do that, roll the tikkis in bread crumbs / roasted sooji for a lovely crust).
6) Serve warm with green chutney and / or tomato ketchup for a filling and healthy snack.