After food, perhaps my second love is good english – prose, poetry, classics, TV shows : almost anything that showcases good English. And so I came to love Sukanya's blog – Saffronstreaks for its English, sprinkled liberally with aesthetic photographs as well as Tagore's poetry. Restaurant reviews, Travelogues & Food Stories complete her space. Winning the giveaway at her event,Monsoon Medley, was only a conjunction, and a lucky one at that…Happy to have her do the guestpost for us this month through a lip-smacking dish, fusion at that with Baingan Bharta, going the Mediterranean way. Thanks so much Sukanya for taking time out to do this post and for also pausing to tell us briefly about food trends : this dishis truly a gourmand's delight.. Let's hear Sukanya in her own words now…
***********************************************************************************************************************************
It was a long silent winter night with moon shone brightly in the dark sky flirting with zillions of stars, we were on a road trip winding our ways through the jungles of Madhya Pradesh, the central state of India, where the big wild cats occasionally meets and greets you, just like on a wild safari trip, dotted with some tribal villages along its rustic paths, a strong waft of charred eggplants rustles up its way towards us, leaving us famished and infuriate the hunger with the glints of its charred skin romancing and swirling high up in the air. The stop was inevitable, we deviate from our route in search of the rustic flavor.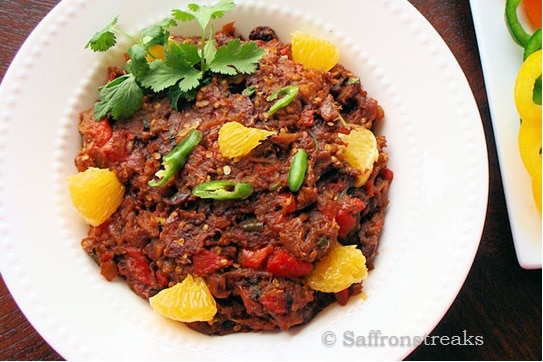 Pin

The night was cold and as we snuggle cozily around the fire, watching the shiny and velvety purple skin of eggplant slowly carbonizing on a firewood, smoked with soft amber flesh sneaking at places with juices slowly dripping on the wood, an earthy flavor of rotis warming up on chulha next to the eggplant, life seems to be on a endless path of romanticism, food never seems to be so intoxicating before.

Shifting with tongs, the charred skin of eggplants then beaten up to reveal the soft amber colored flesh beneath, mashed to release the juices, smeared with spices, few green chillies, the burnt garlic, teaming up with some onions and seared on hot tava with drizzle of mustard oil, baingan ka bharta was ready to satiate the appetite, and few drops of tangy juices of lemon over it creates the magic. The flavour was truly rustic and unmatched.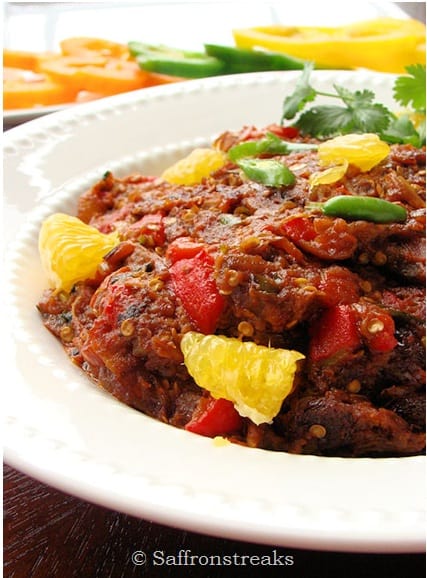 Pin

From the rustic flavors of true India, lets move across the deep blue seas onto Mediterranean region where baba ghanouj is waiting for us. The eggplant here is subjected to similar fate and is roasted, mashed and then pureed along with vegetables, sometimes olives, tahini, garlic, vinegar and lemon juice. Mostly it is served as  an appetizer here.

Continents apart, these two dish looks like an identical twins, separated at birth or may share a common lineage which can be traced back along the old spice route. So, when our rustic and desi baingan ka bharta decided to go on a maiden voyage across the sea, our excitement knew no bounds, we decided to bring on all the Mediterranean flavours that symbolizes the region. Purist may not lap it up all at once, but for the one who loved to explore different flavors and with a little twist, this is the one that is going to surprise you. Mark my words for it.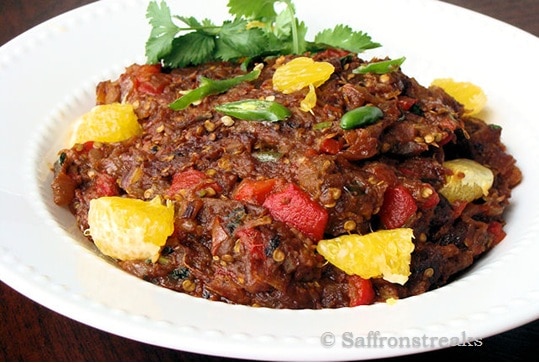 Pin
This post is written as a part of Guest Post for Kalyani of Sizzling Tastebuds, whose recipes and write ups coupled with tempting food photos has enticed me long back. When she approached me a month back to do a guest post for her, I was super excited but unfortunately she had to wait patiently for me as I took sometime to settle down in a new city. Thanks Kalyani for trusting me and understanding me. As for the food trends, there is a paradigm shift in Indian Cuisine, fusion is very much in the scene, I would not say that average Indian foodies are adventurous but slowly they are accepting the changes, and spices like paprika and capers, gouda cheese and many such things are slowly invading the Indian housewife's pantry.
Recipe: Baingan ka bharta / smoked eggplants
Summary: Indian baingan ka bharta or smoked eggplants with a Mediterranean touch
Ingredients
·  Eggplant : 1 large
·  Red onion (chopped ): 1 medium
·  Tomatoes (chopped) : 1 medium
·  Garlic (roasted) : few cloves
·  Ginger (chopped) : 1 tsp
·  Green chilies (finely chopped) : 1 tsp
·  Cumin powder : 1 tsp
·  Coriander powder : 1 tsp
·  Red Chilli powder : 1 tsp
·  Juice of lemon : 1 tbsp
·  Cilantro to garnish
·  For Mediterranean twist:
·  Roasted red bell pepper : 1
·  Black olives (chopped) : 1 tbsp
·  Dried Apricots and dates (chopped) : 1 tbsp
·  Sun-dried tomatoes (chopped) : 1 tbsp
·  Oranges : few segments
·  Crumbled feta cheese (optional)
·  Yogurt sauce to serve
·  Oil : 1 tbsp
·  Salt to taste
Instructions
1.     Roast the eggplants over a gas stove or in an oven. If you are roasting it in oven, set the temperature at 400 F and roast it for 45 minutes.
2.     Let the eggplants cool slightly before peeling off its skin, do not peel it completely, leave some skin as it will gives a nice smoky flavour to the dish.
3.     Peel off the roasted red bell pepper and chopped its flesh.
4.     Heat some oil in a pan and add the roasted garlic in it. Let the garlic releases its burnt smell.
5.     Add the diced onions and fry till the onion changes its colors, add the ginger and saute for few more minutes.
6.     Add the smoked and mashed eggplants and stir fry on medium heat for few minutes.
7.     Next add the roasted red bell peppers, along with tomatoes, and saute for few minutes till the tomatoes melts.
8.     Add all the spices along with finely chopped green chillies.
9.     Add the black olives, dried apricots and dates, mix well.
10.  Drizzle a tablespoon of lemon juice over it.
11.  Garnish with segmented oranges, cilantro and crumbled feta cheese if you are using it.
12.  Serve the hot baingan ka bharta with naan or roti and yogurt sauce to go with it.
Quick notes
If you are using tomatoes, then opt out the sun-dried tomatoes, use any one of them in the recipe.
Variations
Some also garnish the baingan ka bharta with scrambled eggs.
Preparation time: 1 hour(s)
Cooking time: 20 minute(s)
Diet type: Vegetarian
Diet tags: Gluten free
Number of servings (yield): 3
Culinary tradition: Indian (Northern)
My rating 5 stars:  ★★★★★ 1 review(s)
Some fusion idea to enjoy the smoked eggplants or baingan ka bharta is to scoop a spoonful of baingan ka bharta on  a sesame cracker, sprinkle some cheese over it and enjoy !!!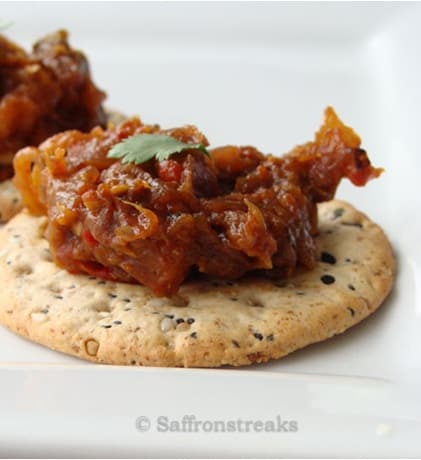 Pin