The prospect of joining this food blogging group – FoodieMonday BlogHop – was intriguing , especially considering the themes they had been dishing out for so long. So, armed with a membership that took longer than a tatkal ticket to confirm (& and all in good form :p), here's my post for the week#171 themed "SaagSaga".
So although at first I thought I could dish out the South Indian format of a saag (mashed up greens) known as Keerai Masiyal, one of the active group members Mayuri who kindly added me on here explained that they would be going for a classic version of the Saag. I had made sarson da saag with Makki di rotiearlier , so rummaging thru the fridge gave me access to fresh radish leaves and some spinach.
I combined both of them in a smooth and silky almond-based gravy that was nutty and delicious 🙂 this can be served with any pulav or roti / naan / kulcha . I served them with methi Thepla .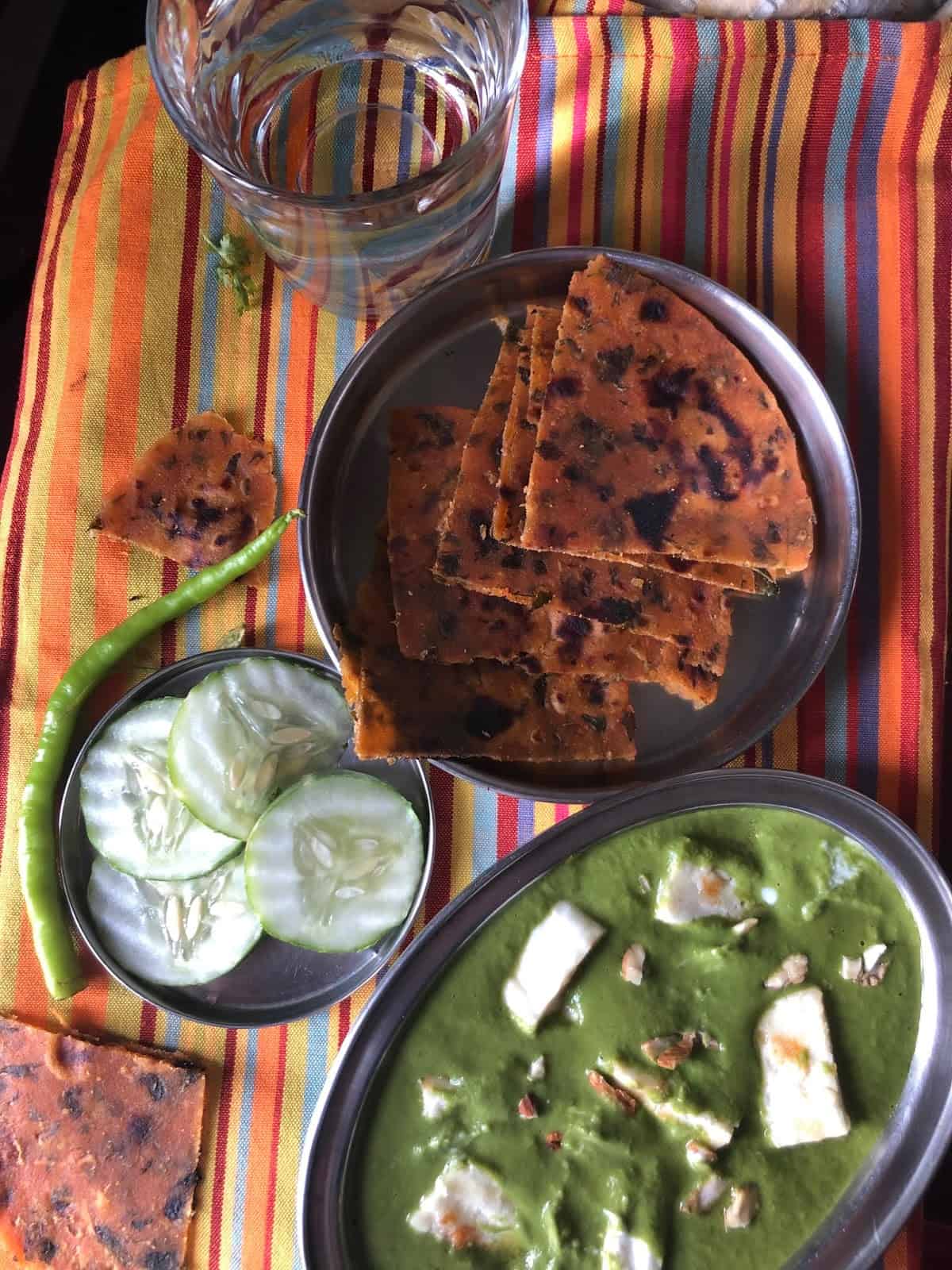 Pin
Let's get to the recipe . I made just two servings considering it was for the little one, so pls adjust spice and quantity as required.
Prep time – 15 mins, Cook time – 10 mins, serves – 2
Badami Saag Paneer – a GF gravy that's served with any Indian Bread or steamed rice / Pulav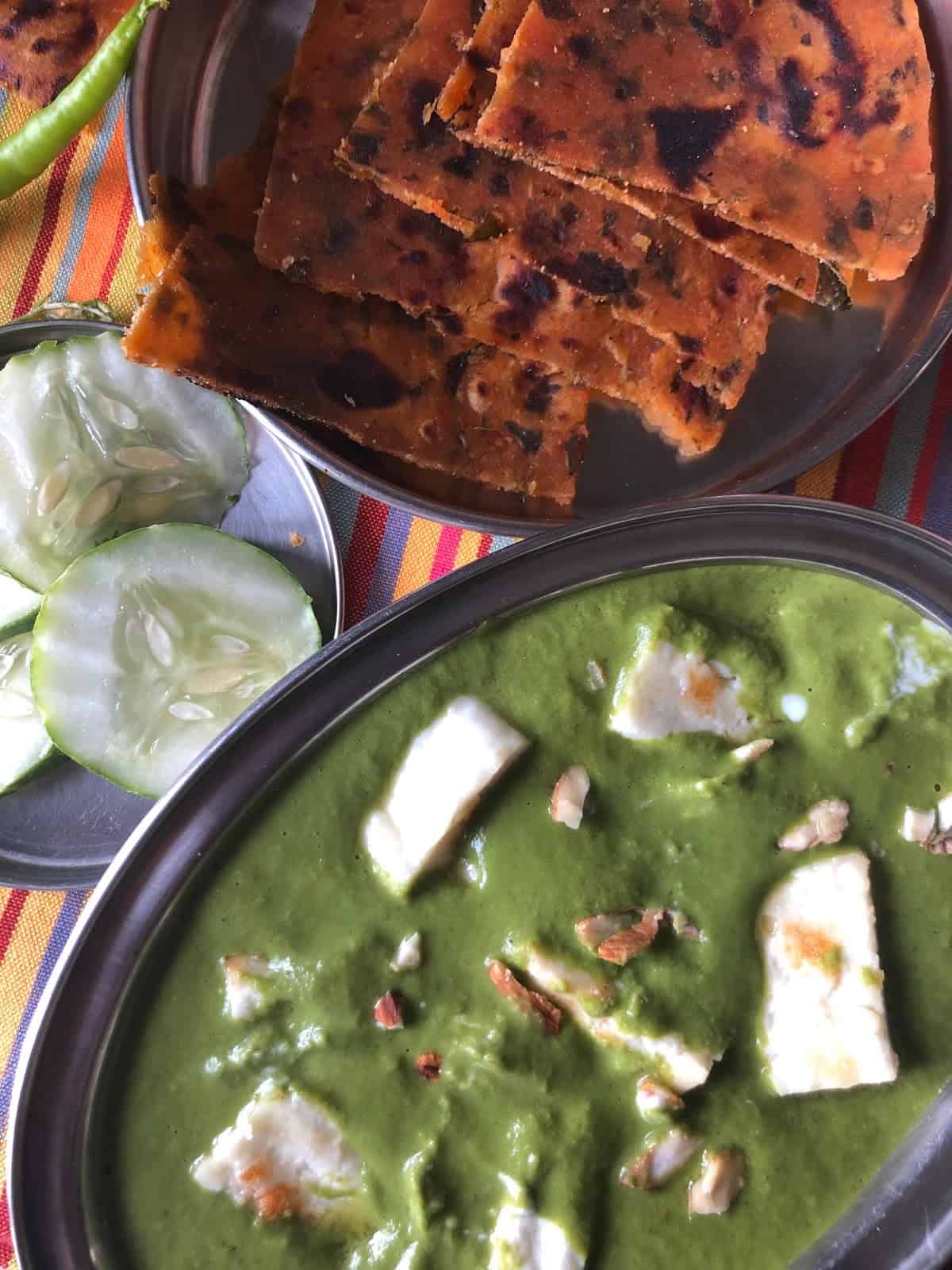 Pin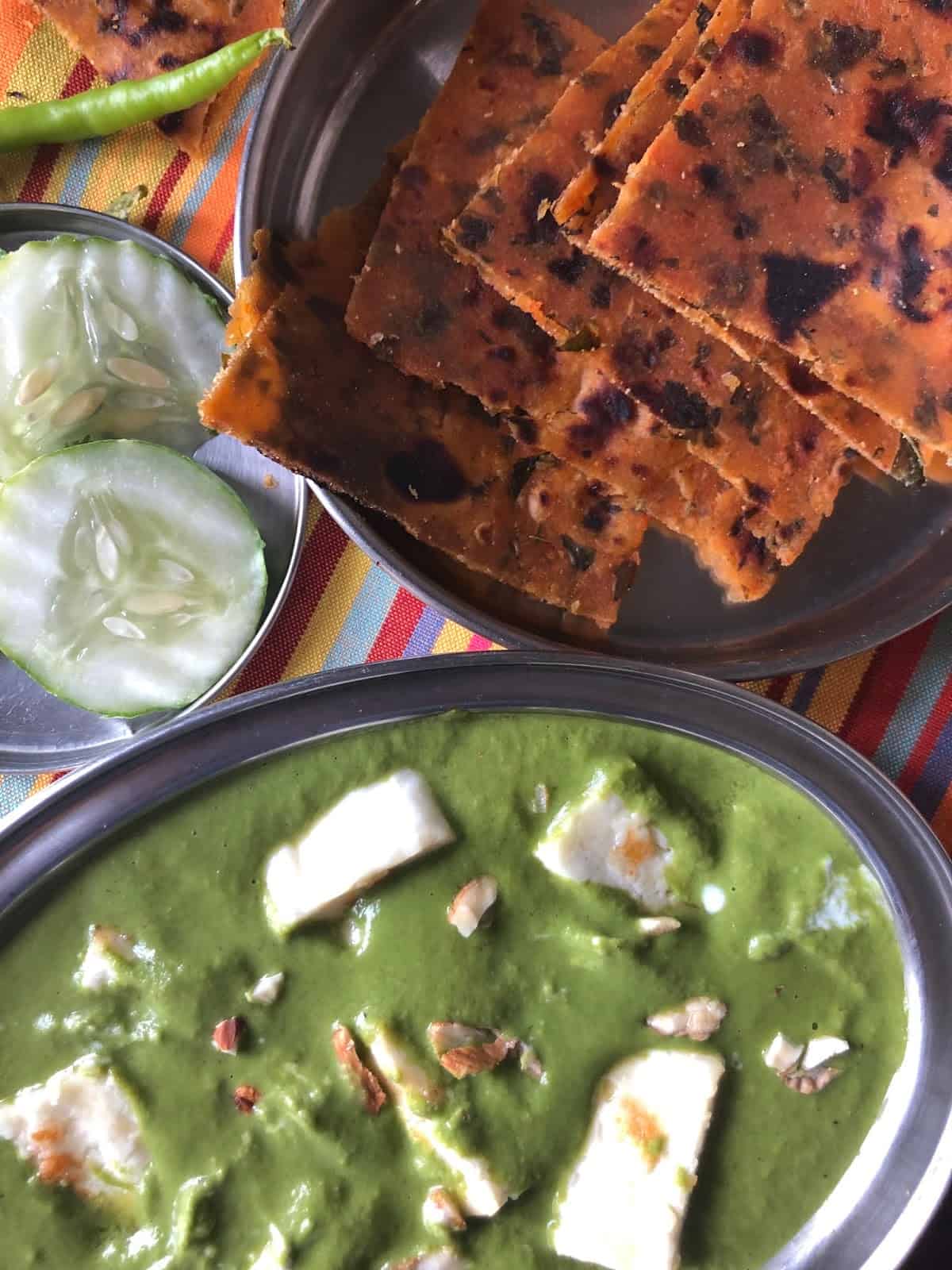 Pin
For the gravy –
Spinach – a handful – washed and chopped
Fresh Radish leaves – 2 handfuls – washed and chopped fine
Tomato – 1/2 medium
Medium Onion chopped – 1/2 (1 didn't use)
Ginger grated – 1/4 tsp
Salt – to taste
Soaked almonds – 8~10
Garam masala – 1/2 tsp
Cumin powder / roasted jeera powder – 1/2 tsp
Red chilli powder – 1/4 tsp
Sugar – 1/8 tsp (optional but recommended)
Chat masala and sliced almond slivers – for garnish
Oil – 1 tsp
+
Paneer chunks – 100 grams (Sub with Tofu for a vegan version)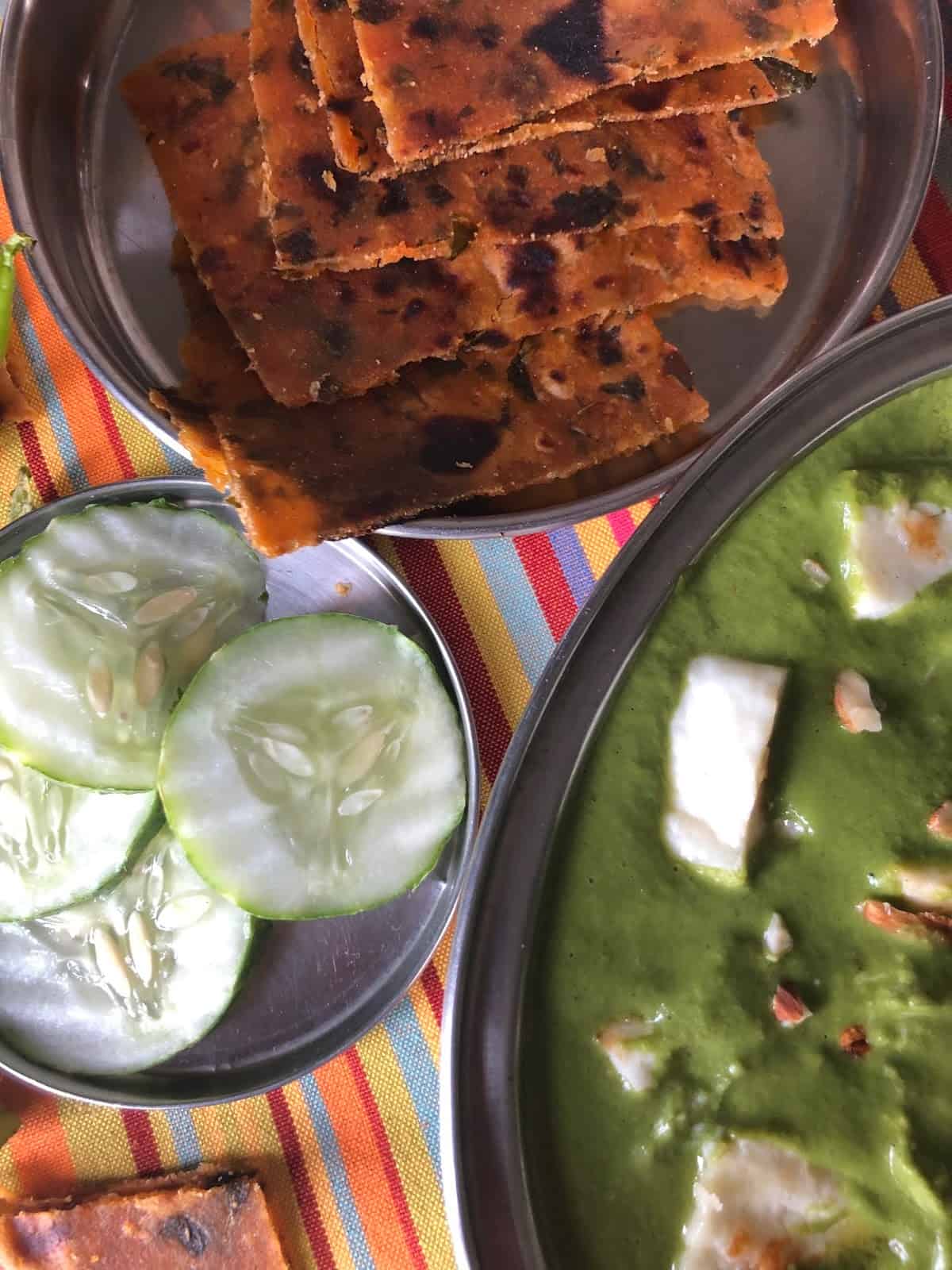 Pin
How to :
Blanch the greens for 60 seconds, immediately dunk in ice water, drain and purée with the tomatoes, soaked n peeled almonds and onions if using to a smooth paste.
In a pan, add oil, add the purée and let it simmer on a low flame, add all the other dry spice powders including salt and 2/3 cup water.
When the gravy starts thickening , add the paneer cubes as is it sautéed in a little butter or oil. Let it absorb all the flavours.
Finish with chat masala and sliced almonds
Serve warm.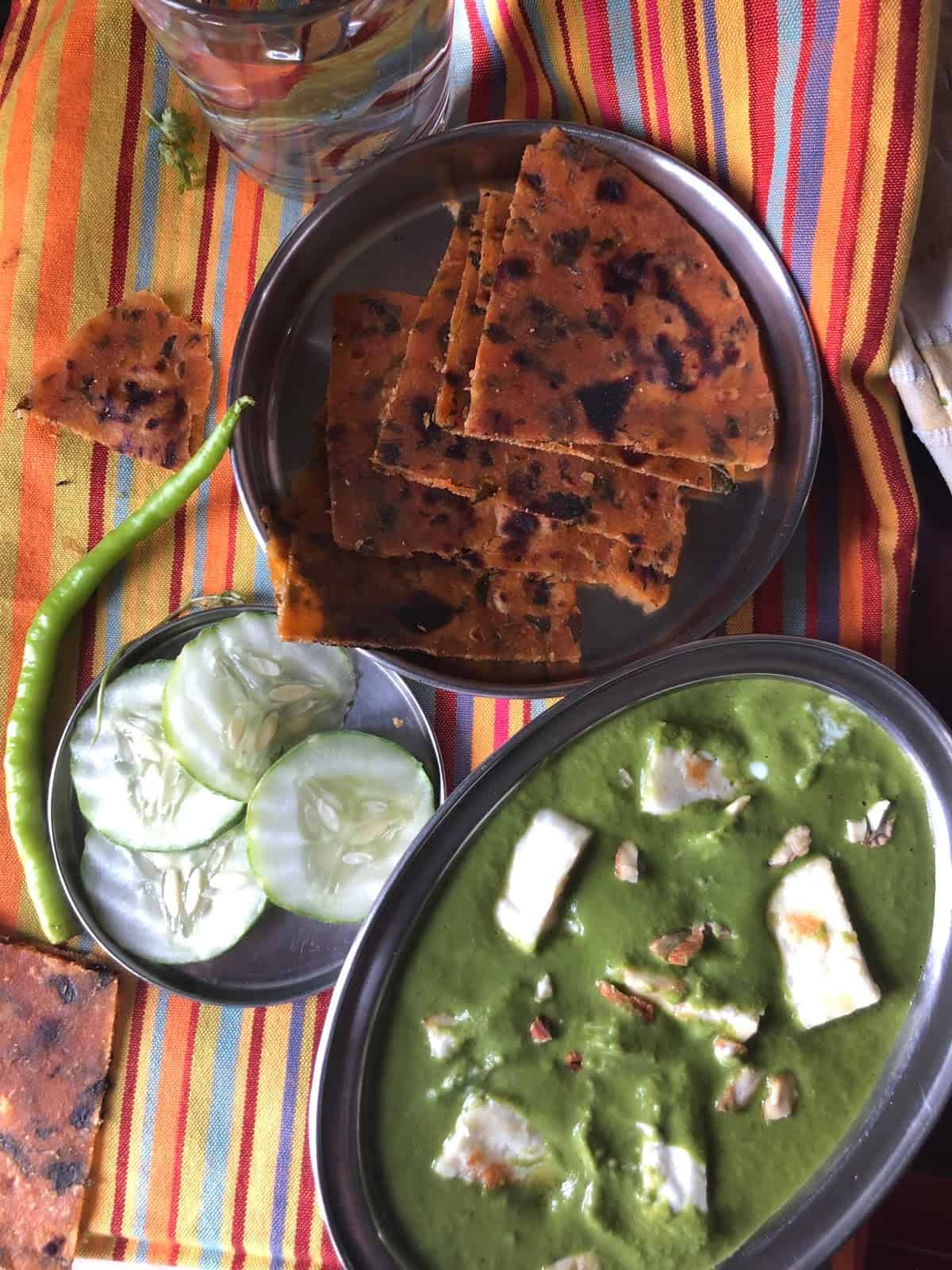 Pin
Linking this to Foodie Monday Blog Hop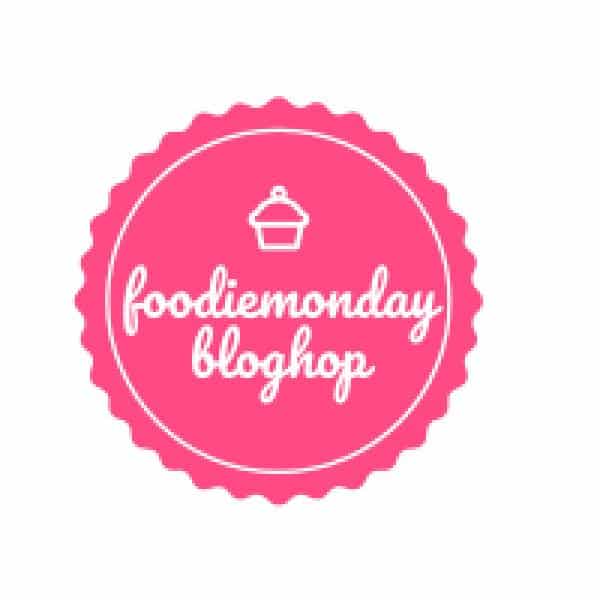 Pin