Today's post of Arisi Upma (Broken Rice Upma) comes from my MIL's kitchen repertoire. This was one of the earliest dishes she made for us while visiting us right after our marriage. Apparently, she makes Rava Ladoo, Jaangri (a Urad dal based sweet) & many other Kuzhambus awesomely well, but this recipe has stayed with me. There are different ways of making this, but this is to document her style.
We are running "Flavours of India" this week presenting 3 different dishes that dont appear on restaurant menus but are mostly made by homecooks.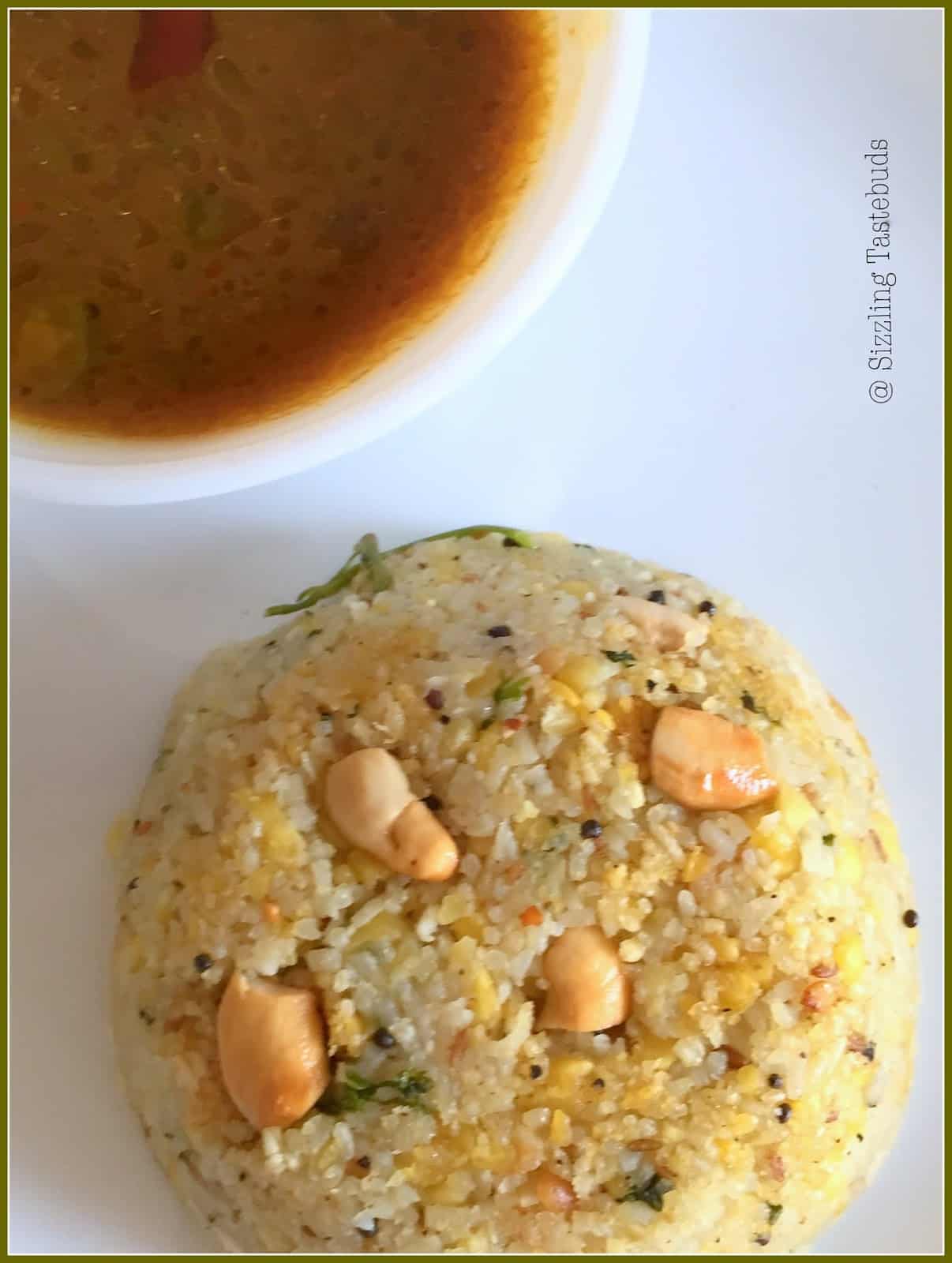 Pin

This is a breakfast as well as a evening tiffin dish. Its spicy on its own, and must be eaten hot. We make it mostly on weekend nights in place of an elaborate dinner or sometimes for a Sunday evening tiffin (early supper) and skip our dinner as its very filling .

Accompanied here is this Gothsu (Tamarind based spicy dip) thats used as a side dish for Ven Pongal or Rava Pongal. It can also be had with any Kuzhambu variety.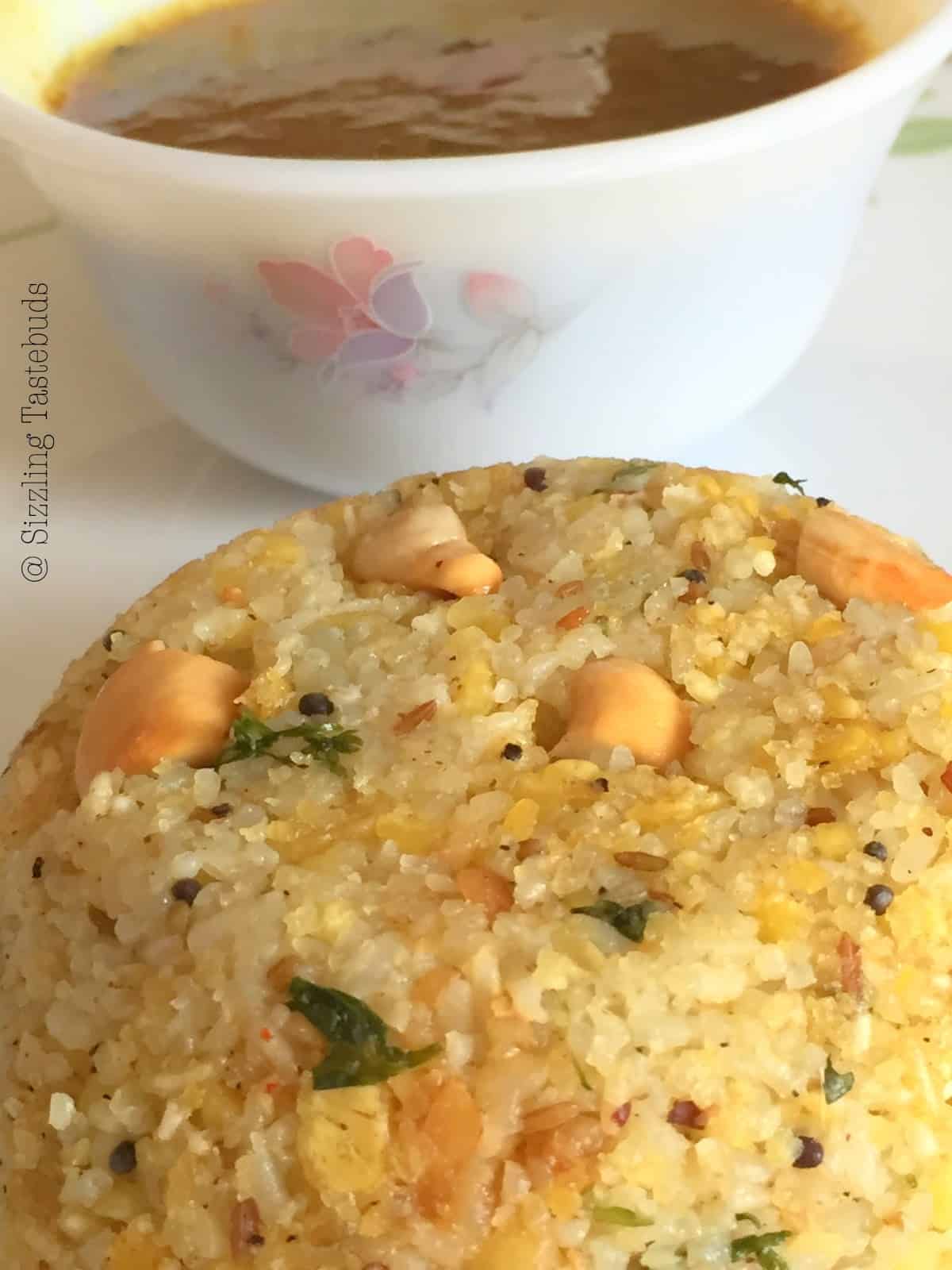 PinPin
Off to the recipe, now ! Follow the steps enclosed for a yummy Upma 🙂 Hope you also make this and enjoy it..
Prep time : 5 mins | Cooking Time : 20 mins |  Serves : 2 adults generously.
Arisi Upma – a Vegan, GF Rice – lentil based savoury dish
Cuisine : Tamilnadu (South Indian), Course : Breakfast or evening snack / Dinner alternative.
Ingredients:
Raw Rice – 200 ml (use short grained variety)
Toor dal – 50 gms
Jeera / cumin – 1 tsp
Whole Black pepper corns – 1/2 tsp
Red chillies – 2 or 3 (remove the stalk) 
Salt – to taste
Boiling water – 4 times the rice quantity (depends on the quality of the rice)
fresh or frozen Grated coconut – 3 tsp (optional but recommended)
Tempering:
Oil – 3 TBSP
Ghee – 1 tsp (skip for Vegan version)
Mustard seeds – 1/2 TBSP
Urad dal – 1/2 TBSP
Channa Dal – 1/2 TBSP
Cashew nuts – 2 tsp (broken or halved)
Curry leaves – few
Hing / Perungaayam / Asafoetida – a generous pinch (skip for GF version)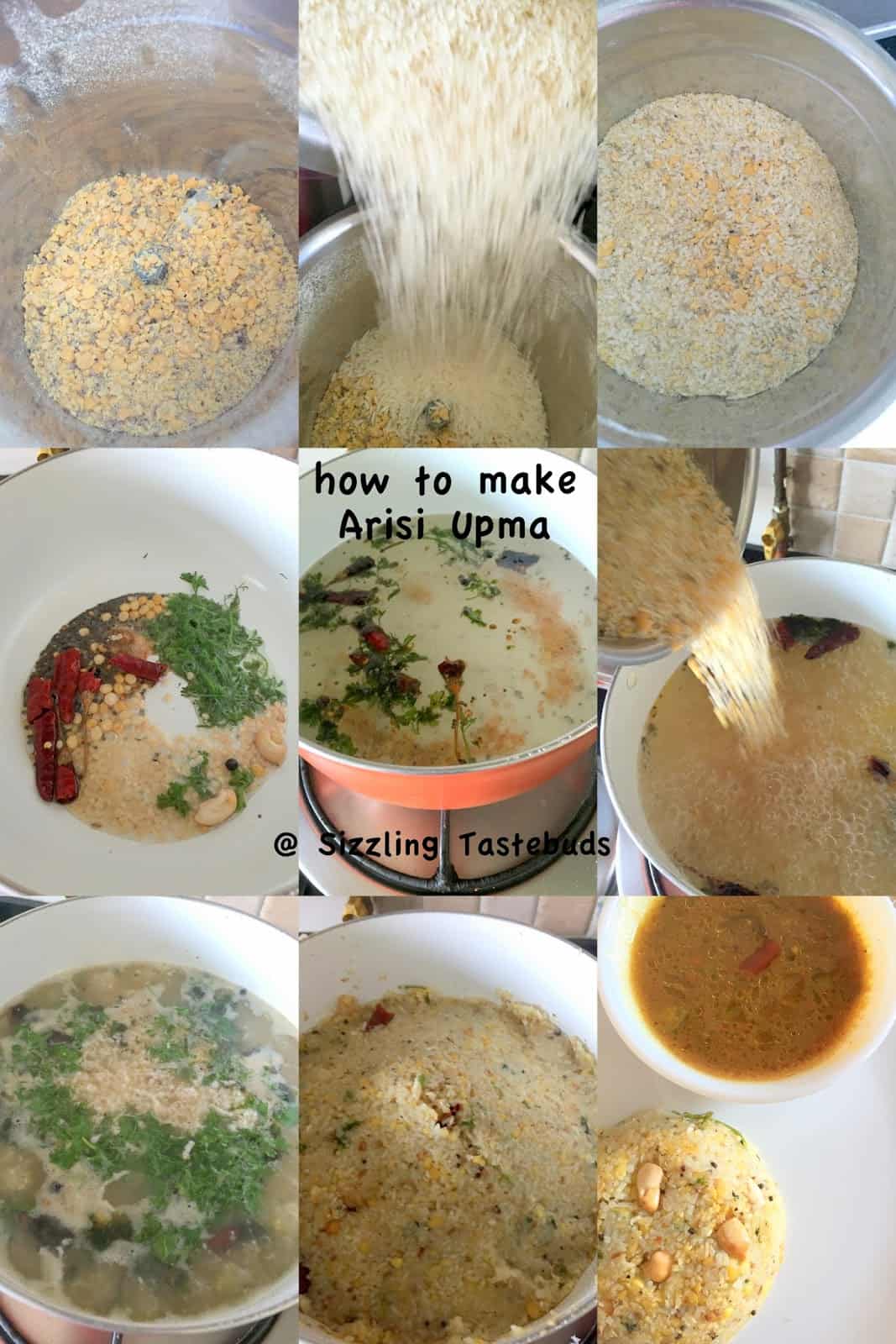 Pin
Method:
In a spice grinder, pulse the dal with the jeera and pepper corns a couple of seconds into a slightly broken consistency (take care while splitting them else it would become a smooth flour – we are just breaking it into two keeping it very coarse). Add the rice now & red chillies and just pulse it once for 1-2 second. You would get a heterogeneous mixture of rice, dal, spices. Sieve it once to remove any flour material and keep aside.
In a non stick pan or any deep bottomed pan, heat oil (sesame oil or Nallennai works best here). roast the cashews till golden brown, remove with a slotted spoon.
Now quickly add the dals and mustard seeds and saute till mustard splutters and dals brown a bit, then add asafoetida, curry leaves, the hot water , grated coconut & salt.
When the water boils for 1 min more, slowly add the rice-dal-spice mixture in a steady stream and keep stirring the mixture like you would for Upma. Mix quickly before it gets lumpy, close the lid and let it cook for 10-15 min on a very low flame (Rice takes quite some time so watch intermittently).
Once done, mix well, add the ghee (if using), fried cashews. mix once more and serve hot. I love this personally with a bowl of yoghurt or this Gothsu.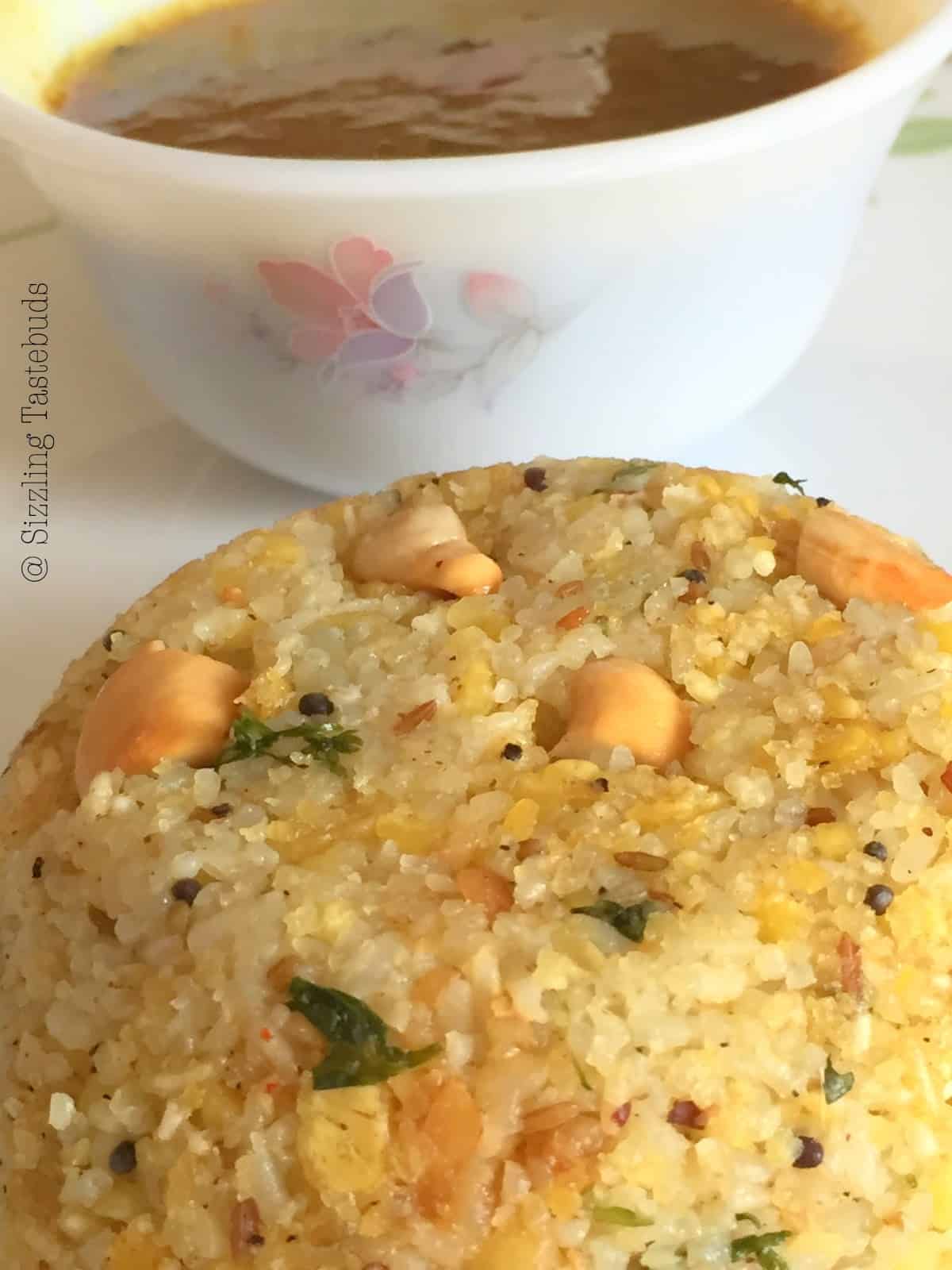 PinPin
Sending toBM 73 under "Flavours of India"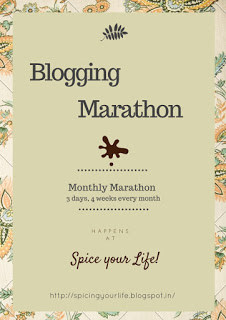 Pin