Tarla Dalal – the original diva of Indian Cooking – was my first cookbook author that I stumbled upon when I realised I like cooking a little more than cramming for endless exams (my mom would be heartbroken if she read this above sentence, wouldnt she?)… somehow, cooking up Upma or Gulab Jamuns seemed preety easy till I discovered another element to cooking – cleaning up…. Arrghh! those endless dishes (when non stick or baking wasnt the fad) left me with rather sticky and dark looking , and sometimes overburnt dishes that were to be scoured with cleaning powder that seemed to take out the power from my elbows !


Very soon, I (smartly?!) delegated the cleaning job to younger sis who didnt mind it for a while as long as someone else was cooking.. Thick as thieves, many a dishes got served up from the sisters much to the amusement and support from mom and dad respectively.. In fact, my dad encouraged me quite a bit and bought me my first ever cookbook of Tarla Dalalji that I ranted about previously. One thing led to another, and her style pretty much inspired me to take keen interest in cooking, for she made it look so good and easy – more so because she cooked only vegetarian (which is the fare in my house) and suggested wonderful and workable substitutes for egg based bakes too.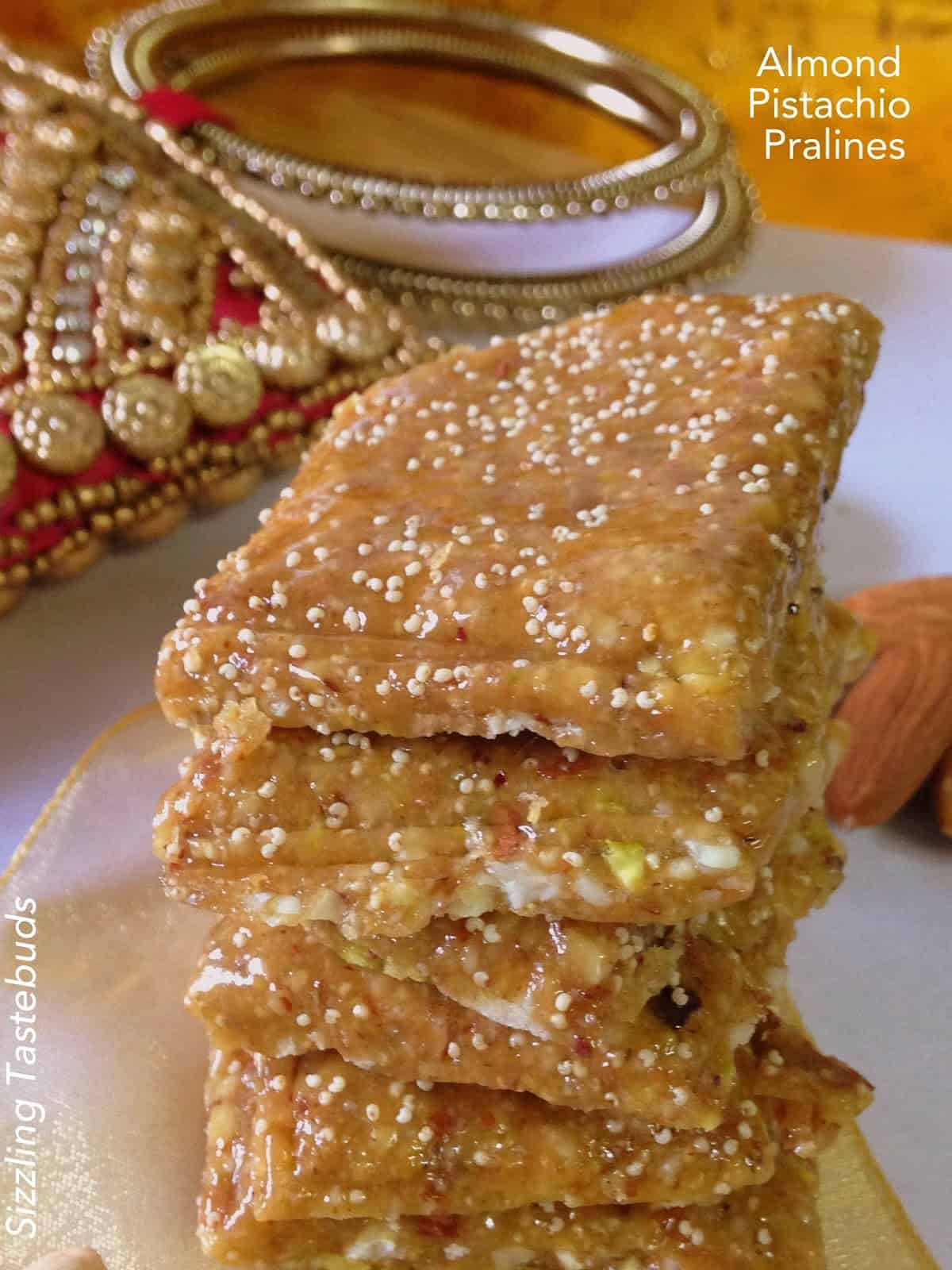 Pin
Today's post is a tribute to that wonderful cookbook author – Tarla Dalal – for the way she has inspired us and we at Blogging Marathon publish a small tribute in our own simple way, replicating any of her dishes (from the super vast repertoire) in our blog post today.


Tarlaji, may you rest in peace.. and cook up a storm wherever you go next :-))


I have chosen to make Almond and Pistachio Pralines – an ATM (Any Time Munch) from her recipes (tweaking it a teeny weeny bit). Pralines are pretty much like the Indian
"Chikki" and I stumbled upon these beauties in Tarla Dalal's book
"Fun Food for children"… These are simply addictive,and although I
reduced the quantity from the original recipe all the while replacing White with
brown Sugar, they simply vanished before I could savour them. So, I made them
again, with normal White Sugar, and we enjoyed them. Warning : These are soo
addictive, that it may eat into your lunch / dinner time rather than being a
between-the-meal-snack 🙂 We liked it mildly sweet, but please do adjust to
taste.
Only point note is that although this is a quick to
make snack, it needs 100% , no 200% attention as sugar
quickly caramelizes. So, on those lazy afternoons or weekends, when you
have about min 30 mins to spare, do check out this dish.
Prep time –
10 mins | Cook time – 15 mins | Makes :
Approx 15 medium sized pralines
Keeps : For a week under refrigeration
(if they last that long :))
Ingredients:
Powdered
nuts – 1/4 cup (I used a mixture of almonds + pistachio)
Sugar
– 1/3 cup
Butter/
oil – to grease
Poppy
seeds (khus khus) – 1 TBSP
Cardamom
powder – 1/2 tsp (optional – I added a pinch)
Vanilla
essence – 1 drop (Optional)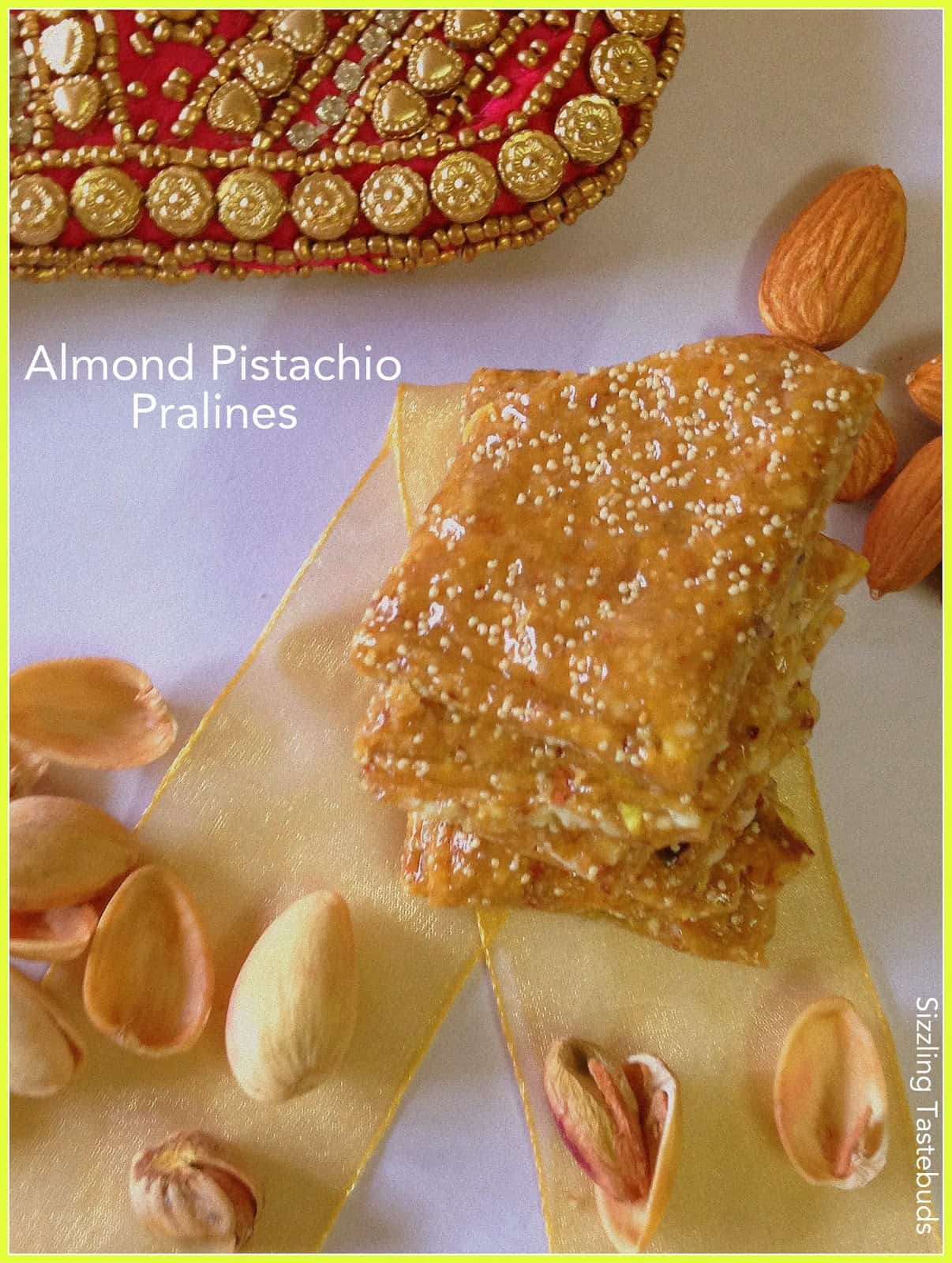 Pin
Method:
1) Mix and melt the sugar on a low-medium flame and keep stirring till
it melts, and starts to caramelise(turn to a honey coloured liquid)
2) Immediately, take off the flame and mix the rest of the ingredients
and mix well.
3) Pour onto a greased plate (preferably marble / stone platform) and
roll with a greased rolling pin to a thin circle. (I greased the back of a
steel plate and spread it out thin while still super hot with a greased rolling
pin – worked well for me )
4) Mark out shapes while still warm.
5) Cool and cut out the shapes. Store in an airtight container.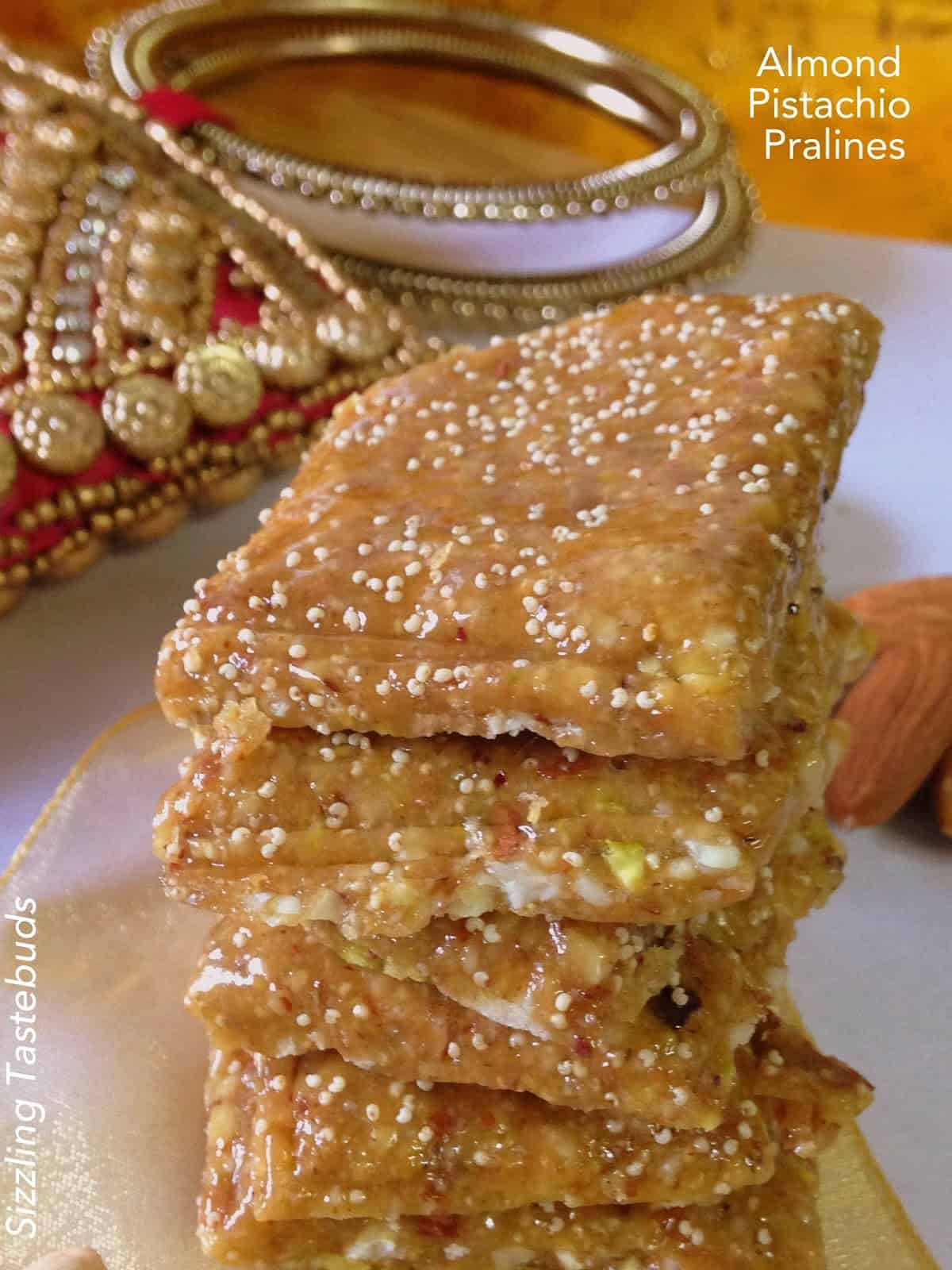 Pin