Adrenaline is often defined as inherent, or something that moves you to do things when one least expects. Till the last few minutes, I didn't know I would be tossing my hat in the ring for the month long marathon. 
It's 3 AM as I am writing this post on the inaugural day, and although I have a slight clue on how things are going to unfold, I am glad I gave in to the temptation of the adrenalin and wanna make this happen, despite odds, challenging myself in the process 🙂 
With a few posts ready under my belt, we see a month long (26 posts – alphabetical in my case) of how grains could be used creatively ( including some classic dishes too). All these would be featured in the Bm#99 Mega Blogging Marathon all this April at this blog. 
Stay Tuned !
As I mentioned alphabetical, it would be appropriate to being with A for Achari Methi Channa Pulao. I am a sucker for one pot meals, and although rice based meals have been my preference, this mega BM has given me a chance to explore other grains too. This biryani today of course is Rice based, and is adapted from Suma's recipe. 
Let's get to it. 
Prep time – 15 mins, cook time – 20~25 mins. Serves – 2 ~ 3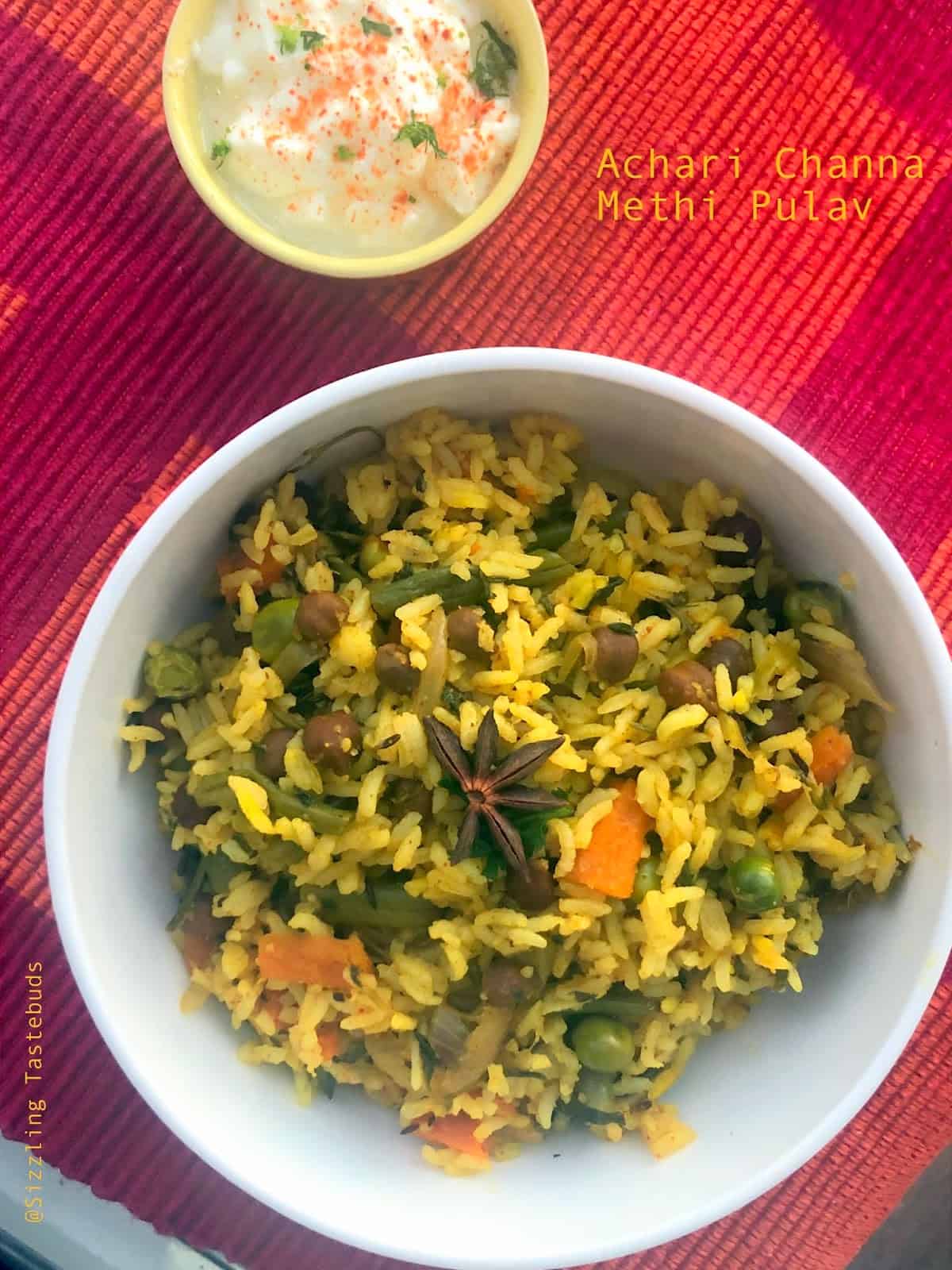 Pin

You need:

Long grained rice – 1 cup

Mango pickle – 2 TBSP ( I used homemade lemon pickle)

Fresh Fenugreek Leaves – 1 cup (packed)

Salt – to taste

Cooked Chickpeas – 1/2 cup ( I used the brown variety)

Peas – a handful (optional)

carrots – 1/4 diced (optional)

Onions – sliced – 1 medium

Mint leaves – a handful

Whole spices – Black cardamom, green cardamom,, cinnamon 1 inch, cloves – 2 , Star anise  – 1, bay leaf – 1 or 2

Ghee / Oil – 2 TBSP

Red Chilli powder – 1 tbsp

Biryani Masala – 2 tsp

PIN FOR LATER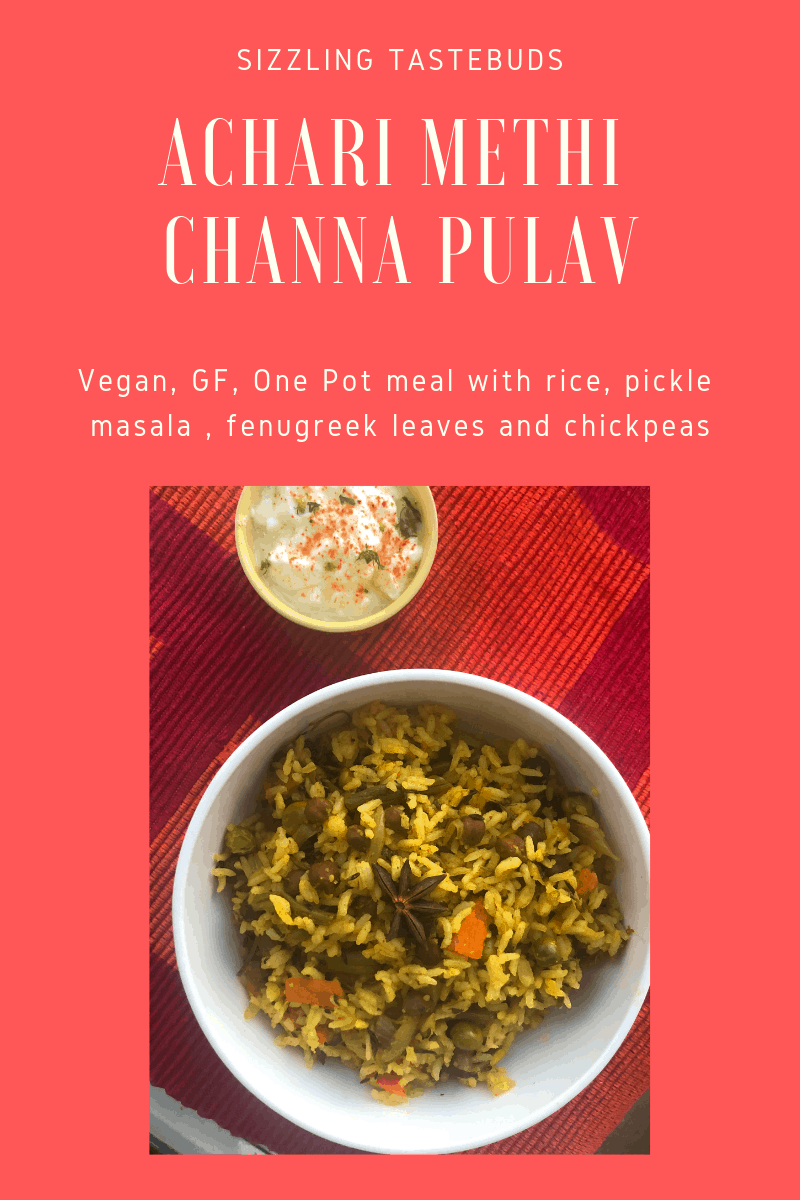 Pin
How to:
Wash rice in several turns of water till clear and soak for 15 mins.
Heat a thick kadai / pressure cooker, add oil or ghee, saute the whole spices, onions til fragrant. Add fresh Methi leaves and saute till they slightly wilt. 
Now add the soaked and drained rice, peas and carrots, and saute for a minute, add red chillii powder, biryani masala and saute till the oil starts leaving, Now add the pickle along with the oil (mango pickle leaves a lot of oil and colour, but my lemon pickle didn't have much, so got an yellowish tinge). 
Add enough water as per rice quality ( i used about 1.75 cups of water), throw in the mint and pressure cook for 1 whistle. Let the pressure come down on its own. 
fluff the rice and serve with a simple onion raita and / or papad
Pin
Check out the Blogging Marathon page for the other Blogging Marathoners doing BM#99