First the avocado came home, followed by the basil and then the almonds were discovered in the freezer. Considering these are expensive ingredients, I wanted to make an exotic dish, and Google helped with this pesto from Radhikas's blog when i asked "Basil + avocado + almonds". So this dish happened in reverse.
Also that almonds (and most nuts for that matter were rich in protein helped me dovetail this dip into this theme for the Mega BM).
So, there it was : a delicious pesto that went very well with our Dominos style homemade garlic bread. Yes, it was a garlicky overdose but then the elder kid and the husband – both great fans of garlic – enjoyed the meal. You may also use this pesto to make sandwiches, frankies (a.k.a rolls) wth sphagettior even my savoury pull apart rolls or even the pizza pinwheels.
The list is endless. So, go on and make a batch and enjoy your meal with the delicious vegan and GF pesto.
My elder girl made those name tags as one batch went to a friend as a birthday gift 🙂 so proudly displaying the jar of pesto with the tags intact 🙂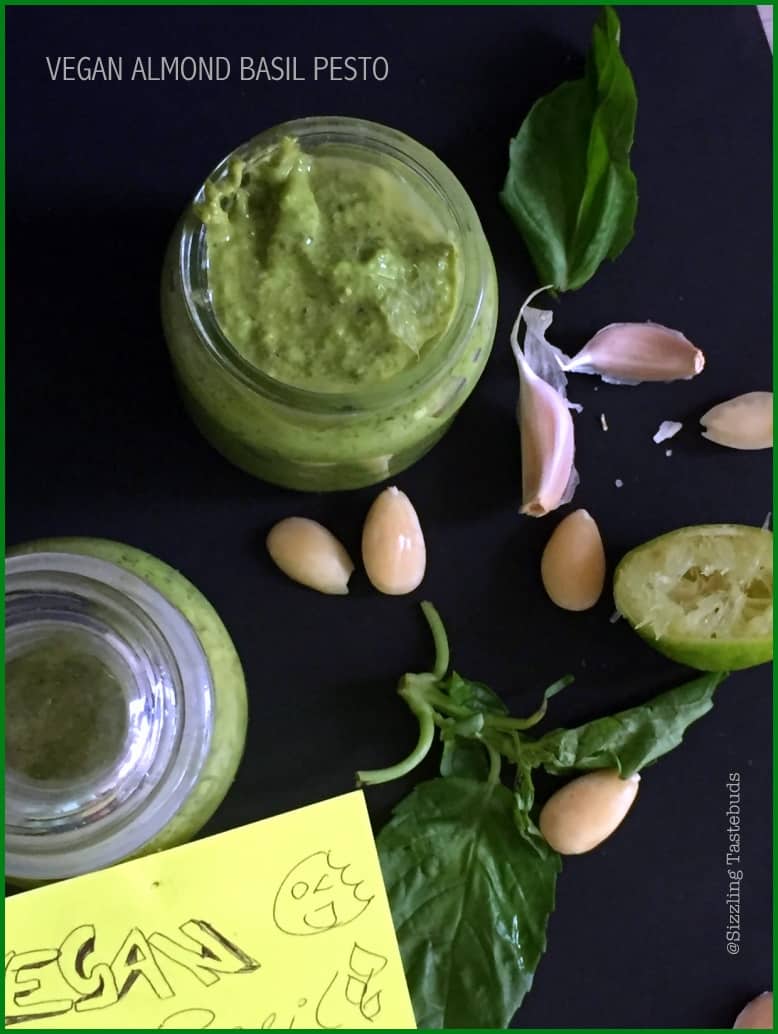 Pin

Vegan Almond Basil Pesto – Vegan & GF

Course : Condiments / Dips

Cuisine : Italian

Protein source : Almonds

Prep time : 15 mins. Cook – 5 mins ; Makes : 200 ml

What you need:

Basil leaves – 2 cups (cleaned, sorted and packed)

Blanched almonds – 1/2 cup

Olive oil – 1/4 cup

Salt and pepper – to taste

Garlic – 6 to 8 pods (opt.)

Flax seeds – 3 TBSP

Lemon juice – 1/2 tsp

Avocado pulp – 1/2 cup

How to: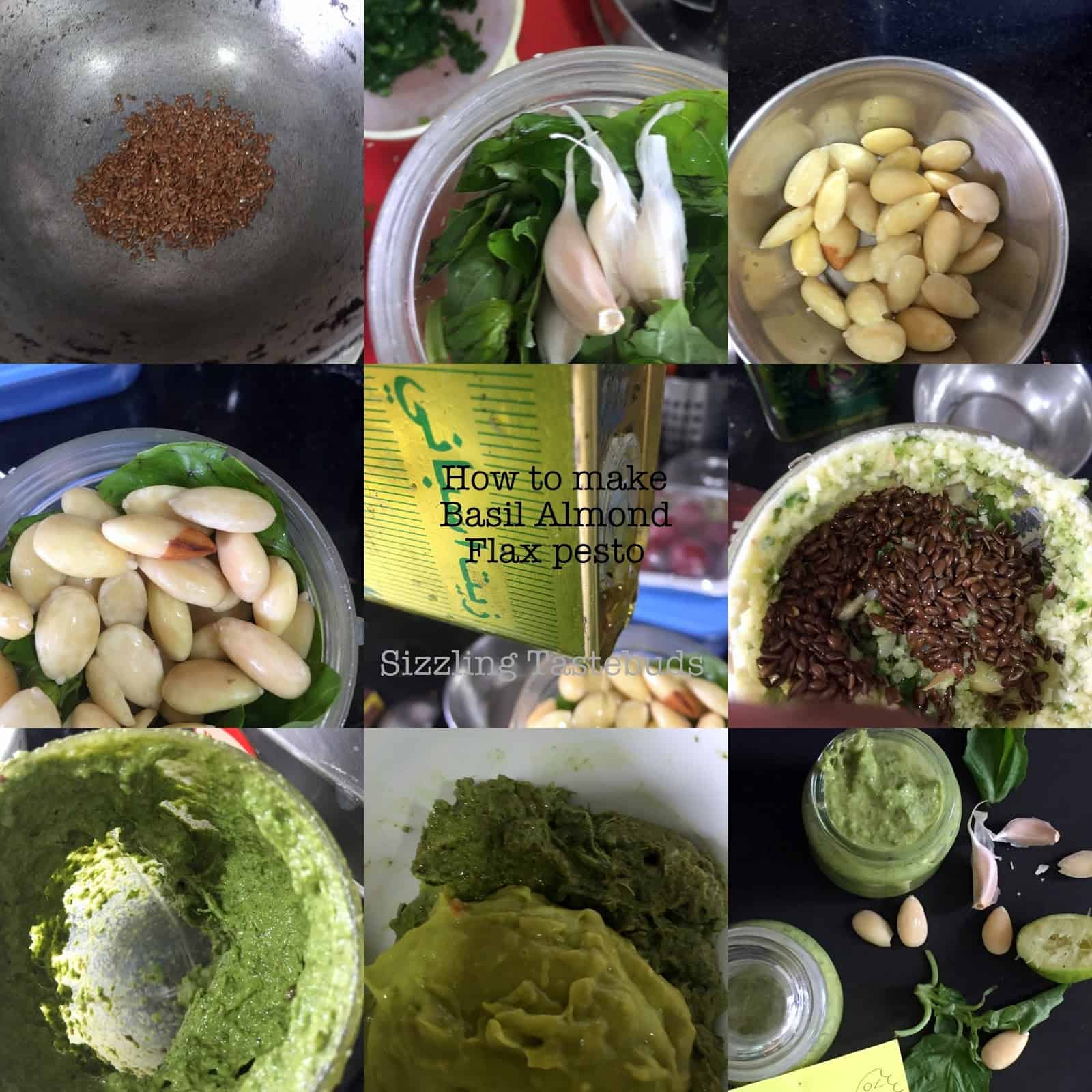 Pin

Roast the flax seeds and cool. Soak almonds for 2 hours, peel and keep aside. Else use readymade blanched almonds

In a food processor, add all ingredients except half of the olive oil, lemon juice and the basil. Grind to a smooth paste.

Add the basil, a handful at a time, with 2 tsp of olive oil for each batch. Grind in spurts and add the lemon juice immediately.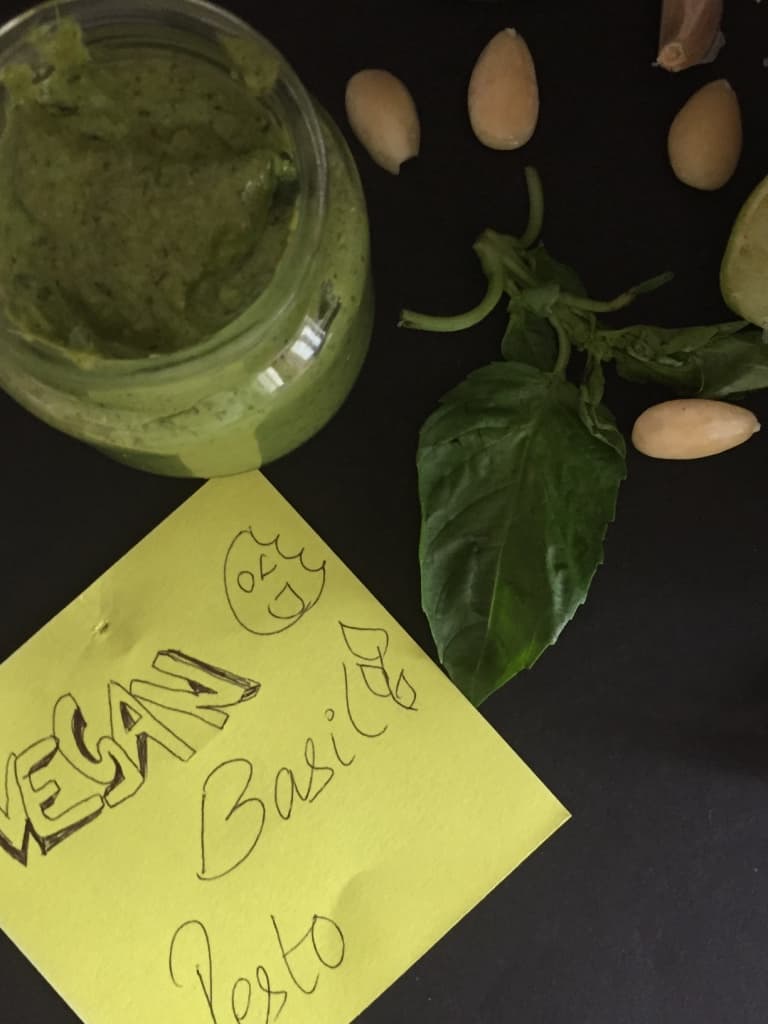 Pin
Notes:
Add the basil only at the end, else the pesto will turn darkish green and unattractive within a few hours.
Add lemon juice also at the end, stir well, and store immediately in an airtight glass jar to prevent oxidation.
Pine nuts / hazel nuts or even walnuts can be used in place of blanched almonds. I am guessing cashews or pistachios also should work. This way you have a plant-based homemade creamy pesto instead of having to add parmesan
Olive oil indicated above is enough, however a tsp or a little more wont hurt.
The Marathon so far:
Day 1 : Vegan & GF Beetroot Hummus
PinCheck out the Blogging Marathon page for the other Blogging Marathoners doing BM# 80