After weeks of slaving on the stove to make delicacies for festivals/ events, not to mentions loads of hours spent on kiddo's school projects (!), I decided to take it easy to blog something simple, healthy and filling:-) But just when I sat down to do so, my camera gave way and while I am hoping it would spring back soon, I had a few pix taken earlier which were stashed away for no reason in a folder on my laptop. And when I saw pics of Semiya Upma (Vermicilli upma), I was like its so simple, why should I blog this? Everyone knows about it 🙂 But then another thought dominated that and asked why shouldn't I post this ? And so, here am I, with a quick version of Semiya upma filled with veggies – and this dish makes its way to Radhika's event on Scrumptious Breakfasts as well as Nayna's South Indian Flavours. The procedure is pretty similar to making normal Veg Upma with Soojior Lapsi upma. But I like this with crispy tossed capsicum and slightly caramelised onions , and is a wonderful option for school lunchboxes too !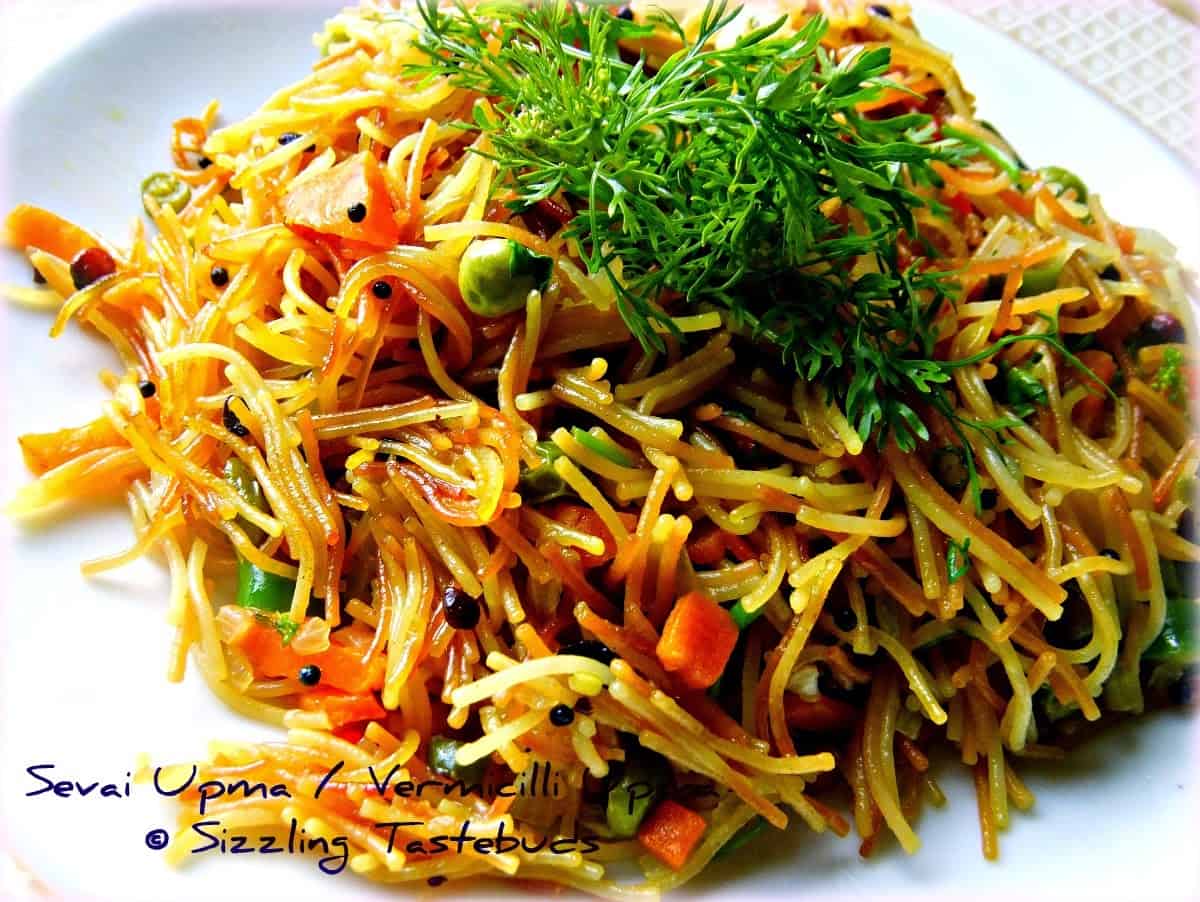 Pin
Lets get on to the recipe, shall we ?
Prep time : 10 mins. Cooking time : 15 mins, Serves : 3
Ingredients:
Sevai / Semiya / Vermicilli – 1 cup (I used pre-roasted variety)

Chopped onions – 1 large

Oil – 1 TBSP

Veggies : Capsicum, cabbage, peas, beans, carrots (or a combo) – 1 cup

Tomatoes – 1 large (diced)

Salt – to taste

Lemon juice – 1 tsp

Turmeric powder – a dash

Tempering : Mustard seeds, Urad Dal, curry leaves, green chillies, coriander leaves

Sugar – 1/2 tsp (opt.)
Method:
1) in a large pot, boil 3 cups of water. When it comes to a rolling boil, add the vermicilli and a pinch of salt and cook covered for 5 – 8 mins till done. If using non-roasted vermicilli, fry the same in a tsp of oil and then add to the boiling water. Drain and retain the water.
2) To the same hot water now, add all the washed and chopped veggies except onions, tomatoes and bell peppers. Cook till al dente for 7- 8 mins.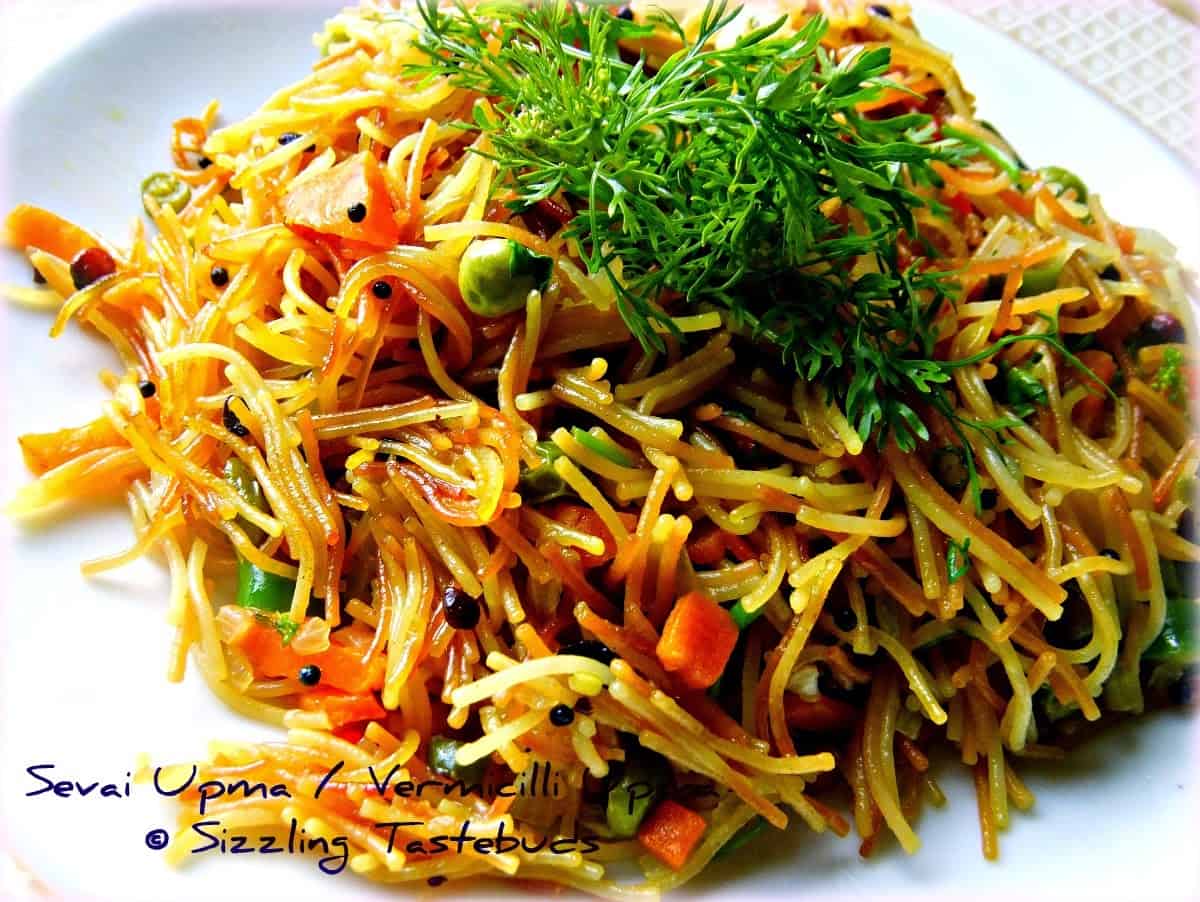 Pin
3) Meanwhile, heat 1 TBSP of oil. Add the tempering ingredients to it. Once the green chillies are sauteed, add the onions, bell peppers and fry till onions turn translucent. Add a dash of turmeric , sugar and salt and then add the chopped tomatoes. cook covered for 3 – 4 mins.
4) Now to the pan, add the boiled veggies and vermicilli and stir well till the masala is coated all over.
5) Remove from the heat and add lemon juice and grated coconut (optional) and serve hot with tomato onion chutney / coconut chutney or just plain curd.