365 days. 260 blog posts. An exciting culinary journey! As Sizzling Tastebuds turns one, I thank all my readers for their constant encouragement and supportive comments as I take baby steps to make everyday cooking exotic and healthy. And healthy it shall be,what with my 90+ bookmarked recipes asking to be cleared – that pretty much sets the tone for the next few months as I wade my way through these (and hopefully more) recipes and try out atleast one new dish a week 😉 A silent thanks goes out to the Almighty for guiding me and a big huge hug to my family for being there..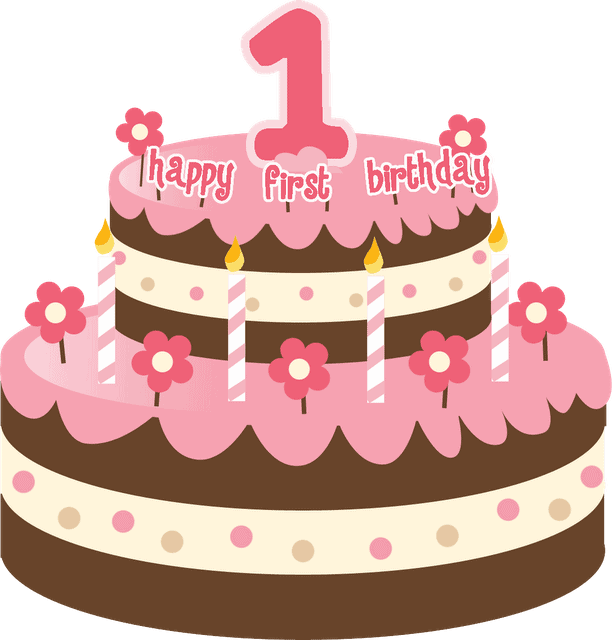 Sizzling Tastebuds turns one today 🙂
And celebrating this milestone is with this eggless chocolate cake that me and kiddo baked together. Her initials are on the cake, and some of the icing was done by her (with her tiny shaky hands, she was all excitement to have the cake and eat it too!) She couldnt wait for the cake to cool (and by the way, she is a confirmed chocoholic by now), so by the time I set up the camera and also the frosting, the cake was already nibbled at (by who elseJ).
So clicking the rest of the pictures was mostly a blur for me.But it was so much worth the effort to see her using a fork and a knife to eat the slice of cake, all by herself 🙂 Simple pleasures of life, and hard to express.. This recipe actually doesn't require frosting, and I have also tried to keep it as low fat as possible, in keeping with my family's eating preferences – eat healthy, stay fit ! You may however want to frost it or even cover this with a chocolate fondant. But us – we are good to go with this yummy no-frost cake (who needs extra calories anyway!)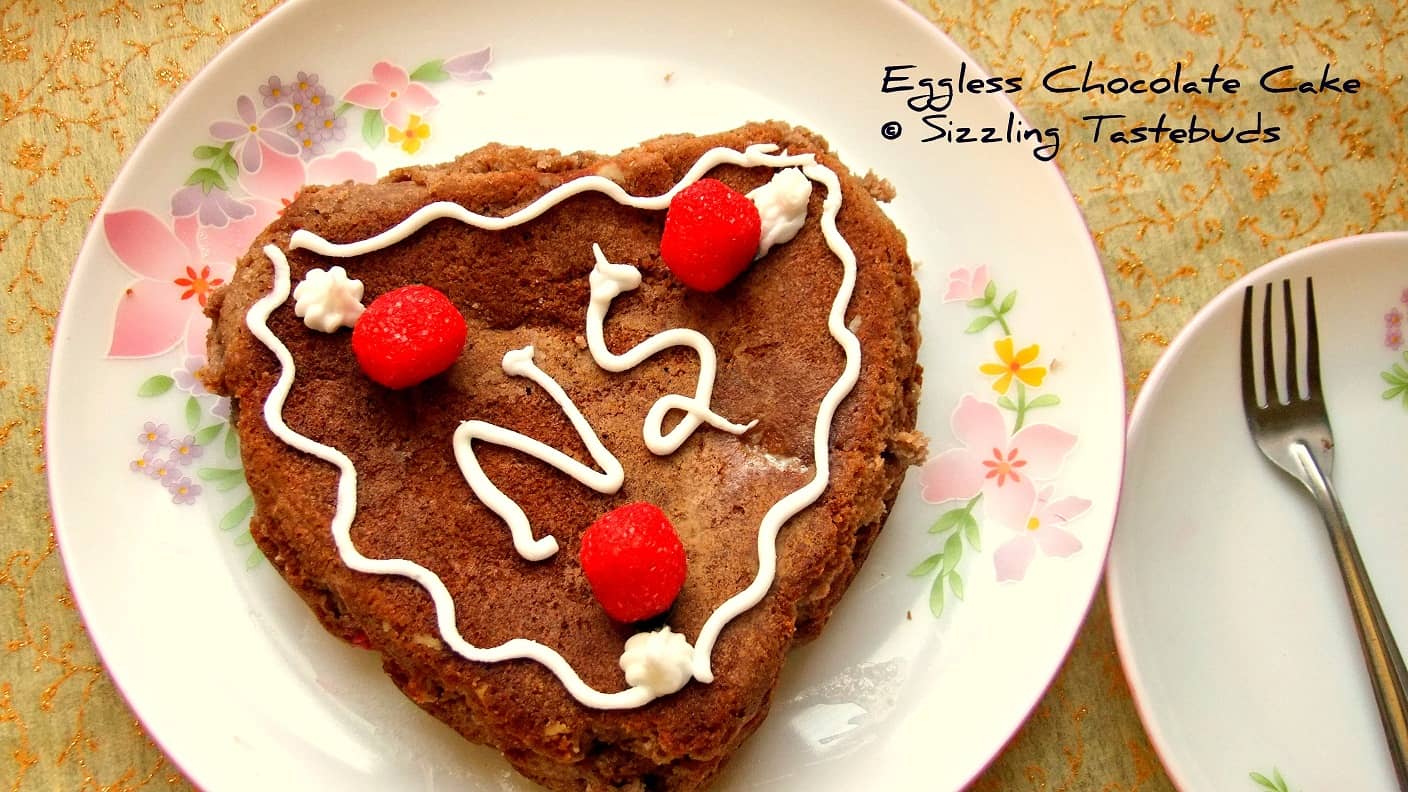 Pin
Prep time : 10 mins
Baking time : 35 – 40 mins (oven timings may vary)
· Ingredients:
· APF / Maida – 1 cup
· Melted butter – ¼ cup
· Cocoa powder – 1/3 cup
· Cooking chocolate – ¼ cup
· Baking soda – 1/2 tsp
· Baking powder –1 tsp
· Condensed Milk – ½ tin (200 ml) – I required a little less than this
· Water – 1/2 cup
· Brown sugar – 4 TBSP
· Salt – a pinch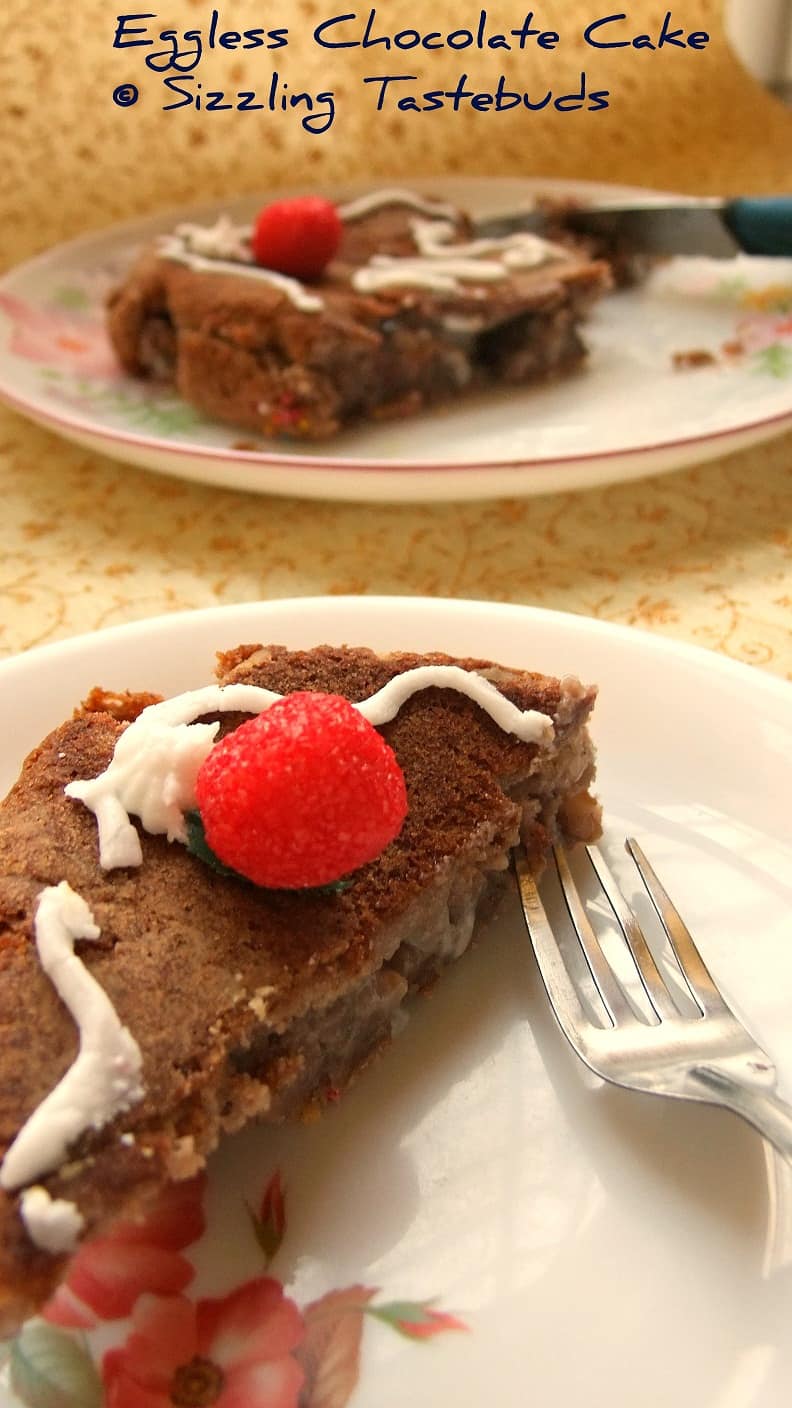 Pin
Method:
1) Pre heat oven to 160 deg C
2) Over a double boiler, melt chocolate. To this melted chocolate, add sugar, melted butter, condensed milk and water and cream till smooth using a wooden spoon or hand blender
3) Meanwhile, sieve maida, baking powder, baking soda, salt & cocoa powder
4) Add the dry ingredient mixture(above step) to the wet mixture (step 2) little by little. Now add vanilla essence and mix well.
5) Grease, flour and line a baking tin. Pour the cake batter into it and bake in the oven for 30-35 mins till a toothpick comes out clean.
For the frosting (if required) :
Sieve 1 cup icing sugar with 3 TBSP cocoa. Slowly add hot water – 1 TBSP at a time and mix to a flowing consistency. Cool slightly. Place the cake on the plate and pour the icing on it. For the cake in my picture, I used plain vanilla icing mix and piped it up for decoration.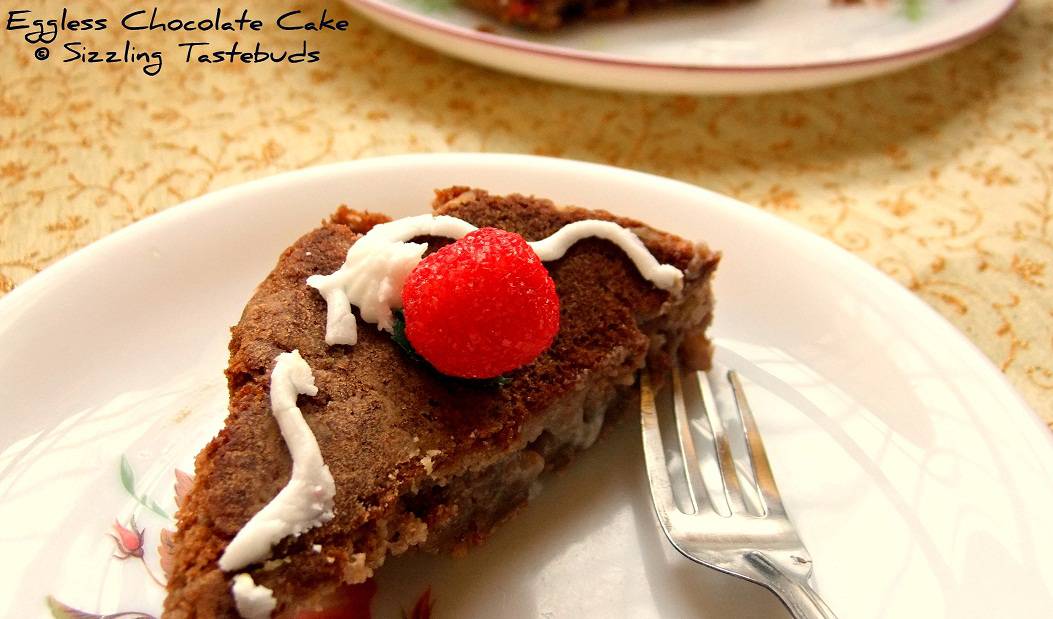 Pin
Sending this to:
Valli's Chocolate Mela , Srav's CC-Chocolate Fest & Chocolate Lover