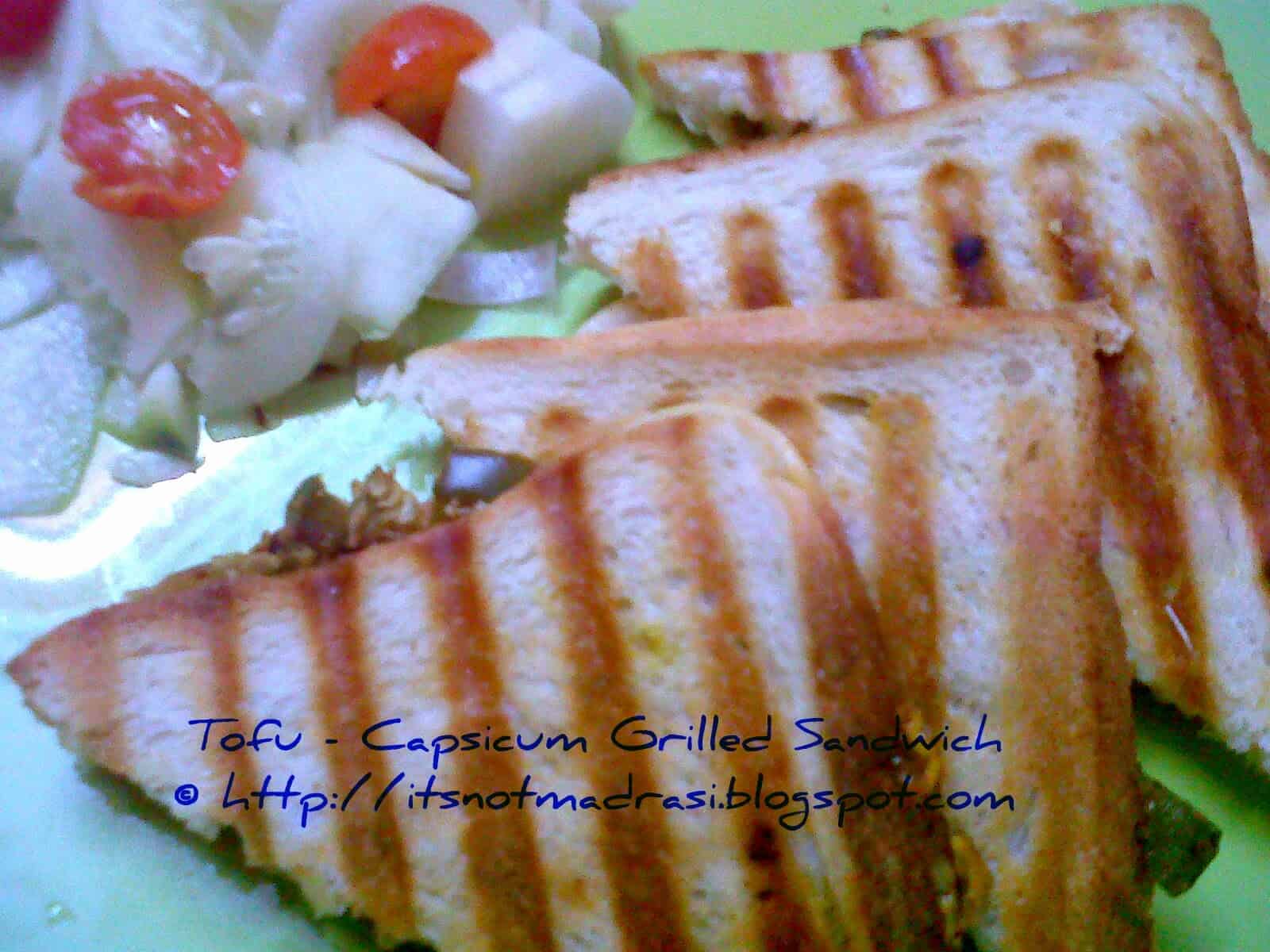 Pin

Sunday evenings are a great time to experiment with new food, and with the rains washing out all our evening sojourns, it was rather the best thing to do. We usually end up with Paneer + roti for Sunday evenings, but my pantry didnt have any – so I was planning to use the next best thing : Tofu. But kiddo and S didnt want roti / rice : Something filling, healthy and non fussy was the order to me ("mom chef") as they munched on Taco shells with cheesy dips while continuing their board of Chess 🙂 I personally don't like Tofu (unless its disguised) – perhaps its an acquired taste, very much like Mushrooms (another veggie that I pick out from my dish to kiddo's / S')

But I decided to be brave and experiment with this, nonetheless and made this awesome Tofu Capsicum Grilled Sandwich with Cream of Broccoli Soup for dinner to great reviews from all in the family 🙂 So, that gives me two things : I can eat Tofu, and it's a new addition to my sandwich repertoire – just like my recent experiment Feta n Carrot Grill ! The crispy Tofu Veg masala sandwich went very well with the soothing Cream of Broccoli soup which is another family favourite, and for once I thanked the rains for (inadvertently) helping me experiment with a new ingredient.

Sending this to Vardhini'sFast food not fat food, started byPriyaand Krithi's event :Serve it Grilled

Prep time : 20 mins. Grilling time : 5 – 8 mins per sandwich.

Ingredients:
Tofu – 150 gm
Capsicum – 100 gm
Onions – large 2
Cumin powder – 1/2 tsp
Dried herbs: Rec chilli flakes,Rosemary ,basil – 1/4 tsp each
Carrot – 1 large
Salt – to taste
Olive oil – 1 tsp
Bread slices – 8 to 10
Low fat butter / ghee – 2 tsp (for bread slices)
Method:
1) Grate tofu and carrots separately using a cheese shredder.
2) Heat oil in a non stick pan. Fry onions, capsicum. Add salt. Cook and cover for 5 mins till onions are 3/4 done.
3) Add grated carrots, cumin powder and stir well.
4) Add grated tofu and stor again on very low heat (lest it will stick to the pan, and burn)
5) Turn off the stove, add the dried herbs and stir lightly once more. Cool this mixture.
6) Butter the bread slices. Apply 3 TBSP of this tofu capsicum mixture as a thick layer. Cover with another buttered slice.
7) Grill for 5 – 6 mins or till done.
8) Serve with any hot soup or salad !