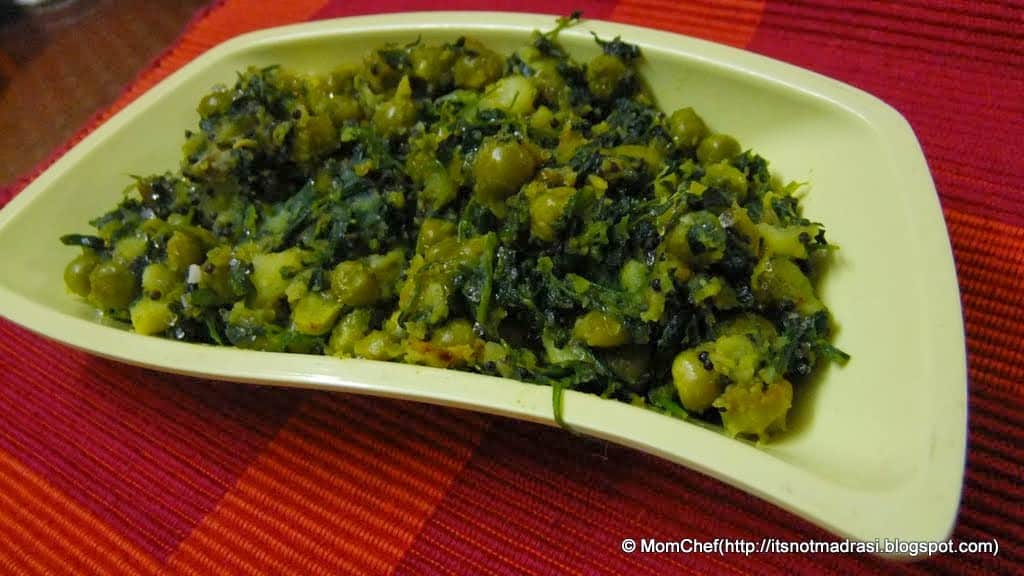 Pin
Greens (leafy green vegetables) form an integral part of Indian Cuisine and are present in various forms, cooked with dal (lentils), or stand alone dry curries, garnished with coconut sometimes and to be eaten with roti as part of the Indian meal. So from the north , we have sarson da saag (curry of mustard leaves) to bathue ki bhaji (green leaf vegetable) to keera pappu (dal+greens) of Andhra to Keerai vadai (fritters made of greens with gram flour) and many more hundreds of such wonderful concoctions using the humble greens ! Even though these greens are bursting with fitamins (yes, you read it right: fitamins – Vitamins to keep you fit! ) and most of them a powerhouse of folic acid and amino acids, its sad that most moms of young kids today need to disguise these wonderful vegetables in a roti / paratha or even blanch and grind them to make palatable cutlets / burger patties !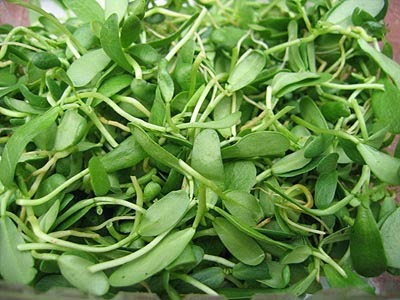 Pin I remember many years ago my mom used to tell me of her cousin -from a rather large joint family of about 10 kids and some 25 people in all , in a single meal –who were served greens, greens and greens all three meals for many years in various 100 different yummy formats . And the kids (ala the "Sound of Music") used to sing "keerai, keerai keerai keerai vendum " (greens greens greens and more greens we would want more) when they were served the food 🙂
So, to get on to this day's dish – yummy Fenugreek leaves with potato and Green peas.. Its almost the end of winter here, and the texture that fresh green peas lends to this dish is truly creamy and awesome – almost like having a scoop of fresh vanilla ice cream in the rain !!
Update – Sending this to :
Priya's Dish it out with Potatoes and Greens, event by Vardhini
Life is greenby Smitha
Preparation time : 15 mins
Cooking time : 15 mins
Ingredients (serves 3)
· Fresh Green Peas (Shelled) – 1 cup
· Potato – boiled with the skin – 2 large
· Fresh Fenugreek (methi / fenugreek) leaves – washed , cleaned & finely chopped – 2 ½ cups
· Oil- 1 tbsp
· Mustard seeds – 1 tsp
· Asafoetida / Hing – ¼ tsp
· Turmeric – ½ tsp
· Fresh grated coconut (optional) – 1 tbsp
· Red chilli powder – 1 tsp
· Salt to taste
· amchur (dry mango powder) – ½ tsp
· Jaggery – 1 tsp (optional)
Method
1) Boil the potato and dice them into 1/8 pieces with the skin on, slightly mash if required.
2) In a large pot of water, boil the green peas covering the vessel till cooked. Drain the water. Rest the peas in the colander.
3) In a skillet, add oil. Spurt mustard seeds. Add Hing and turmeric. Add washed and chopped methi leaves and sauté for few minutes. Add a few drops of water, and cook till leaves are cooked but do not lose their colour.
4) Add chopped potatoes, boiled peas, salt, chilly powder , amchur (dry mango powder)and stir.
5) Add grated coconut and jaggery (if you are using them). Stir again lightly.
6) Transfer into a serving bowl and serve hot with phulkas , roti or even rasam / sambhar rice !
Tips:
· 2.5 cups of methi leaves may look like a lot at first, but methi leaves shrink highly upon cooking due to their water content.
· Dry methi leaves (kasuri methi) cannot be used in lieu of fresh methi leaves – as the textures and the tastes are quite distinct .
· Try using the potato with the skin on – that's where most nutrients are present. In case you family doesn't like them with the skin, use peeled and chopped ones, but do not overcook or else the chunks will vanish into a paste like mixture.
· If you run out of amchur / do not like its taste, you may substitute with a squeeze of half a lemon which you may add just before serving and stir it in.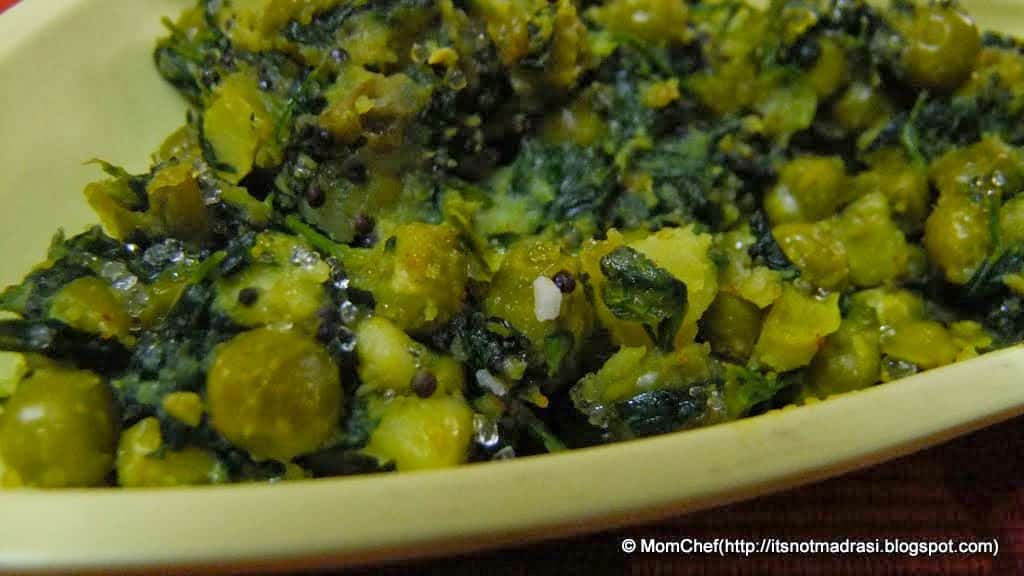 Pin