Priya of Priya's Easy n Tasty Recipes needs no introduction. She
looks to be omnipresent on each blogger's posts, commenting incessantly and
churning out new recipes and combos by the dozen. In fact, if she doesnt post
on an average 10 posts per week, I am sure people pop in at her site and ask if
all is well. A versatile blogger, she has recipes with unique combos (esp
curries) that you (read I) wouldnt even imagine. She was also kind enough to
give me step by step pictures upon special request..! Hats off to her energy..
Am kickstarting my quarterly guest post series with Priya's post, and what a terrific kid friendly cream roll :-)) – It came to me a while ago, but I couldnt schedule it for some reason.
Apologies, Priya and thank you once again, for doing this Guest post .. Let's
hear priya in her own words….
——————————————————————————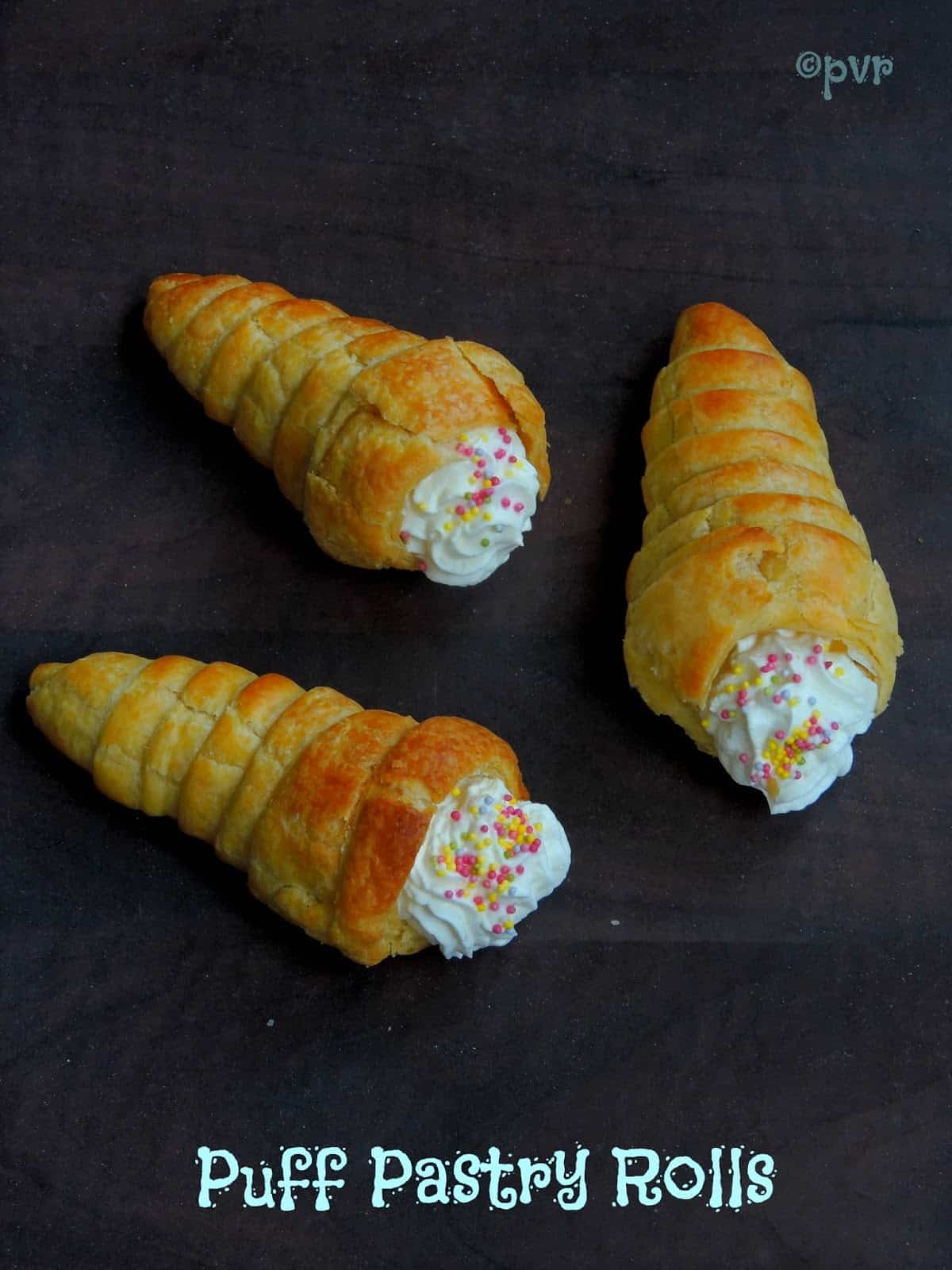 Pin

hello Kalyani
Here is my guest post for u..This rolls may sounds easier, trust
me they tastes absolutely incredible and a big hit among my kids.
A small intro..
Am Priya Suresh who blogs at Priya's Versatile Recipes and i live
in Paris,France. Blogging means a lot to me and i have been blogging since
2008. My space have variety of foods and numerous bakes, seriously i never
thought of blogging till today as i started this space initially to share my
foods i cook daily in my small kitchen. Slowly blogging became a part of my
life and still keeping myself busy in blogging.
Actually i entered into this virtual world after hearing numerous
encouraging words from few of my friends whenever i post my recipes in a famous
food related site, also the admin of the site insisted me to open a blog to put
my recipes under a roof. Then one fine day i entered to this virtual world,
this is how i started this blog baby.Honestly i have to say a big
thanks to each and everyone for their support and encouraging words since ever
i started blogging.What else does a food blogger need..
After I started blogging,i learned to bake cakes and baked goodies
without eggs and as vegan,obviously i do share many eggless and vegan bakes.Now
i can bake variety of bakes as vegan or eggless and stopped running behind the
dairy products or eggs if i dont have at home.
Blogging will teach us many more interesting recipes,since am
curious in learning needless to say blogging teached me a lot.
Somehow this keeps me blogging and helps me to stay in this virtual world since
a long time.Give me anything, i can cook up with it, this is not possible with this
virtual world.
When Kalyani asked me to do a guest post for her, i said
immediately yes and wanted to make something interesting with simple
ingredients. SInce I love baking, I baked these flaky,buttery rolls with puff
pastry sheets and filled these rolls with whipped cream topped with sugar
pearls. Trust me this puff pastry rolls may sounds incredibly easy, but
tastewise they were just tremendous and quite addictive. Just with a simple
puff pastry sheet, you can make this quick snack and obviously these rolls will
vanish very much quickly once you starts filling and serving them. You can also
make a savoury version,just by filling these baked rolls with your favourite
savoury filling too.Just with three simple ingredients,you can make magic and
these rolls are definitely kid's friendly snacks.
Ingredients:
1no Puff Pastry sheet
1cup Whipped cream
Sugar pearls (as per need)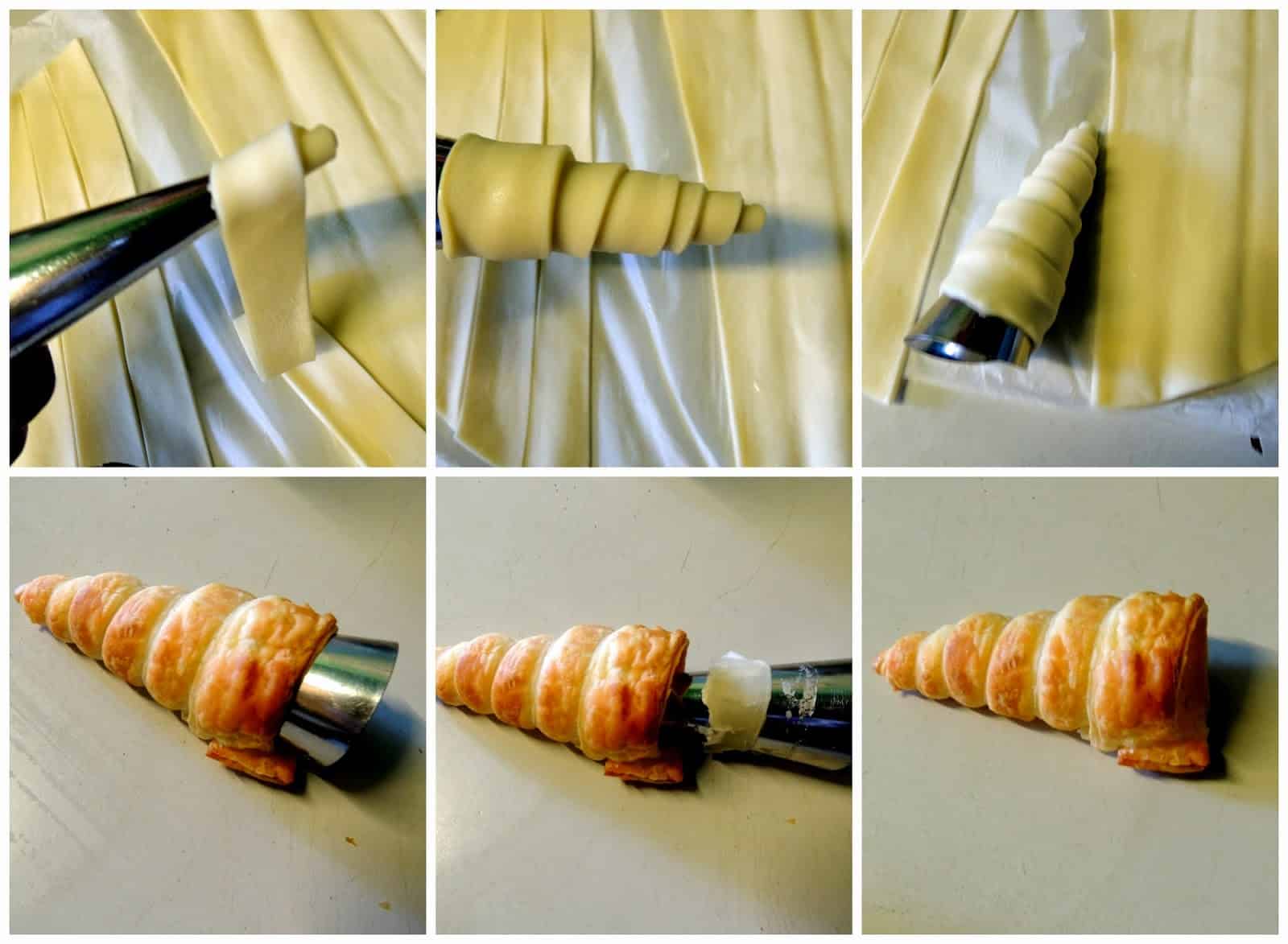 Pin
Method:
Cut the puff pastry sheet as long ropes and keep
this freezer for 15minutes.
Meanwhile with a aluminium foil, cut them as
squares and fold the aluminium foil to roll them as cones or use cone shaped
moulds.
Grease the already prepared cones and keep
aside.
Now take the puff pastry ropes and roll them
over the greased cones, start from the bottom of the corn,pinch and seal the
edge.
Wind the rope from the bottom to the top and
pinch again the edge.
Repeat the same process with the remaining puff
pastry sheet.
Arrange this rolled puff pastry cones over a
baking sheet lined over a baking tray.
Preheat the oven to 350F. Bake the puff pastry
rolls for 15-20minutes until the crust turns golden brown.
Let them cool completely.
Remove the mould or the aluminium cones from the
baked rolls
Transfer the whipped cream to a piping bag,
squeeze enough cream inside the rolls.
Sprinkle enough sugar pearls on the top.
Serve immediately.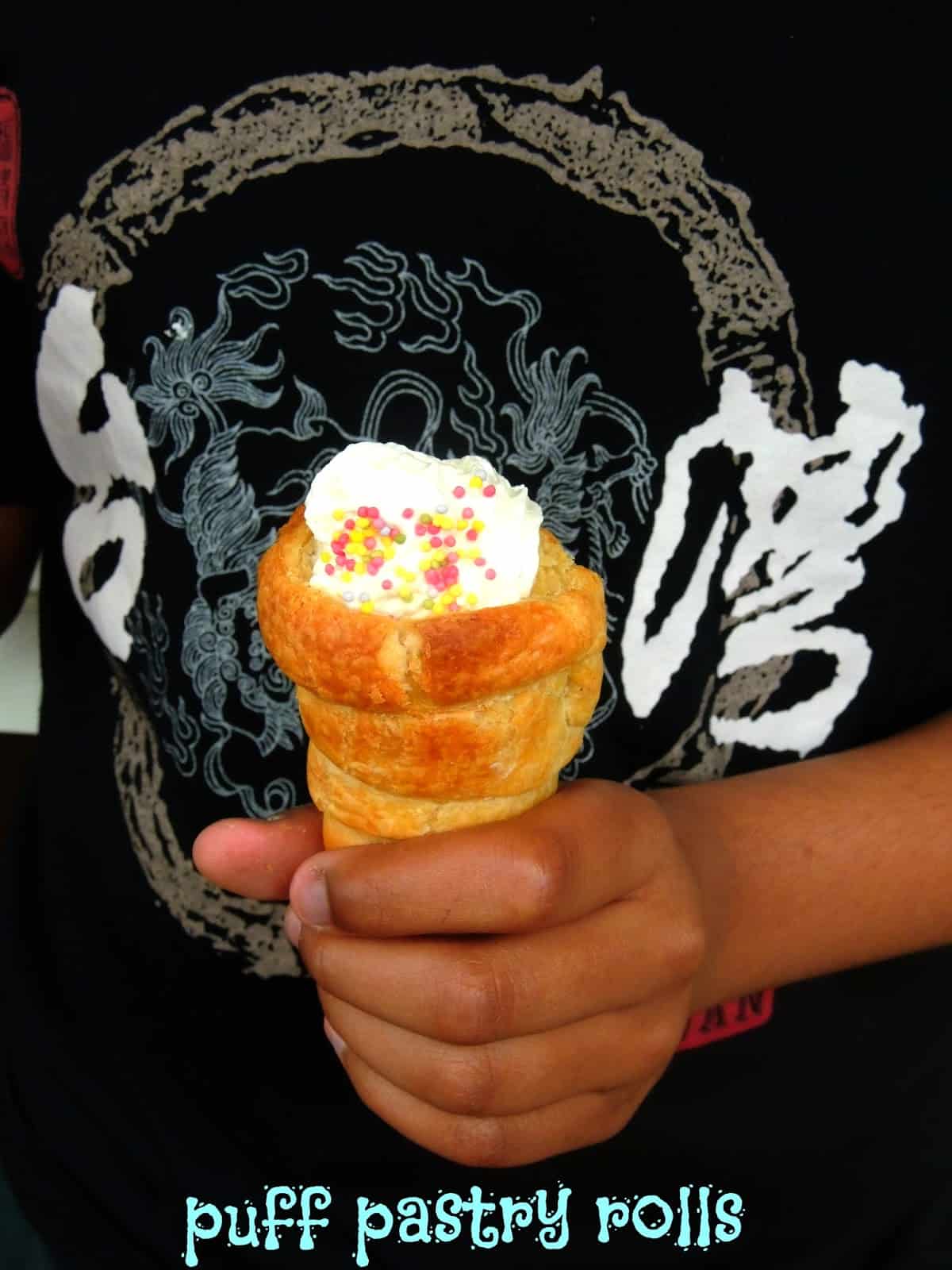 Pin
Tips:
Take care to remove the moulds or aluminium
cones from the baked rolls slowly, since the baked ones will be extremely
delicate and flaky you may break the rolls.
Let them cool completely before filling,else the
whipping cream may melt.
You can also make the same rolls with bread
dough,in case you dont like or get puff pastry sheets in your place.