Tehri or vegetable Tehri is a super yummy dish that comes together with the least of effort and basic kitchen ingredients. 
Wiki tells me that 
"Tahri (also tehri, tehari or tayari) is a yellow rice dish in Awadhi cuisine. Spices are added to plain cooked rice for flavor and colour. In one version of Tehri, potatoes are added to the rice.However, in many areas of Bangladesh and Pakistan, red meat is also added to the rice to give more flavour, aroma and texture to the dish. This dish is most popular in Bangladesh, Pakistan and North India.Tehri and tehari are variants on the name given to the vegetarian version of biryani. It was developed for the Hindu bookkeepers of the Muslim Nawab rulers in South Asia. Tehri became more popular during the Second World War when meat prices increased substantially and potato became the popular substitute in biryani. It is prepared by adding the potatoes to the rice, as opposed to the traditional method of preparing biryani, in which the rice is added to the meat. In Kashmir, tehari is sold as street food."
People from Uttar Pradesh are very fond of this dish is what my friend from that region told me and she gladly shared her mom's recipe.  For those keen to read on what makes Tehri such a favourite amongst the locals of North India, head to this link.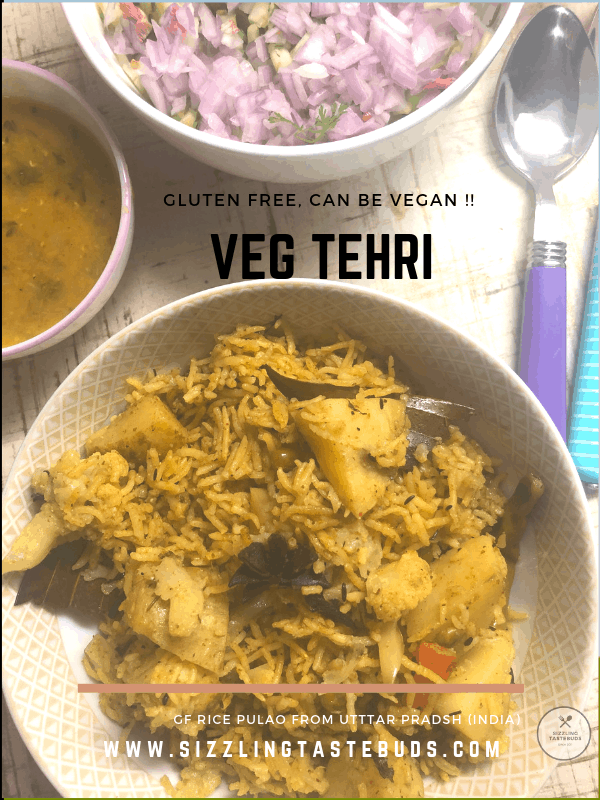 Pin

This dish was the most liked amongst all the BM dishes and the kids loved the ghee laden dish (ghee does give this a rich, aromatic , royal kind of feel, so don't skimp on ghee). I made this in the last flush of winters during January so the veggies especially the fresh green peas and cauliflower were absolutely gorgeous and that added to the depth of the dish.  

Tehri / Veg Tehri – GF dish (can be made vegan too with varying results). 

Course: Indian, Main Course. Spice level – Medium

Prep time – 15 mins, Cook time – 10 mins. Serves – 2~3 adults 

Ingredients:

White or brown Basmati Rice – 1 cup (240 ml)

Potatoes – 2 large – cubed into large pieces

gobhi / Cauliflower – 1 medium (cut into large florets)

Peas (fresh / frozen) – 1/2 cup

Oil – 1 TBSP 

Ghee – 2 tsp (sub the ghee for 2 tsp of oil for vegan option )

Salt – to taste

Whole spices – bay leaf 2, cardamom 2 , black pepper – 1/2 tsp, star anise -1

Chopped Coriander + mint leaves – handful 

Dry spice powders – Coriander powder 1 TBSP, Bhuna Jeera (Roasted Cumin powder) – 1 TBSP, Red Chilli powder – 1 tsp, Garam Masala – 1 1/2 tsp, turmeric -1/2 tsp

Onions – 1 large (sliced thin)

PIN FOR LATER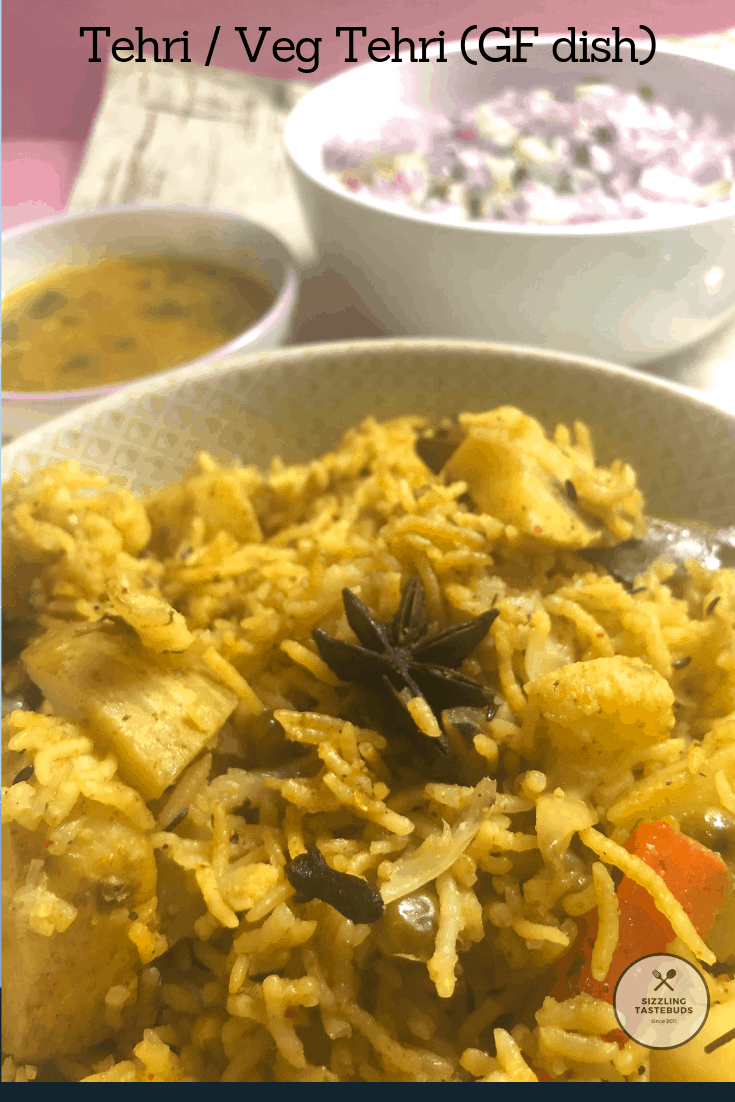 Pin
How to:
Wash and soak rice for 15-20 mins. If using brown basmati, soak for 30-60 mins. 
In a pan, add 1/2 TBSP oil and 1 tsp ghee, fry the  saw potatoes and cauliflowers one by one (I sautéed them for 4-7 mins on low flame instead of the traditional deep fried veggies) till they soften a bit and get a golden crust.  Keep aside.
In a pressure cooker / Thick bottomed pan, add the remaining ghee and oil. Add the whole spices , onions. Fry well till the onions get slightly brown. Now add the soaked and drained rice and fry for 1-2 mins till aromatic.
Now tip in the sautéed vegetables + the peas. Mix well taking care not to break the rice. Add the dry spice powders, give it a vigorous mix. Add 2 cups of water (or whatever ratio of water the brown / white basmati you usually add). Lastly add the chopped coriander and mint leaves. 
Pressure cook for two whistles and let the pressure drop on its own. 
Fluff and serve hot with curd / raita and any papad
PinCheck out the Blogging Marathon page for the other Blogging Marathoners doing BM#99