Sunday morning breakfast was a short and sweet affair with Indori Poha .. was ideating thoughts for lunch…
Me : Want to bake something new
for baking marathon
Him : (with a weird look) Ummmm…(You know how it is…)
Me : Yes I know you dont like
cakes and sweet bakes
Him : (Pointing to the library at
home) There are enough and more cookbooks in there to give you inspiration
Me : Yes… but..
Him : Don't tell me you have read
all the recipes in there…
Me : (shrugging)
Elder one enters the scene..
She : Amma, you have been
promising me focaccia .. Please make it today.
Him : (With a look that said it
all that meant dad and daughter had conspired all along) : yes, that's a nice
idea.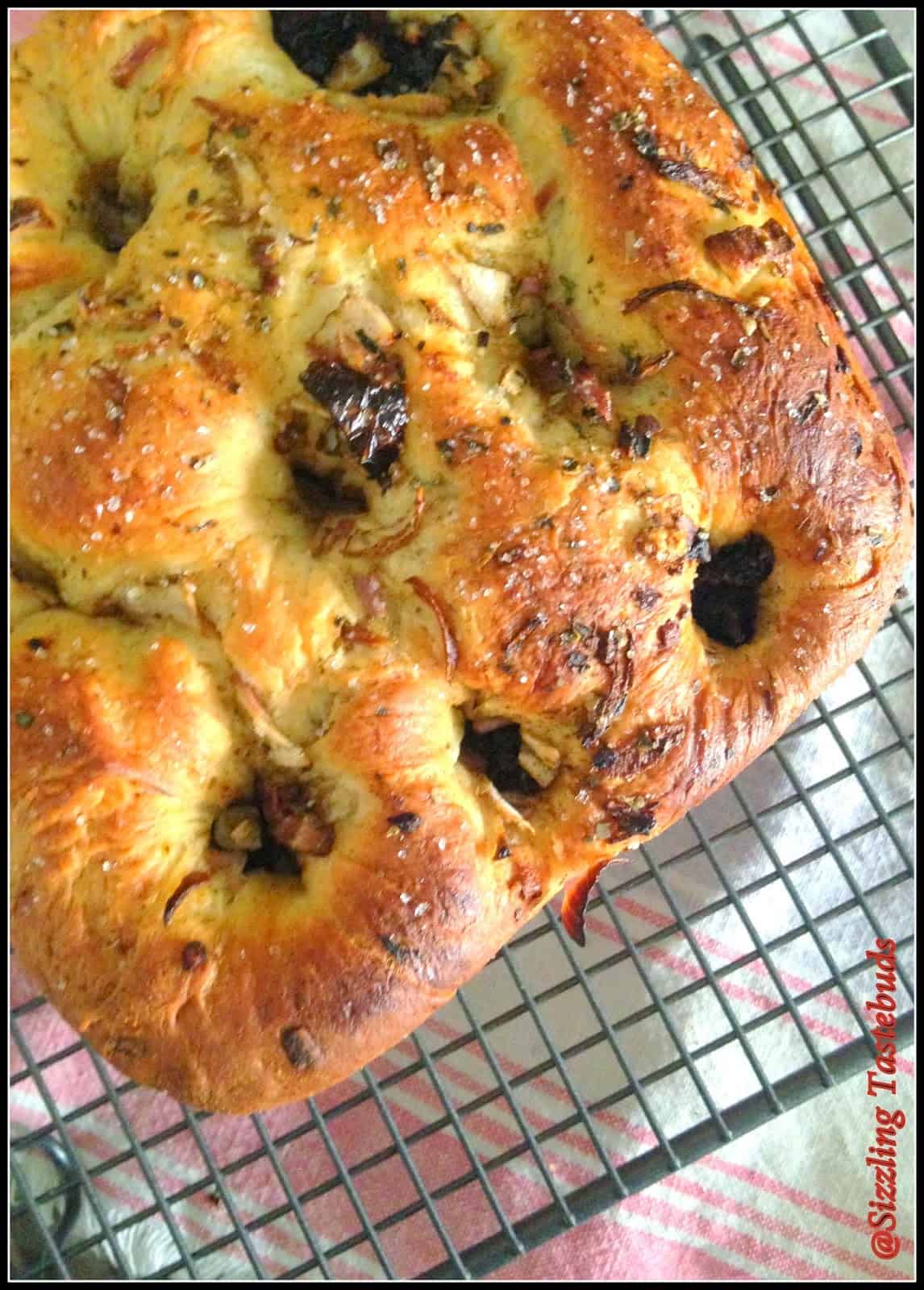 PinPin

And thus, armed with a fresh batch
of bread flour, the onion and sundried tomato focaccia was born.

Other focaccia variations – Roasted Garlic Focaccia

Devoured in no
time , I have had umpteen requests to make it again, and in a different avatar
(with stone ground wholewheat flour).. Either way we love focaccia. End of
story. Serve it with Pasta, Soup or snack as it is.. Its delicious and filling
too .. any flavouring can be given and fresh / dried herbs do pack in a punch
to this lovely bread.Do try out and let me know what flavor of focaccia your family loves.

I followed Pari's recipe as part of clearing my bookmarks, gave it some Indianised twist and we loved it & the next time I made it I went by instinct and loved it
both ways.

If you are keen to know the difference between focaccia and Pizza,
here's Wiki telling us that "The primary
difference between conventional pizza (round, Neapolitan
pizza) and focaccia is that pizza dough uses very little leavening (baker's yeast),
resulting in a very thin, flat and flexible crust, while focaccia dough uses
more leavening, causing the dough to rise significantly higher. The added
leavening firms the crust and gives focaccia the capacity to absorb large
amounts of olive oil"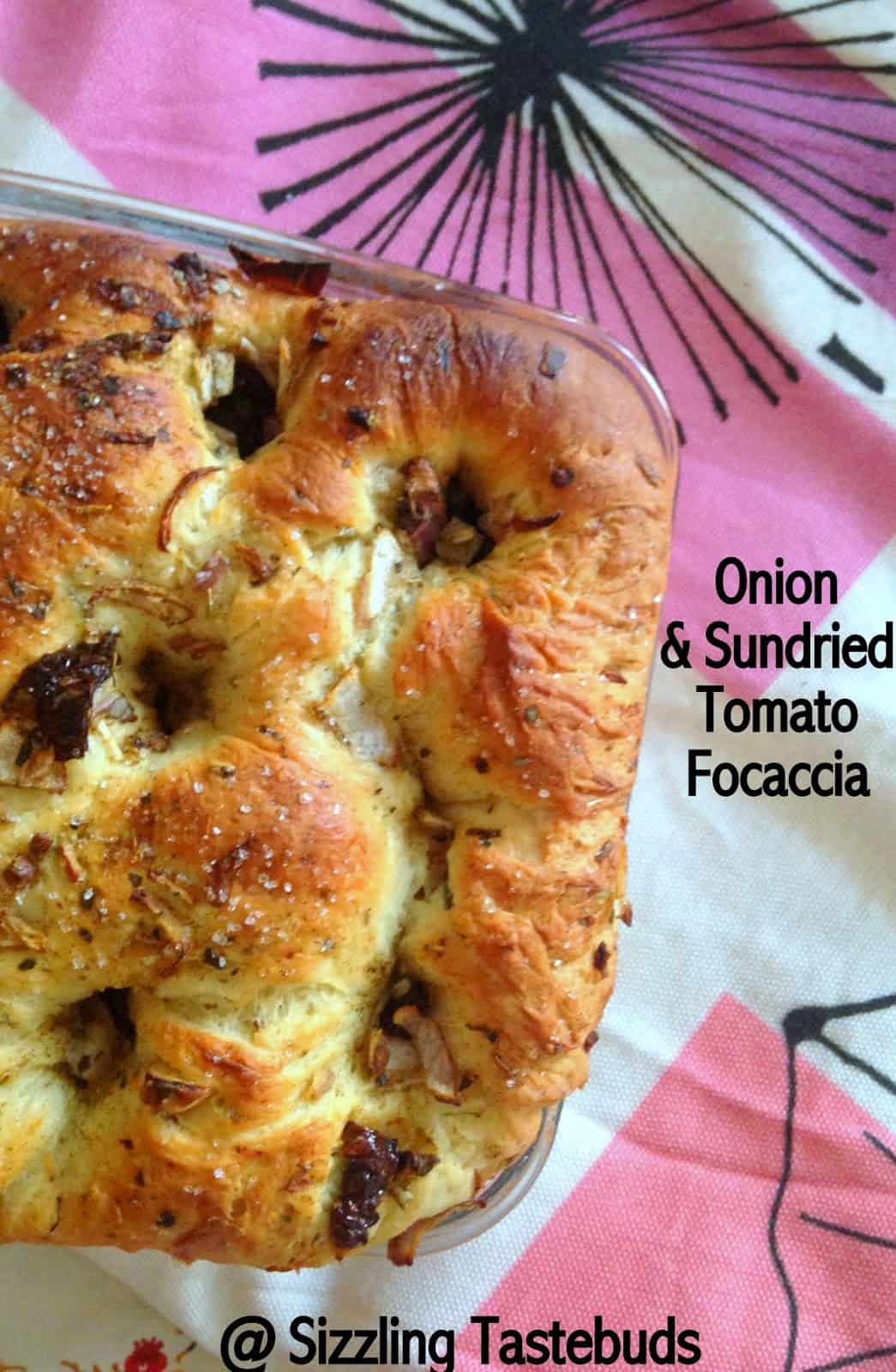 Pin

Baking Marathon Day 12 : Onion and
Sundried tomato Focaccia

Recipe type : Yeasted Breads

Course: Main course mostly, or even
as Snack

Cuisine : Italian

Makes : Medium sized (approx. 450
gms) Focaccia

Spice level – medium to high
(adjust to taste)

Prep time: 15 mins | Standing
time  : 90 mins +  45 mins | Bake time : 25-30 (varies from oven
to oven)

Ingredients:
Bread flour – 3 cups
Warm water – 1 cup (adjust to
flour quality)
Salt – 1 tsp
Instant yeast – 1.5 tsp
Sugar – 1 TBSP
Olive oil – 3 TBSP
Onions – 1 small (optional)
Cumin Seeds – 1/2 tsp
Chopped celery
For flavouring:
Olive oil – 3 TBSP
Sun dried tomato – 15 nos
Italian dried herbs – 1 TBSP
Onion – 1 medium – sliced very
thin
Optional addons to the flavouring
: black and pitted olives, fresh rosemary,
Himalayan Pink / kosher salt – to
sprinkle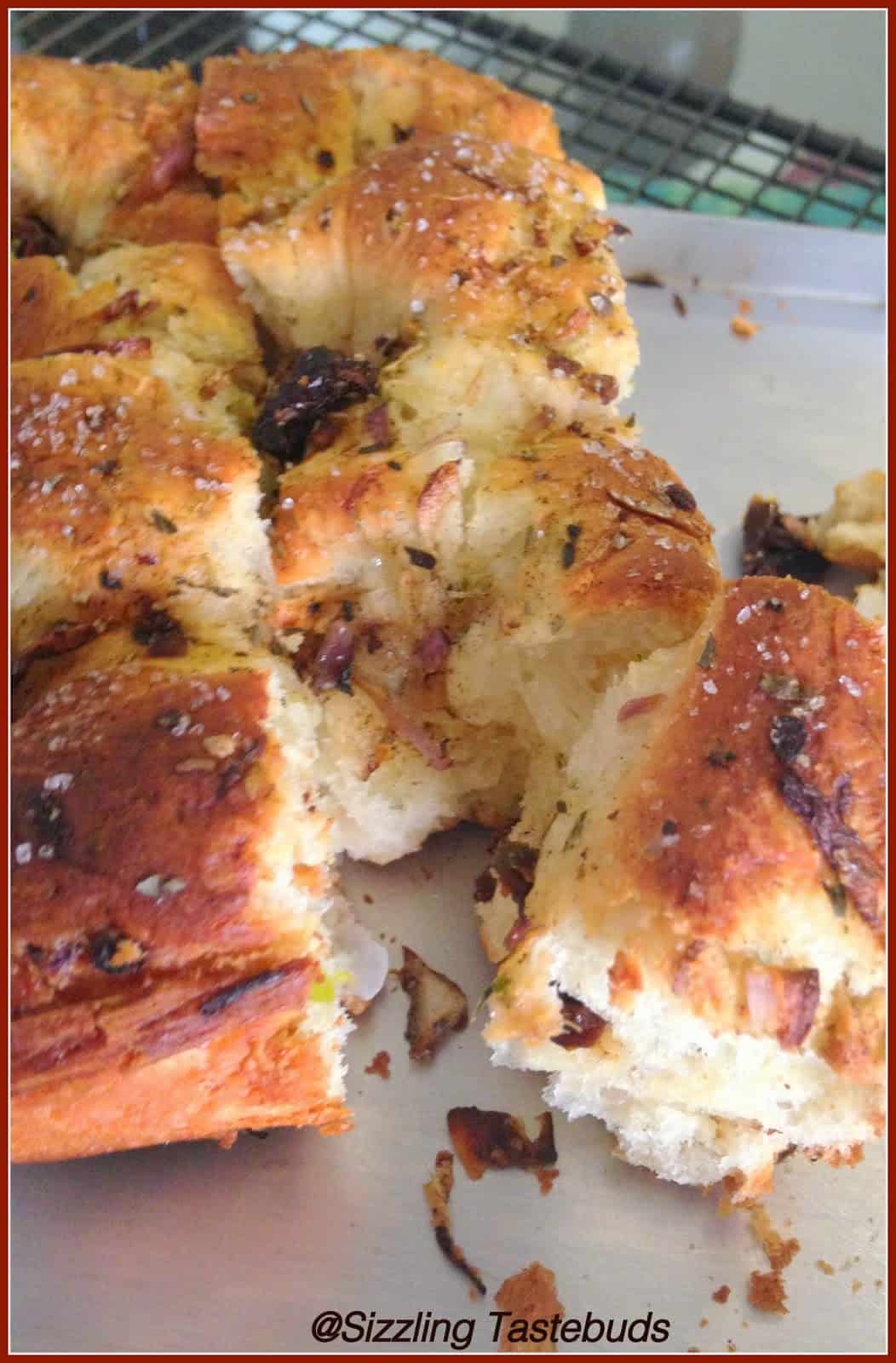 Pin
Notes:
a) you can use APF / wholewheat flour instead of bread flour. Oven bake and rise times will vary.
b) Dont bake for beyond 30 mins else the bread will get chewy and rubbery
c) Once made, this can be refrigerated for 2-3 days. if serving thus, cut out a portion, micro for 10-15 seconds as its best served warm.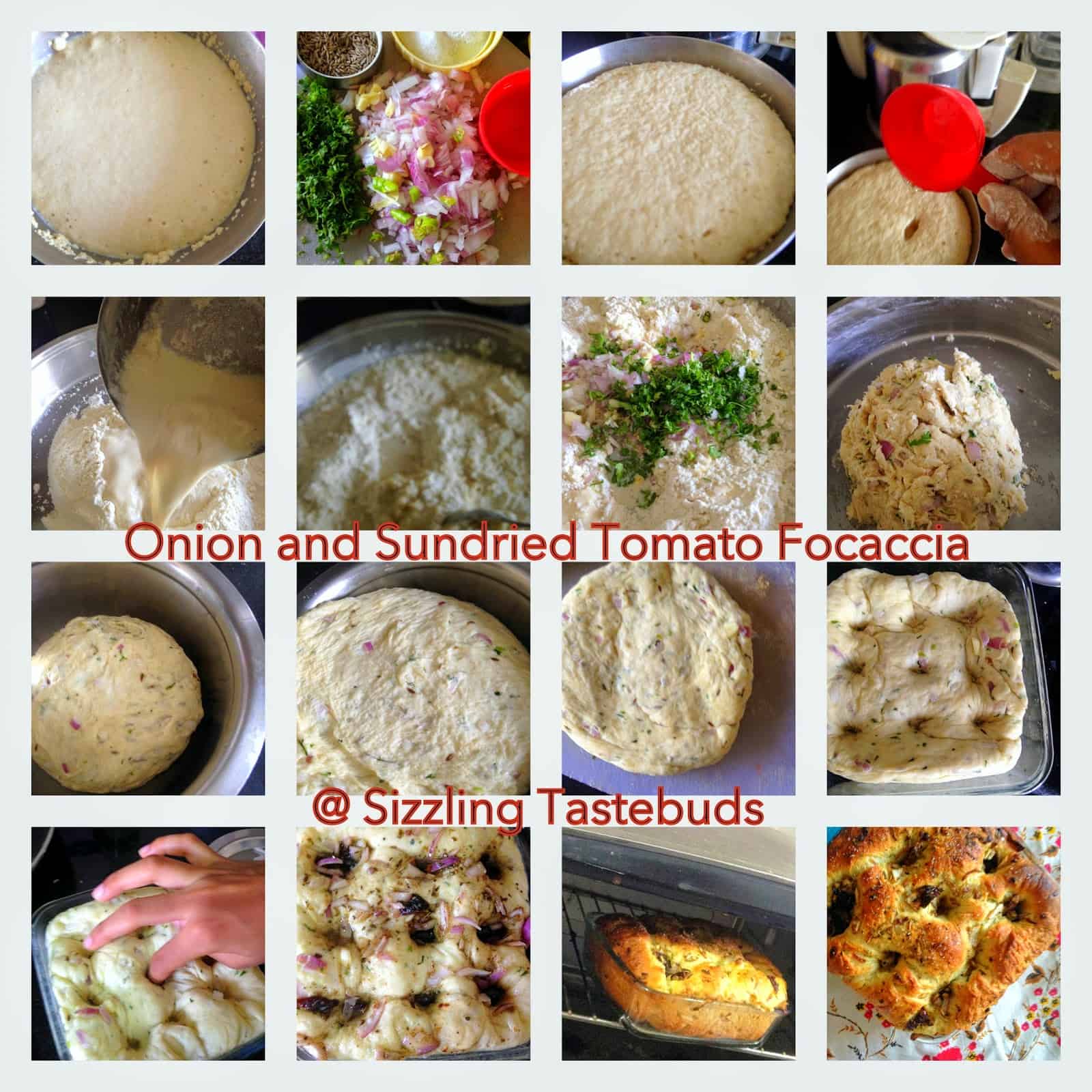 Pin
Method:
In a bowl, sift flour with salt.
Proof the yeast with sugar and warm water ( I proof my yeast everytime although
I do use Instant). Once done, mix the solution with olive oil and pour into the
flour. Add celry, onions, cumin seeds, Knead well for 10 mins. Keep covered in an oiled bowl, and let it rise.
It took 90 mins for the first rise.
Once risen, knead it for a couple
of minutes more and either flatten out to a lined baking tray (I used my 8*8
borosil glass baking tray), cover and let it rise again for 45 mins. Towards
the end of the second rise – (1) preheat
oven to 180 deg C / 375 F. (2) Also soak the sun dried in hot water, covered
for 15 mins. (It had risen considerably after the second rise so 1/3 of the dough went towards making some khara buns (spicy buns)
Mix the sliced onions and test of
the flavouring ingredients. Make small
dimples and pour the flavouring onions / herbs alogn with the drained and squeezed
out tomatoes generously all over the bread, and into the dimples too (My EO
helped be at this stage, and she had fun making the dimples and filling them
in)
Brush with more olive oil if
required. Sprinkle little salt for a yummy flavor.
Bake for 28-30 mins till a lovely
golden huge envelopes the bread. (mine was done at 27 mins). Cool on a wire
rack and slice when warm. The family was quite impatient once it was done, so
they didn't wait for any accompaniments and devoured them .. Happy faces makes
the day, anytimeJJ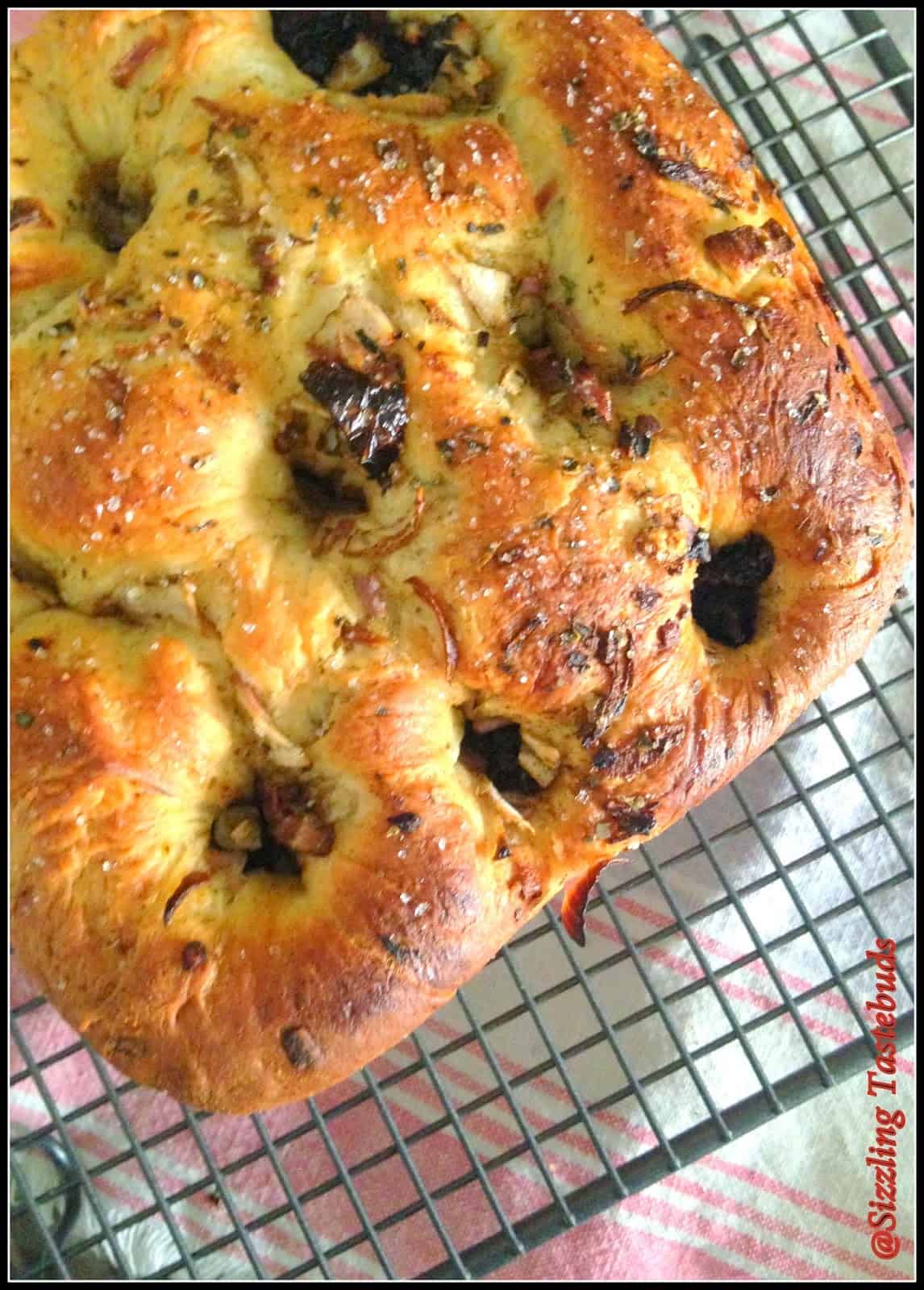 PinPin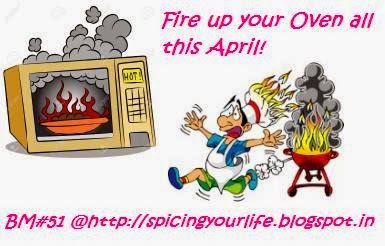 Pin
Check out the Blogging Marathon page for the other Blogging Marathoners doing BM# 51