We give in to a lot of temptation when it comes to cooking
for kids – extra cheese, extra butter, extra cream etc. While all that is ok,
its important to moderate it too. This week's series presents kids delight in
snacky avatars. Snacks must be the most popular category on my blog, for at
last count, I had about 100+ varieties of snacks for kids and parties. That
probably sums up the creation of this blog – to record what I cook for the
family – healthy meals with an occasional indulgence.
Both kids love sprouts, so I usually sprout moong once a week – it
goes to Tikkis, burger patties, raita & so forth. Elder one is also fond of
Sundals (aka Usli in Kannada) – these are steamed Indian type salad with
legumes / split lentils – so this one was definitely approved by her. Easy
to make, proteinicious and fills them up for playtime. Also a great idea for adults
for a 4 pm snack craving. You can cook the sprouts fully, but I like them
parboiled and lightly sauteed.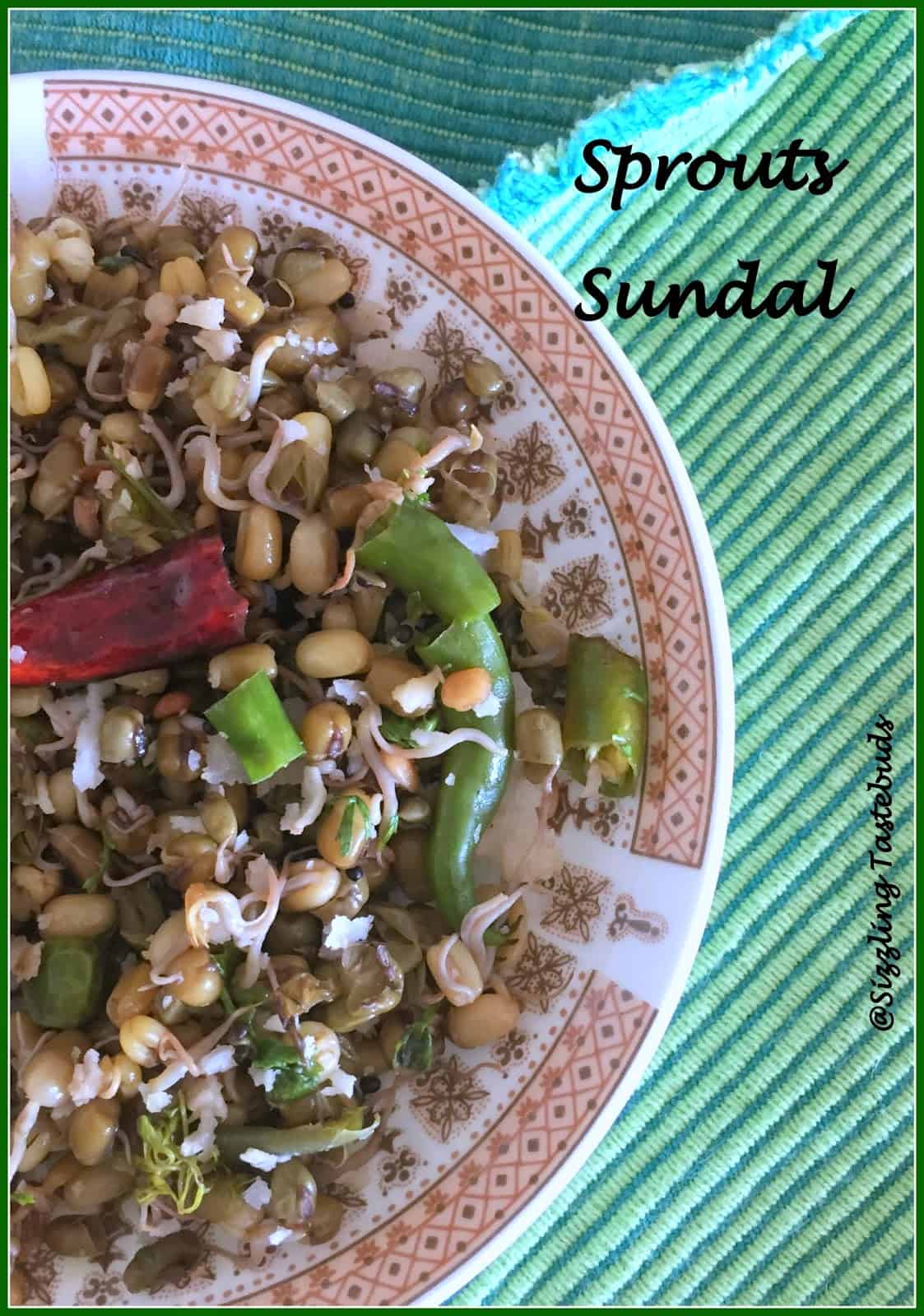 Pin

If you have the sprouts ready on hand, its a
breeze to make to. Addition of onions while sauteeing is totally optional, but
I dont add to any Sundal variety. I hope you dont wait just for Navaratri to make these delicious Sundals.

So, while this goes to BM# 53 under Snacks – Kids Delight, Valli's
event, hosted by Sandhya, do check out the quick recipe and similar sundal
varieties.

Battani Sundal (fresh / frozen peas Salad)

Kadalai paruppu Sundal (split bengal gram
Salad)

Konda Kadalai Sundal (black chickpeas Salad)

Avarekaalu Usli (hyacinth bean Salad)

Pachai Payiru Sundal (whole green gram
salad)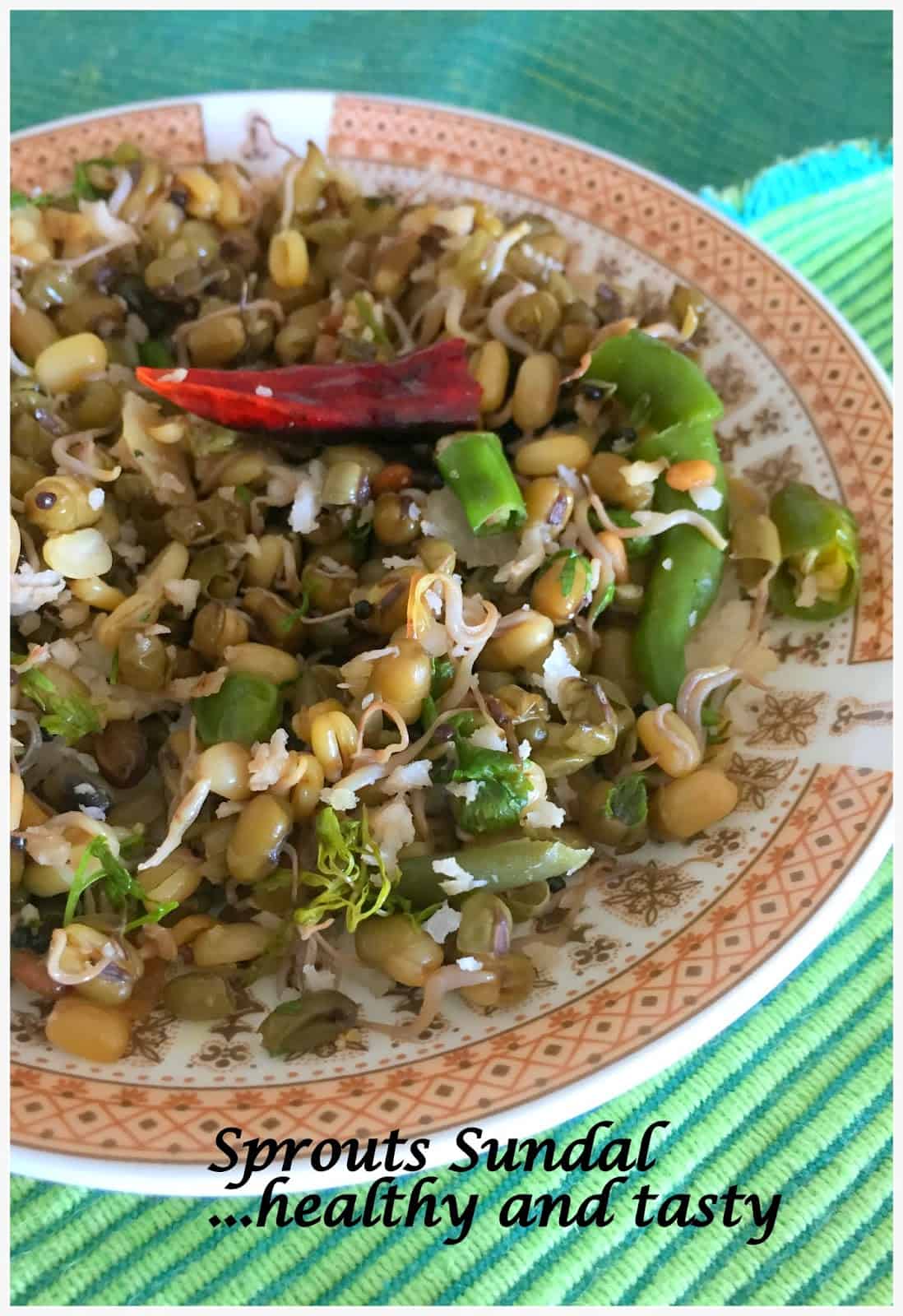 Pin

Prep time : 10 mins. cook : 10 mins, serves : 4
Moong Sprouts – 1.5 cups
Oil – 1 TBSP
Grated ginger – 1/2 tsp
chopped green and red chillies – 2 each
Tempering : mustard seeds, curry leaves and asafoetida
salt – to taste
Lemon juice – 1/2 tsp (optional)
Coriander leaves and fresh / frozen grated coconut – to garnish
Method:
Par boil the sprouts for 8-10 mins with a pinch a salt. Drain
immediately.
In a non stick pan, add oil and all tempering ingredients. Saute.
Now add grated ginger, chillies and stir again. Add salt and boiled / drained
sprouts. Give it a quick stir
Check for salt and spices.
Finish with lemon juice, coriander leaves and grated coconut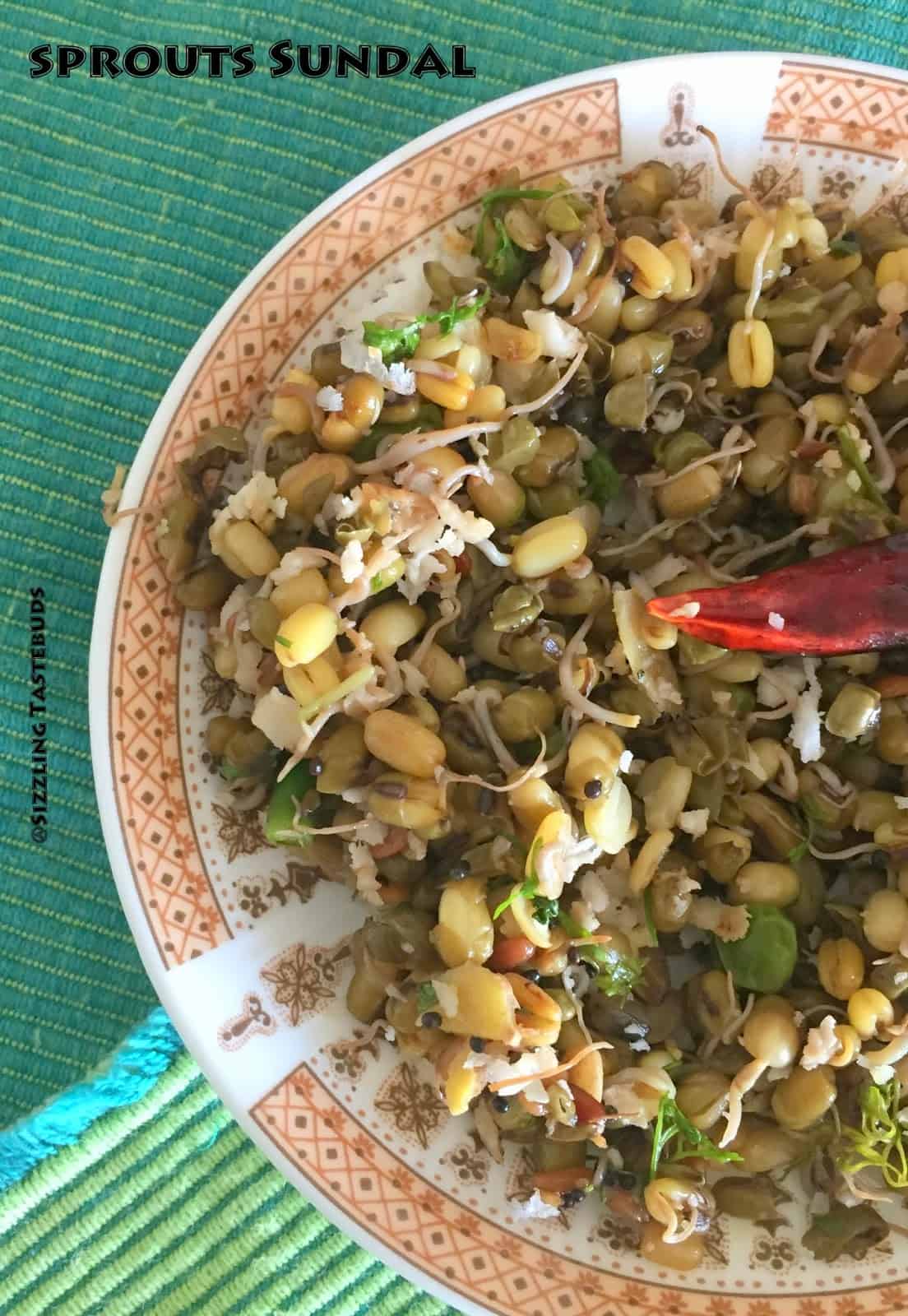 Pin