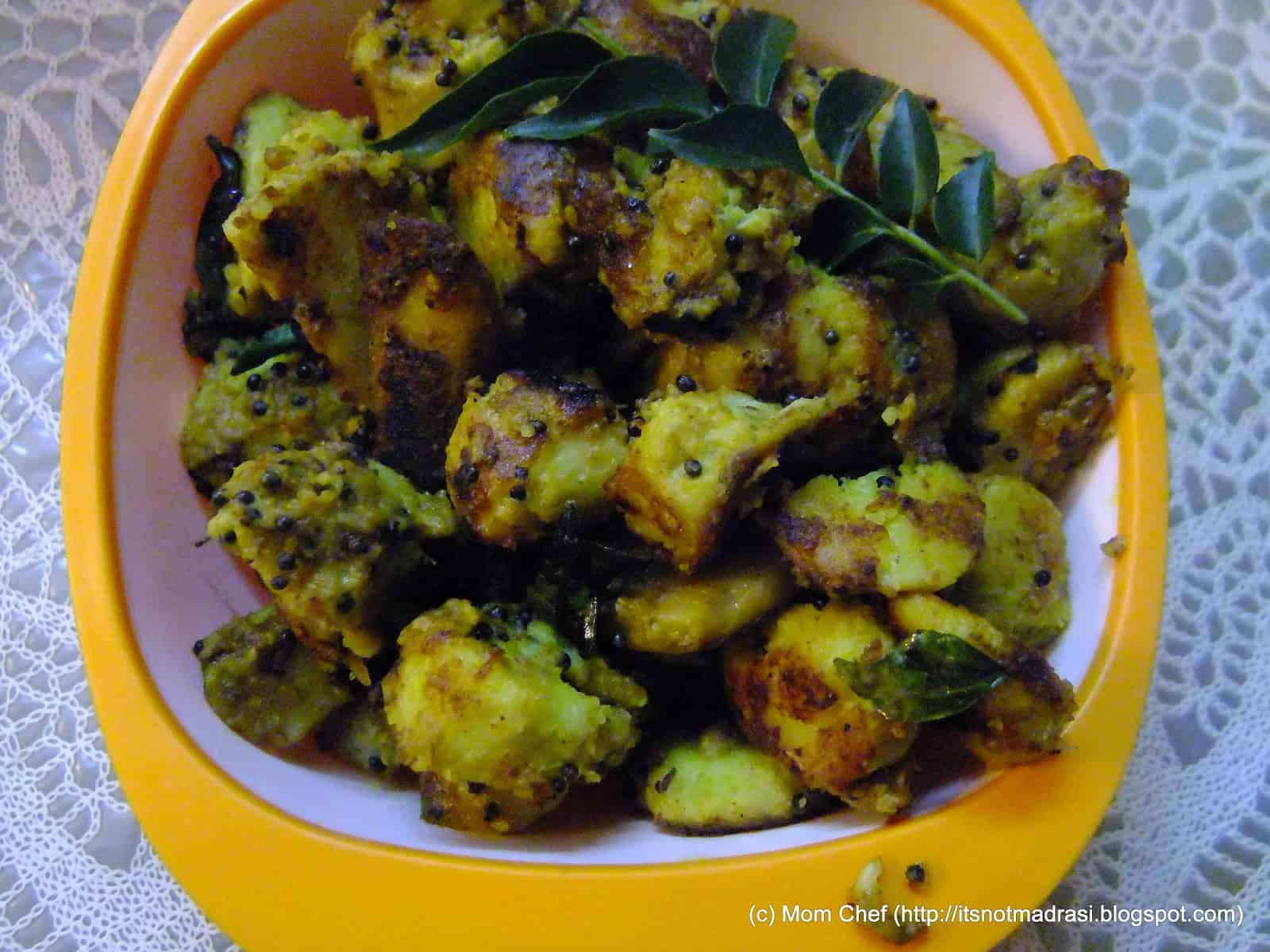 Pin

I haven't heard anyone who has Tamilnadu roots (not literally ! LoL ) who doesn't likeSepankizhanguroast .. In fact, dad used to go ecstatic the days mom used to make this at home. And now S and daughter love it. Mine is more an acquired taste rather than genetic!

The edible types are grown in the South Pacific and eaten like potatoes and known as taro, eddoe, and dasheen. In the Indian subcontinent it is known as Arabi, Arbi, Pinalu, Alvi, Chaama, Ghuiya, Patra, Mukh, and both roots and leaves are used. The leaves are also called Kui Patta or Kui Leaf or Aluchi Paana (in Marathi).

Cooking this vegetable takes a little skill, although the ones cooking this for a long time would not be inclined to agree. This stir fry can be neither too mashy / sticky nor too hard and takes a little practice and patience. Although traditionally this dish is made deep frying the veggie, I prefer to use as little oil as possible !  See Tips below for more info !

Preparation Time: 20 mins. Cooking time: 10 mins.

Serves: 4

Ingredients:
Arbi / Sepankizhangu – 1 kg
Tamarind paste – 1 tbsp
Red Chilli powder – 2 tsp
Oil – 3 tbsp
Mustard seeds – 1 tsp
Hing / Asafoetida – 1/2 tsp
Curry leaves – few
Turmeric powder – 1 tsp
Besan / Rice powder – 3 tbsp
Salt – to taste
Method:
1) Wash and boil the whole (with skin) Arbi / Sepankizhangu till 85% – 90% done. Add a pinch of salt if required.
2) Drain the veggies. Peel the skin and chop into thick roundels and cool.
3) In a bowl, mix well the salt, chilli powder, turmeric powder and add the flour (besan / Rice flour).
4) Once mixed well, add the chopped Arbi to this mixture and shake well till the masala mixture is coated onto all the veggies.
5) In a pan, heat oil and splutter mustard and curry leaves. Add hing. Stir.
6) Now add the masala-coated arbi to this and on low heat toss well.
7) Now add the tamarind paste and stir well on medium heat till crispy. Add 1 tbsp more of oil if required.
8) Serve with Vetral Kuzhambu / sambhar / Rasam / Curd rice and watch your family go ballistic 🙂
Tips:
1) Important to cook the arbi without the pressure cook as the veggies will get overcooked.
2) If you are not using tamarind paste, use lemon sized tamiaring and extract the juice. Else use 1/2 tbsp of amchur (dry mango powder).