With a majority of non-sabudana takers at home, we don't make Sabudana khichri at all ! I am personally on the fence when it comes to this dish, but wouldn't mind it occasionally (read once in 6 months), owing largely to its huge starchy content and the potatoes and peanuts don't do anything to take away the heavy feeling once its consumed. 
I guess its ok for those who fast (either for health or religious purposes) that this tapioca based grain dish is a great meal to have to feel satiated. The off-occasion that I do make Sabudana Carrot Payasam (kheer) or the Classical Festival Sabudana Kheer is not taken up enthusiastically, and the Sabudana Vada (which along with the Sabudana Khichdi is a local favourite here where I live) is detested by all, equally 🙂 . But we somehow found a way to like sabudana in this Low-Fat Sabudana Tikki
But, as we don't fast often (on religious grounds), it hardly gets made at home. Somehow, I was keen to cook and present a mid way path between the starch laden dish and a bland pudding that sabudana rends itself ,and so came into focus the veggies.
Classically, this is not the dish made for fasting  (as there are so many restrictions on vegetables including using a different Sendha Namak) that most of the Non-South Indians follow here. But I liked it as the veggies provided much of the fibre needed. I made another version too , replacing the potatoes with something more fibrous, but that version is for some other day !
Till then, this is a dish for one portion. I made it quite spicy , so it needs no accompaniment unless you really look for one and a cup of yoghurt would be a good one !  Let's make this 🙂
Prep time – 15 mins, Cook time – 10 mins, Serves – 1
Sabudana Vegetable Khichdi – GF, Vegan Indian Dish made for breakfast / Snack time
PIN FOR LATER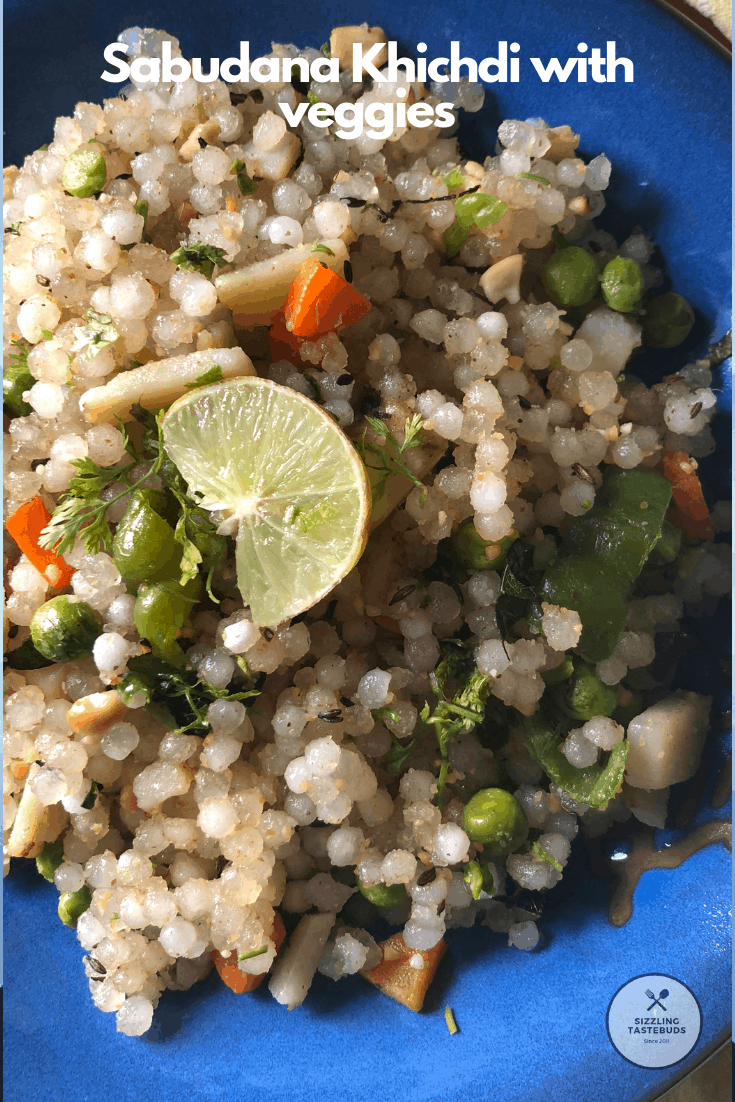 Pin
You need:
Sabudana / Tapioca pearls / Sago – 1/2 cup
Oil – 2 tsp
Roasted peanuts – 2 tsp – crushed coarse / fine
Cumin seeds – 1/2 tsp
Chopped spicy green chillies – 1 or 2 (adjust spice)
Salt – to taste
Steamed veggies -peas, carrots, french beans (totally 1/4 cup)
Sweet potato – 2 TBSP (steamed)
Lemon juice – 1 tsp
Grated coconut – 1 TBSP (Opt.)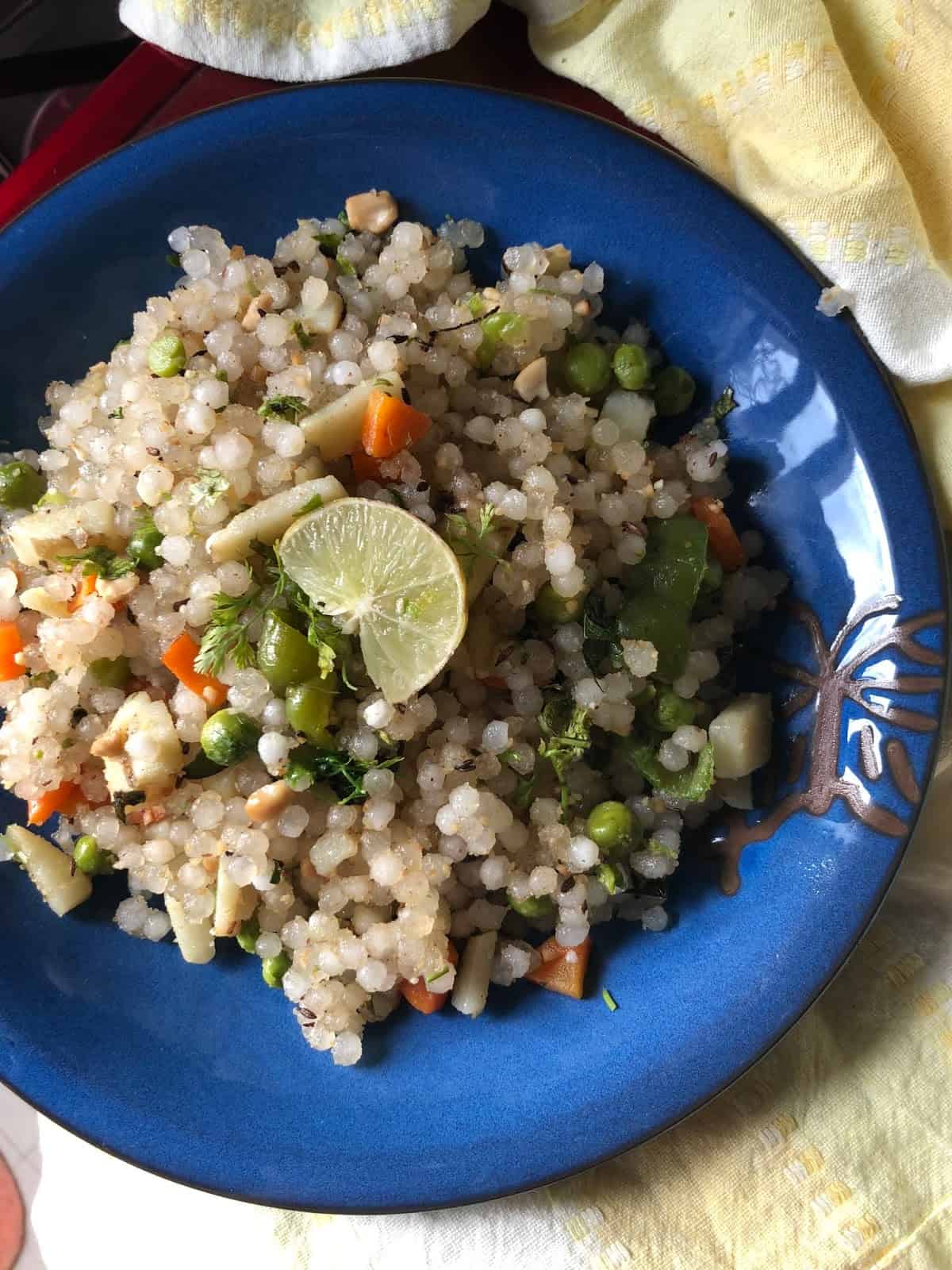 Pin
How to:
In a colander, wash the sabudana under tap / filtered water several times to remove excess starch. Soak the sabudana overnight (in the fridge) or for 3-4 hours with freshwater just about covering it. Drain the water before cooking and fluff the pearls. 
In a non stick pan, heat the oil. splutter the cumin seeds and green chillies. Add the steamed veggies, salt and toss well. Now add the sabudana and sprinkle very little water and cook and cover till the pearls turn translucent. Fluff them again after 2-3 mins, add crushed peanuts, grated coconut. lemon juice and toss again.
Take off the fire and let it rest for 1 min. Serve hot as os or with chilled yoghurt    
PinCheck out the Blogging Marathon page for the other Blogging Marathoners doing BM#99