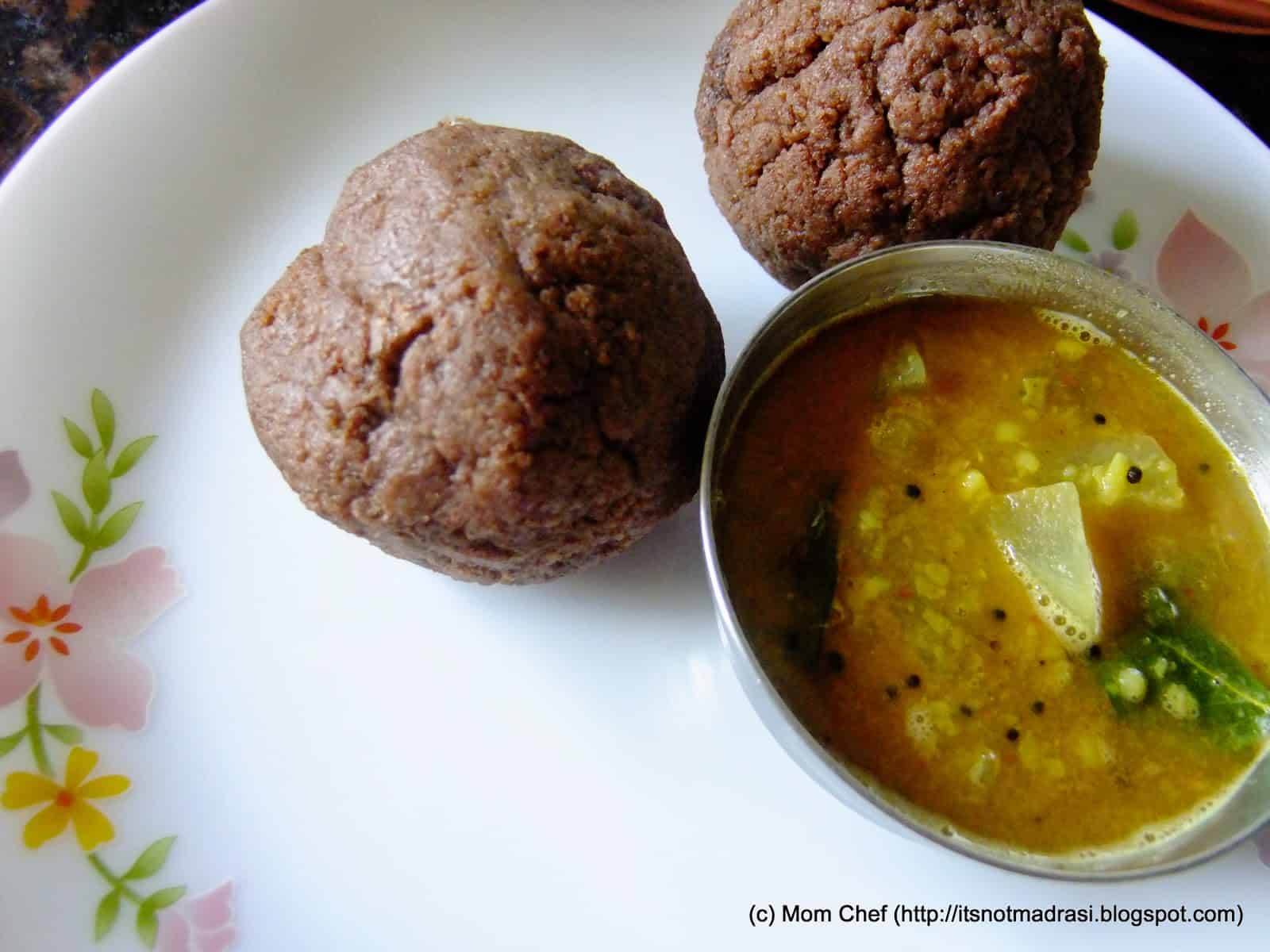 Pin

Ragi / Finger millet, as mentioned in my ongoing eventis full of calcium and nutrient. As schoolgeoers, we used to have it as Ragi Hurittu or Ragi Porimaavu (Puffed ragi) with milk and sugar: I never liked the taste then, and was rather a forced consumption at my grandmom's insistence to fill up Vit B12 (which this millet has in plenty) in a lady's diet, esp in the pre-teens ! Wonder how wholesome and healthy our food was when we were kids – no fear of MSG or allergies of gluten ,nuts , dairy that today's moms fear most : All foods taken in proportion and at right intervals ensured doctor visits were only a rarity 🙂

Coming back to today's dish – Ragi Mudde (or steamed Ragi dumplings) – a very authentic Karnataka dish. Like most Ragi dishes, this is not too appealing to the eye, but is loaded with the goodness of calcium and amino acids. This dish takes a little practice to make, although it seems easy. My trials were finally rewarded this week, when after many attempts, I made what seemed to even impress my mom 🙂 These dumplings go well with soppina huli (greens sambhar) or  avarekaalina saaru (flat beans sambhar) . This dish goes by the name of Ragi Sankati in Telugu.

Sending this as an entry to my own event that am guesthosting and originally conceived by Sanjeetha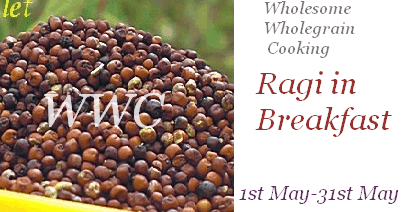 Pin

I shall present next time a step by step method to make this and this time, shall present you with the finished product only.

Preparation time: 10 mins

Cooking time : 10 mins

Serves : 2

Ingredients:
Ragi flour – 1 cup
Water – 2 cups + 1/4 cups
Salt – 1/2 tbsp
Ghee – 1 tbsp
Method:
1) In a deep bottomed pan, boil 2 cups of water with salt and 1/2 tbsp of ghee.
2) When it comes to heavy boil, sprinkle 1/4 tsp of flour onto the boiling water and cover.
3) Let the flour (1/4 tsp) cook for 2 mins
4) Remove the lid and add the rest of the flour, 1 tbsp at a time, stirring the mass with a wooden spoon and on medium heat.
5) Once the flour is well incorporated, and becomes a semi wet mass, sprinkle 2 or tsp more water and cover tightly.
6) To test if done, wet your hands and touch the dumpling in the pan – the mass should not stick to your fingers
7) Once done, switch off the heat and transfer to a greased oil plate.
8) Knead well, make medium sweetlime sized dumplings and serve hot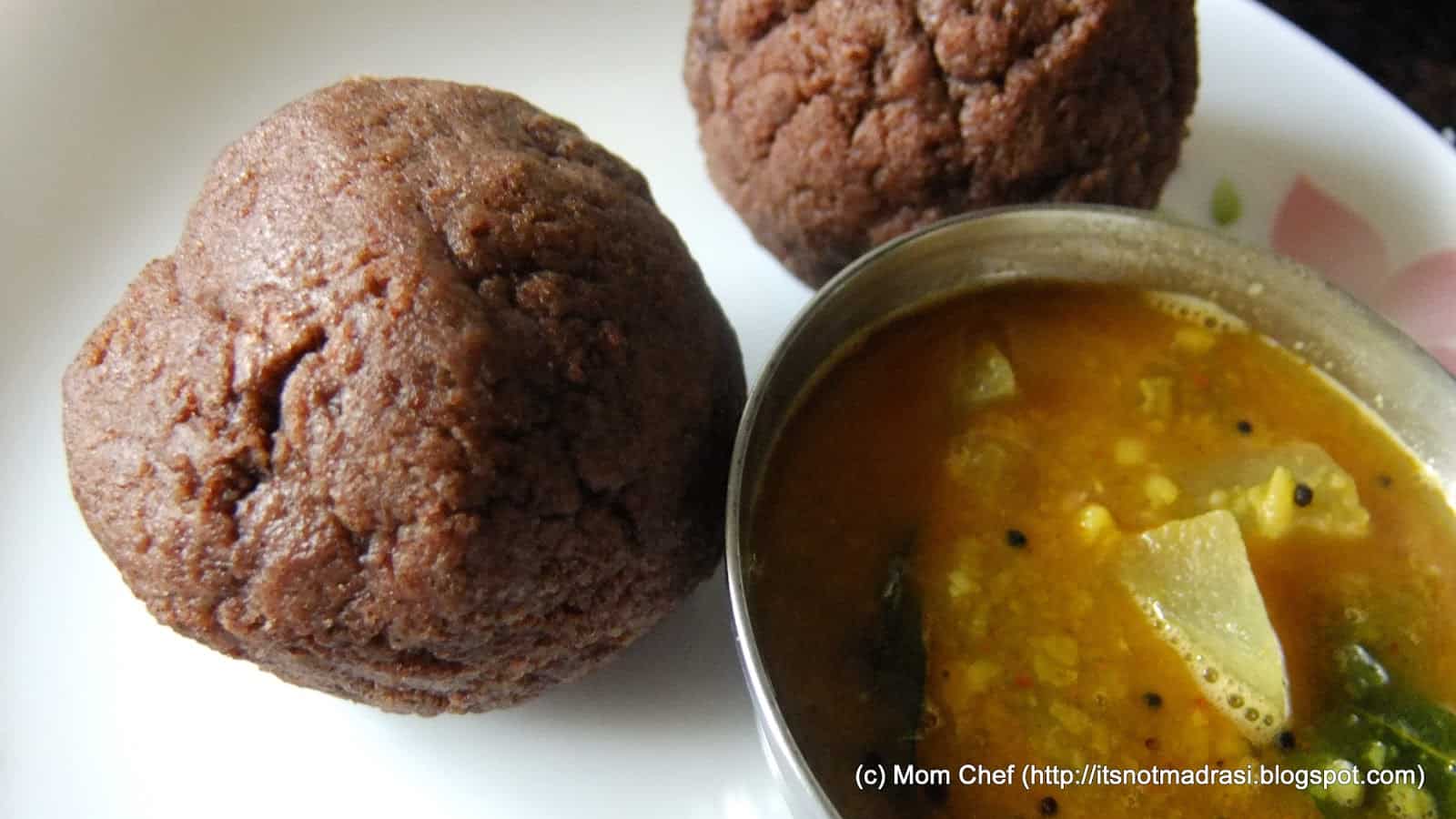 Pin