"Each
friend represents a world in us, a world possibly not born until they arrive,
and it is only by this meeting that a new world is born."– Anais
Nin
A
few months ago, I met Jayanthi ofSizzling Veggies through Blogging Marathon
and something about her writing style and the fusion stuff she blogged about
(for the same event) caught my eye. Simple to the cut, and flowing from the
heart, I asked her to do a guest post for me, and here she is with a mind
blowing cookie with an ingredient you would have never thought of.. Let me not
spoil the excitement here for you, but allow Jayanthi to write this in her own
words.. Thanks Jayanthi for this wonderful gesture….
———————————————————————-
Few
days back, I received a mail from Kalyaniasking me to write a guest post for
her blog. I had to reread the mail few times to grasp the content and the
message in the mail as I was totally exhilarated to get the mail. Getting to
guest post in just 2-3 months of starting my blog is very encouraging and deep
down I feel a slight sense of acheivement too. I've been wanting to start a
blog for a very long time but needed a slight nudge to justify my thoughts.
Born
in a typical Iyer family, I was primarily exposed to South Indian cuisine. The
need to start learning the basics of cooking was part of my upbringing. But the
curiosity to try different cuisines and experiment with food grew after I got
married. My husband is a big foodie just like me and the curiosity and
creativity to try new recipes with new ingredients are abundant in both of us
(may be because we both are Geminis). We try many vegetarian dishes not just
from the vast and diverse Indian cuisine but from other parts of the world too.
The possibility of creating and experimenting different cuisines with Indian
flavors and my personalization to suit my family's taste palate makes me act
like a child with a new toy. We have two adorable kids and they inspire and
encourage me to try new recipes and provide a honest feedback which makes it
easier to identify the areas where I need more focus and learning. The topic of
starting a blog started when my brother started trying the recipes that I gave
him over the phone. He jokingly nudged me to start a blog as the recipes I gave
him were very detailed and easy to follow and many people like him may benefit
was his reasoning.
The
idea of blogging was there in my mind but had little apprehension to start one,
you can call it the reservation one might have to enter unknown waters. But
once I had another person saying its worth a shot, I started the groundworks of
starting a blog immediately. Within a week my blog was up and running. I love
virtually meeting many fellow bloggers, learn, share, and appreciate one
another. I'm happy that I didn't give way to my apprehension rather overcame
it. Now blogging is "My World". 
When
that came from my brother, I acted like a child eagerly waiting to open a
chocolate wrapper. For most part I'm a self-driven person, meaning if I really
want something, I don't need any outside motivation to work on it and would
automatically put my heart and soul in it. My blog "is" my heart and
soul. The passion to cook and create new recipes just inspires me every time I
step in to my kitchen and I need more than one lifetime to taste and create
different vegetarian dishes from around the world.
This
recipe just made me sit up as I was browsing the "Crazy about
Cookies" book by Krystina Castella . I really liked the out-of-the box
idea of making cookies with potato chips. I used the idea from the book but
added my personal modifications by reducing the fat in half and adding almond
milk and silken tofu to enrich the taste of the cookies more and added some
fine sev to give a little Indian twist to the recipe. The cookies were salty
and sweet at the same creating an electric taste that just makes you say
"wow" for every bite and crunch.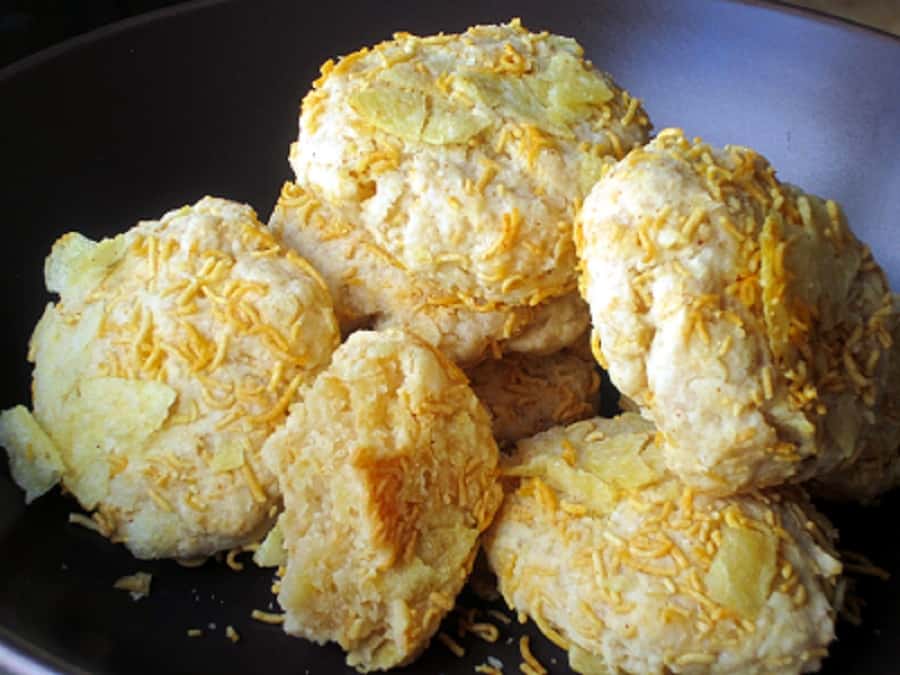 Pin

Ingredients:
All
purpose flour — 2 cups
Sugar
— 1/2 cup
Vanilla
Extract — 1 teaspoon
Lightly
Salted Potato chips (coarsely crushed) — 1 cup (I used Lay's)
Fine
sev — 1 cup (I used Bombay Sev, store bought)
Almond
milk –1/4 cup
Blended
Silken Tofu — 1/4 cup
Butter
(softened to room temperature) –1/2 cup (1 stick)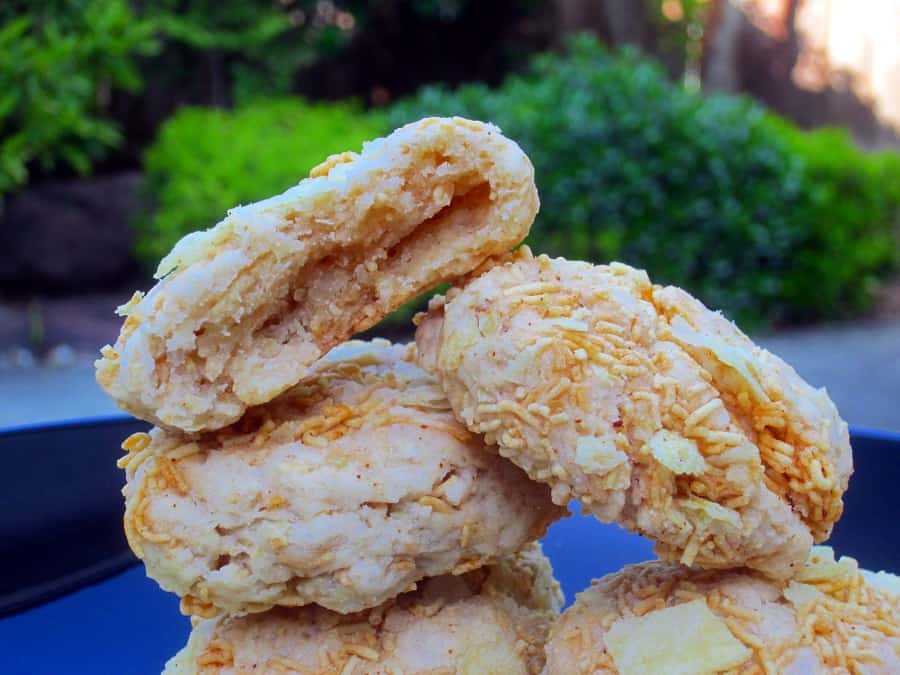 Pin
Method:
1.
In a bowl, mix potato chips and fine sev together and keep aside. In another
bowl, beat butter and sugar until light and fluffy. Add flour, vanilla extract,
chips-sev mixture (1 cup) and combine well. Add almond milk and tofu little by
little and combine to make a soft dough.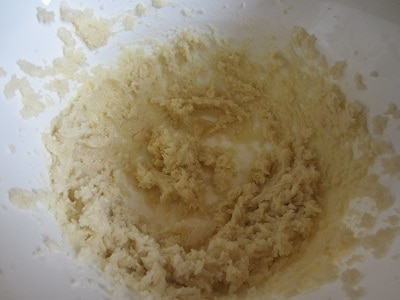 Pin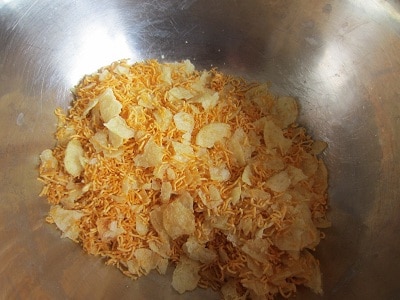 Pin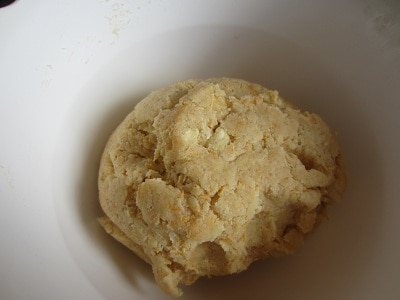 Pin
2.
Divide the dough in to 20 pieces and make small balls from each piece. Roll the
balls in the remaining cup of chips-sev mixture and place it on a parchment
paper lined cookie sheet. Flatten a little and bake in a preheated 325F oven
for 12-15 minutes. Let it cool completely before serving. Store remaining
cookies in airtight container and Enjoy!!!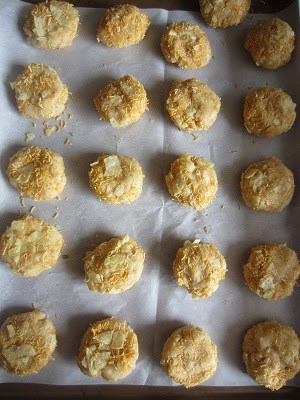 Pin
Note:
1.
You can substitute almond milk to any other milk of your choice.
2.
You can also skip using almond milk and silken tofu and make it a high fat
cookie by adding another 1/2 cup of butter, if desired.
3.
I added fine sev, but you can substitute sev with another cup of potato chips.
4.
Any flavor of potato chips (spicy ones), tortilla chips, pretzels can be added
in place of the lightly salted potato chips.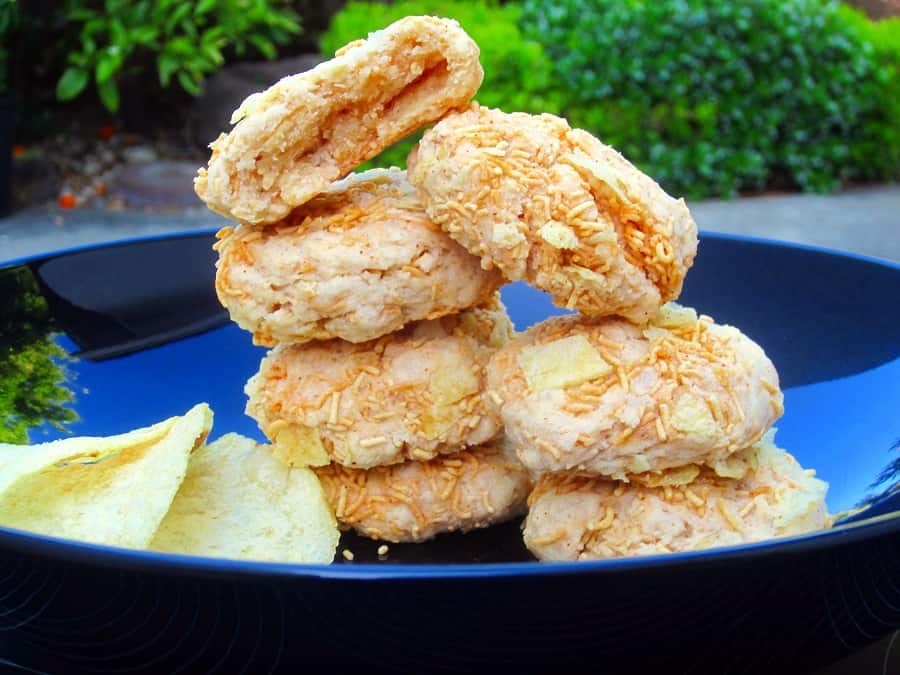 Pin