I was talking to someone the other day, and the topic veered to comfort foods. While my first choice would be Rasam with Rice, the 2nd and more obvious choice was Maggi Noodles. While there is a bit of summer still lurking around Mumbai, the evenings have a slight nip in the air, which makes you crave for hot comforting foods. While I try best not to deep fry, the entire day's chores leaves me with very less energy for baking on a regular basis- enter Maggi to the rescue. While today, I wanted to make this a whole meal by itself, I also made Peas Noodles with Schezwan Tom Yum Soup (without cornflour / MSG) with carrots and veggies, and boy , did we enjoy the wholesome meal. This is also a healthy lunch option as well. You can play around the ingredients a bit and spice it according to your palate. The warmth from the soup and the homemade noodles is sure to soothe your senses. And kiddo, who doesnt take to new food immediately loved the 'indianised' version of this Tom yum Soup and pronounced it as 'tres bien' (very good).. Now, what more could I want? Lets get to the recipe…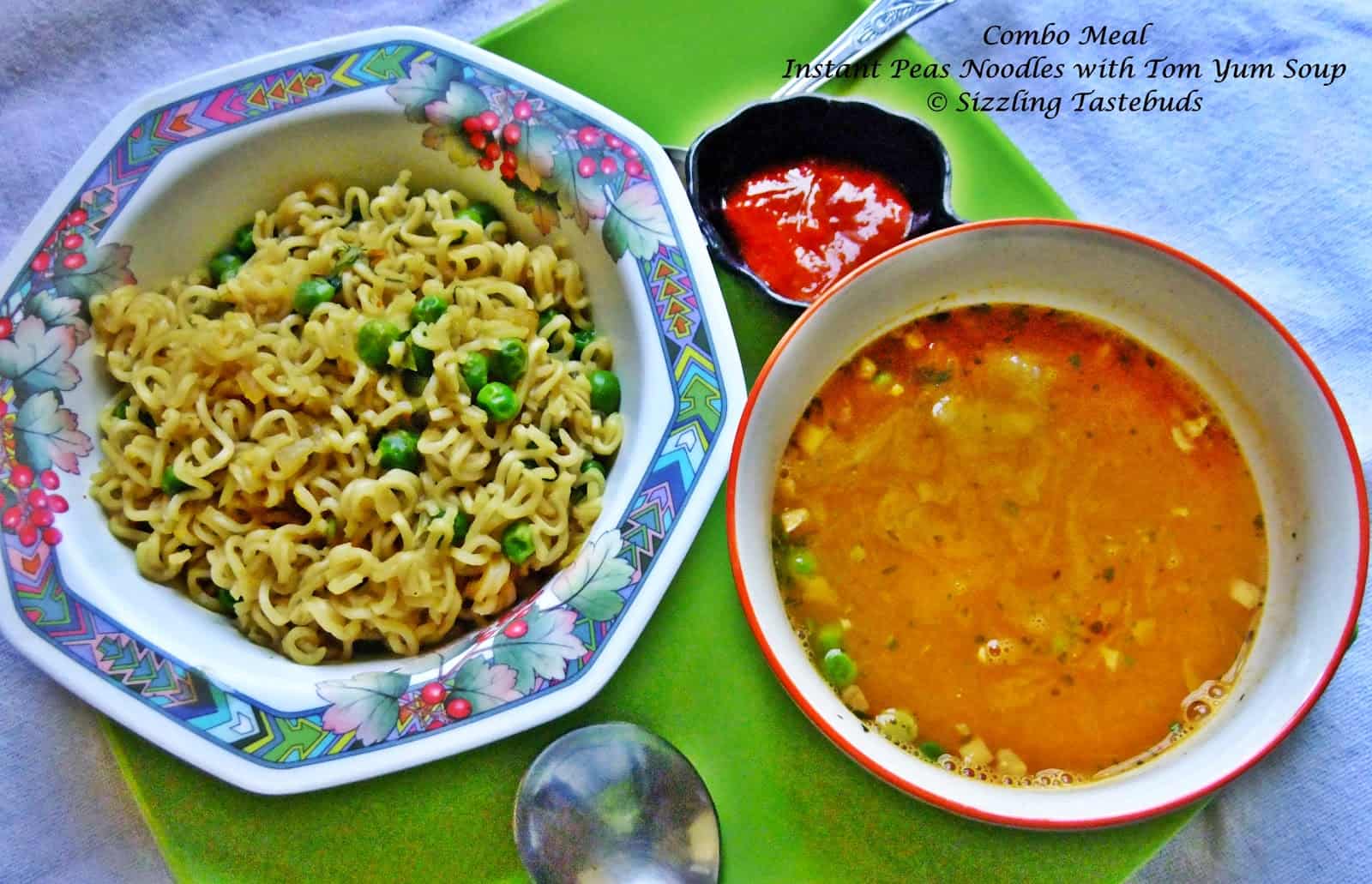 Pin

Sending this to:

Check out other healthy combo meals here

Prep time : 15 mins. Cooking time : 10 – 20 mins. Serves :2

Ingredients:

Instant Noodles :
Maggi Instant Noodles – 1 packet
Garam Masala – 1/2 tsp
Green peas – frozen
Schezwan Tom yum Soup:
Tomatoes – 4 large
Carrots – 1/2 large – juilenned
Vegetable Stock – 1.5 cups
Spring Onion – 1/4 cup (chopped)
Onions – 1 large (diced fine)
Ginger / garlic grated – 1 tsp
baby mushrooms – 2 or 4 chopped (opt.)
Lemon juice – 1 tsp
Salt – to taste
Olive oil – 1 TBSP
Sugar – 1/2 tsp
Schezwan paste – 1/2 tsp
White pepper powder – 1/2 tsp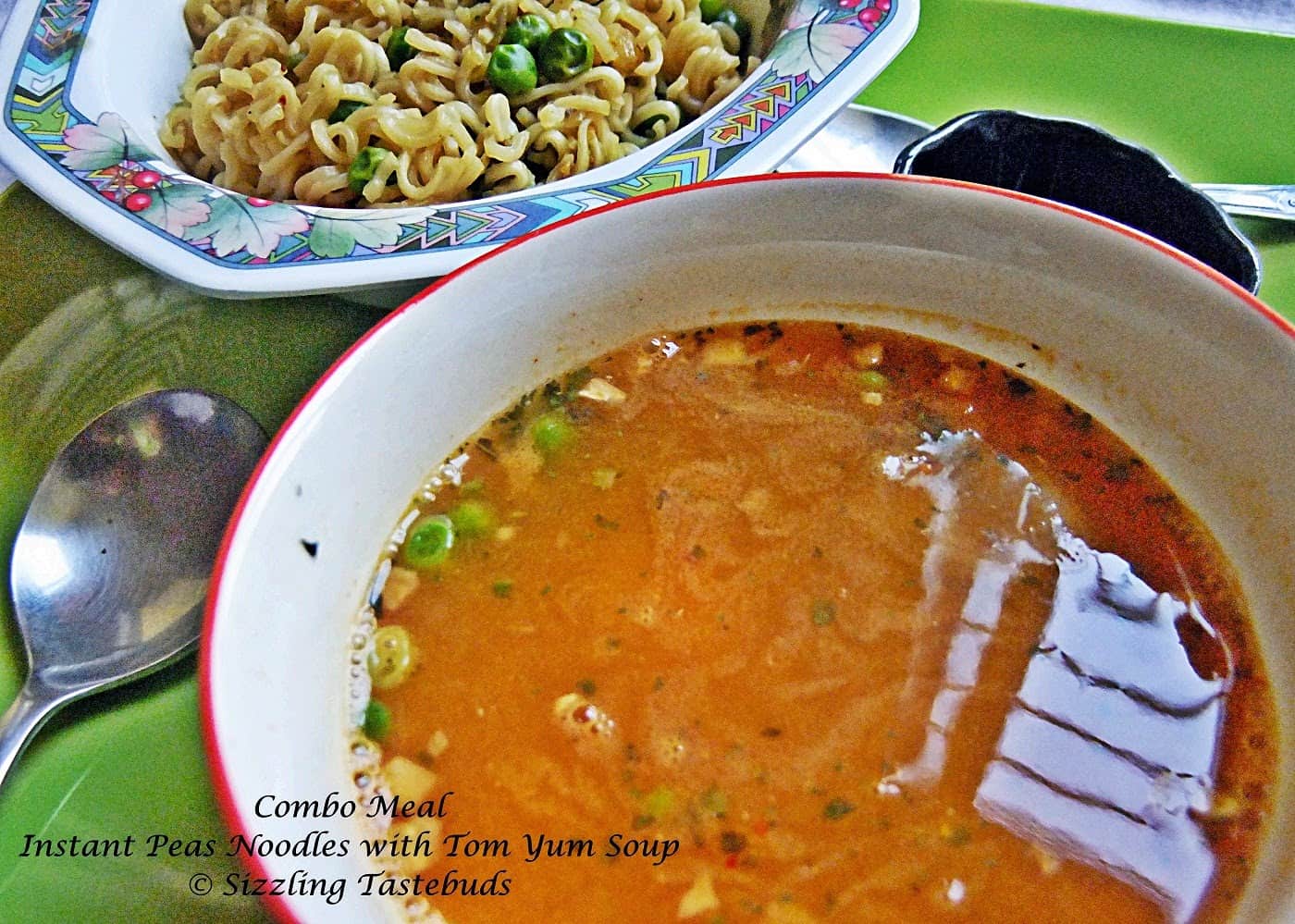 Pin
Method:
Instant Noodles: 
Boil peas with a pinch of salt. If using frozen, thaw them in boiling water for 10 mins with a pinch of salt. Prepare the Maggi Noodles according to pack instructions. Add in the boiled peas, garam masala and saute for few mintues till done.
Serve with Schezwan Tom yum Soup (recipe below)
Schezwan Tom yum Soup:
1) Blanch tomatoes in hot water for 5 – 10 mins. Cool, peel and puree into thick paste. Strain and keep ready.
2) In a large wok, add olive oil. Saute ginger and garlic. Add half of the spring onions, schezwan paste, mushrooms and saute well. Add onions, carrot juilennes and saute again. Adjust salt and add the strained tomato puree, vegetable stock and cook covered for 8 – 10 mins till carrots are 95% done.
3) Check for salt. Add 1 tsp of sugar if desired and the white pepper powder, lemon juice and mix well.
4) Garnish with the rest of the spring onions and serve hot with Peas Noodles (recipe on top)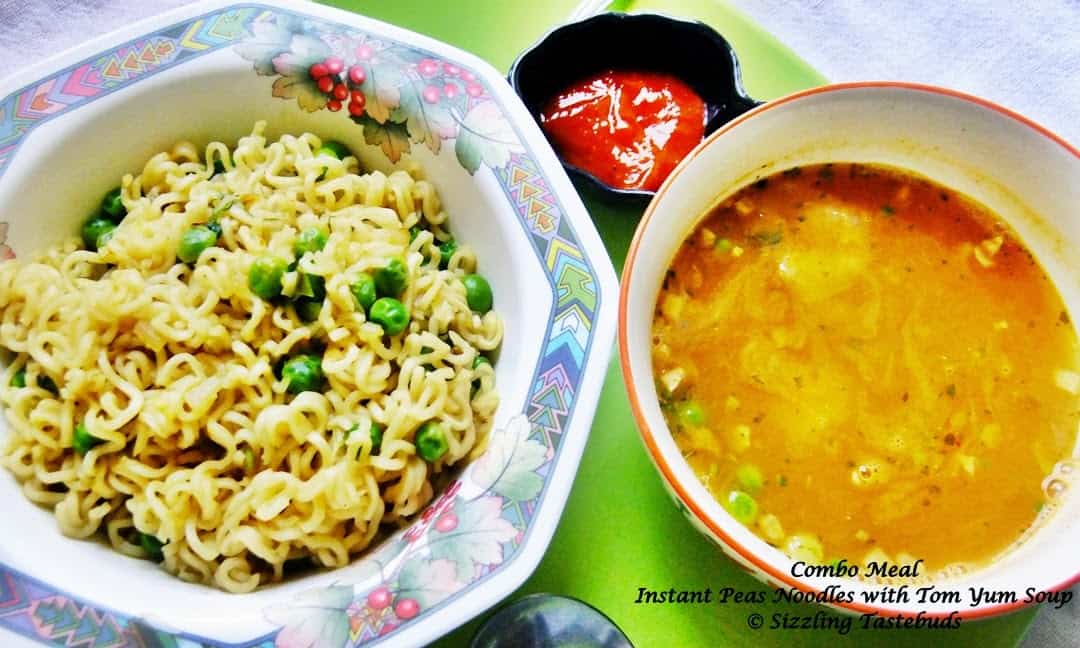 Pin