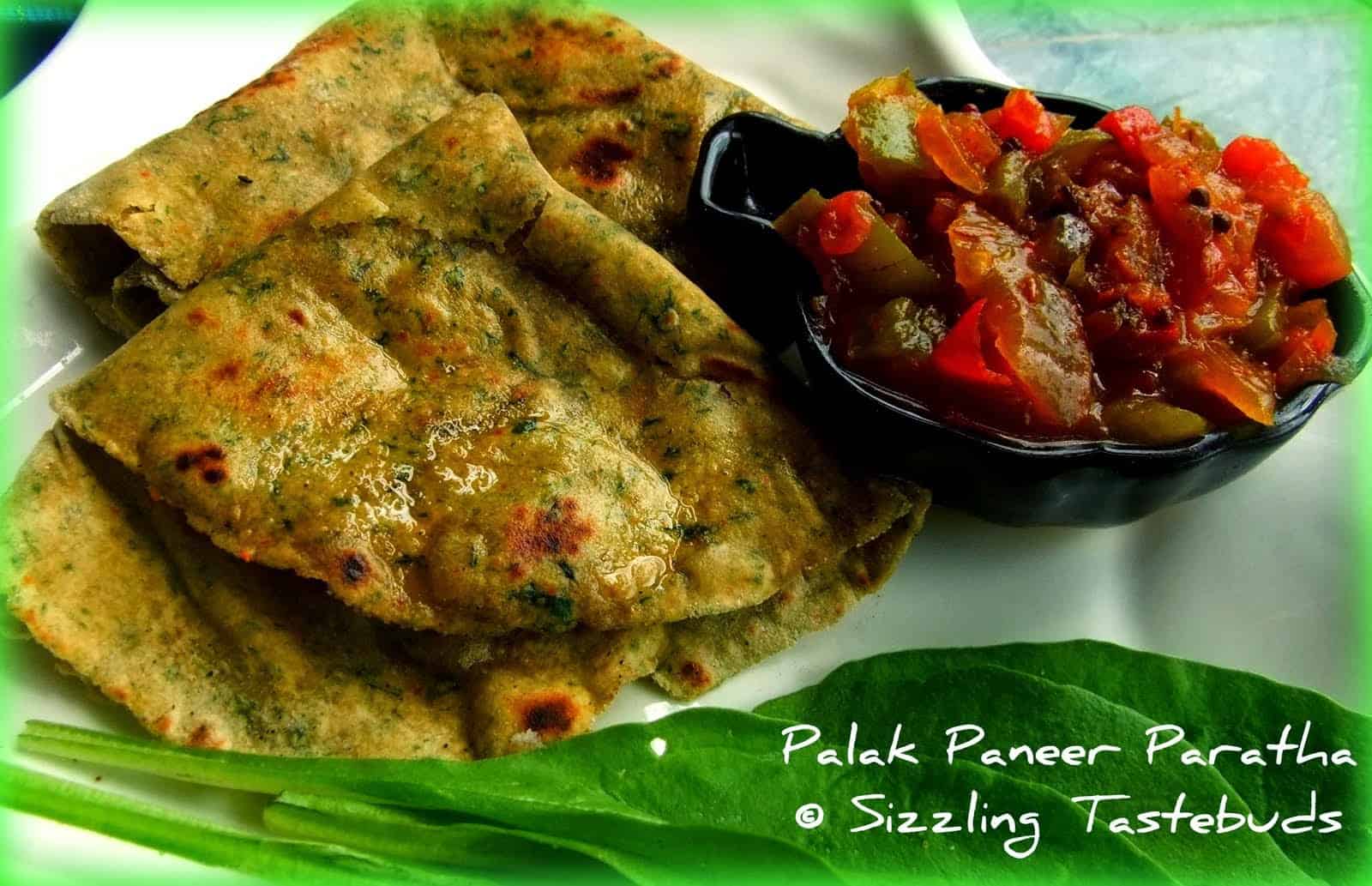 Pin
Two weeks of Blogging
Marathon ends today, and am very excited to have been part of this event !! Today's
post came about as I was thinking how to make something new and special for
kiddo's lunchbox : When I opened my refrigerator this morning, both palak
(spinach) and paneer (Cottage cheese) caught my eye. And then I remembered
kiddo prefers not to have gravy in her lunchbox (for no matter how careful you
put in the gravy, its bound to spill out and ruin the bag right?)This healthy breakfast is totally mess free and is
loaded with the goodness from both Palak and Paneer.
Can't get easier and
healthier right ?
Update : Sending this to Vardhini's Cooking with Whole Foods – Spinach, event by Kiran
In case you have skipped any of my previous posts
from this Blogging Marathon, here's a snapshot:
Under "Zero fire Cooking" theme , you
enjoyed…
Roundup of Week 2 – Theme: cooking with 5
ingredients or less"
So, let's move to today's post – a combo meal
actually – Palak Paneer Parathas with Tomato Chilli Relish . It
works best with baby spinach, but since I had run out of the same, used the
normal Palak (spinach) leaves – just ensure you use ONLY the leaves for this
dish, and not the stalks : else it would be difficult to roll out the parathas.
I shall list out the ingredients and procedure for the parathas and the
tomato-chilli relish in tandem:-)
Prep time :15 mins. Cooking
time : 20 mins (the combo meal can be made simultaneously).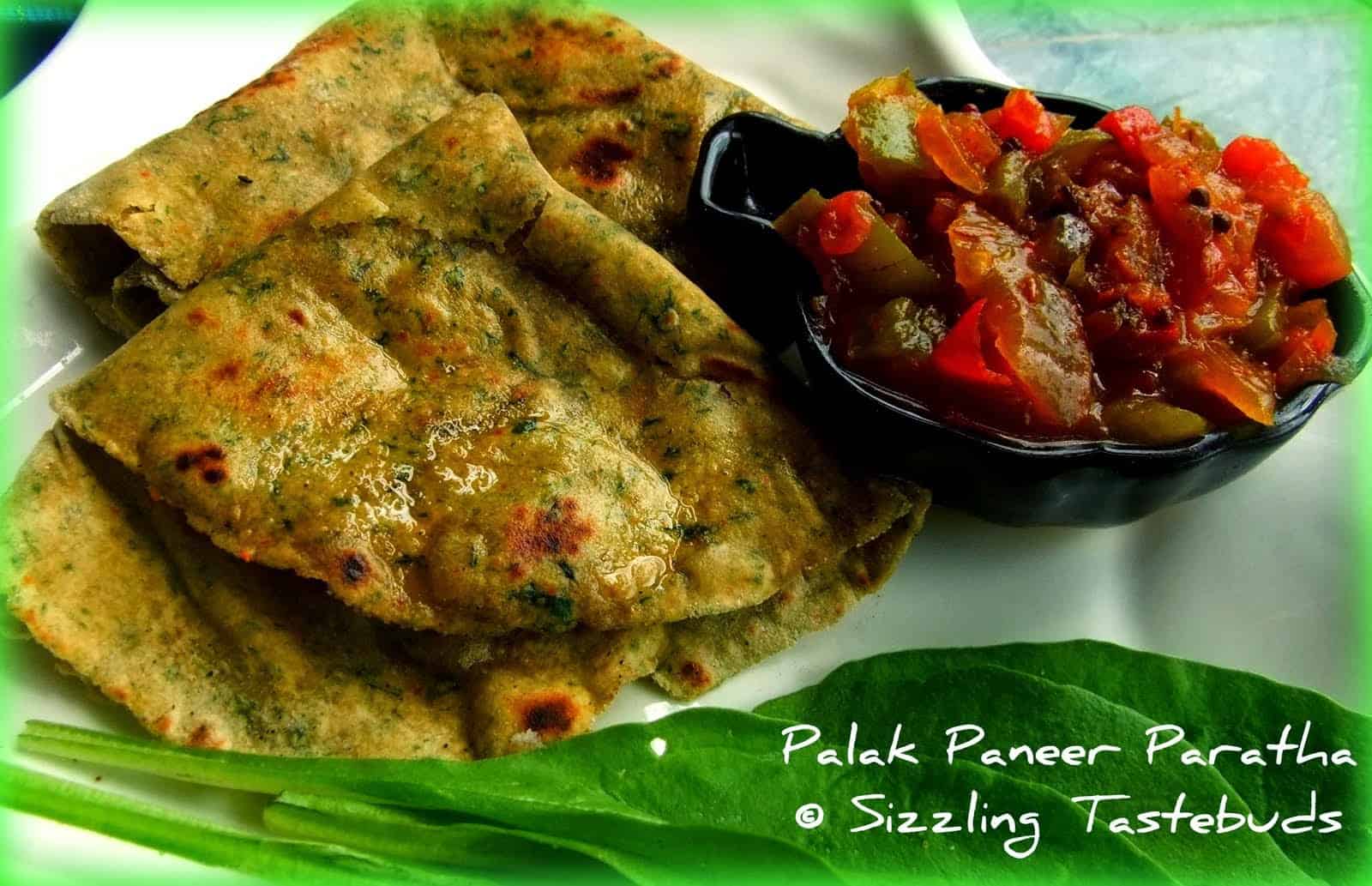 Pin
Makes: 6 parathas
and 3/4 cup of relish
Ingredients:
(A) For Palak Paneer Paratha:
Palak (fresh Spinach) – 15 leaves
Wholewheat flour / atta – 2 cups
Panner – 5 TBSP grated
Red chilli powder – 1/2 tsp
Salt – to taste + oil – to fry the paratha
Method:
1) Blanch the leaves in boiling water for 2 mins.
Drain. Puree with half the grated paneer to a thick consistency without adding
ANY water (spinach itself is watery). Retain the drained water from the
blanched spinach.
2) In a large bowl, add the atta (wholewheat
flour), rest of the grated paneer, spinach-panner mixture, salt and red chilli
powder. Incorpoate the panner and spinach well into the atta till it resembles
crumbs. Now. add the preserved blanched water (from the spinach) little by
litte and form into a chapati like dough.
3) Pinch out a large lemon sized ball and roll out
slightly thick parathas. Cook on a hot tava. Drizzle 1/4 tsp oil on one side.
When cooked, flip on the other side till the paratha is fully cooked ( although
this is a paratha, it didnt require more than 1/2 – 3/4 tsp of oil / paratha).
4) Work with the remaining dough and make the rest
of the parathas similarly.
5) Serve hot with the Tomato – Chilli relish
(recipe below)
(B) Tomato – Chilli Relish:This can be prepared in a larger quantity and stores well for 4 – 6
days under refrigeration. Increase the quantities if you want to prepare in
bulk, and reduce the water quantity indicated below..You can enjoy this relish
with chapati/ poori / curd rice or even dosas.
Ingredients:
Ripe tomatoes – 3 large
Capsicum / bell pepper – 1 medium
Green chilli – 1 no (i used the less spicy
ones) – deseeded
Onion – 1 no – chopped fine
Oil for tempering
Tempering : Mustard seeds, cumin seeds, curry
leaves
Turmeric powder – a dash
Tamarind paste – 1/3 TBSP
Rasam Powder – 1/2 tsp
Salt – to taste
Jaggery / Sugar – 1/2 tsp
Method :
1) Blanch tomatoes for 3 -4 minutes. Peel and chop
them
2) In a pan, heat 1 TBSP oil and add the tempering.
Once mustard stops spluterring, add onions, turmeric and fry till translucent.
Add finely chopped capsicum and green chilly. Fry again. Add salt and 1/2 cup
of water and cook covered for 4 mins.
3) Now add the blanched and chopped tomatoes and
cook again for 4 – 6 mins till the tomatoes turn fully mushy. Now add Rasam
powder, tamarind paste, sugar, coriander leaves and mix well. Add a little more
water to get the right consistency.
4) Serve with Palak Paneer Paratha (recipe above)
or even curd rice / chapatis / phulkas 🙂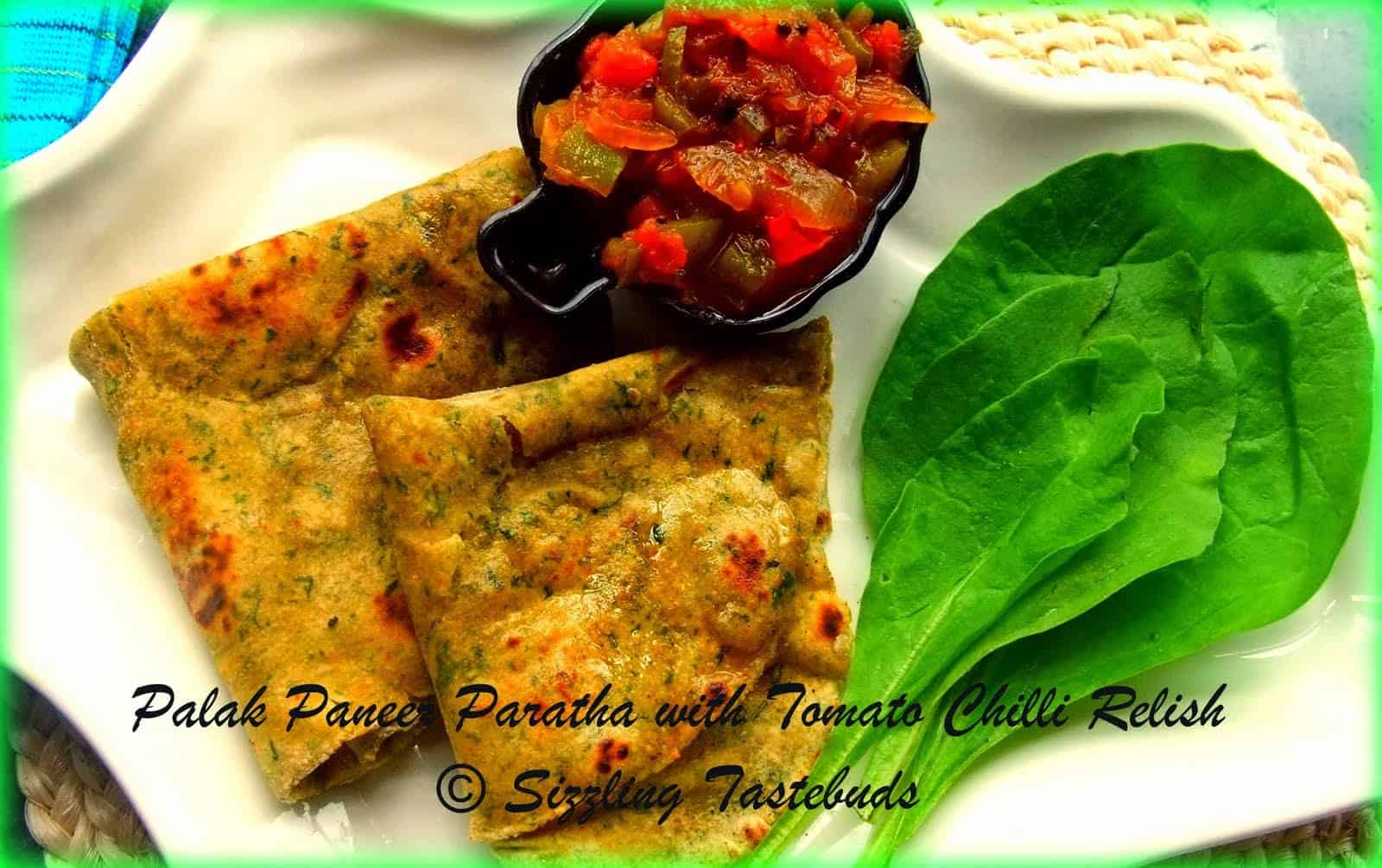 Pin