Pav Bhaji needs no introduction, nor any special reason to eat them too 🙂 The undisputed king of street food in India, Mumbai's Pav Bhaji seems to have made headlines in global cuisine. Essentially spicy veg gravy with bread, this finger-licking food turns exotic with each spoonful of butter added to make it hearty & heady. 
Now I hate to do this, but the best ever Pav Bhaji to my committed memory from the Sukh Sagar in Jayangar 4th block (much before it was renovated).. My mom and sis used to say that I always felt hungry just passing by that restaurant.. 
In fact, it was the Holy Grail of our family when Dad, mom sis & me used to visit Sukh Sagar every 10th of the month just after my parents' pay packet was full, and I fondly remember this ritual ran for almost a decade and a half with eager eyes and hungry tummies for Pav Bhaji, Ragda Patties (another favourite), Special Bhel (sprinkled Cream Custard with Fruit Salad-Ice Cream !! Amen 🙂 to have those days once again! 
Pin

Especially in today's lockdown kind of scenario where even stepping out is risky, its better we bring the street food to our homes by making everything from scratch. Quite a task, especally the clean up later but totally worth the effort, dont you agree ?

Today's Pav Bhaji was more on-the-spot decision stuff. I had all the ingredients with me. I had about 40 minutes to log into a music based webinar and this seemed the best option to eat and then fill one's senses with the music later 🙂 I would have loved to bake the pepper pav buns, but sadly my oven is insistent on not working ! 
Pin
For the food aficionados, I have also included a link here on the street way of making Mumbai Pav Bhaji.. Its quite a treat watching them make it, as much as eating it too, with dollops of butter floating and adding to your waistline. Mine today however, is a low cal version (ok relatively speaking!). Other Pav Bhaji versions I have on the blog are –  Low Fat Pav Bhaji (guess the secret ingredient), Paneer Pav Bhaji
PIN FOR LATER
Pin
More Chaats / Street food from India on the blog:
Ghugni (Kolkata style White peas chaat)
Bangalore's famous Masala Puri Chaat (check out the video recipe here)
Kutchi Dabeli
Kolkata's Badam Makha
Bhel Puri
Gujrati Amiri Khaman
Fruit Kulfi
Bangalore's famous Tomato slice Chaat
Delhi's Tikki Chole Chaat
Preparation Time: 20 mins. Cooking Time: 20 mins
Serves : 4
Ingredients: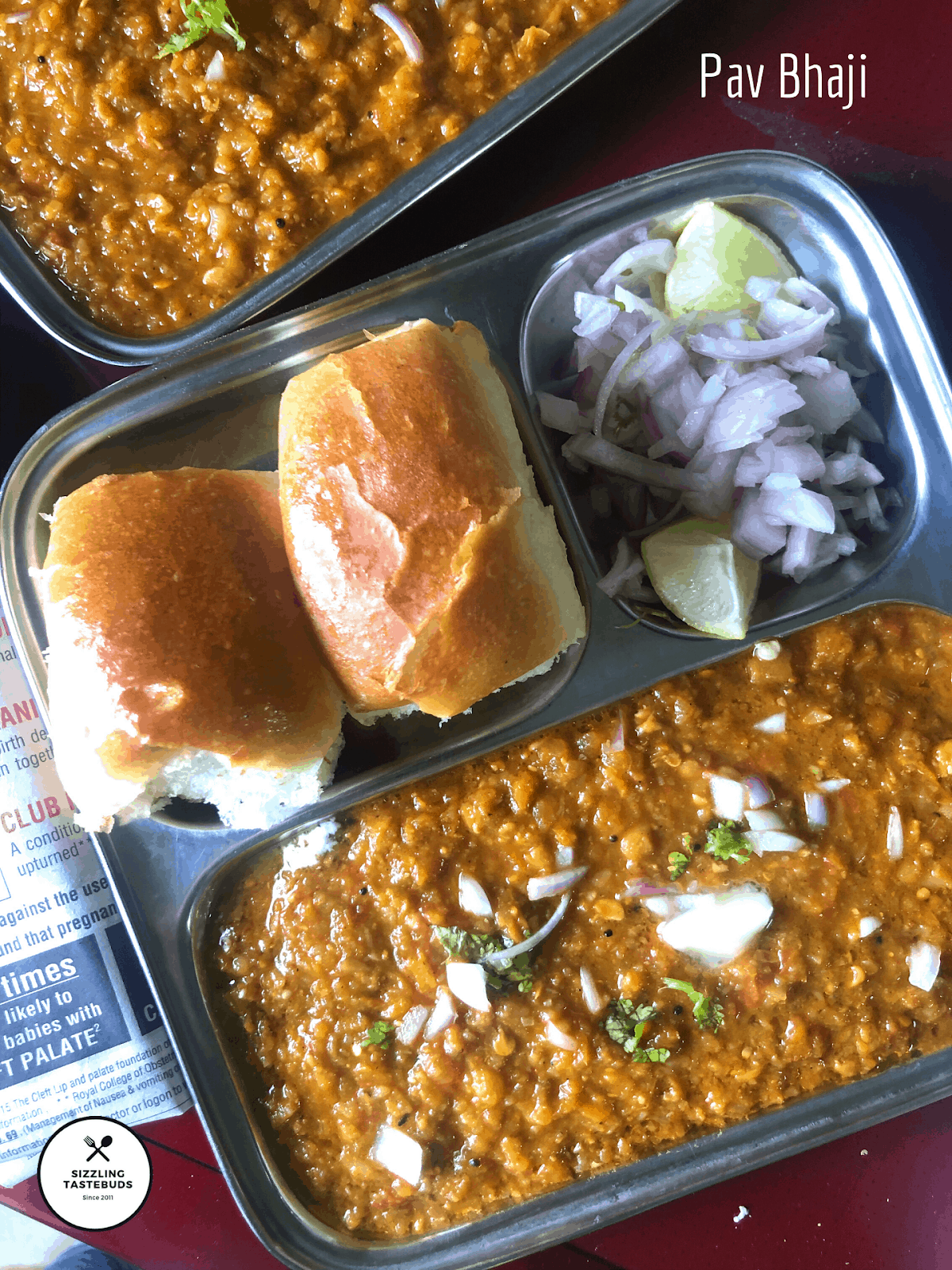 Pin
Mixed boiled & diced vegetables – 3 cups
Onions sliced – 3
Capsicum diced – 1 large
Tomatoes – 5 large
Turmeric – 1/2 tbsp
Ginger Garlic paste – 1/2 tbsp
Pav Bhaji Masala – 3 tbsp (I used Everest brand)
Kashmiri Chilli Powder – 2 TBSP
Salt – to taste
Oil – 3 tbsp
To serve:
Pav Buns – 2 laadis (about 12 pieces)
Nutralite / Light fat butter – few TBSP (can sub with vegan choices of nut butters)
For garnish : Green coriander, lime wedges and Chopped onions
Method:
1) Wash, cut and boil the vegetables (I used carrots, beans, peas, potatoes & cauliflower) till al dente. You may also microwave the vegetables for 8-9 minutes till 70% cooked. Drain and retain the water (about 3/4 cup is adequate)
2) In a skillet / shallow pan, add oil. When hot, add ginger garlic paste and fry well. Now add chopped capsicum. Also add a paste made out of blanched tomatoes and onions and stir well till the raw smell disappears.
3) When this paste turn translucent, add turmeric, Kashmiri Chilli powder, pav bhaji masala, salt and the water from the boiled vegetables and simmer for 5 – 6 minutes.
4) When the capsicum turns tender, add the boiled & mashed veggies and stir once more.
5) Check for salt / extra pav bhaji masala if required.
6) In a tava, layer the butter-smeared Pav Buns and toast till slightly crisp
7) To serve, arrange two buns on a plate. Serve Bhaji on the side garnished with green Coriander and lime wedges.
Tips:
a) To make your Pav Bhaji more healthy, add sprouted moong / green gram as well
b) Street food Pav bhaji is tasty as it is heavy on butter . However, If you are keen, you may also substitute the above mentioned butter with just a film of oil and grill them slightly in a batch.
c) If you are planning to serve Pav Bhaji for a party, you may make the Bhaji in advance and refrigerate to be thawed with a serving of butter.
Pin
Updating this post with new pictures and text as part of Foodies_RedoingOld Post series where we revisit old posts with new text n pics.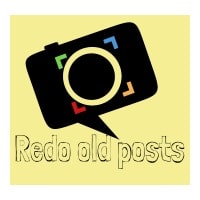 Pin