Before we go on to today's post, a friendly reminder to link all your Chinese dishes to the Flavours of China event that ends Nov 30th. Also dont forget to link your global recipes to the Global Food Fest too ! Up for grabs is also a wonderful giveaway on my 200th post, so do rush in..
Some memories stick to you like a Post-it note 🙂 I remember by dear dear grandpa who used to get these super hot and freshly baked Potato Buns once a week, from the bakery by the time we got from school, and sis n me used to gobble them up like hunger was our prime concern 🙂 Many years later, i discovered that these things could be baked at home too ! I have adapted my recipe from Aipi's recipe as I gingerly tread into the realm of yeast-based baking : Now each one of us has our tryst with this ingredient called yeast. Yes, baking with it is quite addictive, but you want the result to be exactly to the the way you remember it or seeing it. As I was making it with APF (and was too sceptical about using whoewheat), I have replaced most of the filling of potato with dry cooked moong dal (to know the right dal consistency, check recipe on Moong Dal Seekh Kebab) – it needs to be cooked al dente, but dry. It was very light and filling too. Although here, I was a tad disappointed coz the colour of the buns didnt brown as much as I thought they would, but the verdict from all at home was tres bien (wonderful), and mom who is not too much of a bakery food fan pronounced the Moong dal Masala Buns perfect. 
Pin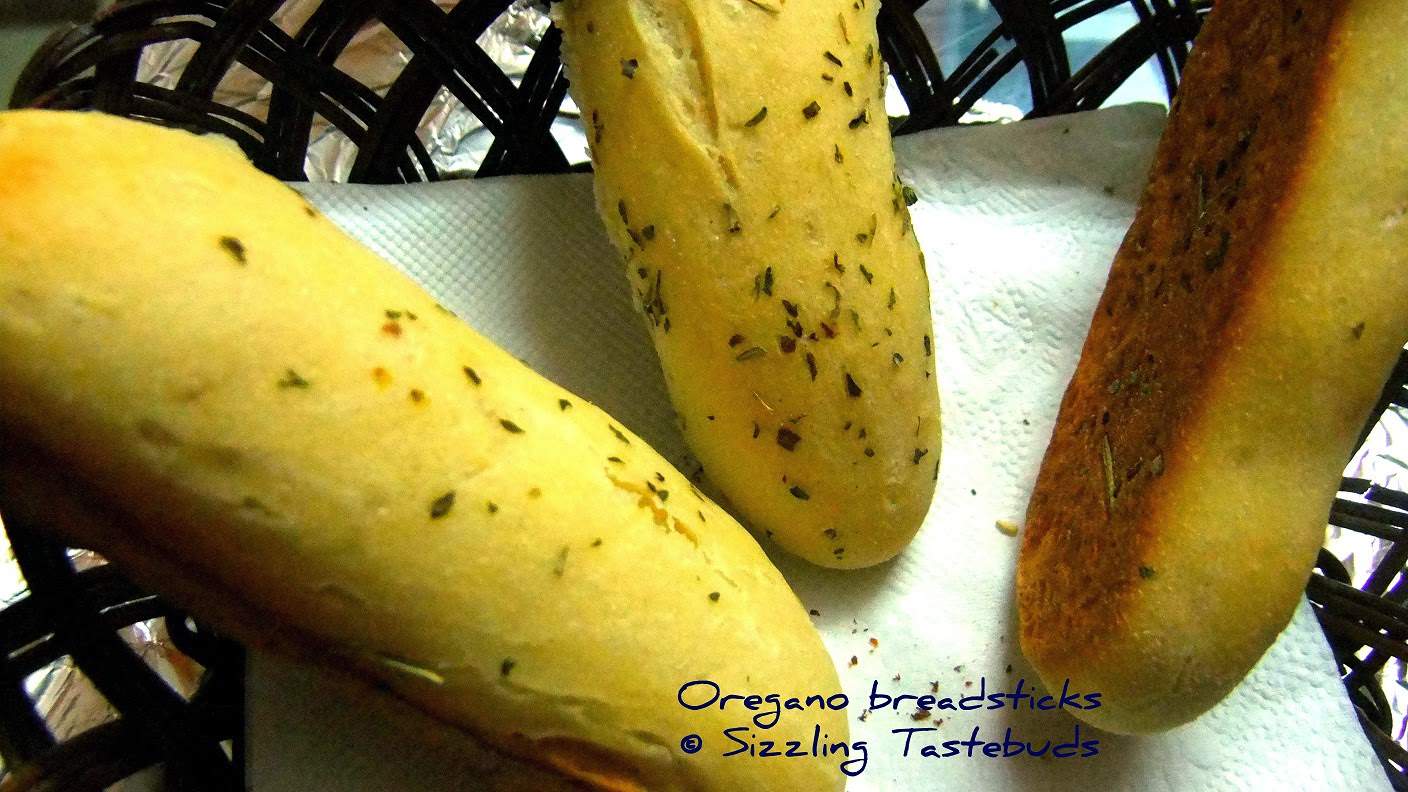 PinPin

The next time I make this (which I am sure to), I would increase the sugar a tad more and also may be do the milk wash more diligently, but till then, this is one snack that would never go out of fashion and I am sure you would also like it.. Feel free to play around the ingredients to suit your palate.I used the remaining dough after making the buns to make Oregano soup sticks which went very well with Cauliflower Soup.

This goes to : Day 3 of BM, along with Radhika's Winter Carnival, Vardhini's bakeFest,

Krithi's Breakfast club – Breads, event by Helen,Yeastspotting, and also my own event – Global Food Festival and also Valli's Snacks Mela and Priya's CWS – Moong and also to MLLA #40.

Check the yummy dishes from my BM friends here and other Moong Dal snacks & dishes here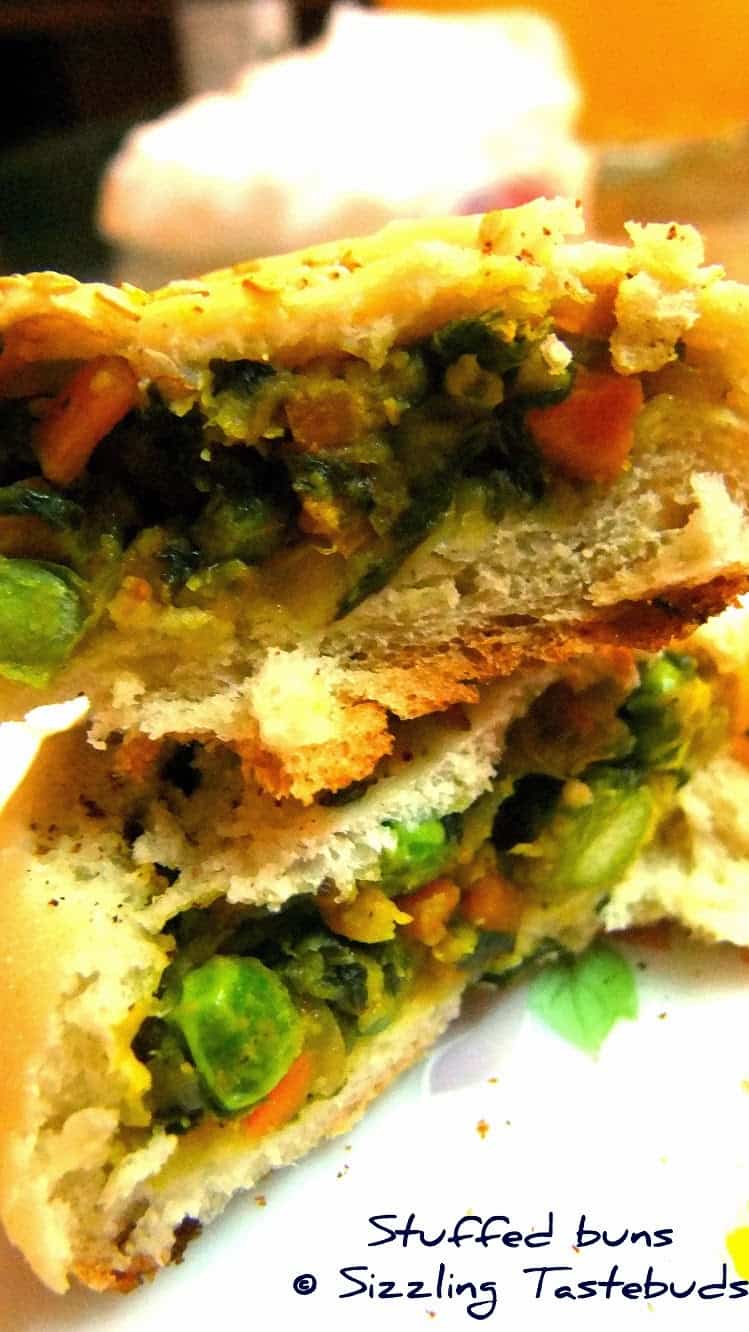 Pin
Prep time : 30 mins (excluding rising time). Baking time : 20 mins. 
Makes : 12 medium sized buns and approx  8- 10 bread sticks (aka soup sticks).
Ingredients:
APF – 2 1/2 cup (a little more for dusting etc.)
Sugar – 2 TBSP ( Like I said, I will use a little more next time)
Milk – 1 1/2 cup (warm) + 1/2 cup (for brushing)
Active dried yeast – 2 1/2 tsp
Salt – to taste
Sesame seeds – 1 tsp (for topping)
For the filling:
Potato – 1 large
Radish leaves – 1 cup (finely chopped)
Dry Cooked moong dal / green gram – 1 cup
carrots – chopped – a handful (blanched)
Salt – to taste
Dry masalas (each 1 tsp) : Garam Masala, Red chilly powder, Kitchen king masala, Amchur(dry mango powder)
Green chillies – 2 or 3 (adjust to taste)
Turmeric – 1 tsp
Oil – 2 TBSP
jeera / Cumin seeds – 1 tsp
Method:
Sieve flour with salt. Proof yeast in warm milk and sugar.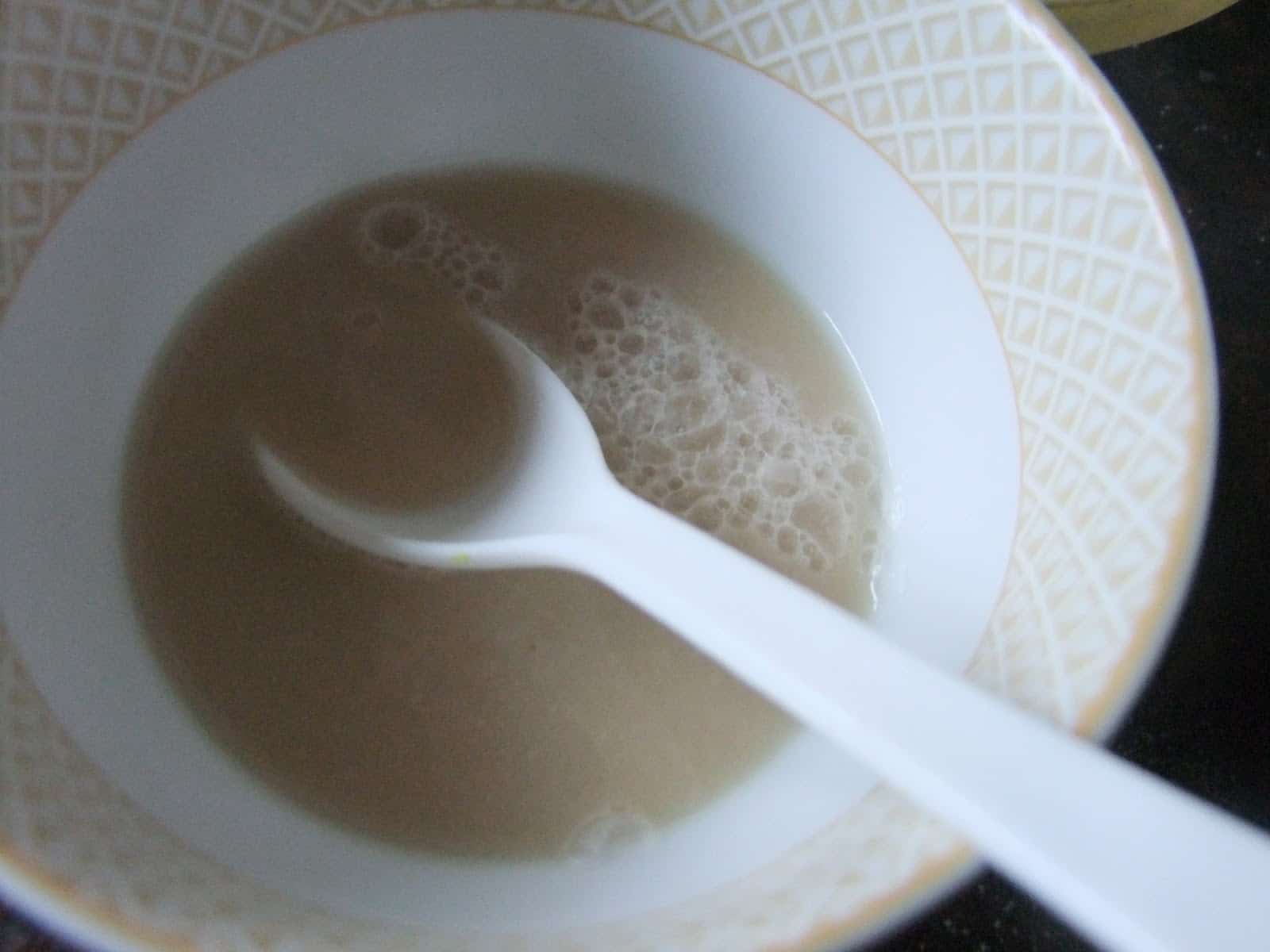 Pin
Make a well in the flour and add the yeast, milk and mix well. Knead till elastic. Cover with a film of oil and leave in a bowl untouched for 3 -4 hours ensuring you wrap a kitchen towel or cling wrap over the dough.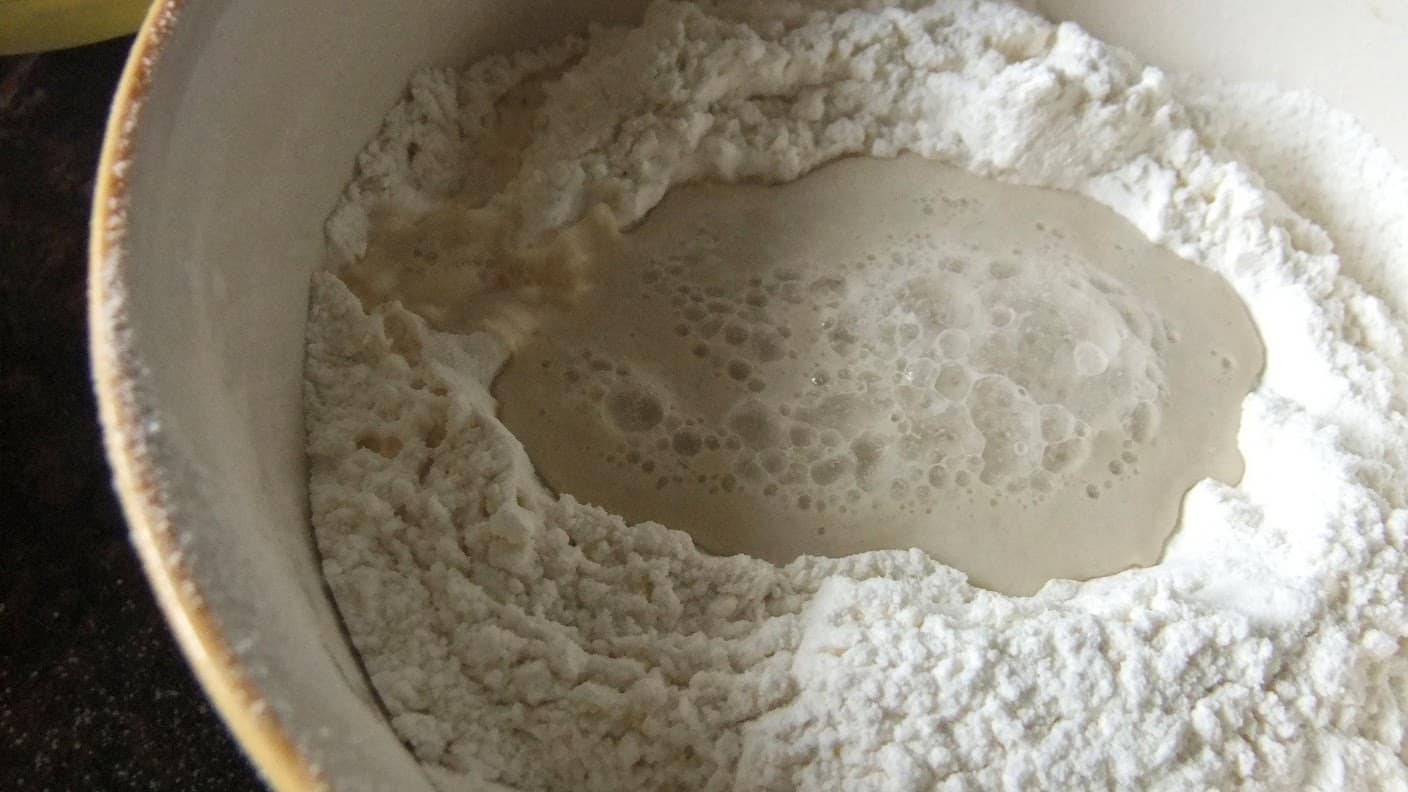 Pin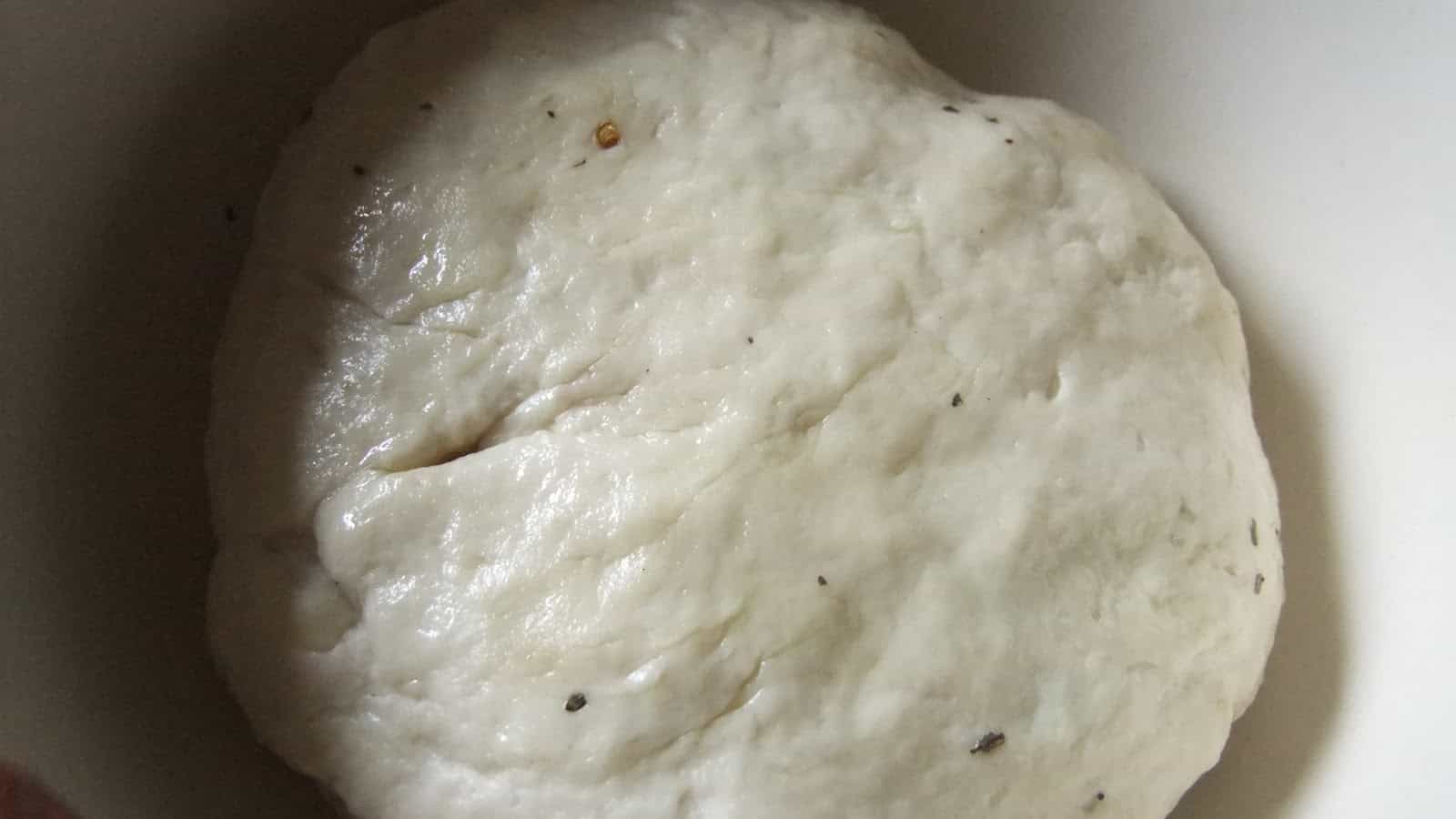 Pin
Meanwhile, boil and mash potatoes. In a skillet, add oil. splutter cumin. Add onions, mashed potatoes, moong dal, chopped radish leaves,chillies and saute well. Then add the masala powders and the blanched veggies. Mix well. Cool and divide into equal portions.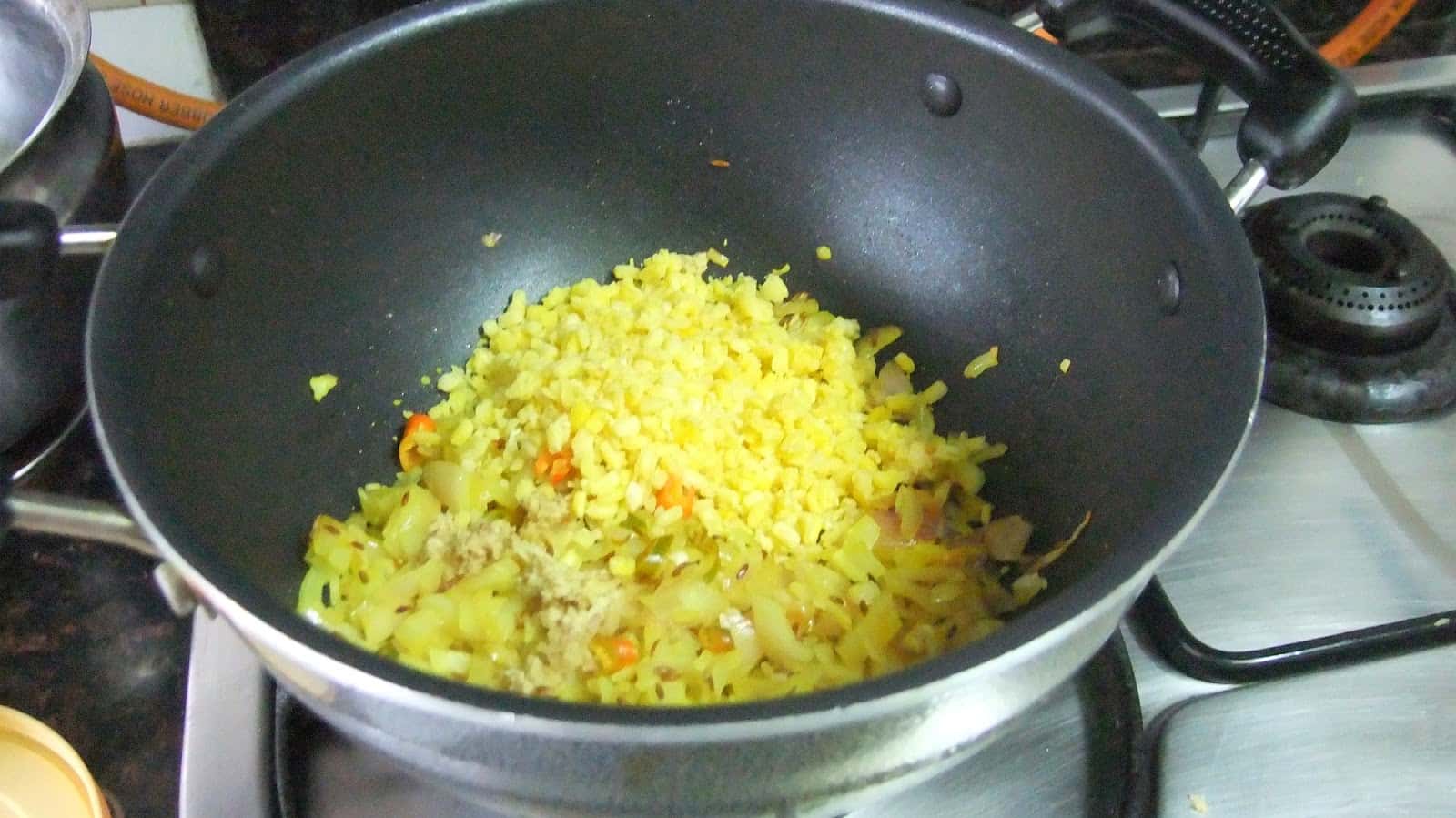 Pin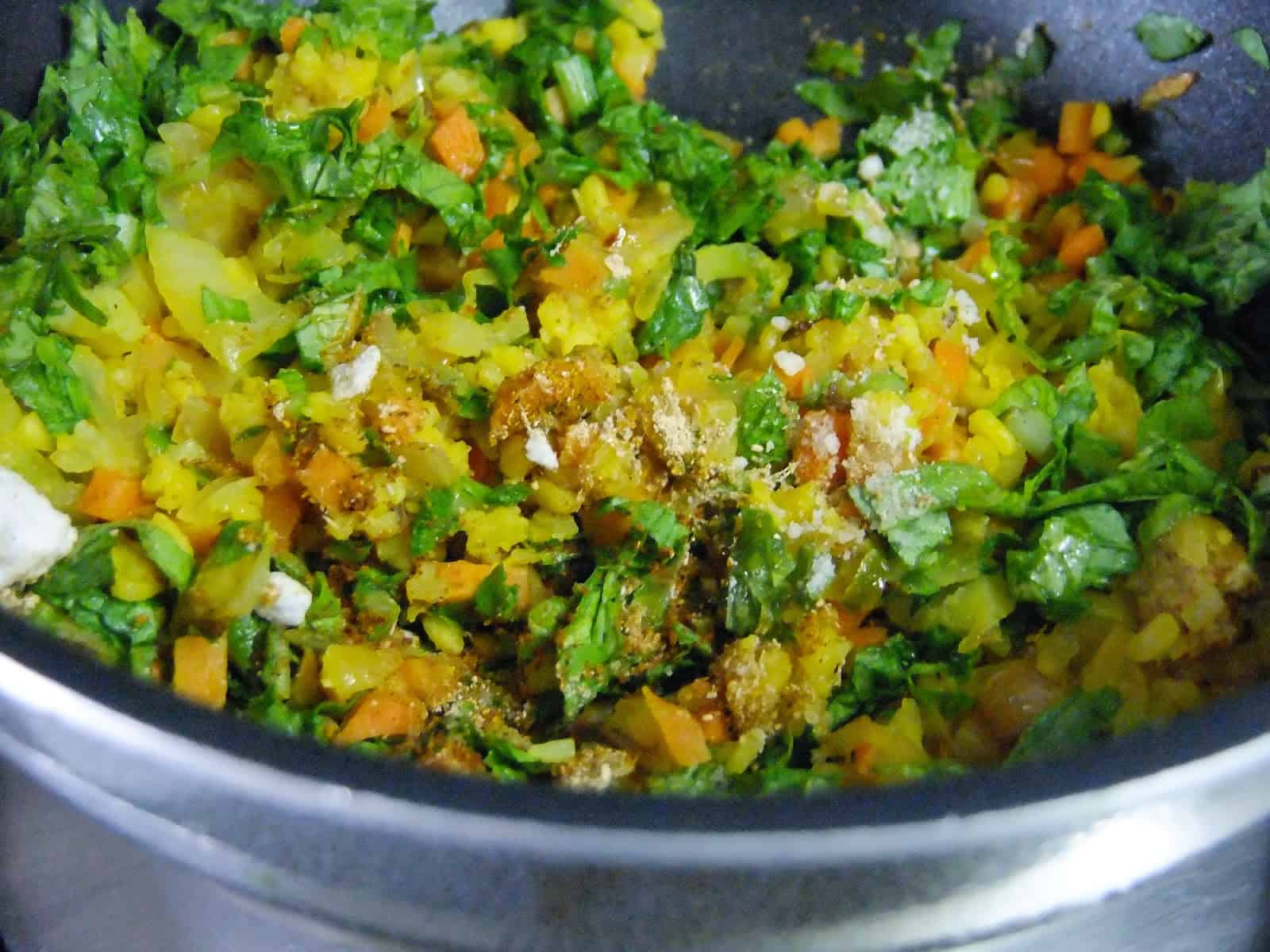 Pin
Once the dough rises, punch it down a little bit and make equal sized roundels. On a floured surface, roll out discs of 4 inches, put one portion of the stuffing and cover from all the ends to seal it.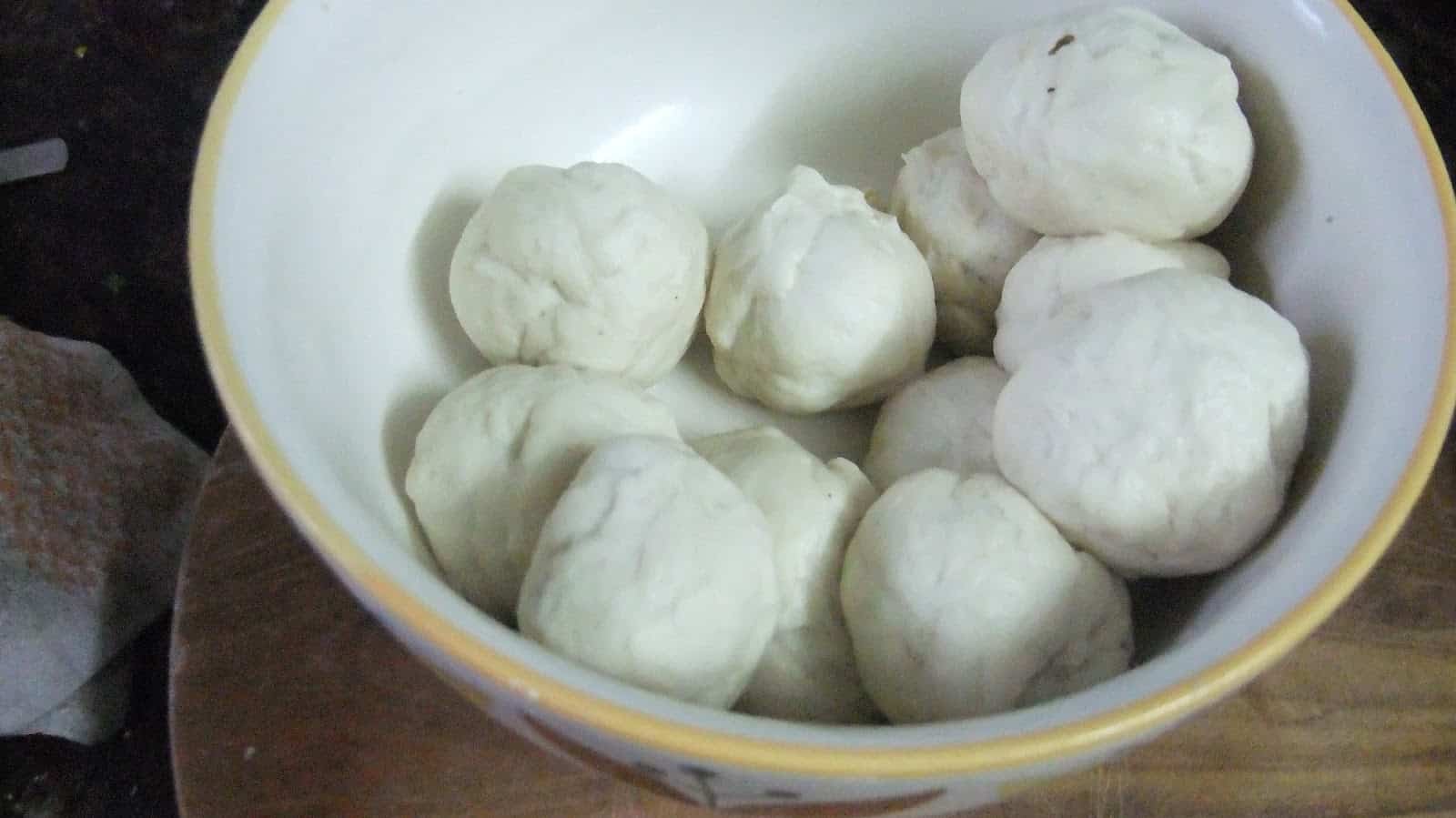 Pin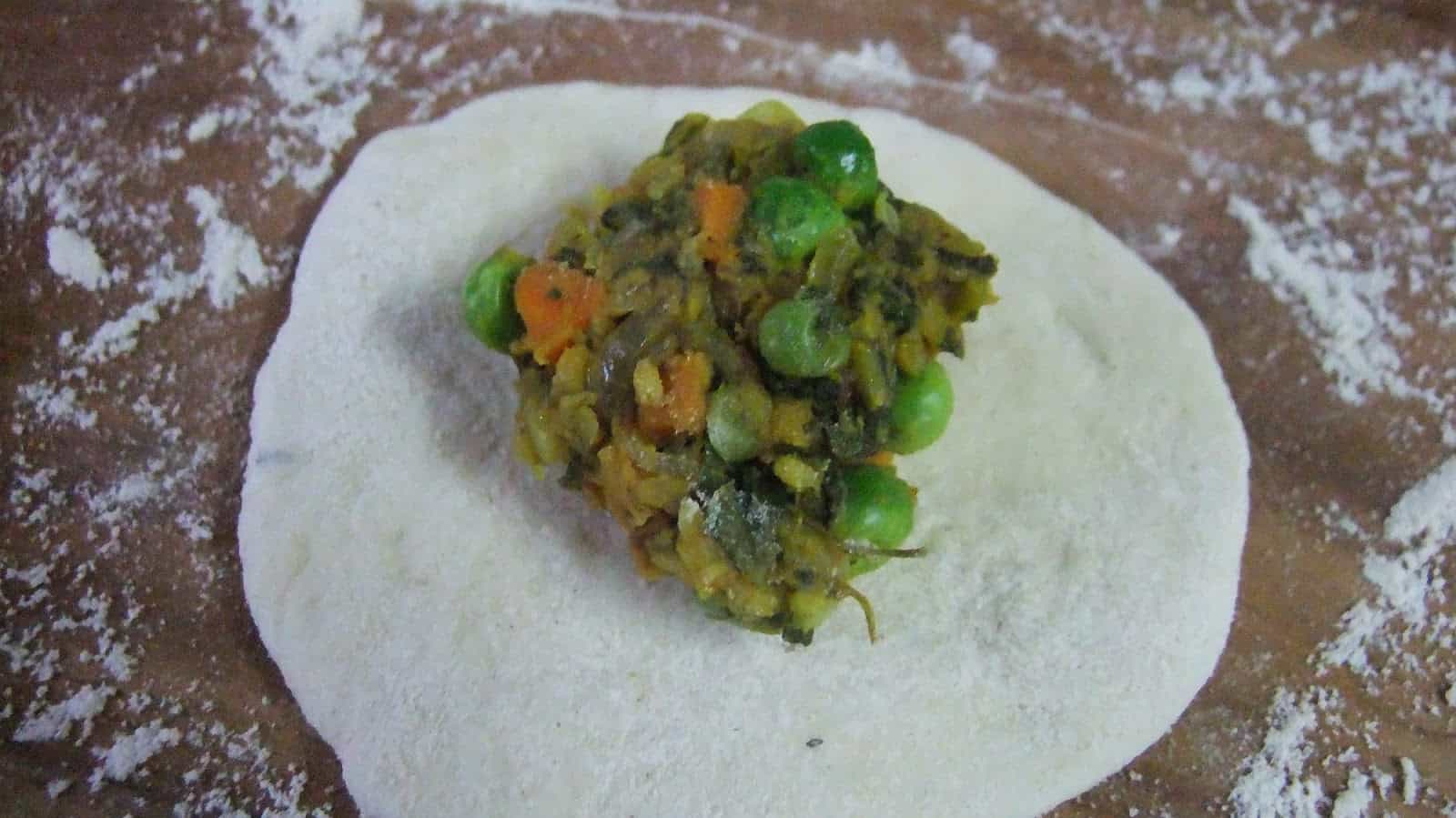 Pin
Turn over and wash it with milk and place in a greased and floured baking tray. Top with sesame seeds.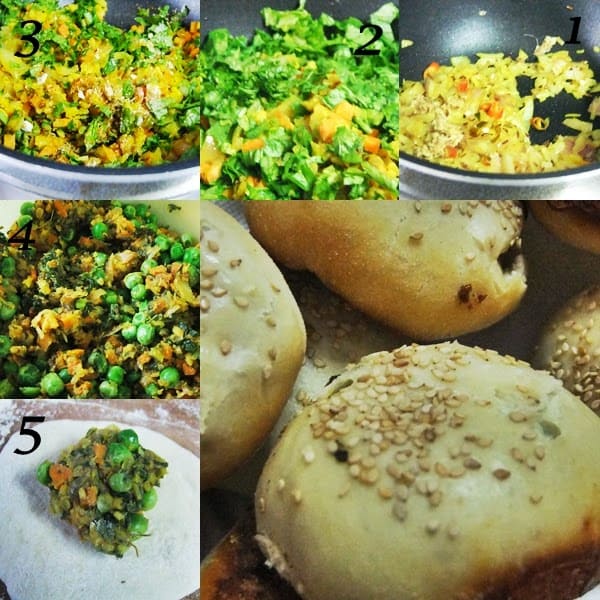 Pin
Repeat with remaining dough roundels. Keep covered for 45 – 60 mins more till they rise again.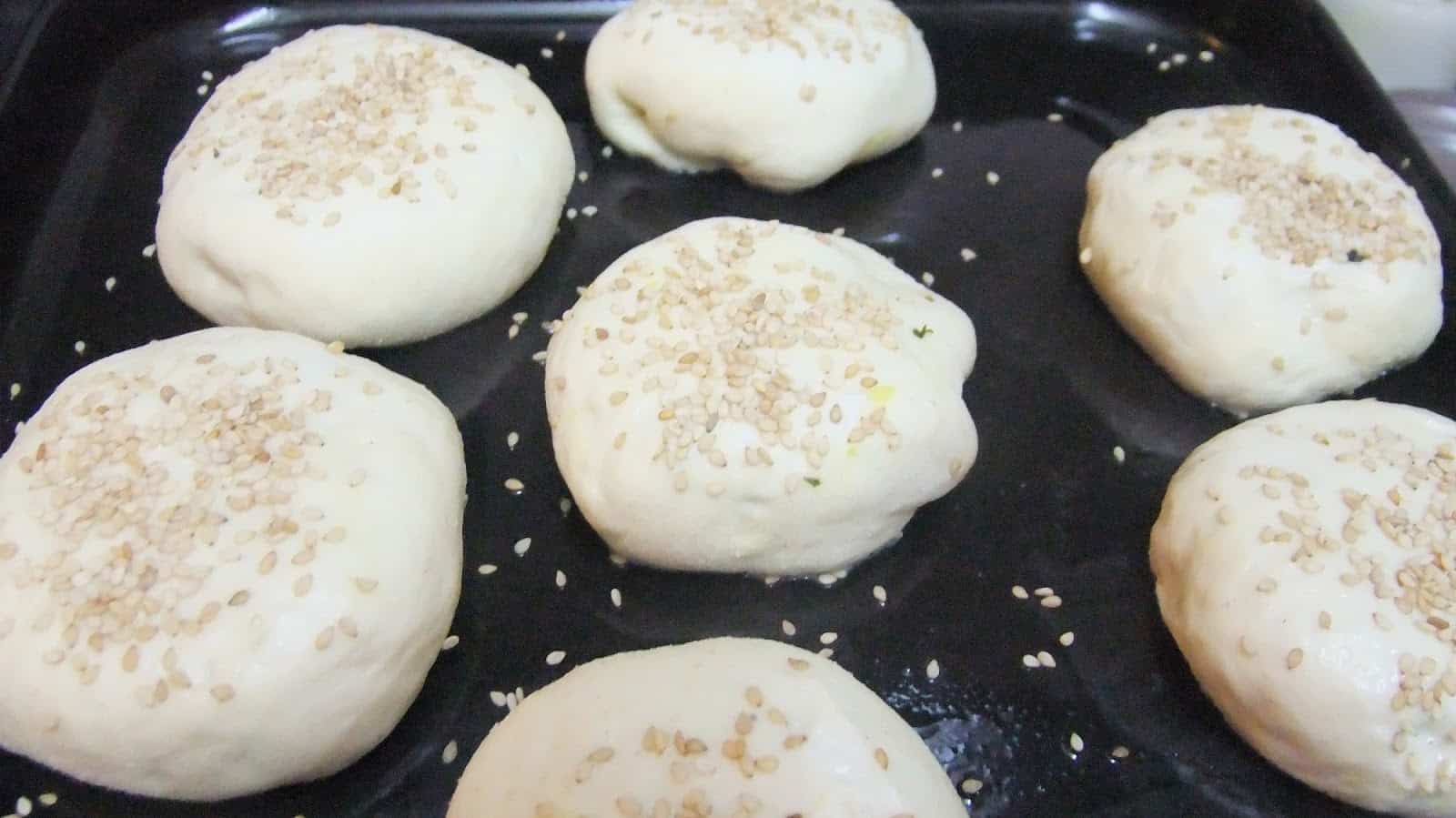 Pin
Pre-heat oven to 180 C and bake the buns for 12 – 16 mins till done. Milk wash them in between if required.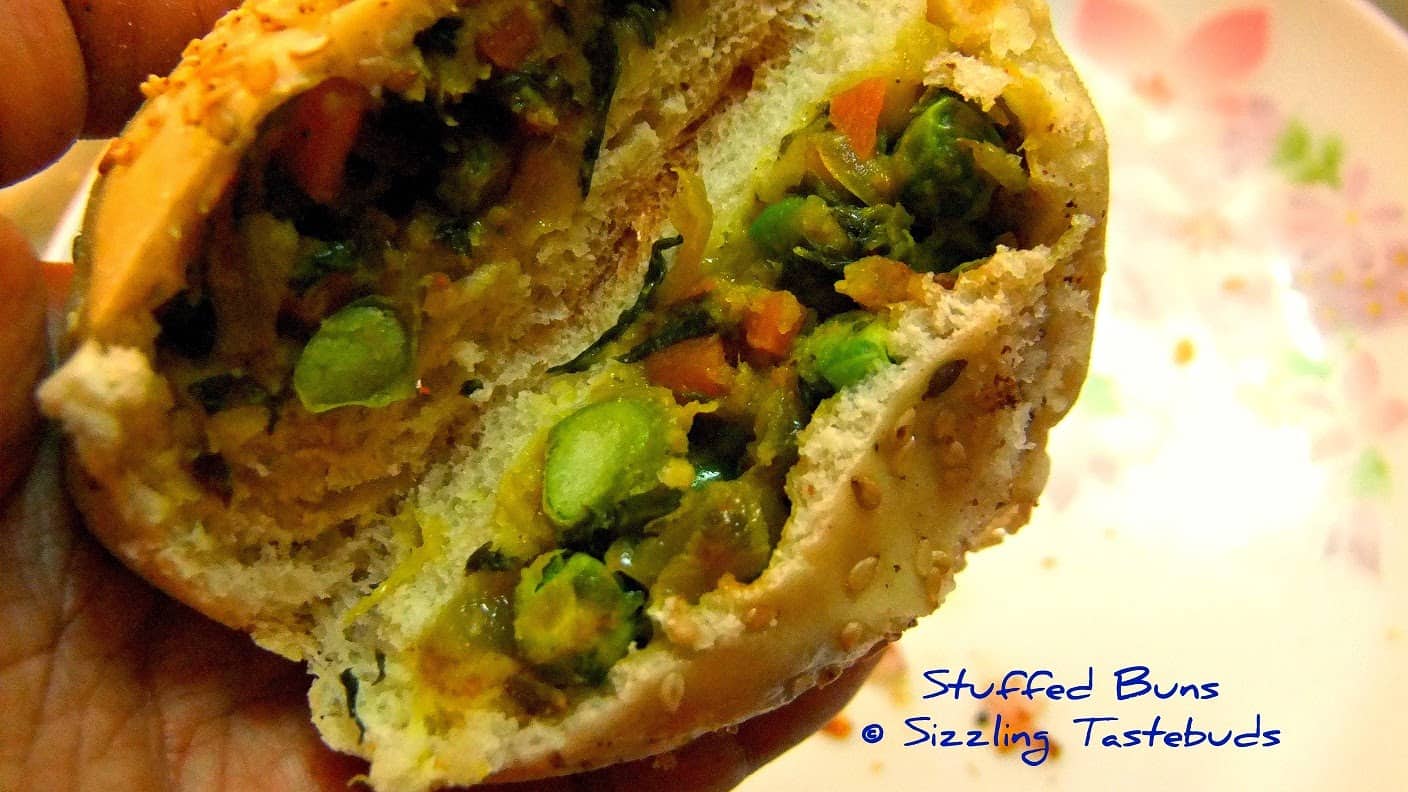 Pin
For the herbed sticks:
1) Take the dough roundels and slightly roll them out into bread sticks.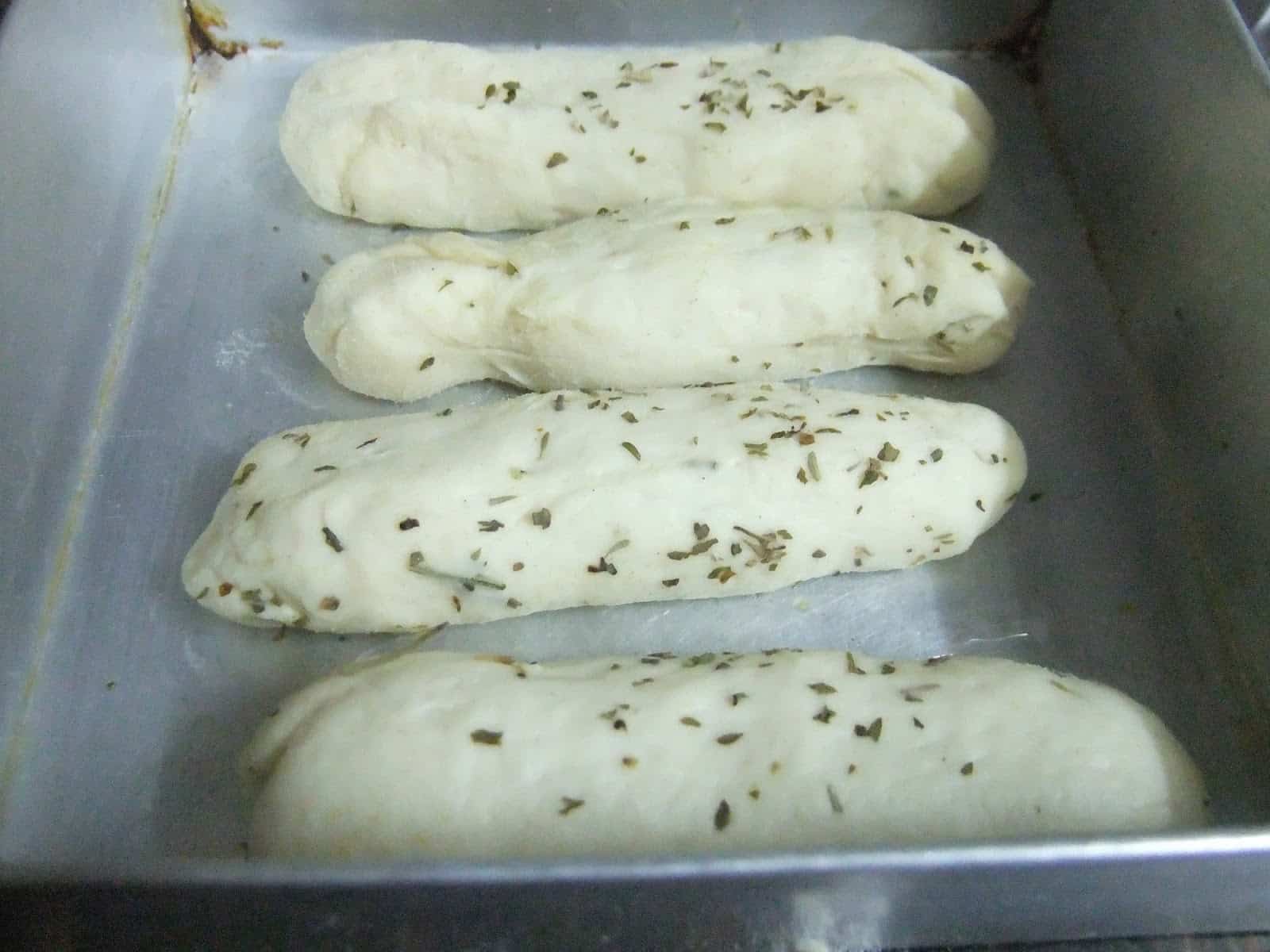 Pin
2) Apply a mixture of dried herbs (I used Italian / soup seasoning) over them. 
3) Bake for 10- 12 mins till done.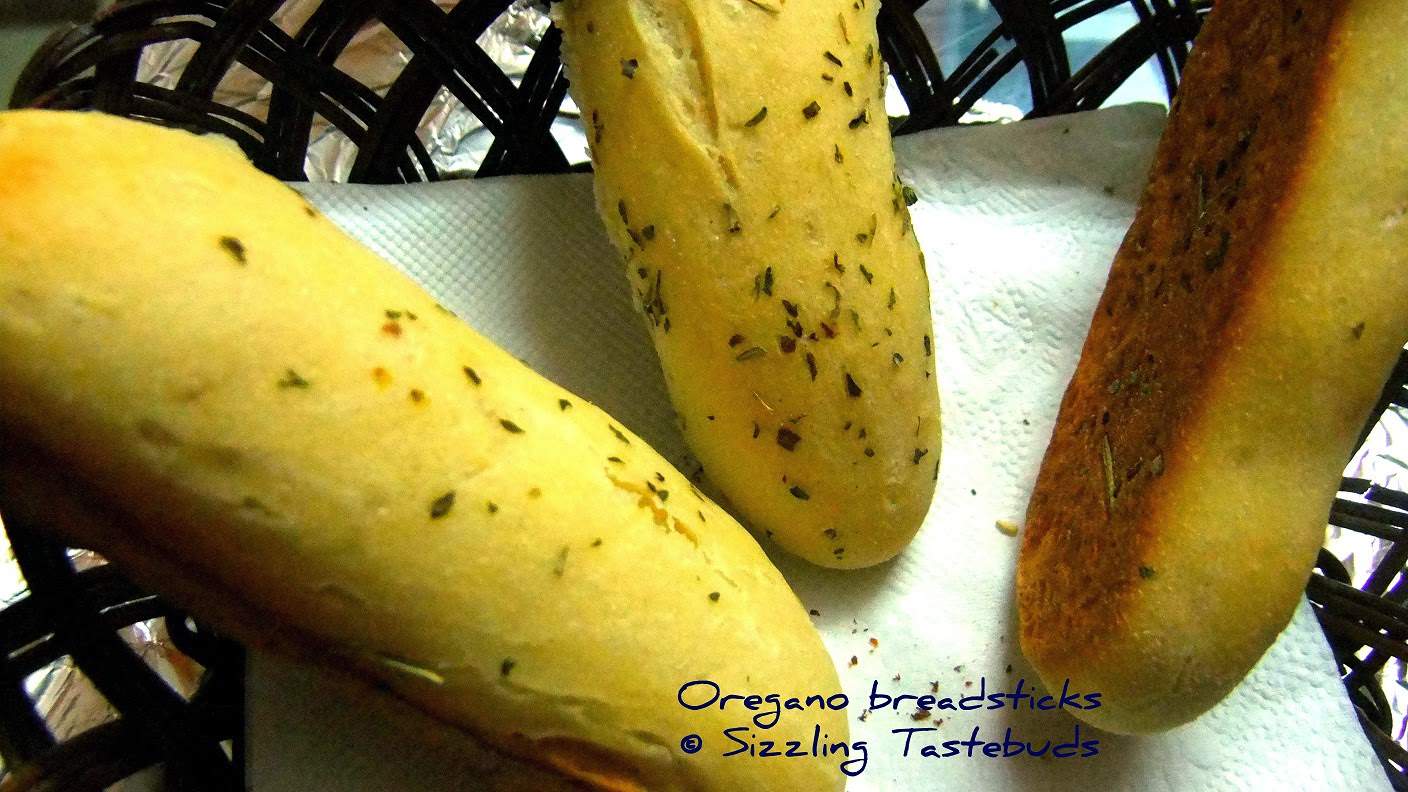 PinPin