Spinach and Corn-cheese – creamed, grilled, sandwiches, Quesedillas – they never fail to please kids and adults alike. I tried out this Baked Spinach and Cheesy corn Quesadillas last evening and kiddo who generally takes a long time to be persuaded to a new dish took to this immediately, also saying she wants this at her birthday party next year (which is almost 7 months away – kids have a way of planning their birthday party for next year, almost from the next day of the last one :-)) Anyways, i was happy at adding one more healthy dish to the menu. This dish originated in Mexico, and the name is derived from the Spanish word queso (cheese). You can substitute the spinach with any greens of your choice or just make it with only veggies, and no greens. You may add a tsp of green chutney or even sprinkle chilli flakes if you want this spicier.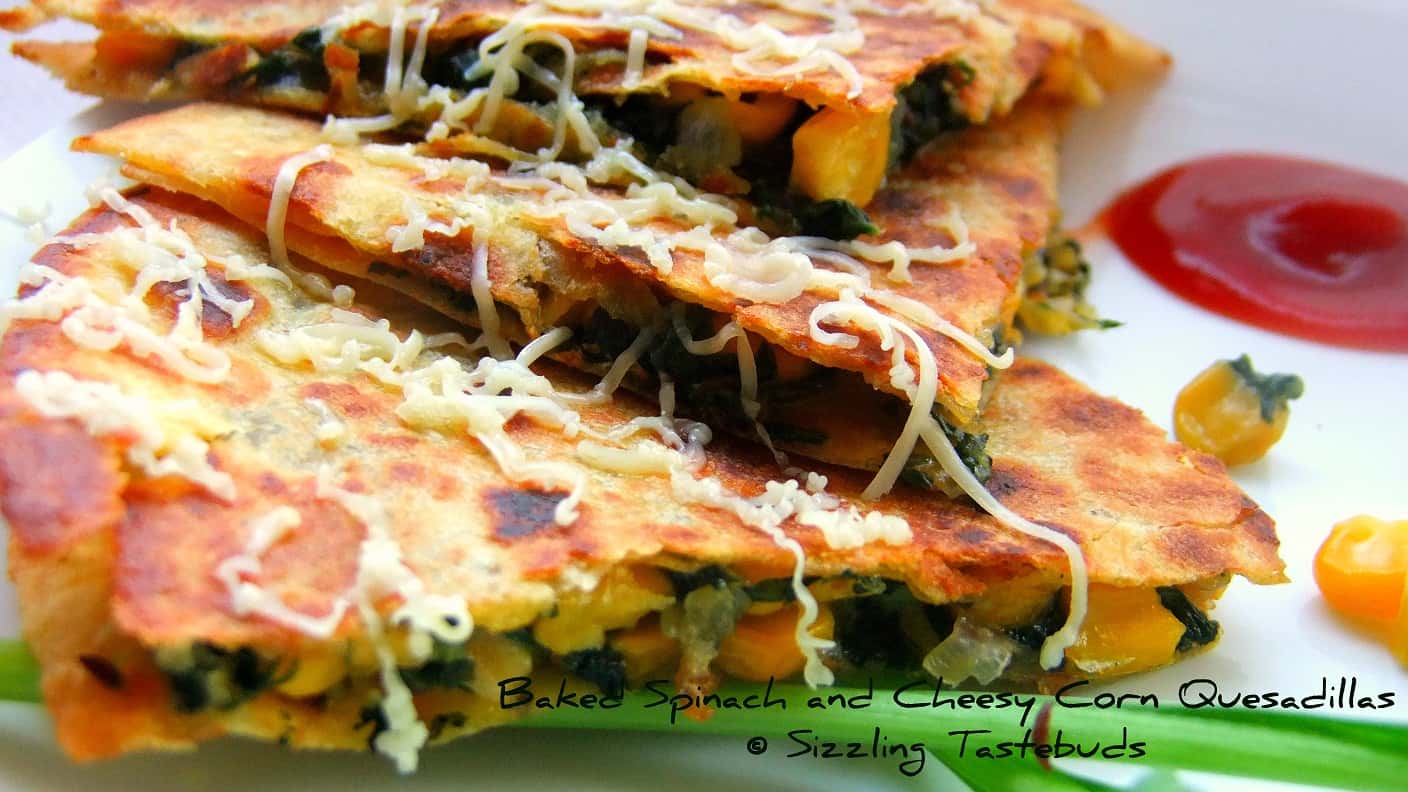 Pin




Update : Sending this to Vardhini's Cooking with Whole Foods – Spinach, event by Kiran


Now off to the recipe..Prep time : 30 mins. Cook time : 20 mins. Serves : 2Ingredients(A) Corn Tortillas: (Makes 4)
Maize flour / Makai atta – 1/2 cup
APF – 1/4 cup
Salt – to taste
Oil – 2 tsp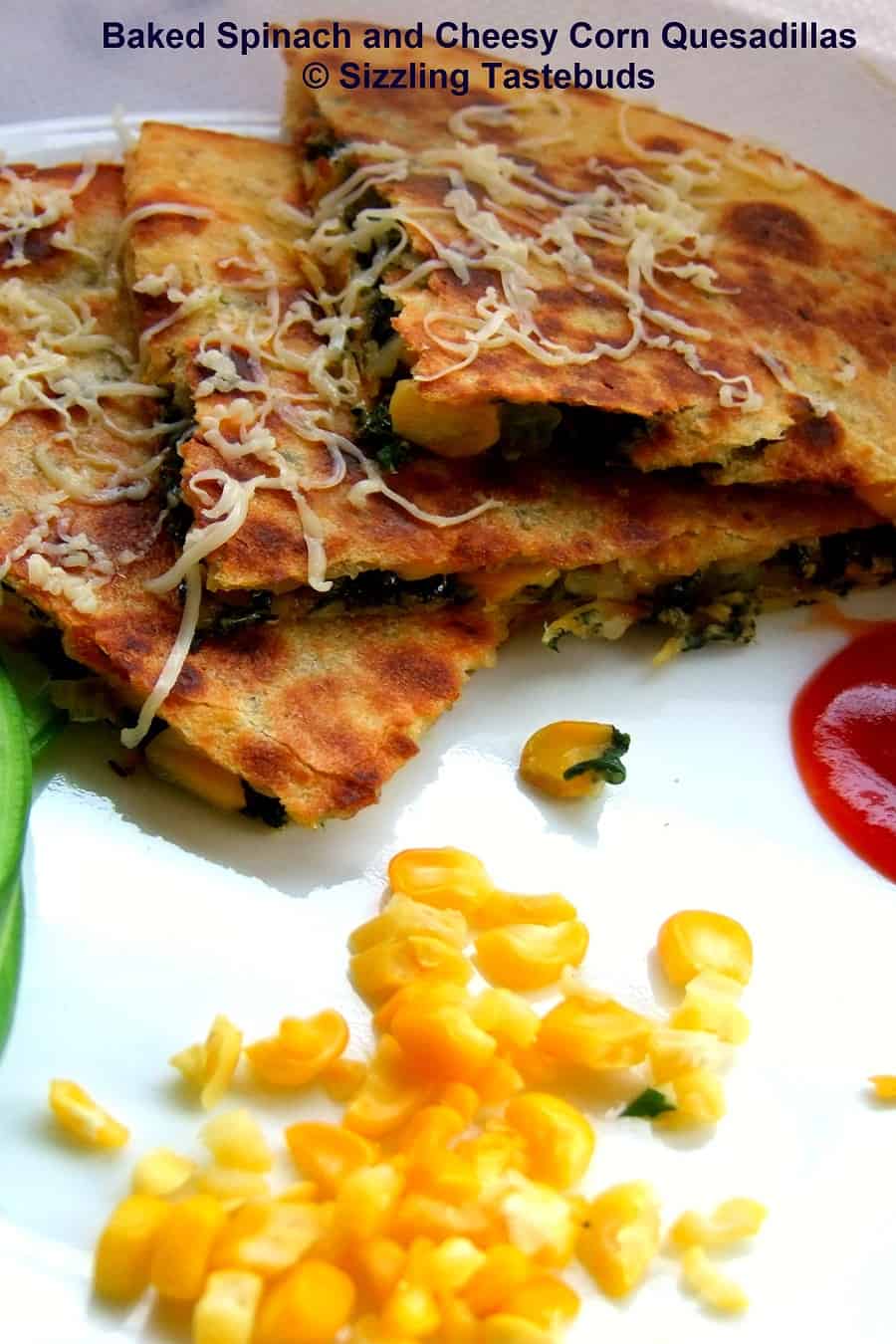 Pin

(B) Quesadillas:
Spinach – 1 cup

Sweet corn – 1/2 cup – boiled

Onion – 1 medium – chopped fine

Grated cheese – 1/2 cup

Salt – to taste

Tomato ketchup – 1 tsp

Sugar – a pinch

olive oil – 1 TBSP

Pepper powder – 1/4 tsp

Optional addons : Mushrooms / grated carrots / capsicum (bell pepper)

Tortillas : 2 nos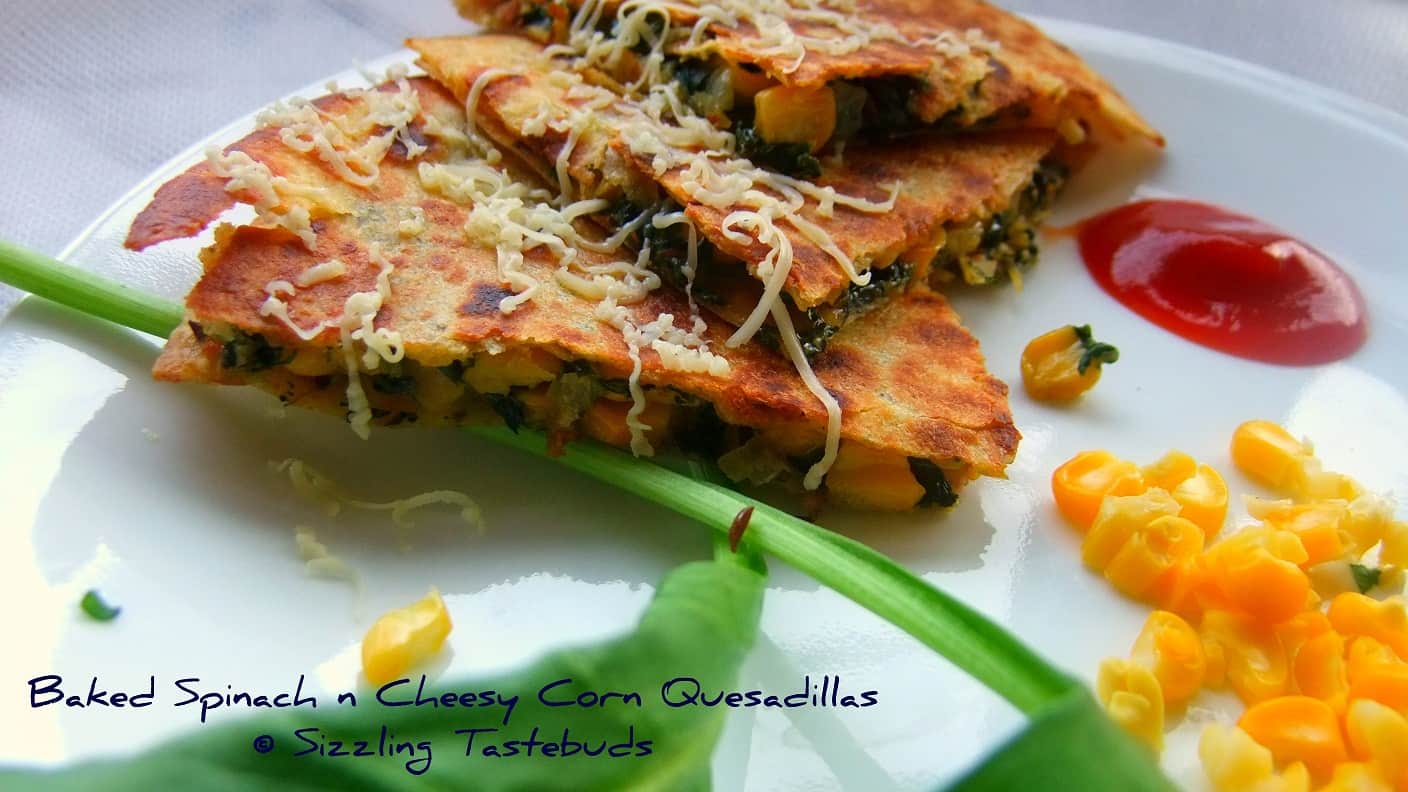 PinPin
Method:(A) Tortillas:1) Sieve and mix flours well. Add oil and salt and make a dough with warm water. Knead Set aside covered for 30 mins. Knead again.2) Like rolling out normal Indian breads, pinch out equal portions of the dough and roll out on a floored surface. 3) Heat a tava and bake for 10 seconds on each side. Store in an airtight container lined with muslin cloth (to keep them soft till us)(B) Quesadillas:1) Heat oil in a pan. When adequately hot, add chopped onions. Fry well. Add the spinach and half the salt and saute well. Cover for 2 mins till the spinach wilts. 2) Now add the boiled corn (tip : pulse once to render them softer and smaller biteons) and the tomato ketchup. Add the pepper powder and mix well.3) Keep flame on low and mix in half the cheese. Tip – use as minimum salt as possible as ketchup and cheese both salt in higher proportions. You may altogether avoid extra salt for this filling.4) Meanwhile, heat oven to 140 deg C for less than 5 mins.5) Place one of the tortillas in a slightly greased and floured baking tray. Spoon over it the spinach-corn mixture. Top with the rest of the cheese and cover with another tortilla and press lightly to seal. Bake for 4 – 5 mins (you may do this on a tava too, but the oven baked tortillas with the melted cheese was heaven)6) Once done, cool a bit, and cut into quarters and serve !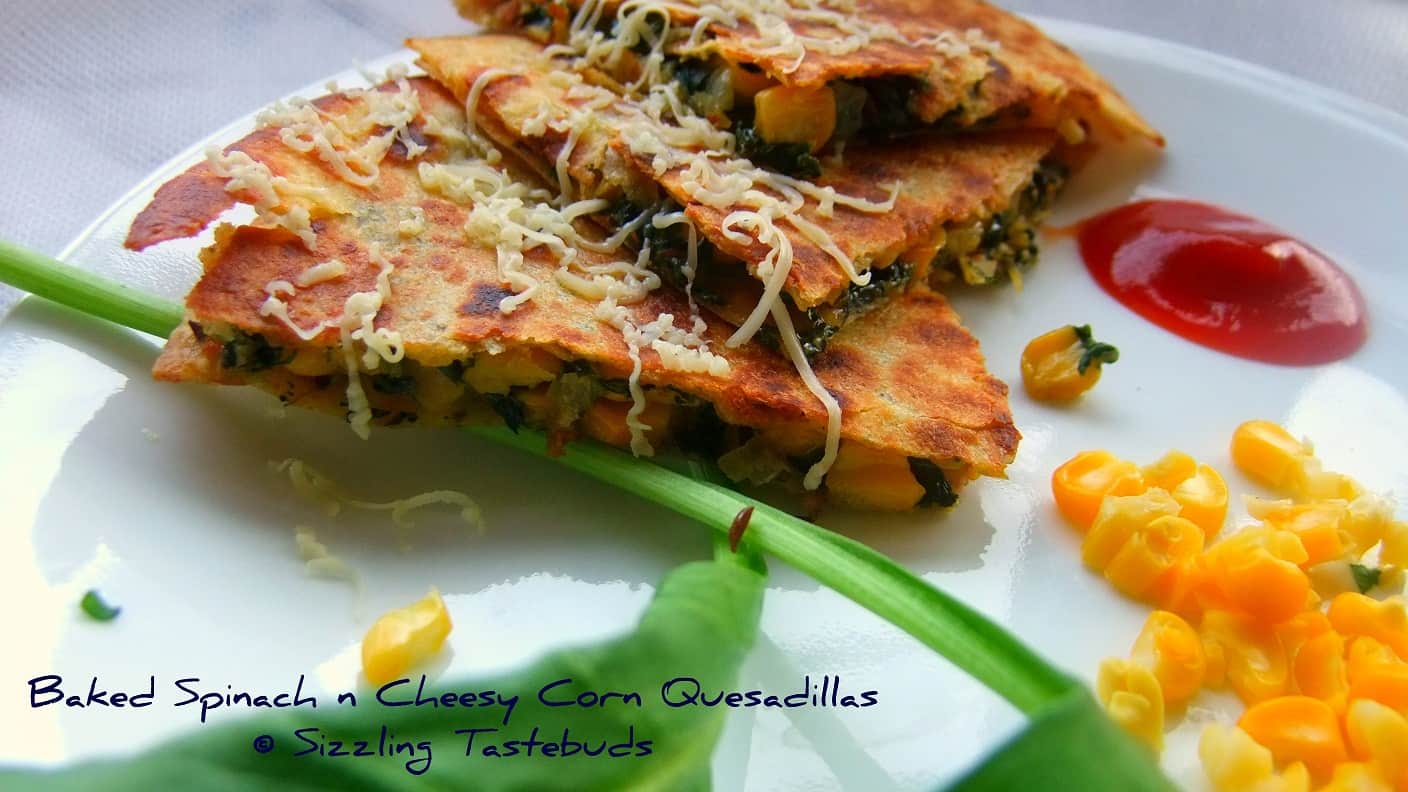 PinPin
… And now to the giveaway…. !! 🙂 Dear friends : Thanks for your overwhelming support and enthusiastic response to the 200th Post and Giveaway published at this blog – it truly reinforced that the world is indeed a small place, and I am filled with gratitude for all your good wishes.. I am sure this blog shall present health and nutrition filled options for you and your family…And now to the winner – shall keep this announcement short and sweet – The winner of the randomly picked contest is Kalpana Sareesh and she wins the book by Tarla Dalal – Tarla Dalal's "Desi Khaana". I am sure your kitchen would be richer by its presence. Congratulations to Kalpana – please respond to the email to confirm within 2 days, failure of which I would pick another winner and notify them immediately. Thanks again to all participants !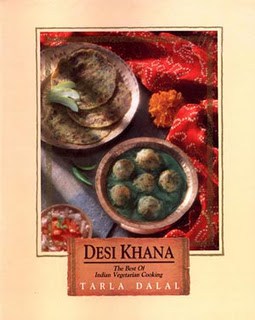 Pin
True Random Number Generator Result:26