After yesterday's Mini Meals (Series 2) with diabetic theme, today's is another healthy and filling Homestyle Mini Thali – nothing fancy, yet vegan, GF and diabetic friendly + also satvic (no ginger / onion / garlic) . 
Keerai / Soppu (or greens in general) have high fibre content and help in absorption of vital nutrients. I am indeed fortunate to have an ample supply of fresh greens through the year where I live, although the range / variety is limited, we make various dishes with the greens as part of a standard weekly meal plan. 
With her varying tastebuds, one thing that my elder one LOVES anytime is the Methi Thepla (which I am surprisingly yet to post). The family as a whole is partial to greens so we lap up pretty much all the greens we can lay our hands on. 
Other dishes we make with greens are:
…..and many more….
Lets get to the Homestyle Thali today. We have (anticlockwise from top):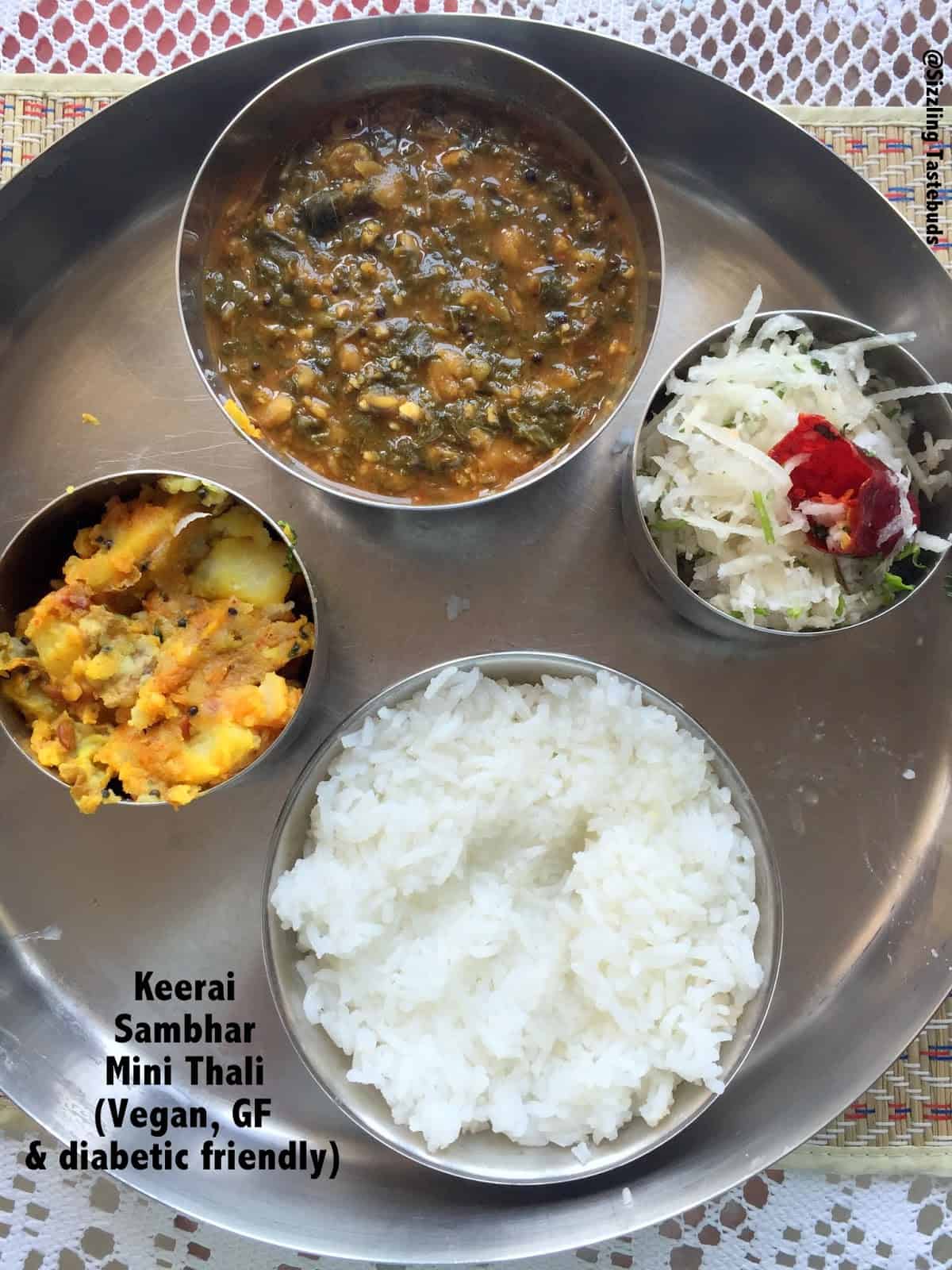 Pin
Keerai Sambhar (Red Chawli leaves / (Lal Maath in Marathi) in lentil gravy)
Vazhakkai Podimas (Raw Banana lightly spiced stir fry)
Steamed White Rice
Moolangi Kosambari (radish raw salad) 
Amma made this Thali, and we devoured it (post of course clicking a perfunctory clicks which gave no opportunity to style these better). Of course, as a homestyle thali theme this week, it was ok to have a rustic and simple meal like this. 
Lets get to the recipes – all the following ingredients make a meal for 3 adults.
(A) Keerai Sambhar :
We need:
Greens – 2 cups (washed, cleaned/ sorted and chopped fine – Palak / spinach won't work here, but you can use a mix of greens like Mustard greens, Methi, Palak, Chawli (arakeerai))
Toor dal / split gram – 1/4 cup
Oil – 1 tsp
Turmeric – 1/4 tsp
Sambhar powder – 2 tsp
Tamarind paste – 1 tsp
Jaggery – 1/2 tsp 
Salt – to taste
Fresh / frozen coconut – 2 tsp
Tempering : Mustard seeds, Channa dal (split bengal gram), red chillies – 2 nos, Asafoetida (skip for GF dish)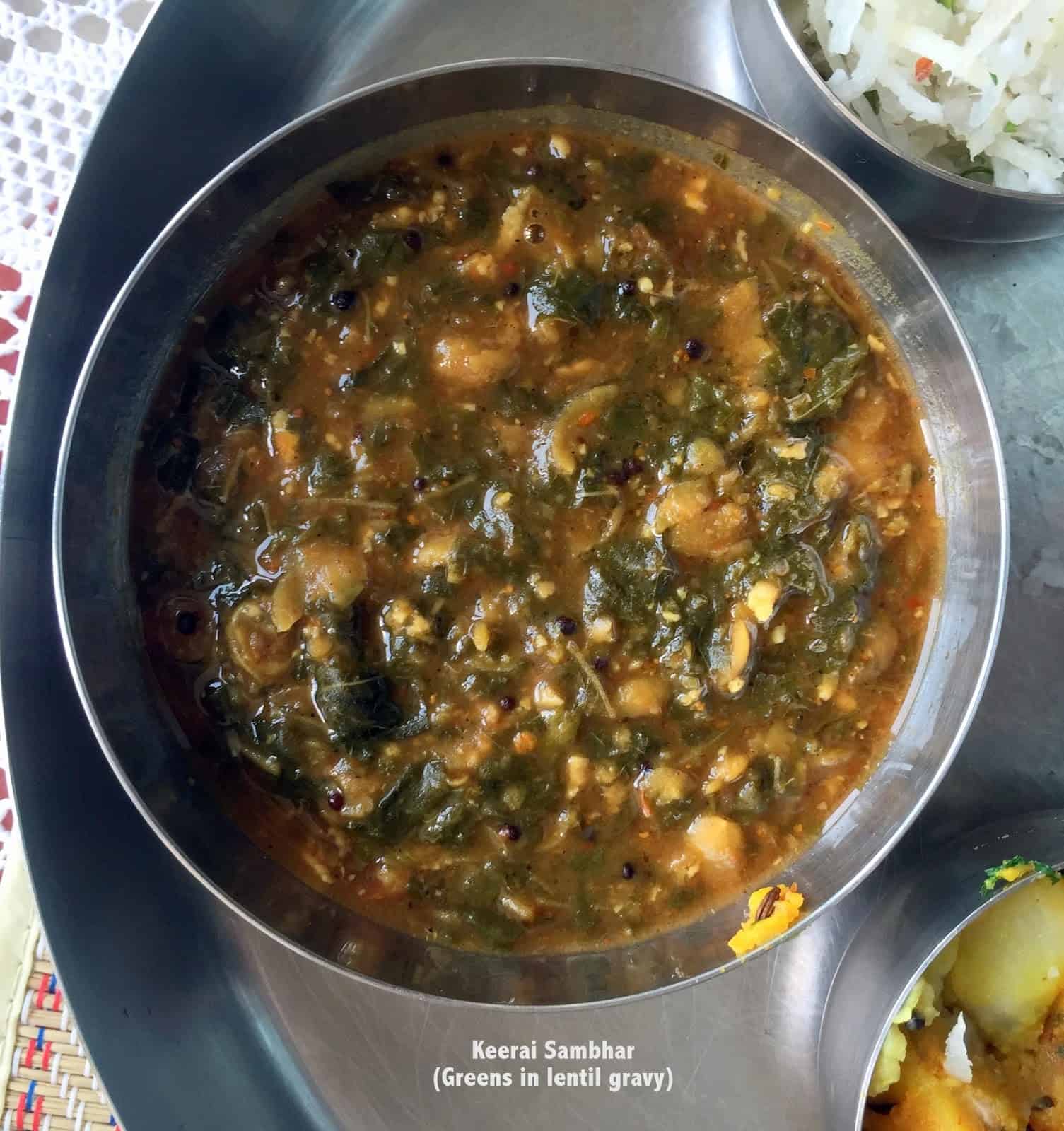 Pin
Method:
Wash the greens well several times under running water. Drain and chop finely. While doing so, soak the toor dal in hot water for 15 mins.
In a small pressure cooker, add the chopped greens, turmeric, half of the salt, soaked dal, 1/2 cup and pressure cook for just 2 whistles. Let the pressure come down on its own
(If not using a pressure cooker, saute greens in 1/2 tsp oil and add soaked dal, required water and let it cooker till the dal becomes mushy – it might take a while in this method)
In the same cooker, mash the greens+dal mixture lightly, Add remaining salt, tamarind paste, sambhar powder, jaggery and let it come to a simmer. 
Check for salt and spice and adjust accordingly.
In a small pan, prepare tempering with oil, mustard seeds, channa dal, red chillies, hing (if using) and pour onto the simmer dal
Finish with grated coconut and let it simmer for 1 more min.
Serve hot with steamed rice or evenRagi Mudde(finger millet dumplings) for a rustic meal.
Notes: This sambar is quite thick so add little water as indicated. A runny sambhar loses taste after simmering. 
(B) Vazhakkai Podimas – Raw Banana steamed and dry saute.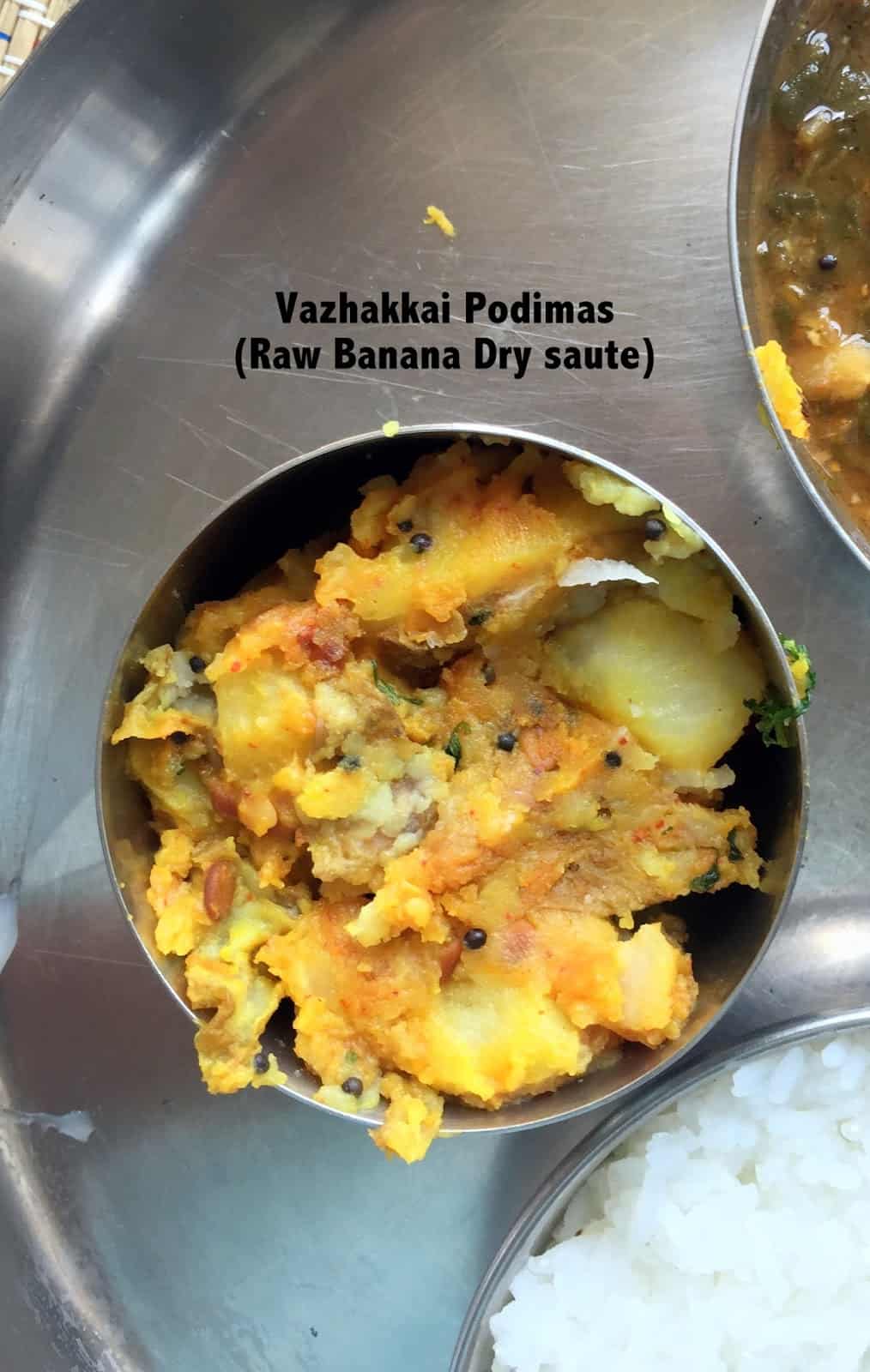 Pin
This is similar to the spicy Potato Podimas. Except for the following changes:
Pressure cook the trimmed raw banana with skin for 2 whistles – peel and chop (Alternatively peel and cube into bite sized pieces) 
(C) Mullangi Kosambari – Raw radish salad tempered.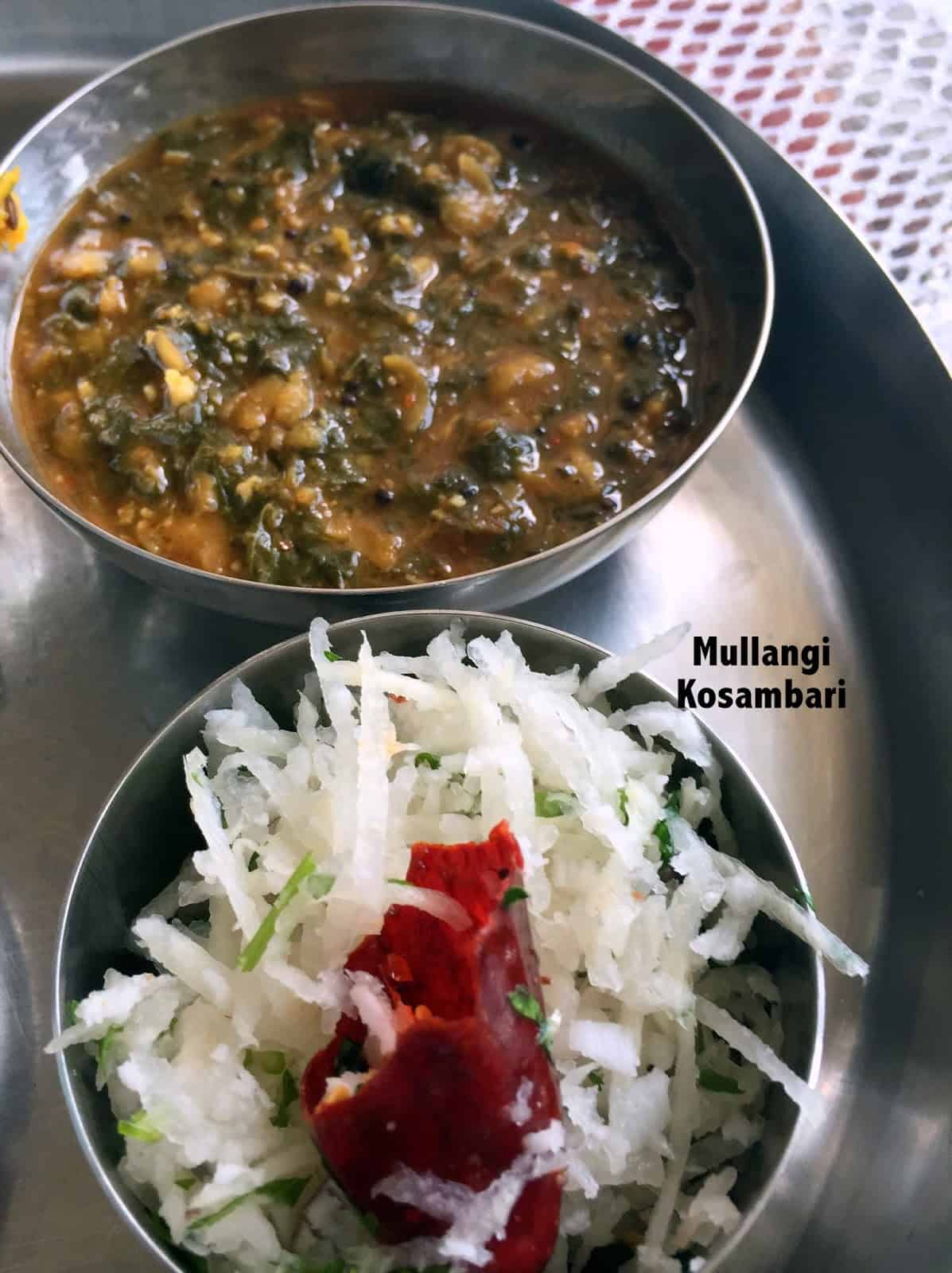 Pin
Click for recipe here (just skip the moong dal & coconut here and proceed)
Stay tuned for a third homestyle thali tomorrow 🙂
Sending this to BM # 70 under "Thali Series"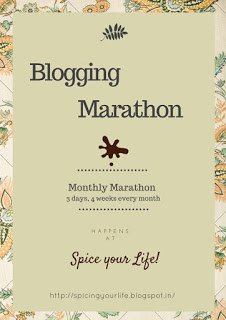 Pin