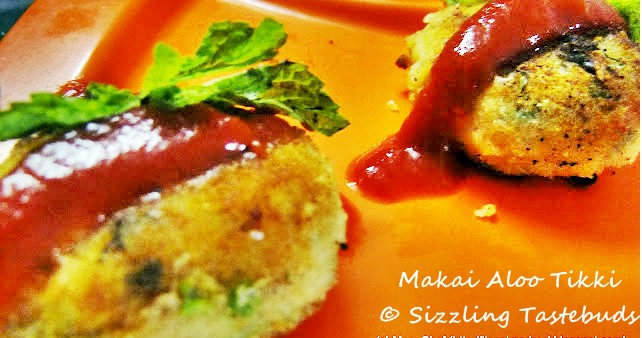 Pin
First, a brief history of Corn (Hindi – Makai,Tamil –Shozham,Kannada-Jola):
"Sweet corn (Zea mays convar. saccharata var. rugosa; also called Indian corn, sugar corn, and pole corn) is a variety of maize with a high sugar content. Sweet corn is the result of a naturally occurring recessive mutation in the genes which control conversion of sugar to starch inside the endosperm of the corn kernel. Unlike field corn varieties, which are harvested when the kernels are dry and mature (dent stage), sweet corn is picked when immature (milk stage) and prepared and eaten as a vegetable, rather than a grain." Source : Wikipedia
Frozen corn / American cornalong with Baby cornbecame popular in Indian cuisine, atleast in middle class households along with the Internet and multi cuisine restaurants. Much like mushrooms which, well invaded the working-woman's kitchen. Malls / food courts, Chinese restaurants & Multiplexes , Baby corn manchurian, Corn Chaat, Corn Tikkis were hot discussion topics both at school and high tea 🙂
My kid loves this Sweet corn boiled along with a pinch of salt / kala namak(black salt), and I love this for its very low in sodium and high in dietary fibre. 1 cup of Sweet Corn contains 132 calories, and just 1.8 gm of fat !! I add this to most sabjis, and last evening made Makai Aloo Tikkis -something I had wanted to make since a longggg time ! After the success of Beetroot cutlet, she quite likes tikkis, and its very easy for me to sneak in veggies as well !!
Note: The tikkis disappeared before I could snap a few pictures, and I was left with just two, which I managed to. My kid was at her enthusiastic best last evening, and offered to click snaps of the filled potato cups (well it blurred a bit, but the effort mattered!!)
Sending this to Priya's Kid's Delight event originally started by Srivalli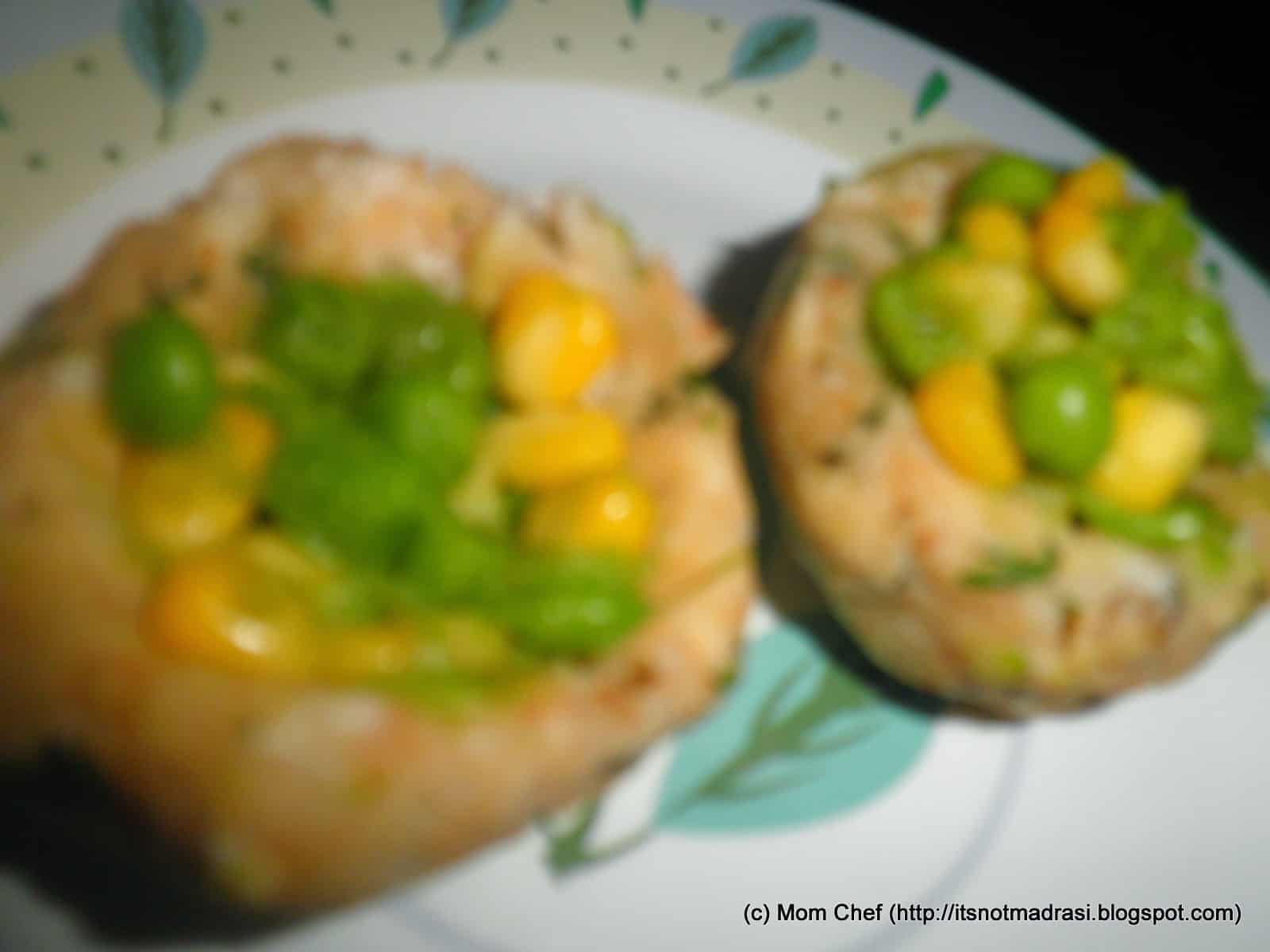 Pin
Preparation time : 20 mins, Cooking time: 20 mins. Makes : 6 tikkis
Ingredients:
Boiled and grated potatoes – 3 nos (medium)
Boiled corn – 1/2 cup
Boiled green peas – 1/4 cup
Turmeric – 1/2 tsp
Amchur / Dry Mango powder – 1 tsp
Chat Masala – 1/2 tsp
Red chilli powder – 1/2 tsp
Green Coriander chopped- 2 tsp
Mint leaves – few
Lemon juice – 1/2 tsp
Salt – to taste
Oil for frying
For the covering:
All Purpose flour (APF) / Maida – 3 tbsp
Corn flour – 1 tbsp
Salt – a pinch
Bread crumbs
Method:
1) In a large bowl, add the grated potato, salt, turmeric, amchur, red chilli powder, chat masala, coriander, mint and mix well. As far as possible, do not add water. Add a little cornflour if you find the mixture too watery.
2) In another bowl, mix peas, corn and lemon juice. Add salt and any other masala powder if you wish ( I didnt add green chillis / other masala as I was making this for the child)
3) Divide the potato mixture into 6 equal balls. Flatten out a little bit and with your index finger / thumb, make a depression and fill in the peas-corn mixture.
4) Cover the peas-corn with the potato and make into longish / thickish flat tikkis. Rest
5) In a bowl, add APF, cornflour, salt and add very little water to make a thickish slurry
6) Dip the tikkis into the slurry, then roll all over in the bread crumbs and shallow fry.
7) Serve hot with mint chutney and / or tomato ketchup
Tips:
1) You may add chopped onions, green chillies to make it a little more spicier
2) I shallow fried the tikkis . It may also be deep fried and served with Chole – another Punjabi delicacy 🙂
Sending this to Day 7 of Srivalli's Blogging Marathonunder "Kids Delight" category ! Its been 7 fun-filled days of knowing new foodies across the globe 🙂
Do check out my fellow bloggers on this marathon: Diabetes Diet/Management: Srivalli, Champa, Harini, PJ
Kid Friendly Recipes: Me, Shylaja, Veena
Seven Days of Soup: Usha, Sowmya
30 Minutes Meals: Priya Suresh
Seven days of Cakes: Anusha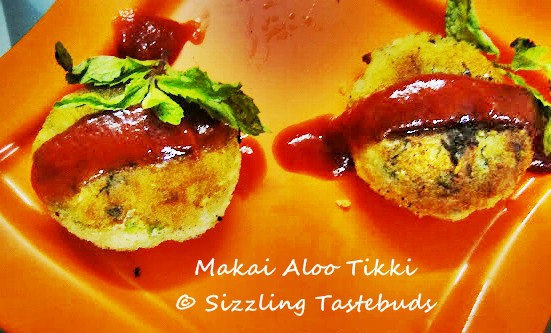 Pin