We enter Day 2 of the Bakeathon. This was one of the first bakes to be ready for this marathon. Having grown up in Bangalore with its umpteen bakeries, these buns along with Bakery style Toast, Omkaalu biscuits(carrom seed bread sticks), Khara Buns, Potato Buns, Khara Biscuits, baked Nipattu, Veg Puffs were the favorites that we loved to munch upon sometimes after school 🙂


Grandpa used to ensure our favourites were available atleast once a week and we used to jump on these goodies like hungry devils ! Sigh! wish those carefree days came back where we could eat to our heart's content without reading the calories or needing to login in the eats in a smartphone app 🙂


Well, today's recipe is adapted from Sandhya's blog. Although I had made savoury buns earlier, wasn't happy with the way it turned out. But this recipe is a keeper. I pretty much followed the steps with minor variations, and it was a winner. With some butter slathered on these warm buns accompanied by hot coffee / tea , it's a warm invitation after a long day and makes an excellent snack. Thanks Sandhya for a lovely recipe :-))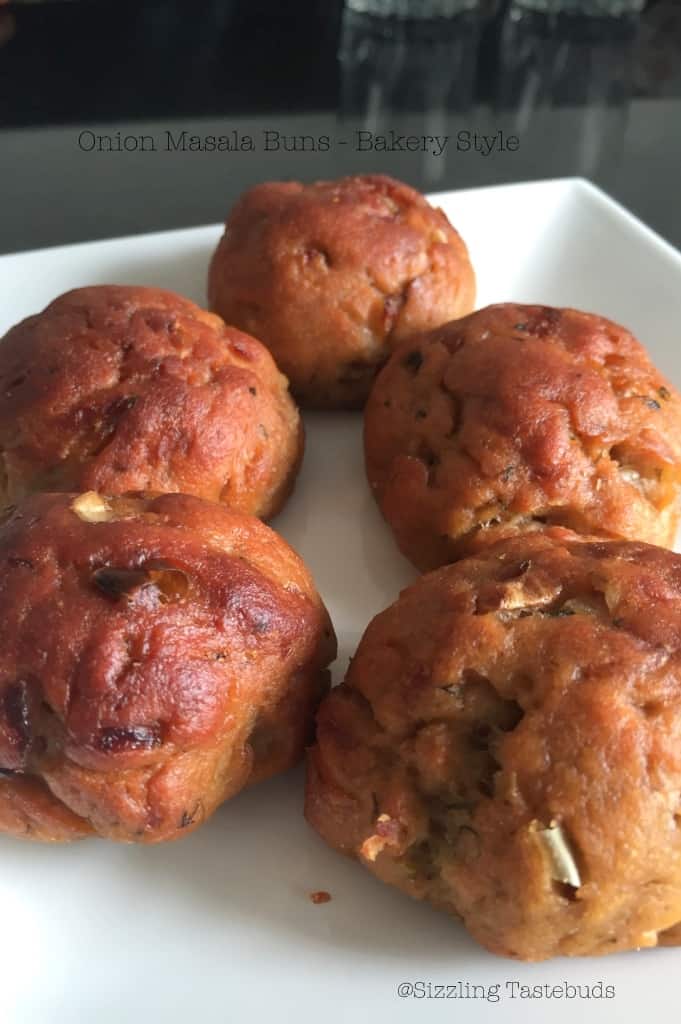 Pin


Iyengar Bakery Style Masala Buns – savoury snack


Prep time : 25 mins (incl kneading time) | standing / proofing time : 45 mins + 30 mins | Baking time : 15-18 mins | Makes : 8-10 buns (medium sized)


You would need: (here 1 cup = 240 ml)
All purpose flour – 3/4 cup
Wholewheat flour – 3/4 cup + 1/3 cup for kneading / dusting
Instant yeast – 2 tsp
Sugar – 1 ½ tsp
Salt – 1 tsp
Milk – 1/3 cup
Water – ¼ cup plus 2 tbsp (I didn't use all of it)
Butter – 2 tbsp + 1 Tbsp (to brush the buns) – use vegan butter to make the vegan
For the onion mixture –
Onion – ¾ cup (finely chopped)
Green chilies – 3 or 4 (finely chopped)
Coriander leaves / Cilantro – finely chopped (3 tsp)
Oil – 2 tsp
Salt – as needed
Cumin seeds – 1 tsp
Coriander powder – 1/2 TBSP
Topping:
Sesame seeds – 1 TBSP (optional)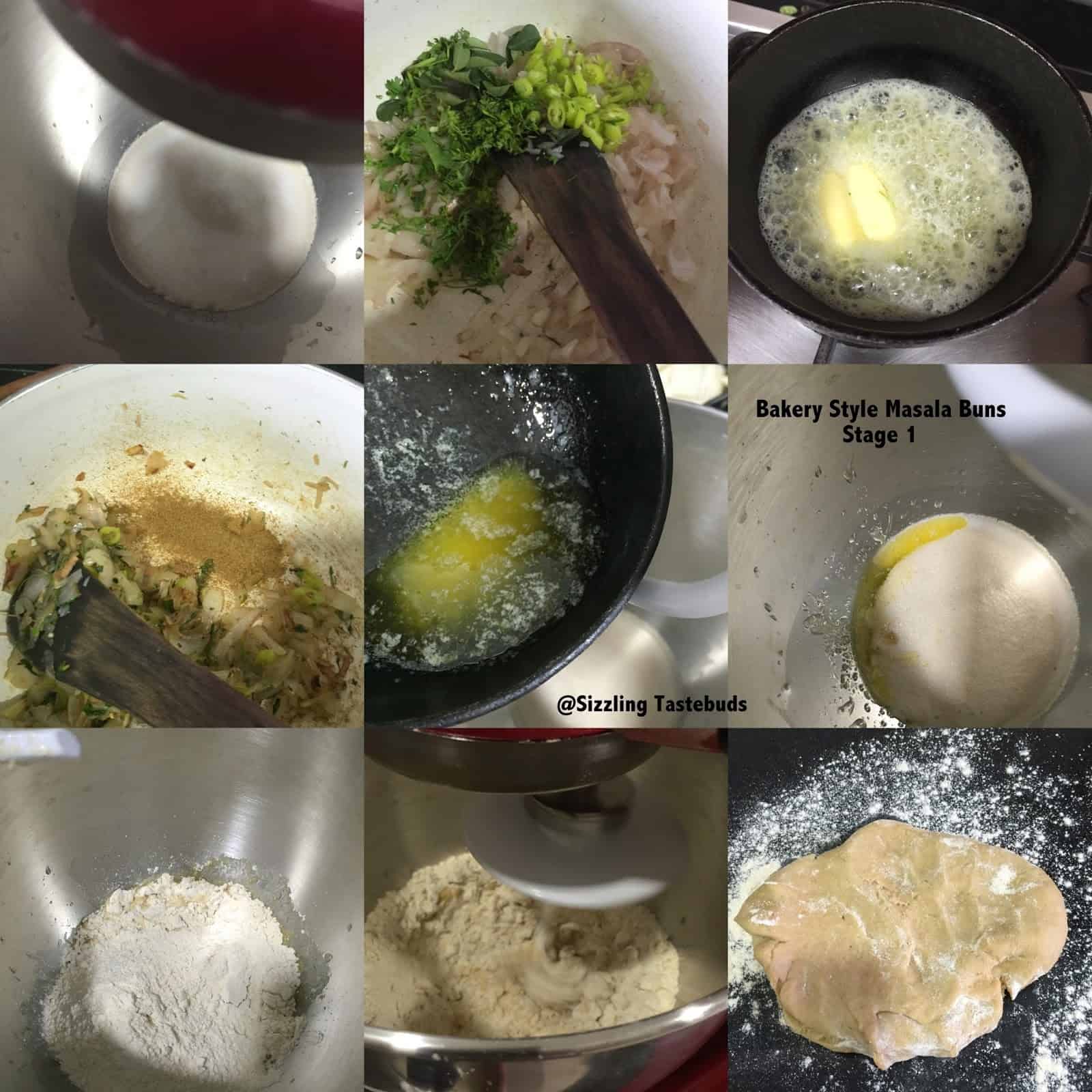 Pin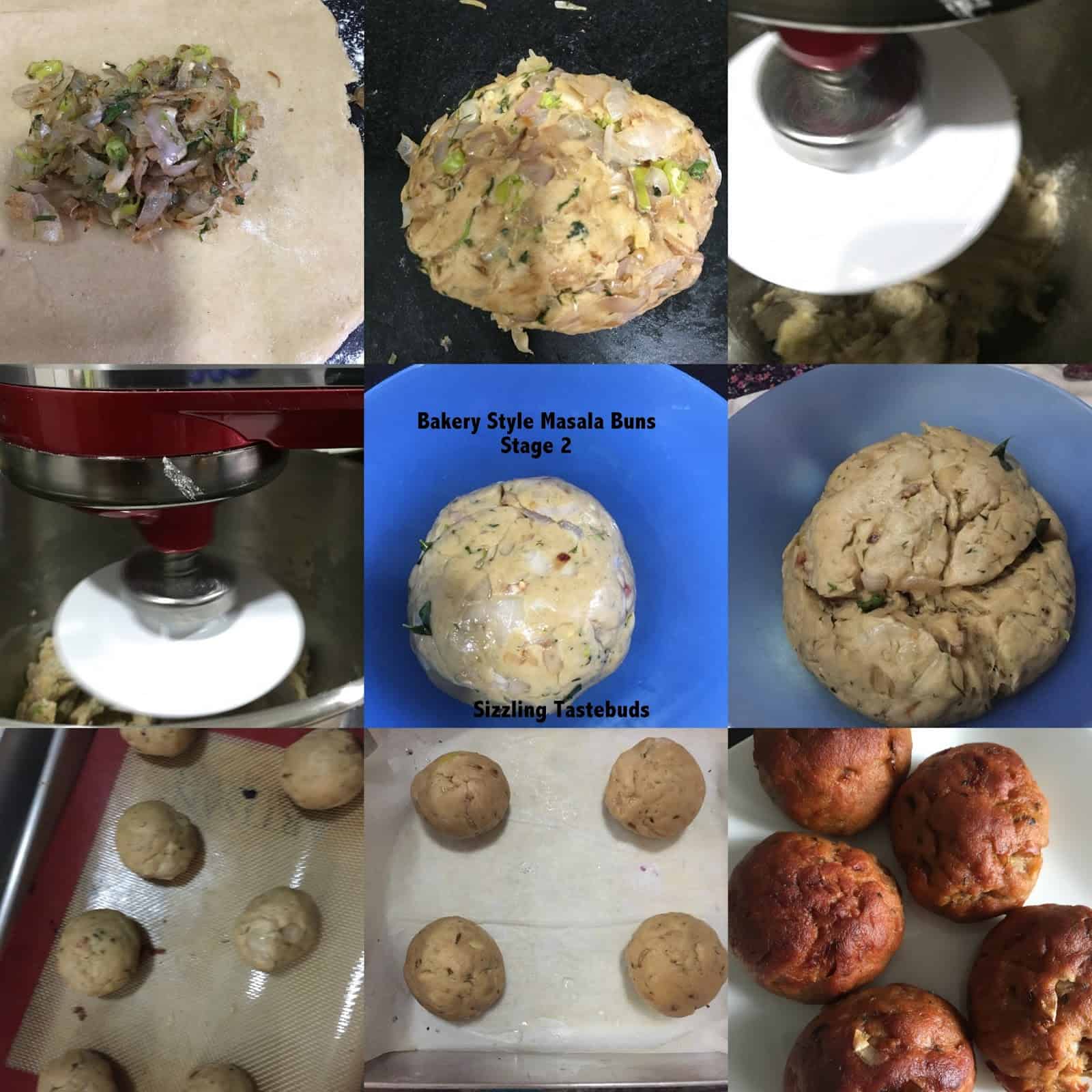 Pin
Method:
Heat the oil, splutter the cumin and fry the onions till translucent,switch off, add salt and chillies and keep aside to cool.
Proof the yeast with sugar and warm water in a kitchenaid bowl. Add the flours, salt, milk, melted butter and the proofed yeast. Knead to a soft dough for 8 mins.
Now add the sautéed onion spice mix, and knead by hand till well incorporated. Add extra flour 1 TBSP at a time if needed to bring it to a firm texture. But don't add too much flour else it will dry up. The salt will ensure it becomes slightly soggy so don't be tempted to add more flour
Knead to smooth and elastic dough and cover and let it rise for 1 hour.
Once its risen, knead for 1-2 mins, and pinch out equal balls and smoothen with the heel of your palm into buns. Place a little apart on a lined baking sheet. Cover and let rise for 30 mins. If the temperature is humid as it was for me, the buns rise quite a bit

Towards the end of the 2nd rise, preheat the oven to 190C, brush them with a little warm milk

+

honey mixture. Sprinkle sesame seeds if using.

Bake the buns till golden brown or slightly browned on the top. If still pale, take them out of the oven, brush with little butter and grill them for 2 mins.
Rest the buns on the baking sheet. Rub immediately with more butter to get a softer crust.
Serve warm. Freezes well for upto 1 week. Before serving, warm in a microwave for 30 seconds and serve this with tea & a slather of butter.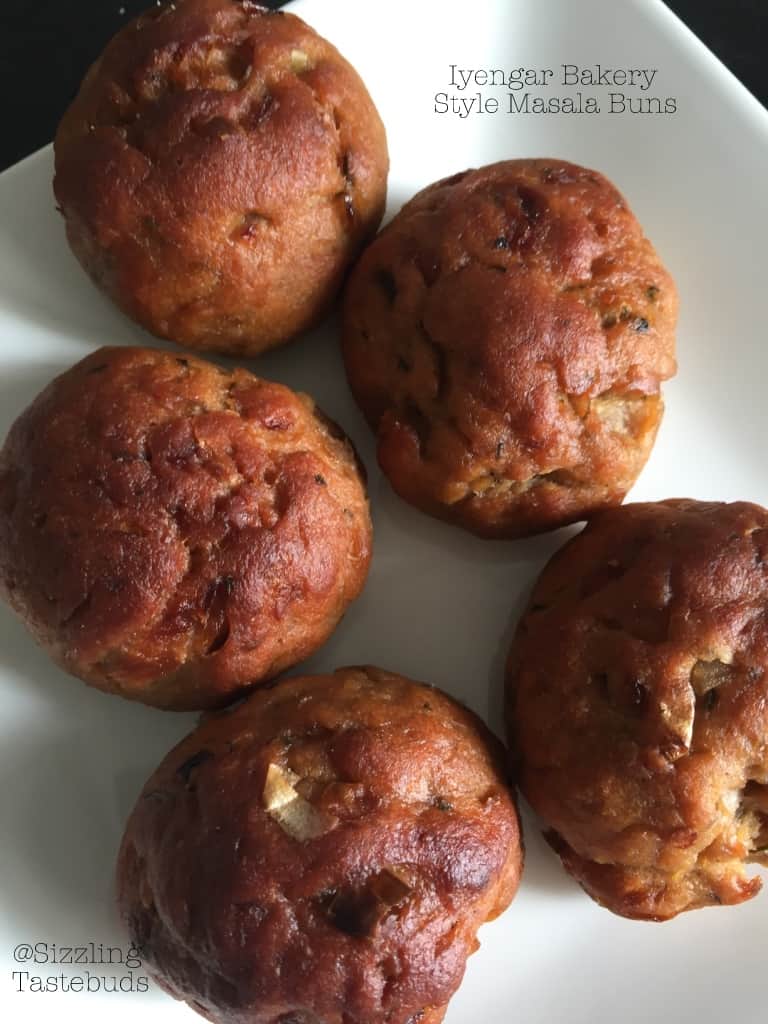 Pin
Pin
This is part of the Bake-a-thon 2017