Kitkat gems cake was in my drafts and I have no idea why it was there for so long. I had made it for my kid's birthday 2 years ago, and I had followed Priya Sri's unfailable Eggless Wholewheat Chocolate cake recipe. For a cake novice like me, this cake was a huge deal, although my kids have stopped asking for cakes often I know that they would be mighty pleased if I learnt frosting and made them a couple of 'bakery stye topped' cupcakes now and then.
Till then, let's get to it, and although I have made this again twice for a baking order (with gluten free flour) and once with Orange for the neighbours, this remains my favourite after the Ragi Chocolate Cake.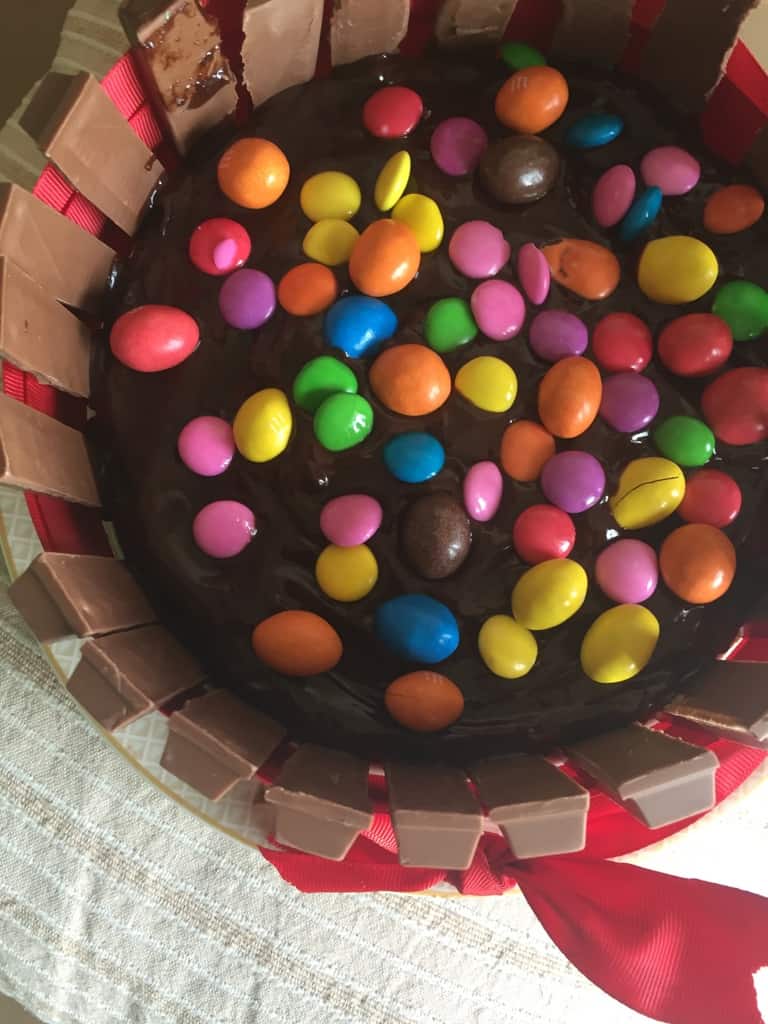 Pin

Kitkat Gems Cake

For the Wholewheat eggless Chocolate Buttermilk Cake (Priya Sri's recipe repeated verbatim)

Makes two 6" cakes.

Prep time : 15 mins

Baking time : 35~40 mins

Chilling time : 45 mins~60 mins

You would need:

Wholewheat atta / flour – 1.25 cups

Cocoa Powder – 1/4 cup

Baking Powder – 1 tsp

Baking Soda – 1/2 tsp

Sugar (I used Coconut Sugar) – 3/4 cup

Buttermilk (thickish) – 1 cup

Neutral Oil – 1/3 cup + 2 TBSP (I needed that 2 TBSP extra)

Sugar syrup:

1/4 cup sugar + 1/4 cup water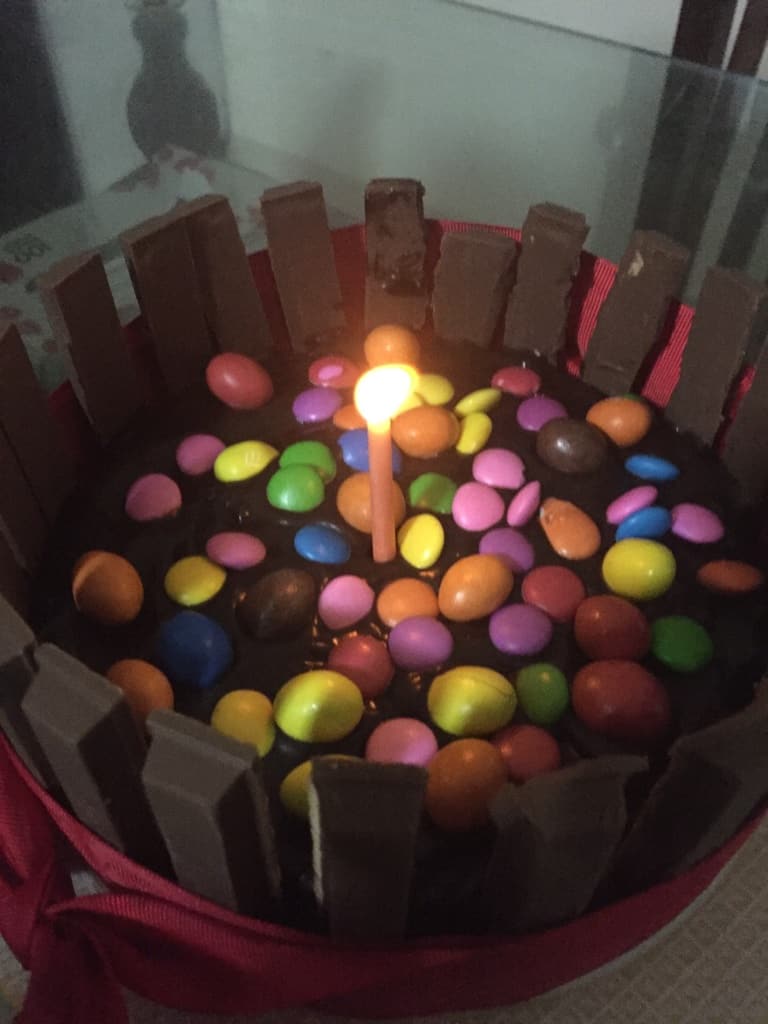 Pin

Frosting / Ganache :

Chocolate Chips / Chopped Chocolate – 2/3 cup

Cream – 1/4 cup

Vanilla Essence – 1/4 tsp

Topping:

Broken / halved kitkat fingers and Gems / M'n'Ms to decorate

How to:

In a large bowl / flattish dish,

Sift the dry ingredients for the cake, preheat oven to 170C.

Mix sugar, oil and Buttermilk.

Make a well in the flour mix, and add the liquids from previous step.

Mix well with a spatula till no dry streaks are seen.

Pour into two 6 inch moulds and bake for 35-40 mins.

Place cakes on a cooling rack, de-mould gently and chill well with cakes cling wrapped for over 45~60 mins.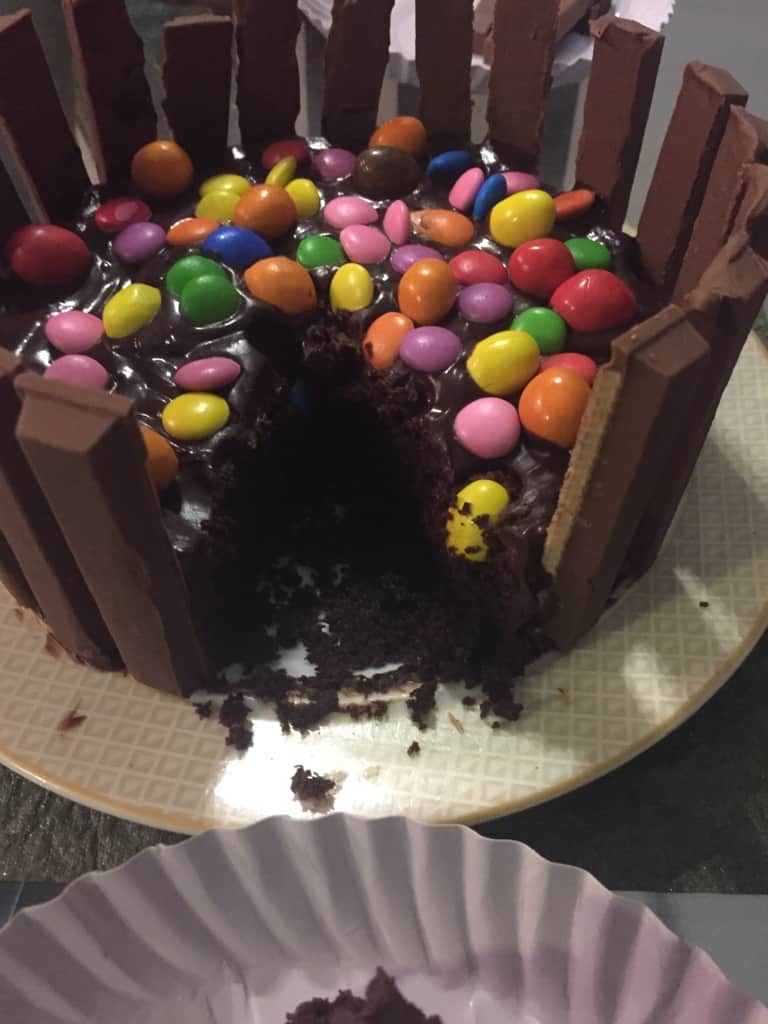 Pin
In a sauce pan, boil together sugar and water till sugar is melted (no syrup consistency / string needs to be made). Cool thoroughly.
Take cakes out of the fridge, and make tiny holes all over and pour the syrup (I didn't use the sugar syrup as we personally like a slightly bitter chocolate cake, so this step is entirely optional). Let the cakes soak the syrup and sit for some time.
In a microwave, warm the cream for 15 seconds, keep outside and pour in the choco-chips / chopped chocolate. do NOT mix. let it stand for 2 mins, and then with a whisk, mix to a thick smooth, glossy ganache. add the dash of vanilla essence as desired.
On a wire rack, place the cakes with a bit of ganache stuck at the bottom. Place one cake and place the other cake . Now pour enough ganache to cover it fully and gently smoothen the edges and top including the sides. Chill the cake at this stage.
While the cake / ganache is still moist, place kitkat fingers around the circumference of the cake, taking care to ensure that they look like a tallish picket fence. Tie a ribbon securely around it with a bow. Place gems / M&Ms on the cake. Chill further till served 🙂
Enjoy happy faces all around you as they dig into chocolatey goodness 🙂
Pin
Check out the other bloggers doing this Bake-a-thon