Winter veggies make the most delightful of meals, and I await the fresh veggies that my local green grocer brings me to make Undhiyu, Palak Paneer, Aloo Methi and other local delicacies. Today is the last post in this week's festival series and lets see what we have here.
Oondhiyoo (aka Undhiyu) with Puri is another favourite dish in Gujarat to celebrate the local veggies that are typically grown only in winter. This is served with today's dish – Khichdo (Not to be mistaken for Khichdi) as a complete meal on Uttarayan. Khichdo served in both sweet and savoury versions, and I opted for the former.
Its a quick to make yet simple, hearty dish. Although I had plans to serve it with undhiyoo, it called for too much labour to make both the dishes together on the same day, when we also celebrate the Pongal – Sankranti festival with a festival spreadthat was posted yesterday ! (Dear H is from Tamilnadu, therefore the Pongal varieties feature with my Karnataka upbringing, hey ! Somebody said "Two States" ? :D)
Adapted from here with minor modifications.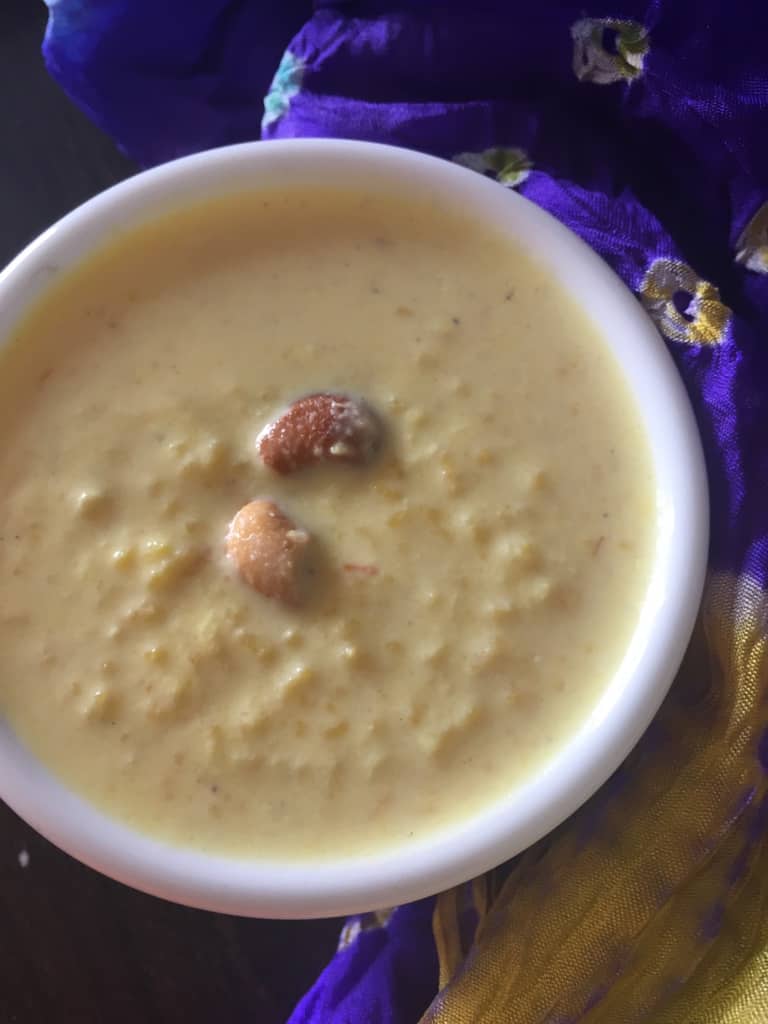 Pin

Prep time : 10 mins + 1 hour soaking time ; cook time : 15 mins ; serves : 3 (small portions)

Ingredients:
Lapsi / Broken wheat / cracked wheat / Fada (gujarati) – 1/4 cup
Channa Dal – 1 TBSP
Toor dal / Arhar Dal – 1 TBSP
Sugar – 4 TBSP (I used organic powdered jaggery)
Ghee – 1 Tbsp (or to taste)
Milk – 3/4 cup (you can use vegan milk)
Dry fruits – 1/2 tsp (chopped)
Saffron – a pinch – Optional
Cardamom powder , nutmeg powder, clove powder – 1/4 tsp (or a large pinch) altogether

Pin
Method:
Dry roast the lapsi for 1-2 mins till just warm (optional but recommended).
Wash and soak the lapsi + dals separately for 1 hour
Drain, add adequate water and pressure cook for 3 whistles.
In the same pan, add milk and jaggery / sugar.
Let it cook for a while. Soak saffron in warm milk for 2 mins and add it.
Now heat ghee, fry the dry fruits. Add half of the fry fruits to the Khichdo.
When the mixture is semi solid, turn off.
Add the spice powders. serve warm or hot with remaining nuts sprinkled on the top.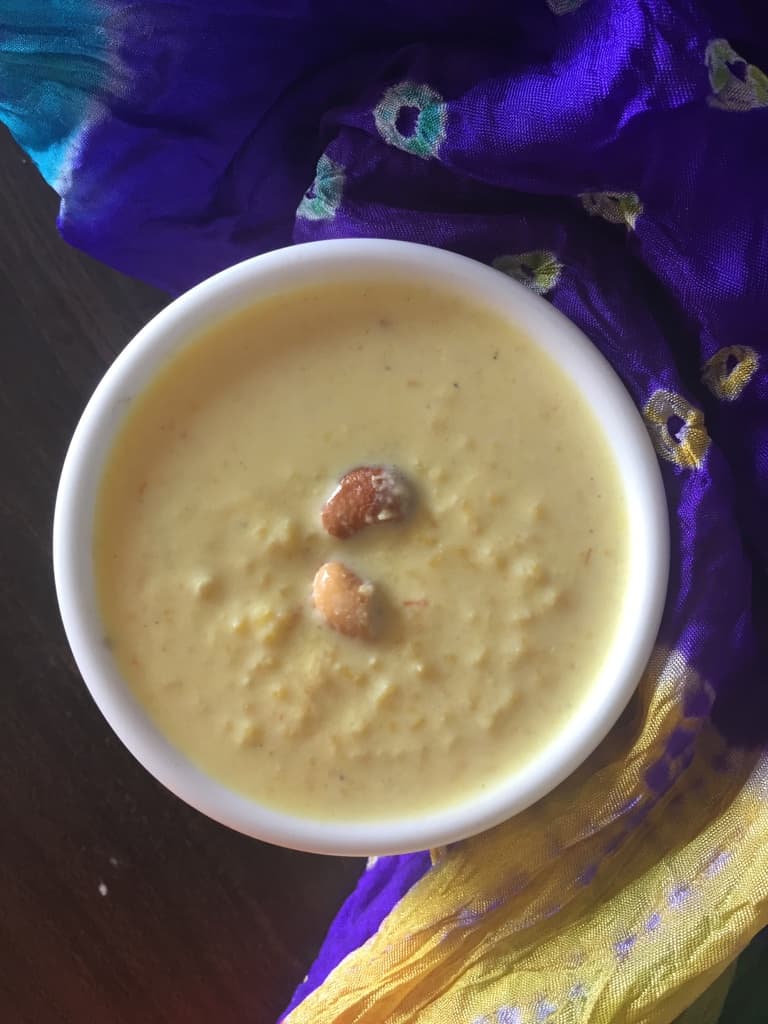 Pin

We are celebrating BM theme with festival specials this week here at Sizzling Tastebuds. Hope you liked the previous two dishes

Sending this to BM # 72 under "Festival Dishes" Theme


Pin